With a new year comes new mixes and for our first Truancy Volume of 2023, we've headed to Dublin to bring on a producer pushing heavy percussive experiments to new levels. With releases on the likes of Well Street and Wisdom Teeth over the last couple years, Sputnik One's pool of production ideas impressively spans broken UK techno, psychedelic drum work, footwork and percussive pop edits, all unified with a certain level of controlled, syncopated chaos. His most recent release, a two-tracker on his newly launched label N-Face, are two of his most dancefloor-certified productions yet – hitting up Belfast MC EMBY on "Supa Natural" for his own twisted take on grime, and a rowdy B-Side in the form of "Grafters" that's whizzing around in sets at the moment.
As well as providing us with a blinder of a 2023 opener, Jim took the time to catch us up on his 'hangar era' Dublin party days, his aforementioned N-Face label, the creation of the anthemic "Supa Natural" and how producing for him comes out of compulsion and as a way of processing life. Calling up a number of his producer friends for their unreleased tracks, his Truancy Volume is a weighty, club-driven 75 minutes of sound system culture and low-end sounds. Featuring music from the likes of Glimmerman, Suchi, Ayesha, Mosca as well as some forthcoming N-Face music, this is a producer and DJ truly finding his groove in this scene, and what a mix to showcase his abilities.
Hey Jim, thanks for taking out the time to answer some questions and doing this mix for us! So just to start, if I were to mention the 'hangar era' what does that mean for you? "Hi Riccardo! Thanks for having me. Haha oh god, where to start. Hangar was essentially a big dusty warehouse room with an overpowered sound system where a lot of people around my age had their first clubbing experiences in Dublin in the early/mid 2010s. You'd leave after a night there and be visibly filthier. I actually had my first gig there in the front room which was called 'Pablo Discobar' and it's where I met a lot of my pals who DJ and run collectives in Dublin. Now that it's closed it's almost a meme, more of a wink and a nod between people who had gotten to experience its hay day. It's great to see how far we've come since then, in terms of the type of music I love to hear being booked in Tengu and Wigwam."
So at what point did you start learning to produce? Was there anything you were trying to replicate back then? You've talked about Linton Kwesi Johnson and the variations in Fela Kuti being influences for you. "I started to produce more than a decade ago soon after I decided being in a band wasn't for me. Being 12/13, with no other siblings in the house and a basic musical knowledge was a major catalyst for getting started as a producer. My favourite aspects of music revolve around drums and percussion, like the artists you mentioned and the likes of Max Roach and this album by Chico Freeman. I can't deny the grip that early 2010's soundcloud core electronic music had on me though. Jacques Greene's earlier music, obviously Four Tet and that sphere of artists, as well as producers like J Dilla and Mister Oizo really helped me think about sampling as its own way of generating ideas and telling stories through texture and sound collage. I was introduced to UK sounds through Hessle/Livity and delved into more bass heavy and UK techno from then on. In terms of more melodic inspiration, Alice Coltrane, Lou Reed, Talking Heads and so many others in the 70s/80s are always on in the house. Now I feel like I'm catching up to what I missed in between, the likes of My Bloody Valentine, Yo La Tengo, Saint Etienne and the list goes on… I feel like this is definitely informing what I have been making recently.
I think I first came across your music from that first Woozy compilation with the track "Country Living" and then started keeping a firm eye once the Well Street and the Wisdom Teeth records dropped. Did it feel like the releases had started to snowball once you got your first out? What have you learnt about the way you produce with each one? You've talked about needing to finish things once you've started them in past interviews. Surely that's every producer's dream position to be in. "Ahh snowball would definitely be an overstatement as I tend to trickle out music, but I'm producing consistently out of compulsion and as a way of processing life. I'm happy that I'm able to share some of it though as silly as that sounds. The most important thing I've learned over time is that (on a very practical note) you have to just keep going and sitting down in front of your machines and generating ideas because production is more a craft than anything. You can have a good idea but without that backbone you won't be able to execute it. Also being bold with decisions, and realising that what electronic artists make is still just music and the same principles apply to that as all of the other genres. That's something that helps me move along with ideas quickly, because depending on what you're trying to achieve, having 50 tracks of pure sound design can have diminishing returns if the tune isn't working at its core. Oh yeah and embracing cheese and emotion sometimes!?"
You recently started a new label called N-Face, with the first release coming from yourself, with one of the tracks being in collaboration with Belfast-based rapper/vocalist EMBY. Can you tell us a little bit about the idea behind starting the label? What do you hope to achieve with the label in the next few years? "The idea for the label is to have a future facing (literally en-face in French) sonic playground for sharing music that I most want to hear in the club and outside of it. Through N-Face I'm hoping to push myself to progress as a producer and release with full autonomy, as well as nurturing artists associated with the label to help them make their best work whether or not it's for an N-Face release. I come from a design background so I've always wanted to have a proper outlet for ideas when it comes to art direction, so that is tying things together visually too. It was lovely to see all of this manifest IRL during our first few in-store events for the launch of N-Face 001 in Dublin and Belfast!"
Can you tell us a bit about the track with EMBY? It's such a huge track and given the rhythmic nature of yourself and fellow producers doing a similar sound, I'm surprised the crossover doesn't happen more often. How did your guys first meet and what was the process like in making this track "Supa Natural"? I also really loved the press shots you got taken by Issey Goold. "We actually crossed paths without knowing at AVA a few years ago but had been admiring each other's work from a distance, until we got a chance to get in the studio for a couple of hours last Spring. Once EMBY sent back the demo I knew it had to be the first A1 on the label, the hook lived in my brain rent free for so long you can't imagine. Issey's way of scanning and assembling the images really gave the single art a unique quality too. Collaboration is such a game changer for me and I'm looking forward to sharing plenty more collaborative projects very very soon."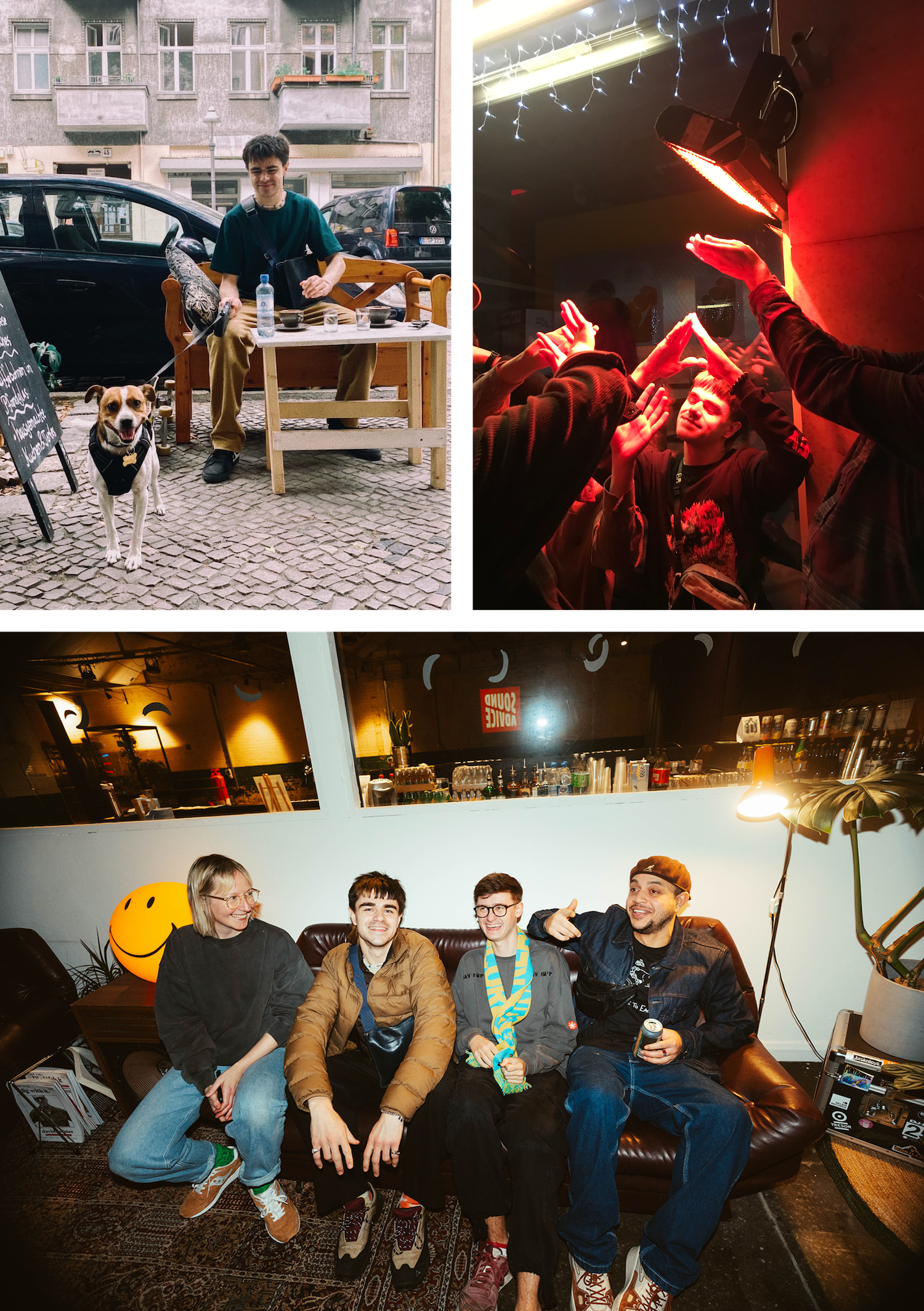 You two also recently did a HÖR set together in Berlin. Can you tell us about that? Was there much preparation involved? I heard Emby had some flight troubles and almost didn't make it. "Haha, that was by chance and also good timing, I had been chatting to folks at Hör trying to schedule something that suited us for over a year but it ended up falling just about when the record was coming out, which was a great stroke of luck! I invited EMBY as a secret surprise guest, which was almost completely foiled by the craziness that was happening with airlines over the summer/autumn last year. EMBY was texting me at 3am saying he probably couldn't make it and after having prepared the set and rehearsed a few times together my heart absolutely sank. But he managed to get in at the last minute and from there it was gravy."
So can you tell us a bit about your approach to DJing as well? What would be the ideal set where everything went well and you got to play all the music you wanted to play to a really up for it crowd? I was listening to a few of your mixes on Soundcloud and I loved how we could be listening to 140 bits from Compound One one second, then 170 bits from QBass another, and then 100bpm bits from DJ Mish to really cap off the scope of music you play. "My approach to DJing is far from methodical to be honest. I tend to just follow my gut and try my best to sense what is connecting with the audience in the moment, I always set out with an idea of what I may play on any given night but it is only a loose foundation. The ideal scenario is ending up somewhere completely unexpected and sharing that excitement with the folks dancing/listening but I imagine that's pretty standard haha. That's partially why I haven't chosen to go down the live set route as the ones I have experienced don't feel that spontaneous – apart from the likes of KinK who really takes it to another level.
"Digging for me happens 90% online, I tend to keep a list of record stores I've gotten the opportunity to visit and I keep tabs on their catalogues, as well as buymusic club, producers I know and I play a lot of my own stuff too. It can be a bit overwhelming at times because I end up going down rabbit holes so I have to make a concerted effort to balance that with everything else I do in a given week/month. That said a lot of the time it stems from making certain tunes and needing to reverse engineer a context around them so that I can play them out haha."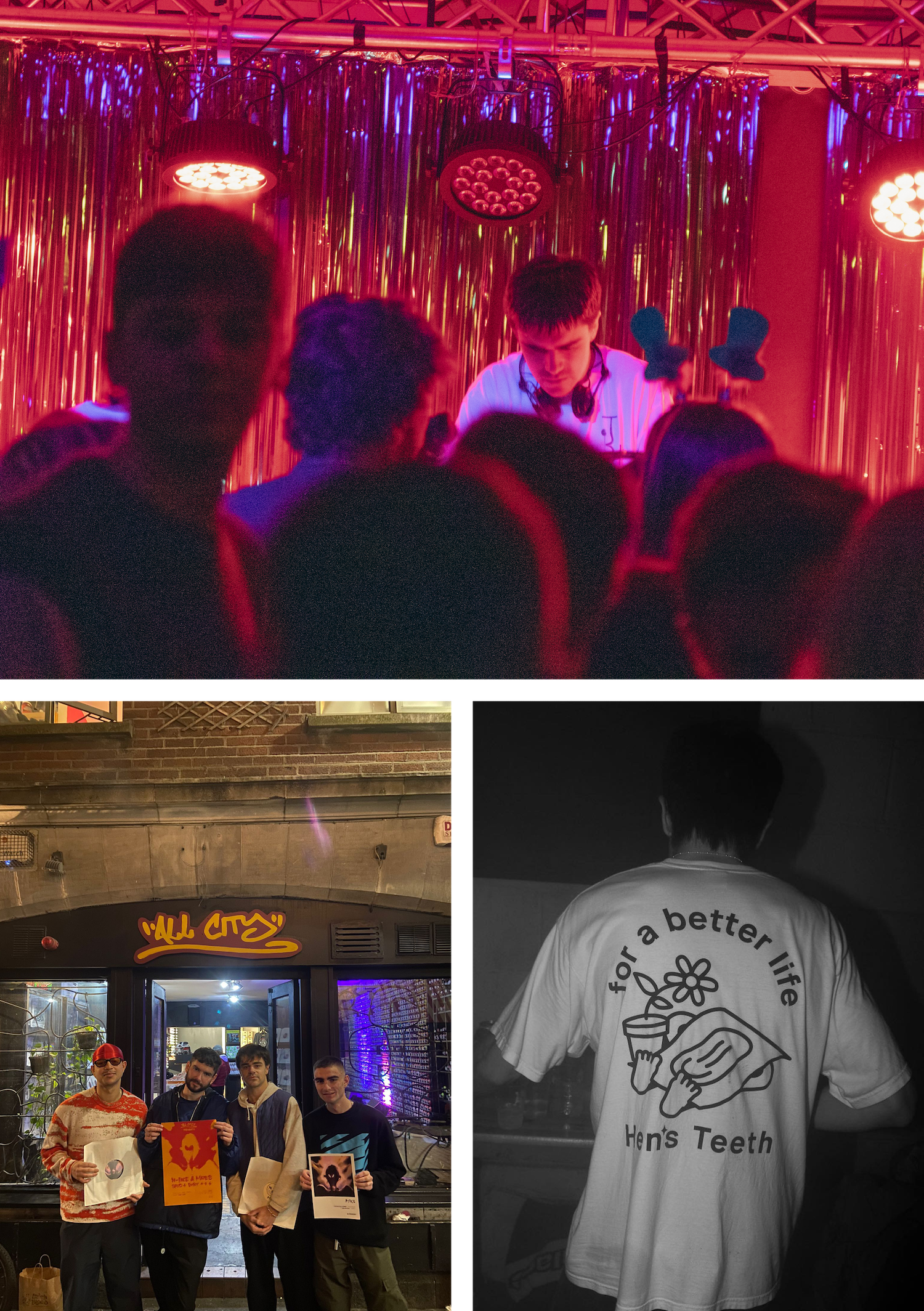 If money or venue wasn't an issue, what would be your dream lineup for a party? "I think I could have different answers depending on the day, but right now I'd love to see a lineup with Mad Miran, CCL b2b Objekt, Felix Hall, the re:lax crew, obviously DJ Voices – one of the most amazing DJs out there. Batu can't do a bad set either – Ayesha for some 160+ business, Kiernan Laveaux, Pearson Sound, Blume (an amazing Berlin based dj) Ghostphone for the heartfelt edits, Mala, Azu, Oli XL and Avalon Emerson. Last but not least the Bella Festa crew hailing from Dublin to cover the chuggers. I think the party would have to happen over a long weekend somewhere semi intimate like æden in Berlin for friends and loved ones."
I've been listening to a lot more full length LPs lately, lots of ones I used to listen to when I first got into electronic music especially. Can you tell us about three albums that a) define you getting into electronic music, b) maybe a midway album when you were fully invested in DJing and and c) a recent album that you've especially enjoyed?
"A. Daft Punk – Homework
This one stands out as one of the high points for young me, and was something I listened to repeatedly long before making or playing anything myself. It's where amazing production meets infectious songwriting, with proper creative direction and a sense of mystique on top of it all.
B. Four Tet – Beautiful Rewind
This one is a nostalgic and eternal cut in my opinion, as I mentioned earlier my obsession with ways of sampling stem from listening to this kind of album and watching 240p footage of Four Tet moving little blocks of waveform on a gigantic wondows PC and creating literal masterpieces. It shows that anything is possible regardless of the gear you have.
C. Little Simz – NO THANK YOU
Choosing this because it's fresh on my mind, I haven't been able to go more than two days without listening to it in full since its release. The narrative and lush instrumentals throughout make it incredibly satisfying to listen to repeatedly and Little Simz is one of the stand out lyricists of the past decade in my eyes."
So what can you tell us about the mix you've recorded for us? Was there any direction you decided you wanted to go for this when making and are there any particular tracks you want to shout out? "For this mix I called on a number of producers I love for their unreleased work, along with forthcoming N-Face material, records I had been enjoying from this year and bits and pieces I have come across in my collection that I had never gotten a chance to play. The likes of Glimmerman, Suchi, Ayesha, Mosca and other fantastic talents are all featured – as well as some spoken word poetry by James Massiah and Stereolab's "Blue Milk" in the first couple of minutes. It reflects what I would play in a club, with some weird psychedelic transitions. Overall my aim is to keep it moving and to be as dynamic as possible without being too jarring and retaining some sort of a thread throughout. It definitely mirrors my attention span too, I'm not afraid of a non sequitur. I recorded it on two CDJs and a turntable because I didn't have MP3s of some of the tunes, for example the SDX tune called Ms04 (138 version) – It's a mouthful but a solid tune all the same. I need to shout out the Darqwan remix of London Dodgers' tune "Down Down Bizness" as it never fails to make me grin."
What have you got in store musically for 2023. Any new year resolutions? "So next up I'm working on a big VA at the moment for N-face, featuring some familiar & unfamiliar faces. It's a group of people and songs that I'm incredibly enthusiastic about so it will be an honour to have them all on there. I'm also looking forward to playing in a couple of new countries, and that is an unbelievable privilege. I'm also working on some more solo stuff for later in the year on the production front."
Last, usual question from us, what was the last thing to put a big smile on your face? "Spending my birthday weekend with my Dad and Sister in the South of France the past few days. And eating lots of pastry."
Sputnik One: Soundcloud, Instagram
N-Face: Soundcloud, Bandcamp
You can download Truancy Volume 299: Sputnik One in 320 kbps and see the full tracklist by supporting Truants on Patreon here. Your support allows Truants to continue running as a non-profit and ad-free platform. Members will receive exclusive access to mixes, tracklists, and merchandise. We urge you to support the future of independent music journalism—a little goes a long way.