For our first Truancy Volume of 2021, we welcome Joe Delon, a DJ and label owner whose mixes have opened us up to new wealth of record-shaped gems and Discog wormholes. Originally from Birmingham with stints in London, he's been residing in sunny Lisbon, Portugal for the last six years, a move he's since described as the best decision he's ever made. As a DJ, Delon has amassed a special record collection of unearthed, genre-bending jams that span groovy house, disco burners, oddball techno, UK garage and electro, all with the firm ethos of making you want to dance. Building on the foundations of being a top-tier selector as well as a music-blogger in his early days, he's quietly garnered the support of many parties and promoters across the UK and beyond, with Spaced (London) and Dust Off (Manchester) inviting him down to their decks on numerous occasions now. In recent times, he's successfully had a go at being a label owner and curator with Welt Discos, spearheading the release of a three-track EP from Italian producer And.rea for WLTD001. With the record subsequently selling out via most retailers, we're extremely excited to hear what he finds for the the follow up.
We caught up with Delon to talk about his humble beginnings as a DJ, the parties he attended when he first moved to London, his favourite gigs, and what in essence he looks for in a record when buying new music. Truancy Volume 273, a perfect mix to start the year with, is an hour and forty minutes of energised and inventive twists wrapped up in a warm party blanket. Wide-ranging, with music from Huerta, Fantastic Man, Model 500 and Lerosa all spliced in with a number of digger finds, it's a mix you'll be scrambling over for the tracklist.
Hey Joe, thanks again for taking out the time to do this mix and answer some questions for us! What's been new with you and how have you been? "Thanks for having me. I'm well, managing not to go too mad. It's been a year now since the pandemic arrived in Portugal and it's been a severe lesson in managing expectations. I took the opportunity to make some changes, quit my job, take a break from the master's I was doing, and I've been using that extra time to do more music. I started a label called Welt Discos and still do a monthly radio show called Flamingo. And I've been recording mixes like this one."
So seeing as this is your first interview on the site, can you tell us a little bit about yourself. How did you originally get into electronic music and what's the Joe Delon journey been like thus far since then? "I've often toyed with writing one of those cheesy DJ bios, so here it is:
"Raised in the comfortably middle-class environs of Edgbaston, Birmingham, Joe knew from an early age that he was destined to be a DJ. At just 12 he was already buying the latest underground cassettes by Sash! and The Vengaboys from his local record shop. He burst on to the club scene playing mash-ups to drunk students at fancy dress parties and since then it's been a simply meteoric rise to stardom. His DJ heroes are Prosumer, Mark Seven and Zip, none of whom he's ever had the pleasure of sharing the decks with. The highpoint of his DJ career to date is playing Bananarama as the sun came up on top of a Bulgarian mountain."
You're originally from Birmingham but moved to London around 2007/2008 right? I've been enjoying reading the little Instagram snippets of the records you've been putting up and I liked the part where you mention how Maurice Fulton had such a large impact in your first year in London. What else can you tell us about those first 12 months? "I was an avid music blogger back then (still am), so I actually have a pretty full record of what it was like. Reading my blog back, I see someone bursting with excitement about this new world of techno, clubs, parties, drugs and so on, and desperate to share that feeling with someone, anyone. I didn't yet have a friendship group in the city who I could go clubbing with regularly, so I had to wait for people to visit from elsewhere or go out alone, though I do remember going to Fabric with a housemate I barely knew and both of us throwing up in the bin. London lost some of its lustre later on, but in those first few years it was brilliant.
"That party with Maurice Fulton and Prosumer, in a car park near Old St in April 2008, had a huge effect on me. Before that night I was "sceptical about house music" (direct quote) and mainly going to see Richie Hawtin & Co do their big-room mnml thing. After it, I went to see Prosumer every time he came to London and started going to smaller, more house-orientated parties like To The Bone, Body Hammer and Süd Electronic. By the end of that year, I was writing about how house vocals communicated universal truths about the human condition. I was a convert! I do cringe a little looking back at the posts from that early period, but I try not to disparage or discard them. These days I actually find myself looking to reintegrate that wide-eyed, open-minded attitude, as well as some of those threads of music, no matter how untrendy they may seem to me today. They're a part of me."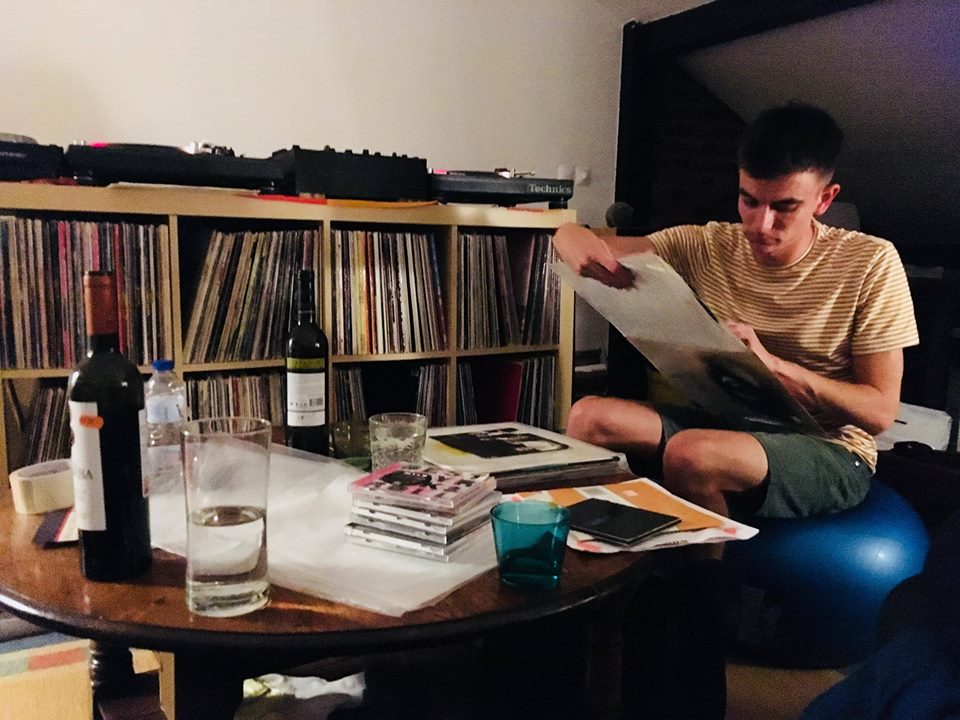 Gwenan mentioned in an interview that she wouldn't be DJing if you hadn't taken her to her first techno night back in 2007, which I imagine was also in London. Do you remember what night that was? It's also probably a great testament to your friendship that you're both regularly doing b2b sets 13 years later and have become two extremely good DJs in that time. Have there also been certain people in your life be it DJs/producers who you may hold in a similar regard? "I actually remember it as Gwenan dragging us to our first techno night! It was a party called Twitch in Cambridge, not long before we graduated in 2007. At the time I was listening to whatever dance music Pitchfork recommended and would DJ a bit with Ableton at student parties. But I'm pretty sure Gwenan was the one who became really fascinated with the idea and got a group of us out on our first proper techno night. It was in a small bar near our college and in my memory it ended up with people dancing on the tables, though that could be a bit of misty-eyed revisionism on my part.
"Gwenan was also the first to get turntables after we'd left university. She had a setup in her flat in Oxford, which I would visit at weekends to mix records along with our friends Ewan (Bleimann) and Arty. I then got my own decks and hifi in London. A bit later we met Andrew (James Gustav) through my blog, and the five of us joined forces with Peder (Matthias) in running a party called Kiss Me Again, in the basement of a fancy Japanese restaurant on the Clerkenwell Road. Many of the DJs we booked are people I continue to follow and look up to today – Lerosa, Ben UFO, Jane Fitz, Jade Seatle, Joe, Eli Verveine, Roger 23, Nick Craddock, Lakuti. Actually it was Lerato who very kindly booked me for my first bigger gig. It was a Süd Electronic party in 2011 and as far as I recall I totally bricked it.
"Another person I met during that time is Sam Ashton, who now runs the party Pumping Velvet. He had been following my blog for a while, and then at Freero 2009 he introduced himself. I was sitting outside the dome stage on the Sunday afternoon reading Slaughterhouse Five, as you do, and I don't think I was particularly talkative, but we became firm friends. He and Ewan are my main reference points for pop and disco – our bank holiday Sunday evenings at Horse Meat Disco are one of the things I miss most about London. There's nothing quite like it anywhere else."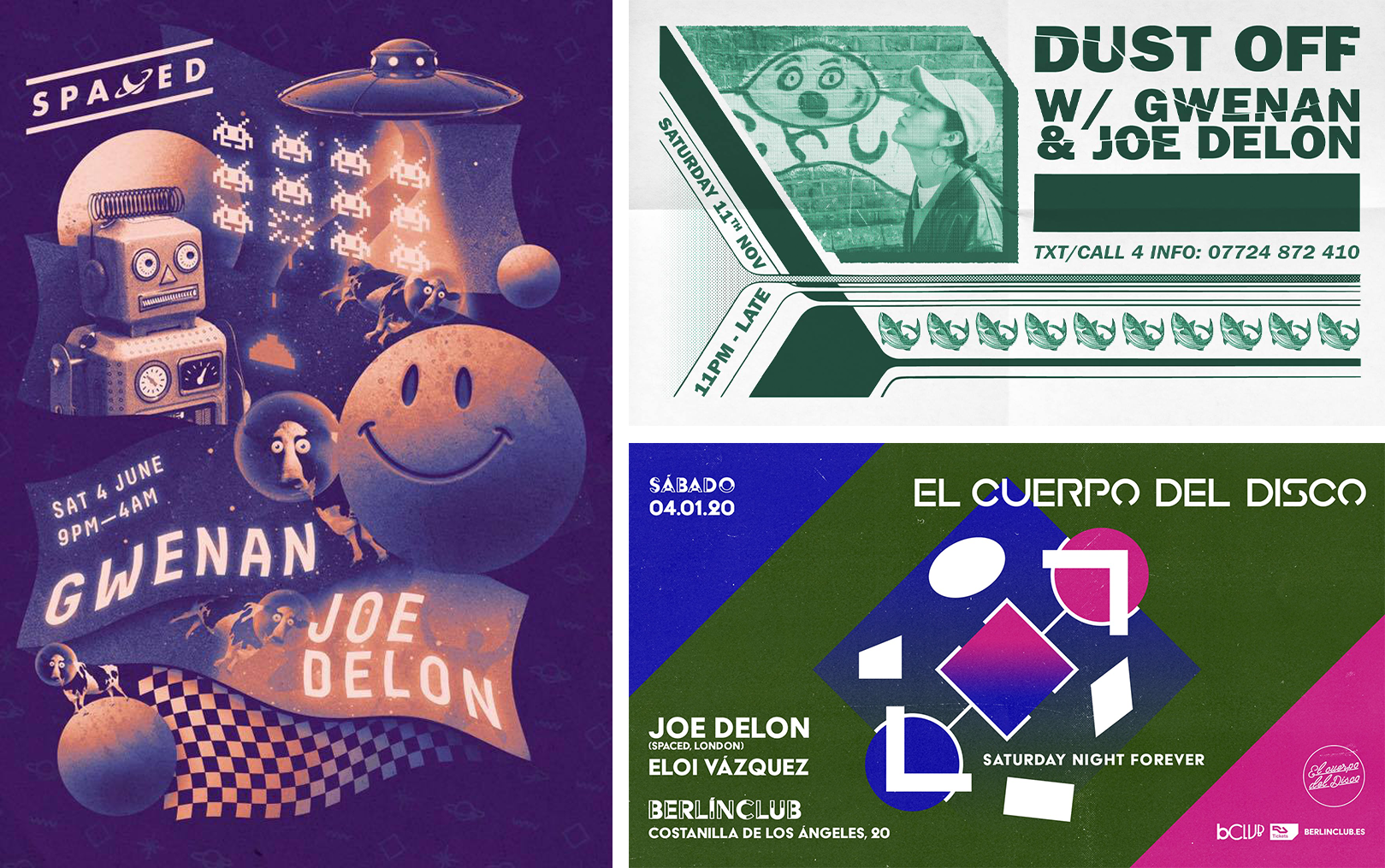 You've been a resident DJ at nights such as Dust Off in Manchester and Spaced in London. People often say residencies are some of the best ways to really learn your music collection inside out. Can you tell us a little bit about how those two residencies came about and how they might have informed you as DJ? "While I like to call myself a resident at these parties, it's not in the same category as having a weekly residency at a local club. That's where I think the magic really happens. For example, I've read that Øyvind Morken has done Wednesday nights at Jaeger club in Oslo for over 10 years, and you can really hear that breadth and depth of experience when you listen to him play. Same with Tiago, who's been one of the residents at Lux Frágil in Lisbon since it opened. I can only wish for that sort of platform.
"I play at Spaced maybe three or four times a year and Dust Off is more sporadic. I think the Spaced boys originally booked me after hearing my mixes online, and Nick Kagame asked me to play Dust Off after he came to that first Spaced gig. In the lead up to those initial parties I was lacking a lot of confidence and got quite paranoid about being out of the loop and generally making a mess of it. At the time I also had a big hang-up about how 'gay' I could play, even thinking that no-one would want to hear Chicago house, let alone Italo or synth pop or whatever. It doesn't take a therapist to realise that this was entirely in my head, my own internalised homophobia at work – both parties and crowds were as open and supportive as you could want.
"The good thing about residencies is that by going back again and again you get that repeat exposure, which over time helps to open your eyes and shed those projections. Now I can see both parties for what they are and always were: generous spaces in which I can be myself and express myself how I want, without fear of judgement. I've since let go of almost all of that anxiety and second guessing. I say 'almost' – at the last new year's day afters at The Pickle Factory, I still had to be talked into playing Dead Or Alive when I was on the brink of chickening out. Obviously it went off in there. (Thanks Sam!)
"I want to send a big long-distance hug to Nick, Tho, Tom Cottrell, Loren, Ricky (Pep) and John from Spaced, and to Nick Kagame and aNNA from Dust Off. Beyond informing my DJing, their parties have informed me as a person."

What have been some of your favourite ever gigs, the ones where everything just seems to fall into place and you've found your rhythm for hours? "Aside from those I've already mentioned, there are a handful that stand out. One was a very long B2B with Gwenan in the Griessmuehle garden for In Treatment. We played from 2pm til 10pm. I'd never played for that long before and there's absolutely a moment where time becomes rather secondary to what's going on. It was one of those rare sets where the records seem to mix themselves. Critically, they also served soup behind the bar.
"Another big one was the Pumping Velvet at Grow! in London, December 2019, where I played after Joe and Sofie K. Sam & Sam who run PV hired a rig called Tanum Sound especially for the night and it sounded outrageously good, instantly creating that warm, empathetic vibe that only very good sound can. My set from that night is up online as a Honey Potcast and it is basically the sound of me doing exactly what I want to do when DJing.
"I could go on, but I'll just mention two more from pre-pandemic 2020. First, El Cuerpo Del Disco at Café Berlin in Madrid. I took a bag designed almost solely to give my friend Ewan, who lives in Madrid, the best time that night – a mixture of disco, Italo, acid house, hi-nrg and pop, with many of his all-time favourites – and it worked perfectly. It always adds a little something when you can play for people you know. It was a similar story at Soup Kitchen in Manchester a month later for Kiss Me Again (no relation to our London party) – friends in the crowd and total musical freedom."
With playing records out there has to be somewhat a level of preparation in deciding what to pack in your bag before heading out. What's the process like for you? Is it try throw in as many as you can or slightly more calculated to the night you're playing? "Ordinarily I would pack for each specific party, and the process would start several weeks in advance. The best indicator of how busy I am is how many piles of records I have leaning against various surfaces, waiting to be picked. Of course there is a bit of triangulation that goes on when you have several gigs in a row. Before the pandemic I was playing three out of every four weekends, which was pushing me towards more continuity, but when I played Pickle on New Year's Day and El Cuerpo the weekend after, for example, my bag was almost completely different.
"I actually think this subject goes beyond mere practicalities. I can feel myself about to go off on one…but that 'calculation' you refer to points towards a compromise that you make every gig, between the ostensible needs of the promoter who's booked you, the crowd who've shown up and paid to get in, and you as a DJ seeking to express something about yourself. Some people are of the school that it's most important to do your thing and fuck the rest. I have to say that, as a bit of a people-pleaser, I have definitely benefitted from dialling up that fuck-you attitude over the years. But I also think there's a lot of creative pleasure to be derived in that sweet spot between your individual desires and the life of the party as a whole. In that area of push and pull, both you and the crowd can learn something new."
What sort of avenues do you use when it comes to buying and finding new music and what in essence are you looking for in a record? "I try to apply similar principles to buying records, whether I'm in a shop (not so much these days…) or browsing online (listening to mixes and radio shows and looking up production credits on discogs). My criteria are not so much 'Will it work in this or that party?' or 'Will it fit this or that vibe?', but more like 'Is there musicianship?', 'Does it scratch an itch?', 'Do I feel like dancing and pulling a rave face?' If the answer to those questions is yes, I'll certainly find a time and place in which to play it, with any luck when I least expect it."
You're currently residing in sunny Portugal – how did the move to Lisbon come about and how have you been finding it? Had it been on the cards for a while? You'd already played a number of times in Lisbon be it at clubs such as Europa and 5ACLUB, I imagine moving to a new city as DJ and a lover of electronic music you must have felt pretty comfortable with what the city offered in terms of nightlife? "I moved here in late 2014, so it's been six and a half years now. At the end of this year I'll be eligible for citizenship. It was one of the best decisions I ever took – less stress than London, a new and fascinating language to learn, stunners on the metro every day, cheap and delicious wine. There have been some sacrifices: proper bacon, Uniqlo, irony (or maybe my Portuguese isn't good enough yet). I would also note that although it's been a big success, it was a decision originally driven by desperation after I burnt out at my job in London. If that experience taught me anything it's that work-related stress is not to be taken lightly – it's never too late to slow down, take stock and make changes. That short-term uncertainty could save you a lot of anguish in the long run.
"I only had a couple of contacts when I moved here and it took a little while to get into the music scene. Even though it's a small city, or maybe because of that, there can be a bit of a clique mentality. But I feel pretty well integrated nowadays. I'm close to Carpet & Snares, who are distributing Welt Discos. Jorge (Caiado) and Rui (Roy) from Carpet are shining examples of people doing it right in this industry. And in non-pandemic times I used to play semi-regularly at bars like Lounge, Damas, Suave and Purex. I hope to do some Welt nights once that's possible again – a launch party for And.rea's record will be long overdue by then.
"Of course there is a very big and ugly shadow hanging over the nightlife industry right now. There are many businesses and artists having to fight for their survival. The Minister for Culture is a joke and I suspect that, even with ingenuity and adaptability, some venues will not make it through the pandemic without more support. There are groups like Piso Justo and Ação Cooperativista who are organising in these areas."
Can you give us a selection of current DJs that influence you at the moment and why? "We could be here all night!
"In Lisbon there are many DJs who I'm always excited to see play: Mário Valente, Chima Hiro, Roy, Pedro Beça, Tsuri, Telma, Novo Major, Varela, PHOEBE, Tiago. I feel spoilt that these and others are playing all the time here (at least in 'normal' times). It's a constant source of new ideas, as well as just being great fun.
"Internationally, I've already mentioned Gwenan and Nick Kagame, who are basically my ideal DJs who happen to be friends. Then there's a whole list of people: Theo Parrish, Laylla Dane, Omar-S, Traxx, Pascal, re:ni, Islas, Powder, John Gómez, Walrus, Peach, Orpheu The Wizard, Sugar Free… DJs who I have seen play once or more and know that I would make a particular effort to go and see again.
"Then there is the category of DJs whose work is a huge influence on me but who I've never seen play live. For example, Mark Seven's trilogy of Salute To The Men Of Vauxhall mixes, recorded live at Horse Meat Disco, are a towering example of DJing in a lineage that goes right back to Larry Levan. His ear for phrasing, lyrical exchange and emotional tone is as moving as it is intimidating. James Hillard from HMD has a similar touch. If you want to hear how a DJ can be a musician, those two and Theo Parrish are an excellent place to start.
"Other DJs who are on my 'see live' wish list once parties are a thing again include Melina Serser, Matthew Neequaye, Ouissam, Sedef Adasi, Mike Starr, Oren Marzam, rRoxymore, Pietro Bernasconi and Ryan James Ford.
"Finally, there are three radio shows I listen to regularly: Jaye Ward's 'Magical Real' on Netil on Sunday evenings, Zakia's 'Questing' on NTS on Saturday mornings, and Willie Burns' 'WTBS' on The Lot Radio on Mondays. Each of these DJs has a catholic approach to selection while still sounding totally like themselves.
"Phew!"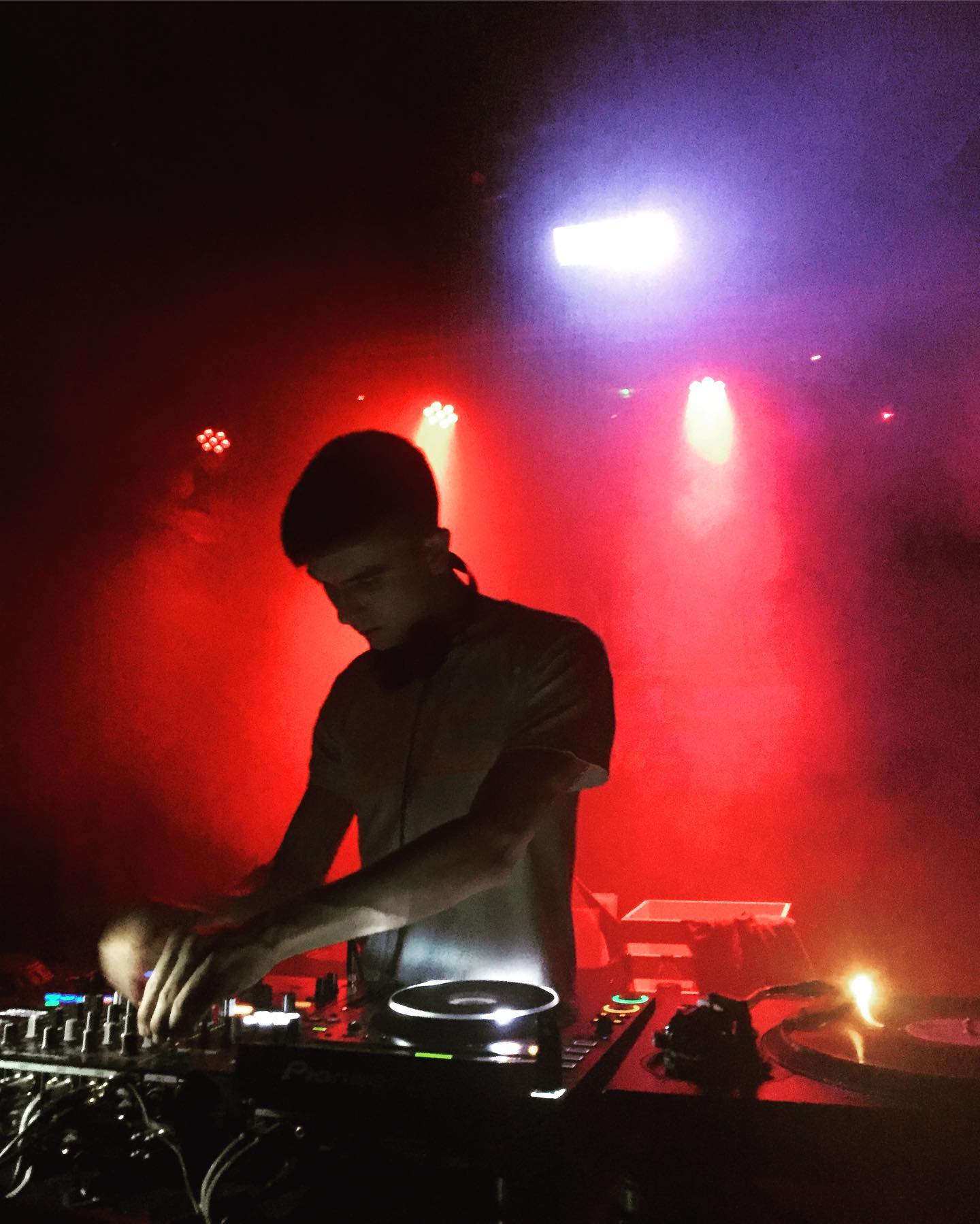 What sort of other hobbies or interests do you have outside of electronic music? "The main things I'm interested in outside music are Portuguese (I'm always learning), psychotherapy/psychoanalysis/group psychodynamics (in practice and also academically), sewing and making clothes (which I do very rarely, but when I do it's genuinely life-affirming) and, in case you hadn't guessed yet, writing/talking about myself. I also go swimming a lot, when permitted."
So what can you tell us about the Truancy Volume you've recorded for us? Was there any direction you decided you wanted to go for this when making and are there any particular tracks you want to shout out? "I did a pretty standard come-up-then-come-down format that I think works for home listening, though this one goes a little more 'party' than my usual home recordings because I'm missing playing in clubs. Although the format is quite standard, I try to keep things fresh in the actual DJing itself. So there's variation in how long I let things play for and the transitions are extended or abrupt depending on the tracks in question. In a couple of places I use acappellas or beat tracks as tools, and I like playing with key matches where they make sense. I guess genre-wise it ranges quite widely but that's what I like when playing out – the acid test is always whether or not anyone but me thinks it flows together!
"I included some of my all-time favourite producers of the '80s and '90s alongside current people I'm following closely. So in the former category, under various aliases or as remixers, you've got Juan Atkins, Richard H Kirk, Marc Anthony Clair, Mike Banks, Graeme Park & Mike Pickering from the Haçienda, S Sullivan & George Kelly of Big Sound Works, and the band Blancmange produced by Stewart Levine. In the latter category there's Ali Berger, Huerta, Binary Digit, A Psychic Yes, Caldera, and Diogo & Moreno Ácido's EP on Holuzam, a wonderful label run by the record shop Flur here in Lisbon. Now that I've written this, I'm embarrassed to realise that there these are almost all white men. I'll work on that. The mix finishes with a track by Lerosa, a good friend and someone who's been putting out consistently intriguing music for the past 15 years. That track, 'Universal Balance', will be on the next Welt Discos release."
Last usual question for us, what was the last thing to put a big smile on your face? "My niece turned 1 yesterday and the whole family sat on Zoom to watch her eating a purple (blueberry) cake. And by eating I mean smearing it all over her face."
Joe Delon:Soundcloud, Instagram, Welt Discos Bandcamp, Mixcloud
You can download Truancy Volume 273: Joe Delon in 320 kbps and view the full tracklist by supporting Truants on Patreon here. Your support allows Truants to continue running as a non-profit and ad-free platform. Members will receive exclusive access to mixes, tracklistings, and merchandise. We urge you to support the future of independent music journalism – a little support would go a long way.
Q&A by Riccardo Villella. Antoin Lindsay