In a year of near-continuous crisis, works of support and solidarity have proved crucial. One such release is Nisf Madeena, a compilation from renowned mastering engineer Heba Kadry, created in partnership with Arabic music and culture magazine Ma3azef. A fundraiser for music communities affected by the explosion in Beirut this summer, it is a thrilling showcase of modern production from artists connected to the Arabic-speaking world: a complex blend of dense electronics, pensive ambience and fiery rhythms, with contributions from ZULI, Deena Abdelwahed and Fatima Al Qadiri.
The explosion in the Port of Beirut was one of the year's worst catastrophes. Four months on, it is still difficult to comprehend the long chain of negligence and incompetence that led to the disaster. For over six years, 2,750 tonnes of explosive ammonium nitrate was allowed to rest in a warehouse unfit for purpose, following its seizure from a Russian-run ship, abandoned in port by its millionaire owner. Letters from customs officials urged judges to have the chemicals moved, but these were ignored. The resulting explosion was one of the most powerful non-nuclear blasts ever recorded, killing over 200, and leaving some 300,000 homeless.
The collapse of the Lebanese economy prior to the explosion, itself a result of long-term political corruption, has meant that the rebuilding process is slow, and dependent on volunteers. The UN estimates that 40,000 buildings were damaged, 3,000 severely. Pictures show high-rise apartments stripped of their facades, surrounded by rubble. Translated, Nisf Madeena means 'half a city', which is precisely what remains in Beirut: not just literally, but also with regard to the lack of support in the absence of the state.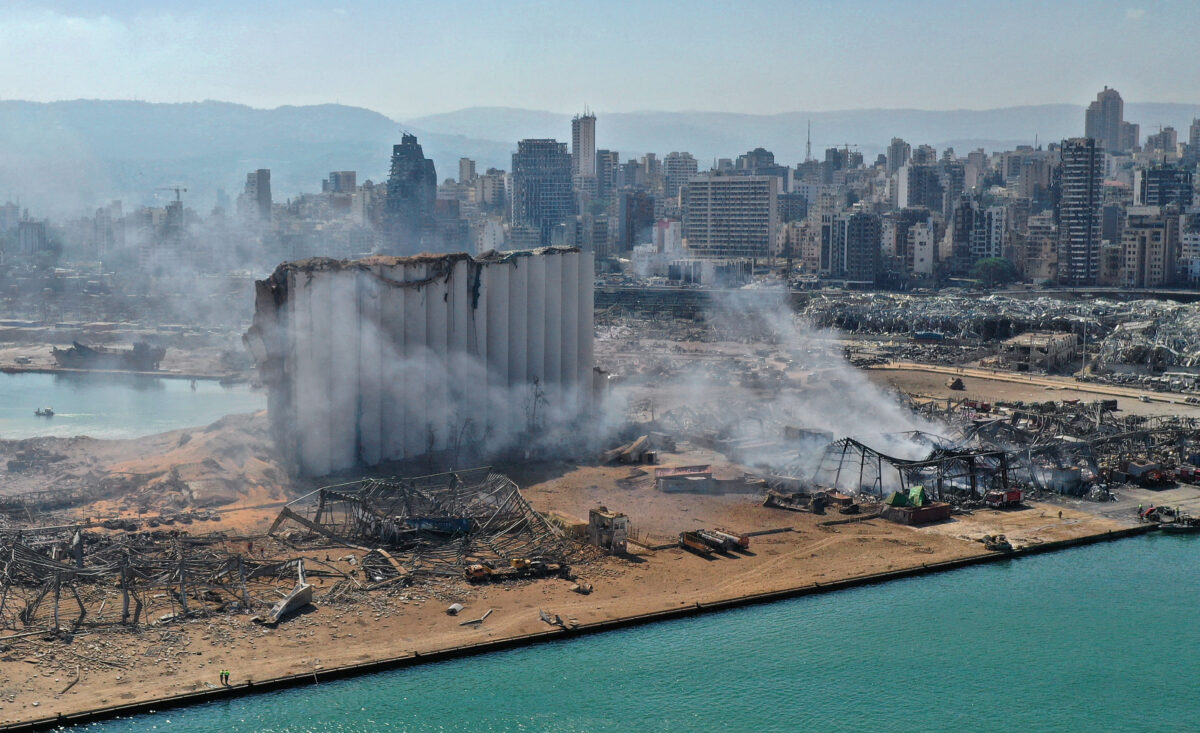 The situation is dire, and there are some who wonder whether the damage is irreversible. "There is a lot of underlying sadness and desperation," says Beirut-based musician Aya Metwalli. The trauma of events remains. Like many, Metwalli now leaves her house with furniture and possessions arranged in such a way to minimise damage in the event of another explosion. Recovery, she says, is a big word: "Personally, I don't think it's possible after so much destruction on so many levels."
Her contribution to the compilation, 'Matkhafsh Menni', is a standout. From beneath the surface of a brooding drone emerge flourishes of vocals, which weave through the air of twilight instilled by sustained layers of synth and what could be the sound of insects chirruping. Discord builds until giving way to a minimal pairing of filtered percussion and the rich lilt of Metwalli's voice. It is a heady and haunting eight-minute trip.
Metwalli is one figure in a city which has established itself in the region as a hub of experimental sound. Nisf Madeena speaks in part to the city's cultural loss, brought on not just by the explosion, but by kleptocratic leadership, hyperinflation, war in neighbouring Syria and the inflammation of long-standing sectarian tensions.
Egyptian-born, New York-based Heba Kadry—a mastering engineer with credits on releases from Björk, Ryuichi Sakamoto and hundreds more—says it is difficult to grasp the enormity of the devastation experienced by creatives in Beirut. "Most people don't realise that an entire music scene has been completely decimated," she says. "It is heart-breaking, because Beirut has an incredibly rich music culture, particularly in terms of its underground electronic scene."
Ammar Mnla Hasan, editor of Ma3azef magazine, agrees. "I think it's Beirut's clubbing scene that's given the city its regional importance," he says. What began in the '90s as a strictly underground affair has, like in much of the world, become a full-blown culture and industry. This in turn has spurred on independent venues and DJs in search of the more adventurous. Venues such as Ballroom Blitz, says Hasan, have given their residents free reign to breathe depth into line-ups. Rather than having to fill floors by rote, DJs such as Prïss have space to indulge their passions as crate-diggers, bringing entire libraries to sets.
Another name Hasan points to is Frequent Defect (FD), a DJ and artist collective that runs nights at the Mkalles Warehouse, an old pharmaceuticals storage facility on Beirut's outskirts. He nods to their knack for creating atmospheres that fend off the stupor which business-as-usual techno can sometimes land itself in. "They play everything from harsh-hitting industrial to ambient, breaking loose from the monotony of 4/4." In October, a benefit broadcast by Morphine Records saw FD founders june as and h.w.g.a curate a session live from Ballroom Blitz, delivering sets alongside locals Renata and TRY HARDER. The pair share a taste for the cinematic, with arcs that incorporate palatial soundscapes and flailing, unruly high-tempo rhythms.
Also featured in Morphine's marathon broadcast was Khodor Ellaik, AKA Kid Fourteen. Over the years, he says, Beirut has hosted small but dedicated scenes for much more than club music, including metal, punk, improv and hip-hop. The site of the explosion, he explains, meant it was particularly devastating for all these communities: "Almost all of our venues, of all sizes and roles, are along the coastline. After the explosion, most of them were in ruins, or damaged considerably. For a sec, it felt as if everything was lost. To be quite honest, it was."
If anything has softened the blow, he adds, it is the inertia brought on by COVID-19. The spread of the virus means the city's venues had already been out of action for several months. "We haven't performed in a long time, and in that sense, it doesn't feel as if anything has been cancelled," he says. "What has been helpful is the enormous support from international communities to aid in the cleaning and rebuilding: friends and families from abroad sending in fresh dollars amidst an economic crash. It's been tremendous."
International support is also present on Nisf Madeena with tracks from the wider region and beyond. Highlights include Egyptian producer ZULI's 'Kiwi Meld', a storm of sample-work that forcefully blends shredded percussion with stuttering blast-beats and granular matter. His ability to fuse complex, seemingly disparate elements into such ecstatic works is immense. Meanwhile, Kenyan producer Slikback's 'FAZA' brings us to an alien-industrial landscape, where machinery sings in steely tones. A crescendo builds until the floor falls out onto a bone-fracturing five minutes of shadowy bedlam. It is perhaps the Nyege Nyege affiliate's most brutal release to date.
There are softer moments too. Lebanese composer Marc Codsi's 'A Light' is a warm wash of synth, descending on a gentle undercurrent of pulses. A simple, almost naive pattern evokes rebirth, a fitting closer. Meanwhile, US-Lebanese producer Faten Kanaan gives us 'Three Arches', an exercise in melancholy with a rain-drenched composition for synth and flutes: music for an empty city.
* * *
In previous years, Beirut has been home to a flourishing underground. Its people are still there, and their struggle continues, but the explosion has shattered their already-frail infrastructure. What's more, COVID-19 severely limits efforts to put it back together.
Yet there are signs of life: the long-running Irtijal festival, the city's oldest music event with a focus on experimental forms, improv and electronics, held its 2020 edition online with some limited in-person capacity. Tunefork Studios, a long-standing hub for music-makers, continues to run its Beirut Musicians Fund. Sales of Nisf Madeena contribute directly to this.
"Locally, solidarity between musicians is now stronger than it has ever been," concludes Fadi Tabbal, founder of Tunefork and Technical Director at Irtijal. "Differences have been put aside. We've seen new funds set up by artists, and have received overwhelming support from the international music community." Tabbal and others are under no illusion as to the scale of the task ahead of them. What happens next, and what can be rebuilt, will be dependent on collective efforts both in and out of Beirut, a city that's no stranger to calamity.
Nisf Madeena is out now and available to purchase digitally via Bandcamp, with all sales proceeds going towards Fundraising Campaign for the Arts and Culture Community in Beirut organized by AFAC, the Beirut Musicians Fund run by Tunefork Studios and Beit el Baraka, a non-profit providing blast relief and other living expense support to Lebanese citizens.
Other music compilations raising money in support of these causes include Grief Into Rage: A Compilation for Beirut, and The Ruptured Sessions Volume 6 – For Beirut.