For our 238th Truancy Volume, we welcome one of techno's elite, Peter van Hoesen. As a producer and DJ, his evolution through the genre has been well documented via releases on Tresor, Curle and his own label Time To Express. Masterfully executed and prolific in output, Peter has always been just deeply concerned with the exploration and development of forward-pushing club sounds. We caught up with Peter to discuss his new label venture Center 91, as well as the references and warehouses experiences of the 90s rave scene that led to informing its first release Opal Balance. Wanting to return to his roots and integrate that cutting-edge Belgian attitude back into his DJ sets and productions, the four track EP sees Peter take those formative influences and provide his own contemporary take on it. Inspired by a string of shows in Medellin this year, Truancy Volume 238 takes on a similar narrative, albeit drawing more from an '80s crop of electronic music and artists. Expanding through a mixture of EBM and New Beat, whilst slowly working up to full-on hypnotic techno, this is Van Hoesen at his best, giving us depth in electronic music that can only come from years of dedication.
Hey Peter, thanks again for taking out time to answer some questions and do this fantastic mix for us. Whole team at Truants has been loving the mix you've done. I thought I'd start by asking about the new label Center 91, as the first release Opal Balance came out last month. I'm sure you've been regularly road testing the tracks out so all fresh on your mind. What can you tell us about the release? It has been described as referencing your own experiences of late 90s Belgian underground warehouse raves. Would you say there's a sense of nostalgia to the three tracks or something else you're trying to channel?
"There are several motivating factors behind the new label and the new record. The main one is the fact that I wanted to find back the energy and drive which in my personal experience is linked to that 90s warehouse era. It's not so much nostalgia for a certain sound, because that does not really interest me. Sonically we need to move forward with techno, I believe. But I do feel that the particular vibe of that 90s period can bring me something which I started missing – also in my own music. I felt as if things were becoming too introspective, too moody maybe. I have addressed this situation by returning to my roots, being the electronic music scene in Belgium mid 90s"
Can you tell us about some of these warehouses and the DJs who were organising and playing at them? Names like Yves Deruyter, Fuse, Boccacio, Frank de Wulf and R&S come to mind when I think 'Belgian rave', but there's obviously so much more to know, so it's interesting to hear from yourself. Did you ever see people like Trish Van Eynde, Pierre and Deg play or was there a specific Belgian sound you were particularly drawn to in the '90s?
"A lot of people including myself often referenced the New Beat era, through names such as Boccacio, R&S and many others. This was an important, very creative period, no doubt about that. However my inspiration for Center 91 is what happened afterwards, the start of Belgium's rave and warehouse techno scene. For me this is linked to Brussels, because that's where I lived at the time. The underground techno scene was incredibly rich, every weekend multiple events were organised, usually with a big amount of local talent. The BWP crew around artists such as D-Jack, Acid Kirk, Deg and others were a big inspiration to me. At the time many Belgian labels were releasing influential music, I'd say the Re-load Records comes to mind. Many of my friends still enjoy reminiscing about events at the no longer existing PK Studios. We're also talking about the start of Fuse club around the same time. And yes, the DJs you mentioned were all part of that. During my residency at Fuse many years later I ended up playing alongside fellow resident Deg, which was a nice way to come full circle. And I can confirm, Deg still kills it."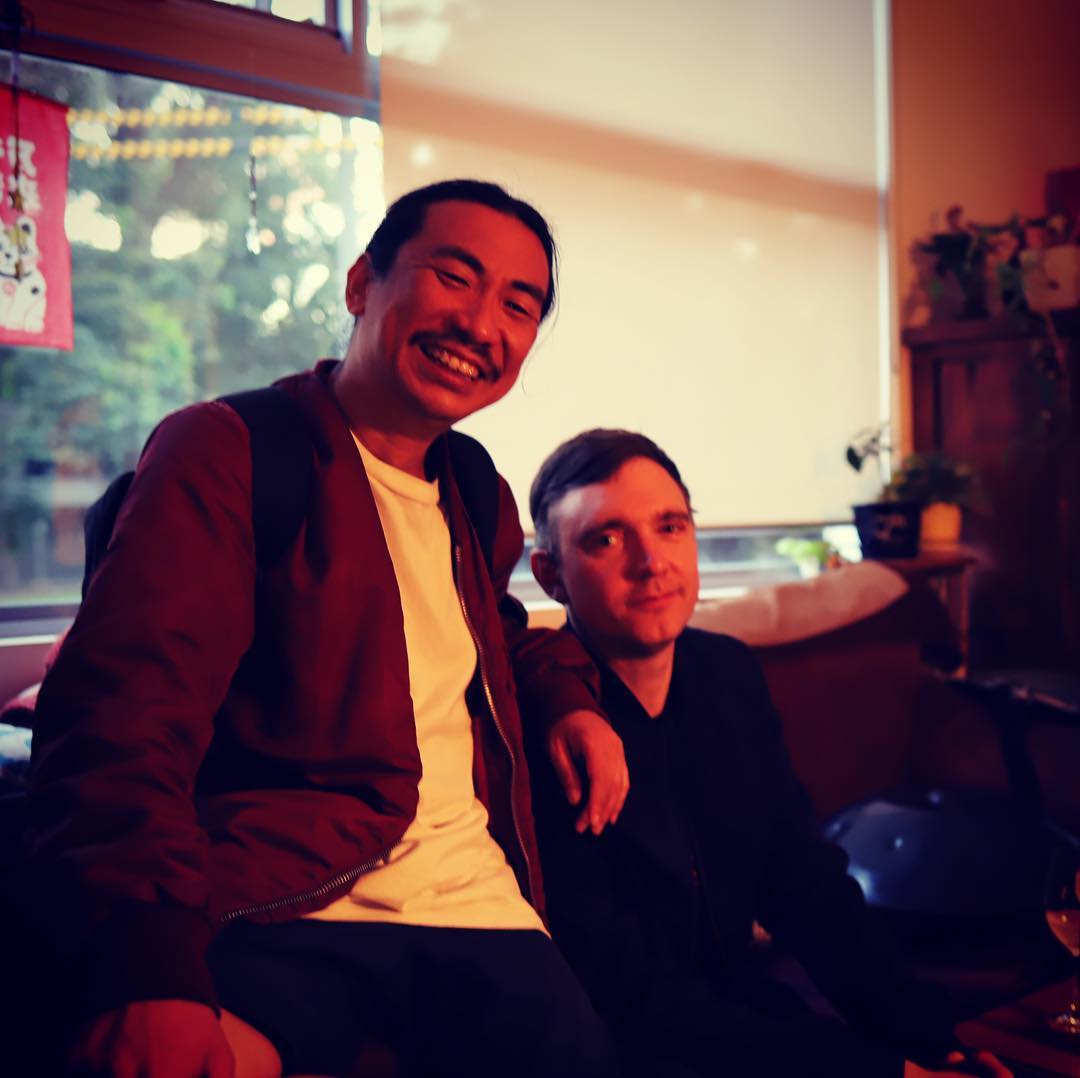 DJ Nobu & Peter Van Hoesen
What can you tell us about SIS radio? I understand that was a pretty prevalent radio station in Antwerp at the time.
"I believe SIS was the first home of legendary radio show Liaisons Dangereuses. The show was originally hosted by Paul Ward behind the microphone and Sven Van Hees behind the decks. Later on Steve Cop replaced Sven. Even today you can drop these names in Belgium and people connected to electronic music will know the score. Anyway, SIS was important as the radio station hosting the show, but Liaisons Dangereuses was more important. These guys helped shape the scene through innovative radio productions which became legendary. The show later moved on to another radio station and continued to play cutting edge electronic music."
I was reading an old interview with you and Donato Dozzy where you discuss Belgium (and Italy) being very accepting of dancefloor-based electronic music in the '80s and being able to draw from different influences more so than France, Germany and Holland did in the '80s. Why do you think this was? (I'm quite enjoying this history lesson this interview research has taken me down by the way, haha.)
"For Belgium there are a number of reasons I guess. First of all, we are a small country, in order to thrive we need to look beyond our borders and allow outside influences to take hold. New sounds and styles are more easily accepted, even searched for in such a context. Secondly I believe there was already a very fertile nightlife present in Belgium, going back as far as the late 60s, early 70s. Belgians like a good party you know ;-) And this in turn created a climate where people started exploring dance music a bit deeper than in let's say France, Holland or Germany at the time. Another reason is that for Belgian musicians it makes no sense to try and make pop or rock music within an industry dominated by English culture and language. And the major record companies were (and maybe still are) not interested in Belgian bands within a global context. As a result these musicians begin to look towards other styles and genres where the US/UK-centric ways of working are not so strong. You quickly end up with electronic music, instrumental at heart, focused on sound rather than the content of the lyrics. And lastly, Belgium has a bit of a surreal streak to it, so it makes sense for Belgians to start making weird music."
How much musical research was put into remembering some of those experiences and translating that into your production for this release? I can imagine going down a rabbit hole of old records, Discogs and Youtube videos – pulling out tracks that recall some of those moments? Are there any examples you care to give?
"You nailed it: a healthy cocktails of old vinyls, mixtapes, YouTube and a massive financial transfer towards Discogs ;) The thing is, even before the label was started I was researching this because I wanted to integrate that particular 90s attitude back into my DJ sets. I discovered old mixtapes I recorded in 1995, '96, playing 145bpm techno, back then a very normal speed. It's this I wanted to re-connect with, in a modern way."
Despite all this, you've been careful to still keep the release 'grounded in the contemporary' as mentioned in the press release. Can you elaborate on that?
"I'm not a big fan of recycling entire genres and styles without adding a contemporary twist to it. Electronic music for me should be about trying to push sonic boundaries. Techno specifically, that style of music carries within its DNA a promise to try and find new sounds and methods to come up with fresh material. That is why the contemporary angle is important for me."
Moving on, I wanted to talk about your performance with Gabi Sultana in October where you both interpreted John Cage's Sonatas for Sourdoreille's Variations project. It seemed like there were some amazing other pairings going on the same day/evening – can I ask how your own pairing with Gabi came about and what kind of production and preparation went into this?
"Sourdoreille approached me in early 2018. They wanted to team me up with a piano player in order to participate in the Variations project, which presented several joint performances between an electronic musician and a classically trained musician. They had someone else in mind as my musical partner, but in the end this did not work out. As Gabi and I already wanted to collaborate for a number of years I felt that this was the right opportunity. I proposed Sourdoreille to produce this collaboration, and fortunately they agreed. We eventually settled on four Sonata's of John Cage, interpreting them using piano and modular synthesizer system. Our only preparation besides a lot of online conversation were four days in a rehearsal studio in Paris the week before the show. We were quite confident that we could pull it off as we're both very interested in improvisation. The recording of the performance came out really well, we are super happy with it. The next phase for our collaboration will be the recording of a full album, this time based entirely on our own material."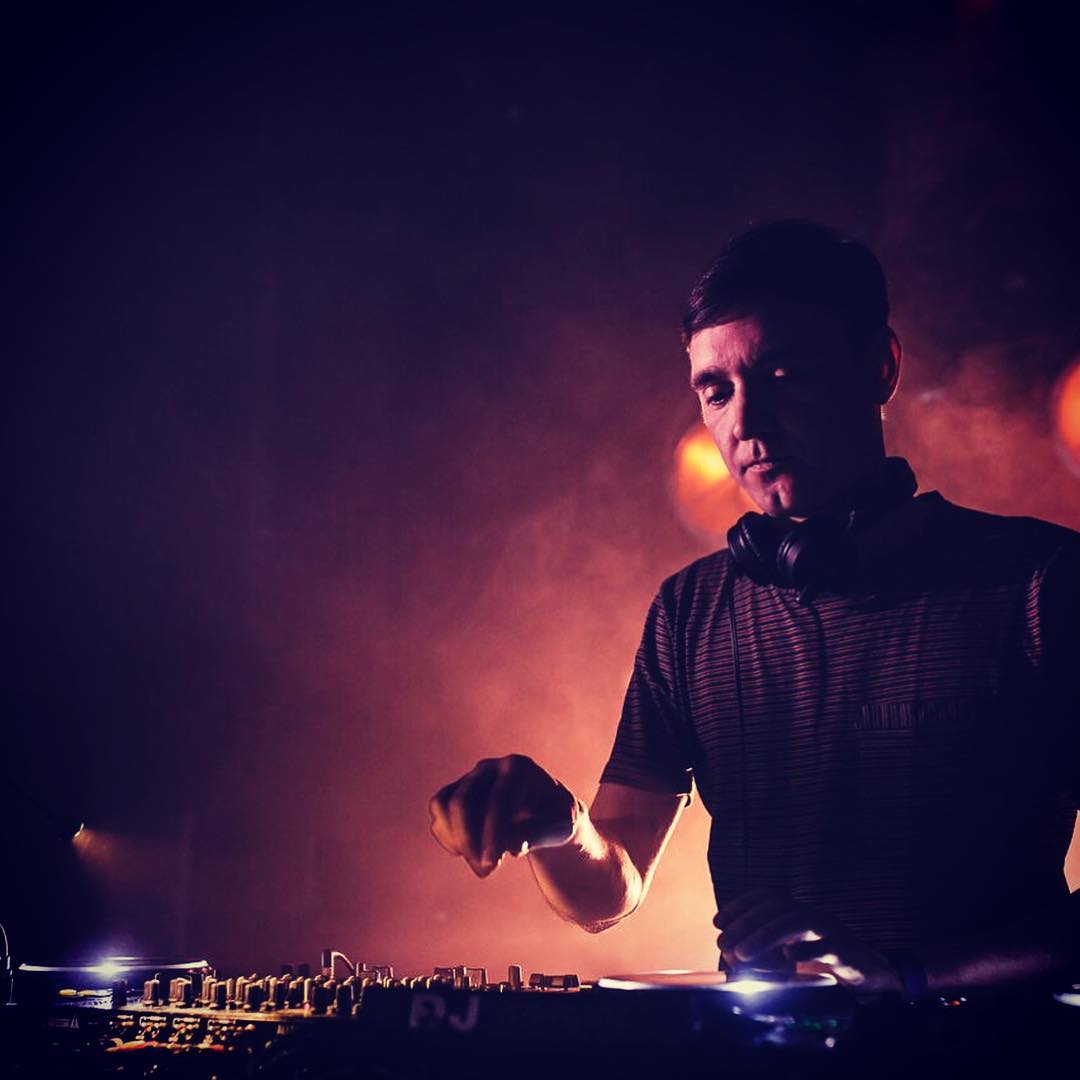 Peter Van Hoesen at Village Underground, London
Were there any difficulties or challenges working with a certain sense of restraint on this? Obviously there are major differences to your normal live sets but I can imagine there being certain crossovers to how you approach both.
"There were not so many similarities to my solo sets. Playing improvisational music requires a specific attitude and mindset, something which is not required when you play solo. We had the four Sonatas serving as anchor points, and in between we were free to improvise and create in real time. So in a way there was a framework helping us to create around that. I did not experience any real difficulty, only lots of enjoyment in playing together with a world-class musician. The restraints we had were helping us rather than hindering us I believe. Sometimes less is indeed more."
Was it similar experience to the audio visual work performance you did with Heleen Blanken at the Center of Art and Media in Karlsruhe last year? I really love her stuff, especially the work she did later on with Draaimolen Festival. I can imagine working with her visuals and the ISM Hexadome being quite wonderful.
"Heleen is an amazing artist. Her visual approach is very unique. For the ISM project we worked completely different from the project I did with Gabi. There was a lot of time to prepare the Hexadome creation, and the order of creation was very much defined. I first handed Heleen a lot of music before she started to edit down her ideas. The music was the first step. We were also fortunate enough to be able to work with the Klangdom systen in Karlsruhe. When composing for such a complex surround sound system it is necessary to have enough time with that system, as its characteristics and features are extremely unique and sometimes take a long time to master. So in answer to your question I'd say these were two very different projects."
I feel I couldn't ask some questions without mentioning Japan somewhere in here, as I've been listening to that last SSG mix you did for them back in 2012. You wrote such a nice note how the scene in Japan had supported you in such a heartfelt way and that you've witnessed people develop a taste and be so open to sharing it with others. Seven years on with regular trips to the country, it still seems like a very enriching experience for you each time you play over there.
"Yes, nothing has changed. If anything the connection is becoming deeper, richer and more rewarding each time I visit Japan. The amount of personal contacts has grown, friendships have become more solid than before. I still love playing in Japan, it remains a very special place for me. And each time new opportunities and situations present themselves. One of the fun things which came out of the last trip is me curating two playlists for Kabi, a fantastic restaurant in Tokyo. It was really interesting to create a playlist matching the vibe and energy of such a unique space."
What can you tell us about the mix you've recorded for us? Any particular direction you decided to go in when choosing tracks for this? Are there any tracks from the mix you want to shout out that have been staples in your sets recently?
"First of all, thank you for inviting me! The mix showcases two current interest of mine, 80s electronic music and energetic techno. In a way the mix translates what I want to play in certain clubs at the moment, starting out with slower tempos and working my way up to full-on techno. The mix was inspired by my second set for this year's Freedom Festival in Medellín, Colombia. There I was given four hours to really expand into different styles, starting out with ambient, dub and gradually moving into New Beat, EBM and finally techno. That set is definitely one of the highlights of my year so far. The Colombian dancers responded really well to it."
What can we expect from Peter Van Hoesen for the next four months? I assume with Center 91 being a fresh new label for you, you must have some interesting ideas of where you want to take the label?
"I have just mixed and mastered the second EP for Center 91. The plan is to release this before the summer. This will be another four-track EP. Then later on in 2019 I would like to release the third EP, which will be by a new project I have started alongside someone very special to me. We'll start with an EP after the summer, and eventually will release a full album near the end of 2019. In general Center 91 has been started to serve as a new creative outlet for my own productions, and that's what you'll see in the next 12 months."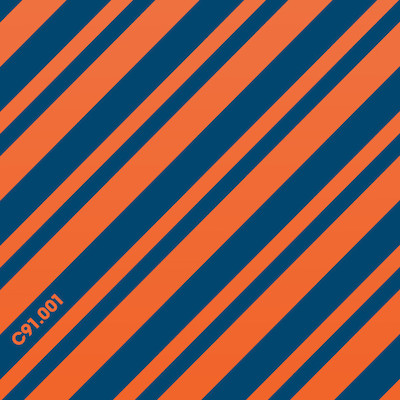 Any news if we'll be seeing any more music on Time To Express or are efforts more directed at Center 91 at the moment? Although I must say if you were to have stopped you stopped in 2016 in a very satisfying manner with almost a trilogy within a trilogy of releases with Perceiver, Moving Through Mirrors and Stealth. Was that intentional?
'Time To Express is still active, I have not shut it down. However, it was time to take a break from the label after 10 years. Some reflection on what the next steps for the label could be was definitely needed. I'm still in that stage, figuring out how to proceed. One big project which will see the light of day in 2019 is a compilation of unreleased PVH material, music produced between 2008 and 2018. There's a staggering amount of tracks which I either forgot about or found no clear destination for at the time. The compilation will finally enable me to present this music to the world. At the moment I'm working with a selection of over 50 tracks, so I'll probably need to trim that down a little bit. But you can expect it to be a massive compilation of several hours of music. And yes, the trilogy sequence was very much intended, I'm happy you picked up on that. I attach a lot of significance to the number three, so three trilogies, that's something which resonates strongly with me."
Last usual question from us, what was the last thing to put a big smile to your face and when was the last time you properly danced?
"Recently I have had a lot of things to be smiling about and to be thankful for, it is really difficult to choose one moment. The last trip to Japan was amazing, my recent move was a great moment, the presence of certain people in my life is a continued blessing, so really it is a difficult question you're asking. But I can definitely answer the last part. The last time I properly danced was in November at London's Village Underground, where I played alongside Oscar Mulero and CSGRV. Oscar played after me, I joined my friends on the dancefloor and ended up staying until the last track of his amazing set. That was a proper night out."

Peter Van Hoesen: Soundcloud, Facebook, Instagram, Resident Advisor,