The first time we saw Jasper James in Amsterdam many moons ago, he was playing Shelter alongside the likes of Denis Sulta and Tsepo. Having had his Rinse.fm mixes on regular repeat as well as his BBC Radio 1 Essential mix, we later asked the Scottish DJ and producer, closely associated with Sub Club and Rubadub, to make an instalment for our own mix series. He kindly agreed and spent some time going through different iterations and ideas for the mix, before delivering the shimmering result presented below.
In the interim, Jasper kept busy and launched his own label – Mitchell Street Records – on which he released his first dance-floor ready release Crypto / These Are the Beats last month, described by Mixmag as an inaugural release fit for a late night jam, and organised parties in Glasgow inviting the likes of Prosumer, Elias Mazian and Tom Trago. He started and finished his Phonox residency, and lined up a string of releases set to see the light on Mitchell Street next year – including a record by Elias, as well as his father Harri and The Revenge, on which we all touch in the interview below.
Needless to say, from the moment we first started speaking to the day of the publication of his mix, a lot happened. Truancy Volume 231 is Jasper James' first studio mix in quite some time, presenting what Jasper would play out on dance floors today, pacing the mix over an hour and ending on a high – leaving room for more to come. His mix features forthcoming music from his own label, and new and old tracks by the likes of Phil Moffa, Valentino Mora and Inner City queen Paris Grey, and the time and care put in this mix is apparent from the moment you press play.
Hey Jasper, how are you? What have you been up to? "I'm very well, thanks! I just got back from playing in Rotterdam at club BAR. I'm extremely grateful that I got a chance to play there before it shuts down. Such a shame, it's an amazing space!"
I listened to your set for Seoul Community Radio earlier which I thoroughly enjoyed. What was your experience touring Asia this year? "It was my first time touring Asia, it was always on my bucket list to visit Asia, especially Tokyo. Safe to say, I wasn't disappointed. I would definitely consider moving there, if it weren't for my commitments in Europe. Everything was spot on, from the food, the clubs, the people and of course the record shops – sounds cheesy but it took my breath away. I only actually got to spend two days in Tokyo so I'm dying to go back for an extended period of time – not too long though, because I may come home bankrupt. I try never to go into any gigs or tours with any expectations and just consider myself the luckiest person in the world to be DJing for a living in the first place, but Asia exceeded all imaginary expectations. Every gig was dynamite. I got to visit Seoul, Singapore, Hong Kong, Bangkok, Kuala Lumpur and Tokyo. They really have a good thing going out there, all the people at the gigs danced from start to finish and there was a great vibe throughout. I really couldn't fault it, I would love to go back, maybe next year."
Last August, you hosted your own daytime festival at FLY Open Air, inviting Peggy Gou, Palms Trax and Hunee. How did the event come about? "I've been DJing for Tom Ketley at his parties in Edinburgh since before I was of the legal age to get into clubs. I've been doing a bi-monthly residency for his Fly club party for the past year. I guess it was natural progression. It was a stand-out moment in my career so far. It was incredible to have so many of my peers come to play at my party in my home country to 4,000 people. I was super nervous to be closing the stage after Hunee and tried to alter my set-time several times on the lead up to the night, which Tom refused and kept changing back. I think in the end it went okay and I'm grateful to have been given the opportunity." 
The last time I saw you, you played a set at Printworks with Eclair Fifi with who you've played with together before. I was wondering if you could tell me a little bit about your set? "It was my first time playing at Printworks and I started at noon. I think myself and Claire were only supposed to play for 2 hours but we ended up playing for about four hours as Gerd Janson was having some travel issues. We played a few times together so it came natural, and we got to play to a few folk in the end, thanks Gerd!" Are there other people you play well with? "I don't often agree to B2Bs if I haven't played with them before or know them as a DJ. My favourites to play b2b with are Optimo, Harri and Dom, Jack, Tom Trago, Elias Mazian and I once played b2b with Craig Richards in Liverpool many moons ago, which was fun! Craig, if you're reading.." Who would be your dream B2B? "Ron Hardy!"
You're also a veteran of the six hour solo set, which is quite the opposite experience I'd imagine. "When I first started my residency at Phonox the idea of doing a six hours set every Saturday night was extremely daunting. I didn't know if I was actually up to the task as a DJ and began to question myself and my ability, as I had only ever played for that long a handful of times – not every weekend to a busy club. I spoke to a lot of peers who have held down residencies for many years. They assured me that I had been given this opportunity for a reason. I had been clubbing and watching resident DJs play in Glasgow religiously every weekend for years before I started touring myself. To become a resident and do what those people were doing, really was a dream come true."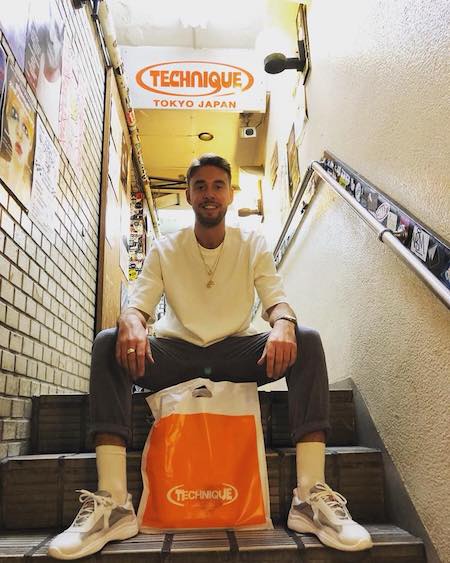 What are some of the key things you've learned about DJing through your residency? What do you enjoy most about it? "The art of being a resident DJ really is special and there aren't enough of them anymore these days! Once I got the first night under my belt it was a pleasure to control the room for such a long time. It has really helped me properly learn my craft and be able to explore all the different genres I'm into over the course of a night. It allowed me to take risks as a DJ which I never got to properly experiment with previously. To be honest, I got so used to playing for extended periods of time that playing at a festival or club for an hour and a half became alien to me. I would find it difficult to try and get across my journey in such a short period – that was something I found hard to adapt to at first. I'm definitely a bigger fan of longer sets now!"
Previously, you spoke about exchanging playlists with your peers. A lot of the ways you approach DJing is quite open and about sharing knowledge, more so than some others in this industry. Why do you think this is? "I've always been of the opinion that music is for sharing and try help push anyone that I see has fire in their belly and is in this game for the long run. I do share some of my findings with certain DJs because I know that they will return the favour, usually. If the zip isn't up to scratch and you know they are holding out on some belters that's usually when the sharing relationship ends, haha, but if anyone ever asks me for some music I'm always happy to share."
You mentioned your production course at university not clicking for you. Does this mean you were looking for something more collaborative or solitary? "University didn't really explore what I was into but I didn't mind attending. I managed to complete my degree and throughout the duration of my course, it helped me realise how keen I was to be a DJ and not have to continue my 9-5 job. Every day I would be in the studio on top of juggling my degree, desperate to get some tracks finished that hopefully a label would want to sign. When Optimo approached me I didn't hesitate saying yes, as those guys have been a massive inspiration for me. Occasionally I jam in the studio with some people, but no finished tracks or releases have ever come from it." Is producing music at all a collaborative process for you like the way you approach DJing, or is it the opposite? "To be honest, I actually prefer working with other people, because you can bounce ideas off them and it makes the whole experience more enjoyable. Sometimes I find writing music yourself can be difficult after a while. I'll get stuck in a loop and never know whether the track is any good or not and quite often scrap a good idea. Production, for me, is something that comes second to DJing. Primarily I'm a DJ and always have been, but production is something that has helped open the doors to allow me to DJ. It's kind of weird it works this way as you get a lot of people coming from a production background who then get thrown into the DJ world."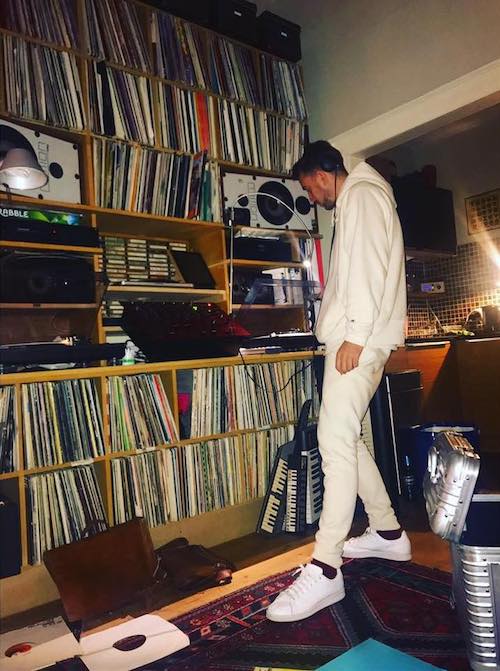 Can you tell us a little bit about your record label Mitchell Street, and the reasoning behind launching your own label? "Coming from Glasgow, I have grown up with such amazing artists and labels around me, from Soma, Numbers, DABJ and Optimo Trax. These labels have consistently put out forward thinking electronic music and have helped shape my sound. To start a label of my own has been a scary prospect but a dream all the same. It all happened very organically, I was being sent a lot of music that I felt other folk needed to hear apart from myself, so it felt like the right time to start up a label to help push forward some talented DJs and producers."
Your Truancy Volume features a track by your father, Harri – he's instrumental in where you are in your career today, and it's a lovely gesture to have him involved. What does the record mean to you, and how did you come across it again? "My dad has been my main inspiration throughout my career. I actually came across a dubplate of this record when having a look through his collection. I didn't actually know it was by him, I was playing it and my dad turned round to me and said "who's this", to which I responded, "no idea" – we then discovered it was actually him, haha. It has been a big track in my sets for a long time, and it always gets an amazing reaction, it only felt right to release it."
Can you tell me what is next for Mitchell Street? "I've got some music coming out from Elias Mazian (De School) who is not only one of the most genuine people I've been fortunate to meet, he's also one talented guy! The first time I saw him DJ was when we played B2B. We had never met one another and were randomly put together for a b2b set at some big party for DGTL. Who ever curated it though, fair play, as it worked. Ever since, we became close friends and I've signed a couple of really beautiful tracks by him that I'm excited to share with everyone. I also have some wicked tracks coming out from The Revenge, which is definitely on the more darker, druggy side of of his productions that I don't think many people have had a chance to hear, rather than his disco edits he's well known for." And lastly, what's next for yourself, production-wise? "I have a track that I think myself and Tom Trago are going to put out, and I also have a track that Mall Grab is putting out on his label with a remix from himself. I also have some other bits that don't have a home yet."
Jasper James: Soundcloud, Facebook, Twitter, Instagram, Resident Advisor
Photo by: Sean Bell