One of the Midwest's most innovative and enduring talents, Titonton Duvante's work has encompassed numerous roles over the years, forging a multifaceted career as a composer, vocalist, recording artist, producer, remixer, record label owner and DJ. His work spans longer than two decades, having cut his teeth in the early '90s alongside Ed Luna, Todd Sines, Charles Noel and Anthony Dandrea as part of their Ele_mental crew. As described by DJ Shiva in an interview with Red Bull, Ele_mental were a huge contributing factor in building a scene that connected to all the surrounding Midwest cities. Since Titonton founded his own label Residual Recordings in 1998, it's seen a renewed energy since 2016, with a string of new releases from the likes of Christopher Rau, Garrett David, John Tejada, and Duvante himself.
We caught up with Titonton to talk about his past with Ele_mental crew and the importance of documenting dance history, continuity in DJing, future album projects on the cards and seeing Jeff Mills for the first time at 'Journey through the Hardcore'. Featuring a handful of artists making their debut on Residual Recordings in the near future, Titonton describes his Truancy Volume as a close narrative of how he DJs—smooth, frenzied, followed by a cool-off to bring it back down again. With this mix, we present a true underground hero enjoying a well-deserved chance in sharing his wonderful style with more people than ever.
Hey Titonton, hope you're well! Want to say thanks for taking out time to answer some questions and do this mix for us. Whole crew is very excited to have you on board, you're a name that would regularly come up in our brainstorms so glad it's cemented itself! Just want to start with talking about a certain site called http://www.ele-mental.org/, as I've gone down a massive reading rabbit hole finding this through a comment on discogs. Been reading up on the 'Said & Did' section which has an online archive featuring historical documents on electronic and experimental music history, old archive of club flyers and and articles written by yourself from the past. Can you tell us a little about the site? Was this ran with Todd, Mike and Noel? Think the domain was registered in 1998! "Thank you for having me! Ele_mental was the crew that I aligned myself with very early on. It was a rather open minded collective that wanted to present quality music and events as well as embrace technology. Ed Luna, Todd Sines, Charles Noel, Anthony Dandrea and myself were core members but we were always to wanting to share knowledge and would take on others passionate about the same aspects of the scene. We felt it very important to document what was occurring at the time. Correct that the domain was registered in 1998. We had been active as a group officially in 1993, all active members of v-rave chat rooms and mw-raves via hyperreal even prior."
Stumbling upon this I already knew this was a goldmine for research but then there was a link on the site to a page chronicling selected moments in ele_mental history dating back to 1990! Feels kind of right to go way back to the beginning and ask about that 1990 summer meeting Edward Luna. Do you remember that at all? A few more people became involved with you guys in 1993 correct? "So in the summer of 1990- I was a music student at the Ohio State University.  I happened to be heavily into going out dancing, sometimes going out 6 nights a week. The venues around town would play an interesting mix of alternative rock, the occasional pop tune and the rare electronic music tune. During a Wednesday night outing, I remember meeting Ed. He was a film student at the time. There were not too many people of colour in Columbus in this scene. Because of this, my outlandish sense of fashion, and bold dance style – we made introductions and struck up an immediate friendship. We were even in a short -lived musical duo called "Soft Perimeter" (the opposite of hardcore). The crew evolved naturally through going out, meeting other likeminded folks and the pursuit of the perfect groove. Todd Sines, Charles Noel, Michael Szewczyk and myself were in a electronic band called "Body Release." We formed in 1991."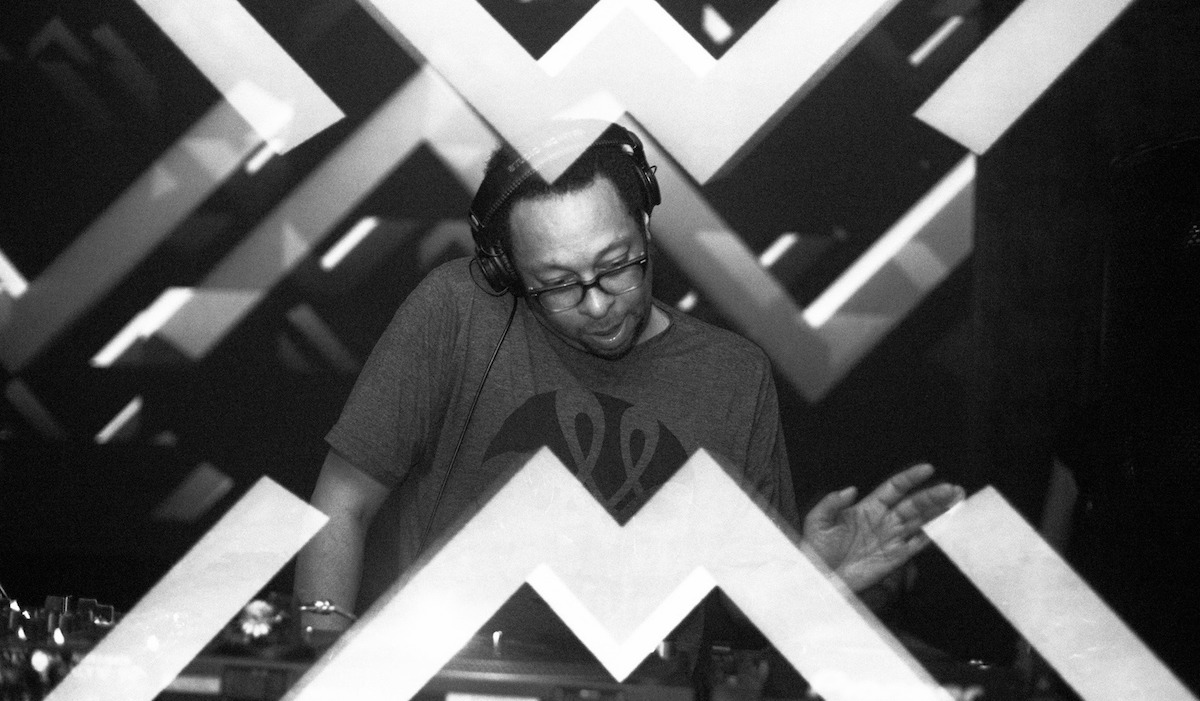 Although I don't want to spend too much on the past I love that this information is available, especially it mentioning you guys all threw your first ele_mental party back in May of 1993 in a parking garage on the campus of the Ohio State University. Supposedly this event marked your first appearance as Titonton the DJ? What else do you remember from this party? "Renegade party in full effect. We invited some the DJs in town that we would hear going out to the local venues as well as undergrounds. We struck a friendship with Damian Higgins aka Dieselboy who played at the event. It is true that this was one of my first DJ appearances. I had been producing before but really wanted to try my hand at DJing."
What can you tell us about the party 'Journey through the Hardcore'? From what I understand it was pretty influential to you and your friends at the time? "It was our first trip to Detroit to attend any undergrounds. We were traveling mostly around the Midwest, going to events nearly every Friday and Saturday. Hearing quite a few of the Detroit artists for the very first time. One of the stand outs was Jeff Mills' DJ set. We had never heard anything like it. His mixing style and track selection left an impression on all of us. We found the Detroit crew extremely warm and welcoming. And they were the best dancers anywhere we had traveled to prior."
I was reading an interview with DJ Shiva talking about raving in the Midwest and she mentions that the ele_mental crew from Columbus were a huge factor in helping build connections to other cities, along with other groups such as Black Nation from Kalamazoo. To you, did it feel like you were connecting things together back then or were even aware of being such an influence to some people. "Honestly, we really did not have any idea the influence would be so great. As previously stated, we were just searching for the perfect groove and trying to find others that were as interested shared knowledge. There was certainly a kinship with the smaller cities like Kalamazoo and Pittsburgh. We were happy to find other folks into the music."
You've mentioned in past interviews how you spent quite a bit of time really listening to and analyzing music as a child, making these little tapes as well . How quickly did you take to making electronic music once you got the taste of it. "As soon as I  heard electronic music I tried my hand at it. The Art of Noise was very influential. My attempts would be with whatever make shift equipment I could find. In 1990, I purchased my first real professional grade music workstation which served as the centerpiece of my set up for over a decade-The Ensoniq VFX."
As well as your productions being held in such high regard, it's also been stated that you're anextremely technical and accomplished turntablist. I'd love to know how you feel your own style of DJing has changed/improved over the years? Are you still Djing the same way now? "I am constantly trying to evolve as a DJ. My style back then was a little too wild to be perfectly candid. I spent so much time working out turntable tricks that the continuity of the sets greatly suffered. In the past, the focus was on what I could do and not on the music. That has TOTALLY changed now. I spend a great deal of time search for music that speaks to the soul. I want to tell a story with these skillfully made tunes. I want it to be done in a creative manner though. I really enjoy creating something new by the blending of two tunes and will often ride mixes for the majority of my entire set."
What's the latest news on the in-the-works album 'Pervasions' and what can you tell us about it in terms of themes? You've mentioned it in a few different interviews over the last couple years all in different stages of completion but with an end goal of it being written for electronics, live strings, vocals, drums and other musicians. I hear most of the tracks will have vocals, is this correct too? "So.. "Perversions" is currently on the backburner. I do have about 6 tracks now that are written and arranged for that project. You are correct that the tracks are arranged for vocals, live strings and other various instruments. I am now in the midst of an album with the working title " Permanence & Gravitas" This is for the label Yay Recordings and will be wide ranging in style. Some downtempo/ambient tunes., deep dancefloor destroyers and funky jams will be contained within. I will be spending the majority of the autumn finishing this project as well as quite a few remixes and other EPS-Nearly 3 dozen tunes that  already have homes in fact."
Let's talk about Residual recordings for a minute as it already had such a fantastic history of releases pre 2006. Now that you've revived the label is the vision still the same? What would you say that is? What led to signing some of the more recent release? I really love that Garett David release. "The mission with the label was and always will be to create a place to release unique music for the dance floor. Something that makes you move, but also has a strong sense of groove and melody. Through traveling to perform, I have met some VERY talented producers. Some have sent me tunes just to check and perhaps play and I have signed quite a few of those trax. Garrett David is incredibly gifted and happens to originally be from my hometown. As far as the label- the next four releases are ready to go and the 5th one is in progress. An exciting time as far as the Residual Recordings in concerned."
What can you tell us about your working relationship with John Tejada? I was reading an old interview with on Red Bull where he states despite time always being limited when you're working on tracks together it's always totally easy. "John and I work rather well together in the studio. We essentially take turns building the elements of a groove. Once we lay down something that gets "the nod", we switch seats and keep going. On my own, I am known to really take my time with productions. Too long for my liking to be transparent. With Tejada, we just go for the gusto. Additionally, there is another person to bounce ideas and spend less time over thinking." He mentions you have a big love for more broken beat productions. Where do you think that stems from? "For many years, I was mainly playing drum and bass at raves in the Midwest. All the while, making melodic techno tunes. Broken beat takes my love for rugged basslines and twisted drum work and combines it with the groove and funk of house.
What can you tell us about the mix you've recorded for us? Any direction you decided to take or any particular tracks you want to shout out? For the mix, I want to emulate the narrative I attempt to create during my DJ sets I like to start smooth, build to near frenzy, then bring it down for a cool off. The mix condenses that by starting on the way up to the frenzy without getting too hectic. There are some upcoming Residual tunes on here as well as tunes by forthcoming artist on the label. These being Teakup, Archetype, Sepher, and Pressure Point."
What can we look forward to from you up until the end of year if it hasn't been mentioned so far? "The remainder of the year will have a few remixes I have completed see the light of day. A repress of my Voyeurism LP will drop as well. There will be live and DJ appearances as well. Just really trying to keep it pushing and grateful to those people that have an interest in what I do."
Last usual question from us but when was the last time you danced and what was the last thing to put a big smile on your face? "The last couple of times I really got down on the dance floor were to a set by Ciel and one by Derek Plaslaiko. Whew… they both really rocked it. I have a smile on my face when I am playing music and see people with theirs eyes closed-escaping. It just happened this past weekend."

Titonton Duvante: Facebook, Soundcloud, Resident Advisor, Instagram
Refraction Vol. III is out now via Titonton Duvante's Residual imprint and features music from Andreas Saag, Garrett David, .xtrak and FYM. Buy/listen to the release here