Exploring and transforming the sounds of traditional Iranian music, Los Angeles-based artist Maral has formed a unique vision of club music, one that embraces her heritage and recontextualizes it for a new audience. Featuring rich vocals drenched in bass and distortion, Maral's sound manages to feel at once soothing and intense. This amalgamation, which she dubs "folk club", is the result of years of experimentation with Iranian vocal samples, her musical training with the setar, and personal experiences with electronic music and live performance. Embedded in the LA music scene, Maral frequently DJs around the city in addition to co-organising a party called Signal, which embraces a wide range of musical styles, and curating the SISTER mix series, which celebrates women and gender nonconforming artists.
Through her music and involvement in the scene, Maral seeks to both educate and have a positive impact on others, and we are excited to share her creative vision in the form of a mix she made for us. "Most of the samples come from this one album I have called the Voices from the Land of Iran that is like an anthropological album of field recordings of spiritual chants, songs of mourning and joy from different regions in Iran, as well as more modern samples like Hayedeh." We invite you to delve into these sounds as you learn more about the artist and her process in the following interview.
What are some of the characteristics of Iranian folk music? How would you describe the sound to someone who's unfamiliar? "I would describe the sound as raw with melodies that stay with you forever. Iran is home to many different ethnic groups and each of them have their special type of folk music. I attended an Iranian folk music concert last weekend, and what I noticed was there was more participation and clapping along from the crowd than there would have been at an Iranian classical concert. These are songs people grew up hearing their mothers sing :)"
When were you first introduced to traditional Iranian music? Has your relationship with the genre changed over the years? "The music itself has always been in my life, since for most Iranians, the traditional music and poetry is ingrained in our culture. I started gaining a deeper understanding of it when I started playing setar in high school, and not only learning the ancient repertoire but also the philosophy behind it. I've always loved Iranian music, but what has grown is my comfortableness with sharing the music and it's philosophy through my DJ sets. Seeing that non-Iranians are eager to hear and learn more has been the best feeling!"
Could you discuss the role of the setar in Iranian music and your personal relationship with the instrument? "The setar (pictured below) is known as the 'instrument of solitude' since its low volume makes it more appropriate to play solo, and it was adopted early on as the instrument of choice for Sufi mystics who used playing it as a part of their meditative practices. For me, the setar has introduced me to concepts and sounds that have influenced everything I do. Especially the concept of improvisation—going beyond the notes—which I apply to my DJing and producing. As DJs or even producers we are all sharing the same songs/sound banks but what matters is how you play those songs, and that special feeling of creating something new out of the old."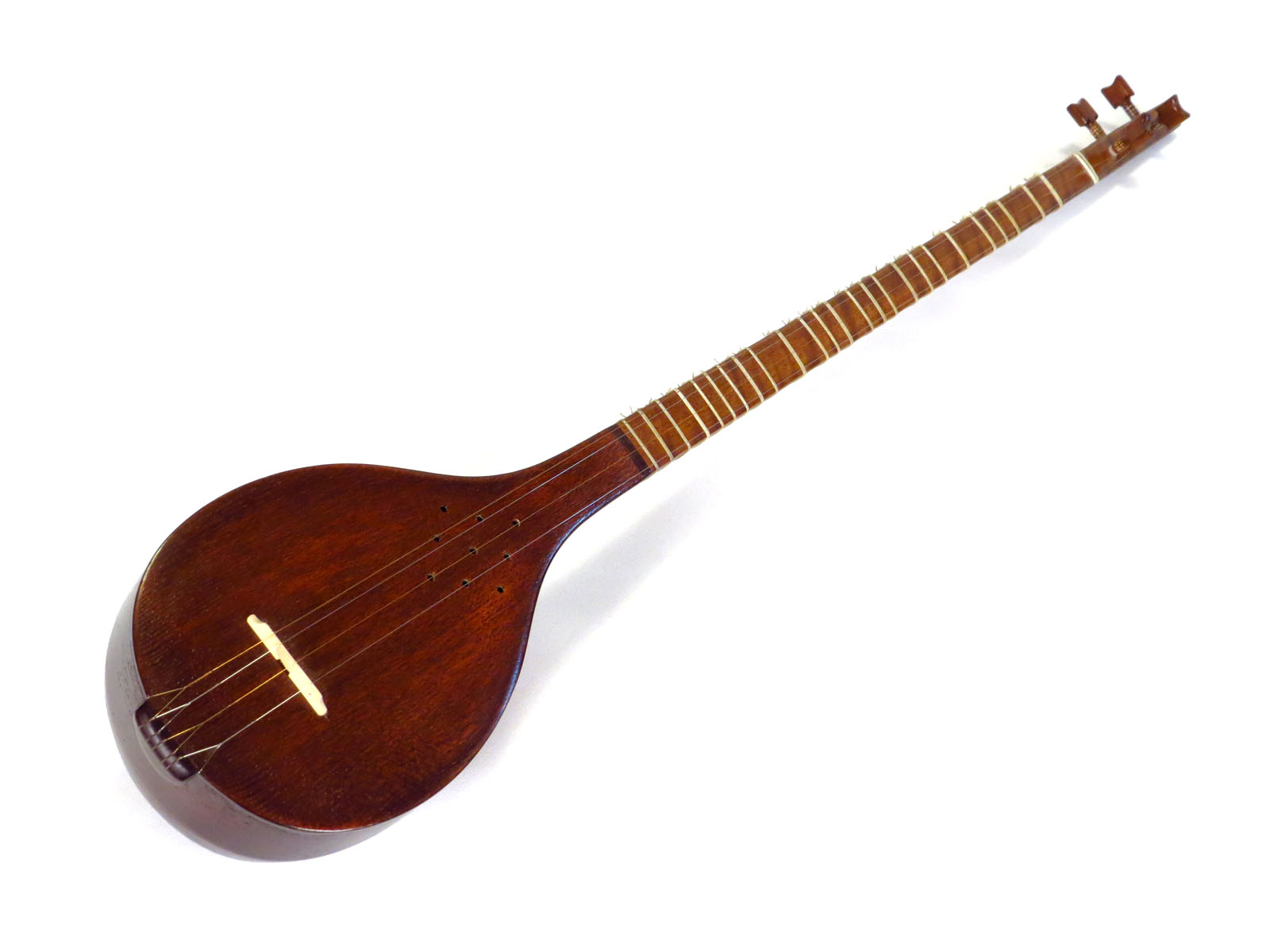 Who are some of your favorite Iranian vocalists? What draws you to their style or tone in particular? "Omg I am so glad you asked this question because it allows me to gush about Hayedeh! It is rare to find any Iranian who doesn't have a deep connection to Hayedeh's music. What makes Hayedeh special is not only did she possess a contralto vocal range, but she was a pop singer who was trained in Avaz (persian classical vocal music). This gave the music she put out such richness that doesn't exist in the pop music of today. The music came out of her effortlessly—it feels very spiritual listening to her. Here is one of my favorite songs by her that I think demonstrates that feeling I'm talking about."
When and why did you decide to start adapting traditional sounds to a modern electronic context? "I started sampling Iranian music six years ago mostly because I had just become really really obsessed with Hayedeh and I wanted ways to show others how amazing her music was. That is really the main point of any music I put out, since so much of it is sample-based, is to introduce listeners to new sounds in special ways. I usually don't think of my productions as songs, but more like sound experiments."
What is your production process like? How do you go about choosing your samples? "Most of my productions come about from jamming in Ableton with samples I've created. Seeing how the sounds interact with each other and kind of letting those interactions lead the way instead of having a preconceived notion of where I want it to go. I record the jams, and if I am lucky, at some point there's a magical click and that's what becomes the "song". My samples usually come about from me listening to a song and really loving this like 5 sec part and wanting to see what that sound can do in a different context."
Could you discuss the role of distortion in your productions? "I've always been drawn to more raw and blown out sounds. For a long time my main sound was focused around this pitch-shifter grain effect in Ableton that transformed anything into this amazing blown out monster sound that I used a lot in DJing and producing. I loved the fact that when I played in the club or even bars I could use this abrasive effect, and as long as I had a moombahton beat under it people would still be dancing even though I was basically playing noise music. I've always been interested in noise within the club space and how far you can push the crowd in a dance setting. I realized using distortion or slowing down the bpm of a track was a fun way to play around with those dynamics. I am also obsessed with the way bass sounds when it's blown out and the crunch! It feels free."
Do you consider the original messaging or emotionality of a song when working it into a track? "Yes, always. I really like how when you are sampling vocals, if positioned a certain way, the words can change from like something happy to something sad. All of my Iranian vocal samples have deep meanings that I wish everyone could understand, but since it's so emotive, I feel like people still feel it."
When did you first start DJing with this "folk club" sound? Could you describe the experience of playing these songs live? "Since moving to Los Angeles about five years ago I've felt such freedom to explore these sounds in a live context since everyone here is so receptive and positive about it! I started working on this specific sound that is featured in this mix a year ago, and it feels so good and exciting to get a chance to play it live for people and then getting to talk about it afterwards and spread awareness of Iranian music from classical to pop."
Will you continue to hone this particular sound or are you more interested in further experimentation? "I would love to put out a proper EP of this sound and to work on it more with other producers, since I always think through collaboration you are able to achieve more, and I would like to explore this concept further. That being said, I am always excited to see what the next sound experimentation will be."
Who are some of your current inspirations? Any exciting shows you've been to recently? "I am really inspired by how different cultures utilize the advancements of musical technology from how auto-tune is used in arabic music to the out-of-this-world productions of Lisbon's Principe Discos crew. I love hearing a country's cultural heritage reinvented and reinvigorated by these technologies. Taking the old and making it new. I especially love the work of other producers of middle-eastern decent like the Club Chai crew, DJ Haram and Thoom. It was such a joy to find out there were others incorporating middle eastern sounds in an experimental way. I saw The Breeders recently and they were so inspiring. I love how the songs are pretty short but pack a punch while also experimenting with song structure and space. Kim Deal's energy was so pure and truly about the music which is rare nowadays."
As March 20 marks Nowruz (Iranian New Year), how do you traditionally celebrate the holiday? I love Nowruz because there are so many great traditions surrounding it, all focused on different aspects of nature. Nowruz itself lands on the spring equinox and is celebrated by creating a cute shrine of sorts that includes items of symbolic meaning—here's a picture of mine (below). Then for the next 13 days you go around visiting family and friends—at the end of the 13 days there is a holiday called Sizdah Be-dar where everyone gathers outside usually by a river and picnics. I love it's focus on nature and renewal.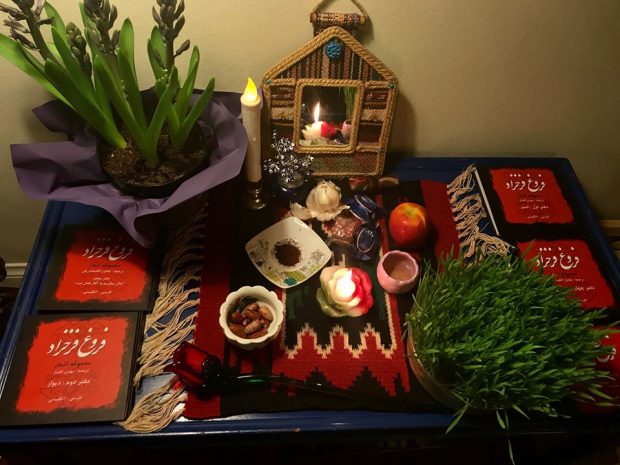 Maral: Facebook, Instagram, Soundcloud, Twitter
Photos courtesy of the artist.