Based in a small neighbourhood of Utrecht, Carista has slowly become a Dutch staple in the past few years, making regular trips to Amsterdam for her Red Light Radio show, appearances at clubs such as De School and festivals such as Lente Kabinet and Lowlands. Prior to next week's Dekmantel, we caught up with Carista for an in-depth chat, going into detail on the ideas and experiences that led to starting her United Identities platform, as well as the journey its taken so far. As an active member of the music community in the Netherlands it's easy to see how much the interview fully reflects Carista as person. She's forged a sterling reputation as someone wanting to bring different backgrounds together through music, with her United Identities parties and Red Light Radio shows acting as an output in regularly supporting local dutch talent. When DJing, Carista has a few different levels to her, encompassing soulful hooks from the likes of Atjazz to long house grooves from Mike Huckaby – fitting in comfortably to any time slot that's required of her. As we get set to head to Dekmantel next week, catching the rising DJ on home turf  is high on our priority list, and with her playing the Boiler Room stage on the Saturday, she's looking to further showcase her skills as an artist on a global stage.
Hey Carista, hope you're well! Super excited for Dekmantel, so great to have you on board. To commence I wanted to ask about one of your recent gigs, the HOMOOST x Dance With Pride one. A lot of money was raised! How did the back-to-back set with Hellie Berry go, and had you been aware of the people behind Dance With Pride before the gig? "Hey! Thanks a lot for having me. Dekmantel is going to be something else. I can feel it haha! Yea, an insane amount of money has been raised for Dance with Pride – almost 2.5k euros (!) and I'm really happy that I could contribute in playing music. Every single bit of money helps to support LGBTQI+ refugees, people who can't express themselves properly in the country they're 'visiting'. Absolutely no human being deserves to be in this kind of position where you're stuck, people don't believe the reason of flee, your sexual orientation and having no place to go. The system is so messed up.
"Before the club night itself there was an open panel discussion with three queer refugees (one of them was still waiting for approval from the Dutch immigration office) and they talked about their experiences so far in The Netherlands. I attended with many others because I was curious about each of their personal stories. Sometimes it was so heartbreaking to hear everything but luckily there was lots of humour and support from the audience too. I mean, you need to see the positive things in life too even when it's dark and bad sometimes, right? Hopefully Dance With Pride and any other organisation who makes themselves strong about this social matter, makes it a bit more bearable for this specific group of people in need to go through the system and receive the support they deserve.
"The back-to-back session with Hellie Berry went really great and was a lot of fun! We played together once before at 22fest in Amsterdam and I had good memories from it. Hellie is a real one when it comes to DJing too. Our mutual friends and also initiators of DWP Axmed Maxamed, Aura Lydon and Emma van Meyeren thought it would be awesome to have us two headlining at their event in OOST and have local DJs from Groningen, Fafi Abdel Nour and Miss Jay as support acts who both are founders of the queer nights at OOST called "HOMOOST". I always go blank into b2b sessions with people I only like. I prefer not to discuss anything before the set and just to go with the flow, have a drink or two, press play and let the magic happen between us and try to make it hot and sweaty for the crowd on the dance floor."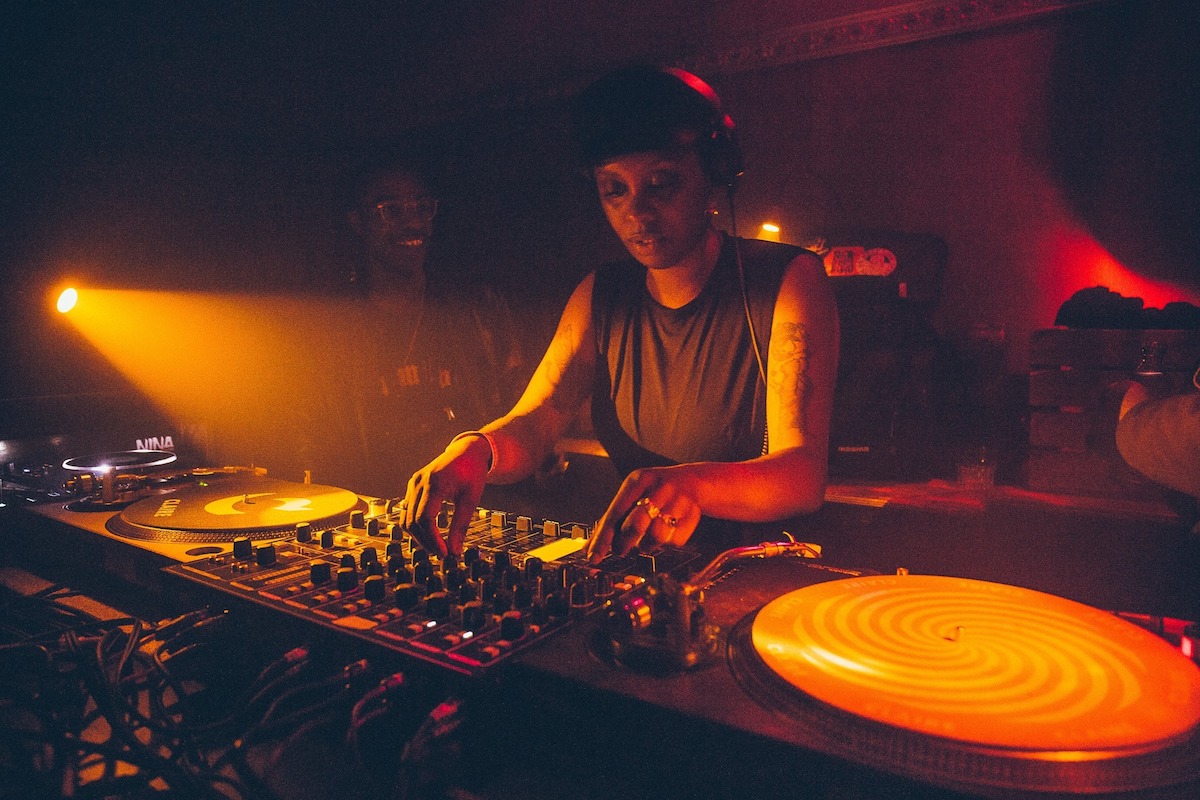 Another party you seem to be growing close to are the Secretsundaze guys. They booked you for your UK debut and you'll be playing there again for another Day & Night party with Floating Points (and possibly Theo Parrish maybe!) in August. How did the connection begin there, did they just reach out? "Aaah, Giles Smith and James Priestley! They're so supportive and such sweethearts! It was during my appearance on the Dekmantel show on Red Light Radio where I was invited with Anthony Parasole back in November last year. Giles was tuned in as was many others all over the world and after my one-hour mix I sat down on the couch in the studio, checked out the comment section and I saw a comment by Giles. I went mental with my phone in my hand at first, sending screenshots to friends and such haha. You know, I've been reading about SS every now and then, went to one night a few years back where they were playing in the former Studio 80 in Amsterdam and listened to the music they brought out on their music label.
"It's kind of amazing how they've always been so true to themselves for over 16 years now with no special formula to their success but just having a huge love for music and quality over quantity mentality which is truly amazing and inspiring to have in this time of age. Not too long after the Dekmantel radio show I had my NTS show in London and I flew out to the UK for it by myself as I've been going there for a while and kind of knew how to go around in London. I found out on the day itself in the apartment I was staying at that both of our radio shows were programmed on the same day with one or two hours in between and from there on out everything happened. Sometimes things fall right in its place and you're floating from there on out. The universe is a crazy thing isn't?
"Haha I see what you did there! Perhaps the secret guest is Theo Parrish for their birthday party but it could be any other artist from Sound Signature, which is sick too. I don't know for sure who it is but what I do know is that it's going to be a marvellous night all over again at Oval Space. The first one I played in May with Bradley Zero, Steven Julien b2b Shanti Celeste and Secretsundaze was definitely one for the books. So, better get you're tickets asap people!"
In terms of your own night and imprint it's almost been a year since you threw your first United Identities party at Oosterbar with yourself, D-Ribeiro and Mairo Nawaz. How was that party and how did you go about booking those artists? Were they people you knew you wanted for your first night? "I've never thrown a party before in my life. I don't even really like to celebrate my own birthday haha. Funny story; for my 10th birthday my mom came up with the idea to have a children's disco party in our huge living room. So she invited all relatives and close friends of the family and I of course could also bring some of my best friends from school over but as the day moved forward and everybody had a great time I was the first one to fall asleep on the couch very early on the day like 5pm ish because I couldn't keep up with everyone anymore. So my oldest sister and all of the other family members decided to made their own 90s music party. I've got it all on videotape how my sister zoomed in my face while I was snoring with my mouth open and made fun of me haha! But alright let's go back to the first UI club night at Oosterbar as my 10th birthday party was 20 years ago.
"I knew both of these young men for quite a while. D-Ribeiro has been making waves from a young age in Rotterdam, playing at Trouw, and being pushed by many great artists such as Benny Rodrigues. He was releasing music I really appreciated you know and I met him for the first time in front of the stage I played on at a festival in Rotterdam three years ago. Mairo Nawaz felt like my 'little brother' from the first day I met and having talked to him at a party somewhere in Amsterdam. He's a very charismatic guy too. It's funny because Mairo and I recently found out that we share one cousin. He is family from her dad side and I'm family from her mom side and we never knew about it. But it was really during a party called LAPA at Claire where the three of us played in the most beautiful room of Claire, you know with the stairs and little cocktail bar in the back and all of us were blown away by each of our sets. Ranie (D-Ribeiro) asked me: "Yooo, who the hell is this guy? Where is he from?" And Mairo asked me the same about Ranie. Eventually they both played a b2b at the end of the night and I stayed till the end dancing my ass off.
"From there on I knew if I ever in my life am going to do something someday, it should be with these two guys. It was so pure and real. Also, when do you see an all black line up in The Netherlands or just in general anywhere ever where the DJs aren't playing any hip hop or African-orientated music, just house and techno or better said just forward-thinking electronic music, it's so rare. So we made it happen again, but then on my own club night – it was a perfect start for United Identities. Mairo had set the scene perfectly at Oosterbar in Amsterdam, I played second and Ranie really shut it down! Alexander Nut also reached out to me before the night as he was also in town for a gig the next day, so he came through hung out and said he loved it. Pff.. I was nervous about everything, questioning myself if people will come out or not. You know the usual thing but eventually and luckily it was a cool first United Identities club night with friends who supported me, the guys on the line up and the vision."
How have things progressed for United Identities since that party? What else can you tell us about the imprint and why you started? "Since the first party at Oosterbar I had to process it all and it took a while before another club night happened but also the fear of that high-bar I put on everything unconsciously and overthinking things as a mad woman was also a big reason why it took so long. I DJed around a lot from that period on too and was juggling between part-time and full-time jobs trying to pay my bills. I needed much time and space to think about what to do next with United Identities. But my good friend and manager Ghamte Schmidt and I knew this could be something really cool if we want with UI as the name and what it stands for is relevant and an important asset in this crazy time to bring people together in a beautiful way. Also for in the bigger picture of my career as I see myself not just as another DJ who throws a party for their own sake as UI is not about me but the people who are on the platform.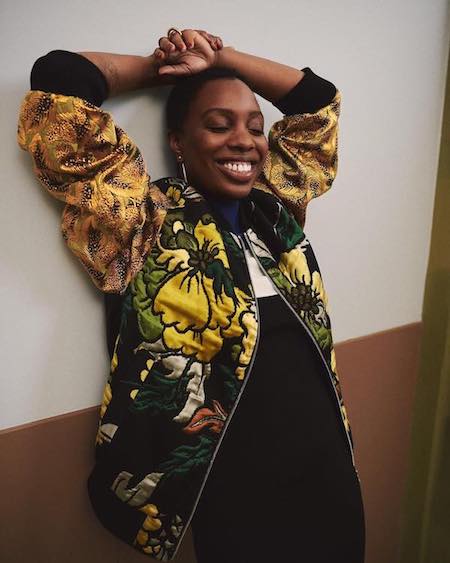 "The idea of UI started when I played one of Holland's biggest festivals, Lowlands, for the first time in my life in 2015. That weekend was one of the best experiences I had, I had such a great time! But it was Ghamte saying after my set – after I jumped off the stage full of adrenaline and ran to my crew of friends: "The way you stood there on that stage, all confident was so inspiring to see you made people move. What would happen if you would do a regular night of your own in a club someday?" And I was like: "Dude shut up really, me? What the hell are you talking about? I'm not going to do that!" Ice cold. I don't know, I didn't see myself like that at all organising/curating events and such. It was only something I had in my own mind and never would do. I wasn't aware at that time of what I'm really capable of but he saw that already. Ghamte is a very calm visionary, a real gatekeeper if I may say. That's why we can get along really well. We are both open for conversation to understand each other more and build on our relationship as friends, no better said that's real family right there.
"So after I sinked it all down after the first club night at Oosterbar in September 2017 I wrote on a note the basic lines out, we met up with Juri Miralles, the programmer of Claire and proposed to do it in his club as I already played on a regular there too and made wonderful memories. The love and belief for the idea was mutual so we all gave it a go in March this year where we had Glenn Astro and Max Graef doing a rad back-to-back session, AliA from Belgium played an incredible set and local DJs Philou Louzolo, Beraber, DJ trio Kuma and myself playing as never before. There was something in the air that night that I really can't describe in words. People were saying they felt safe, weren't in the need to be on their mobile phones all the time but just danced, interact with each other and there were many, many smiles. From that night on it felt right for me and knew I wanted to do this on a regular – pushing things forward with UI on my terms as a lot in my career so far happened on those terms."
Do you feel you've achieved what you set out to do since having the idea for UI? You did a collab with Carhartt too, what was that like? "The United Identities x Carhartt WIP music in-store was a cool one and a great way to bring local artists I like and believe in out in a different setting, than on my radio shows or playing their music out in my mixes or club shows. I also brought out a new kind of crowd. The reaction on the concept as a whole was super supportive from people from the creative and music industry who I look up to. They felt it right away and the in-store was a great way to get the buzz around UI going as its still in its children shoes. Let's be honest, it's way too easy and too boring to have only big artist names with a huge following or whatever to get people to do anything. It should be not about that. I need to feel challenged and triggered in a way, maybe it's because I'm an Aries I refuse to settle for less and think it's way more fun to work from scratch. It's also about how you do it with the most honest and sincere intentions and I like to work with people who know and understands what working hard is all about.
"I'm super grateful I got to choose myself to work with art director Matthijs Loriaux and photographer Dustin Thierry on this project who understood the history and culture of Carhartt WIP and every single bit that went through my head all day and night during this. They took their creative freedom on this special project as I hoped for and wanted them to do too and they both did that. I think it was also one of the fewer first times anybody took the initiative from themselves with an authentic clothing brand and made it happen in The Netherlands because I felt that was missing. I don't like to complain about whatever all the time, sit around waiting for shit to happen and I never had things on a silver platter. Nah, I like to take the lead, really do things, get my shoulders underneath it, make my hands 'dirty' and eventually put things out there for everyone to see it. It took years of personal growth and self reflection to stand firm in this position. If you don't believe it yourself than how will others believe it too.. Like I said before, things can only happen on my terms as I now know more than ever before what I can accomplish with trusting my gut feeling, putting in hard work and to stay humble."
"I grew up in between Morrocan, Carribean, African and Turkish people in a neighborhood where I still live, went to a public school and haven't felt any type of way over the years, because I don't know any better than to be surrounded with different cultures and their reference frames and to be kind. I like to bring people of all backgrounds and adoration for music and the creativity that comes from or with it together. If that happens with UI I've achieved my goal over and over again you know. This is my form of activism. From somewhere of next year on I would love to take the record label part of UI definitely more serious – putting music out on vinyl for the real heads and lovers of UI and much more. Like for now this year every track is free downloadable on its SoundCloud, because I believe it should be available for everyone and get acquainted with it. If you feel what I'm doing, that's only amazing, if you don't feel it than that's fine too. Not everything is for everybody you know. There is so much to see and learn in this ever-changing industry and UI itself too. It's just a matter of time to figure it all out, learn and move along the way as I'm absolutely not in a rush."
So going back a little, how do you feel your formative years growing up with music inform what you're doing now? Has anything carried on from since you were younger? "Of course it has. It goes back to my mom's upbringing and mentality really. I find it so inspiring to see how strong willing she is you know. She grew up in a neighbourhood in Paramaribo in Surinam with nine other siblings where there were a lot of single mothers with no kinds of luxury at all, like even having having warm water for instance. Even though she had the most wonderful and loving time of her life filled with love, surrounded by and making music and positivity thanks to her mother – my grandmother – who took care of that. When she moved to the Netherlands in the 80s with my oldest sister she worked a lot of years for a minimum wage while having to take care of her three daughters as a single mom. Now she is still minding her own business and has found her dream job; my mother has accompanied children with a slight mental handicap for over 20 years now and she finds so much joy by doing this every day.
"This strongly influenced me from a very young age to be independent and not go for the easy way. If you have the opportunity and courage to make a change for yourself please do so and don't to be afraid to ask for a helping hand but it all takes time you know. Things don't happen overnight. And this all has not anything specific do with growing up with music to now, but life as a whole in itself. It's an art to be patient, to give yourself the time to listen to what moves you from within and act upon that. Ugh, this sounds so cliche, but I think it's true and I'm still learning."
Tell us a little bit about Carista when she's not focused on music. I was reading in a past interview you were hugely into photography. Is that still the case and would you say you're attracted to creative outputs? "Yes that's still the case and I'm attracted to any creative output and visuals even though music is taking over a lot in my life right now. I must say I'm an auto didactic when it comes to photography, same with DJing too. I like to figure out things first by myself if I find it interesting. Really funny you ask about this though – I recently picked up my analog camera again. I used to collect them and now I'm making pictures just for my own archive. In my time off I try to spend as much time as possible with my family. Our bond is really strong. They are the ones who are keeping me grounded and have very objective and outspoken perspectives on the decisions I (want to) make or if something is bothering me they are the ones I can turn to. I like to walk or bike around all by myself. I live in a neighbourhood in Utrecht where there a lot of parks, small lakes where I can withdraw myself from of all the incentives I get all the time. I'm in Amsterdam a lot for work or to be with friends I have there and I like to be in that city but sometimes it gets a bit too much for my head. That's the main reason why I haven't moved to the capital yet. I also would love to read more books regularly but my attention span for it is very short and I get easily distracted to really focus on just only one thing, haha."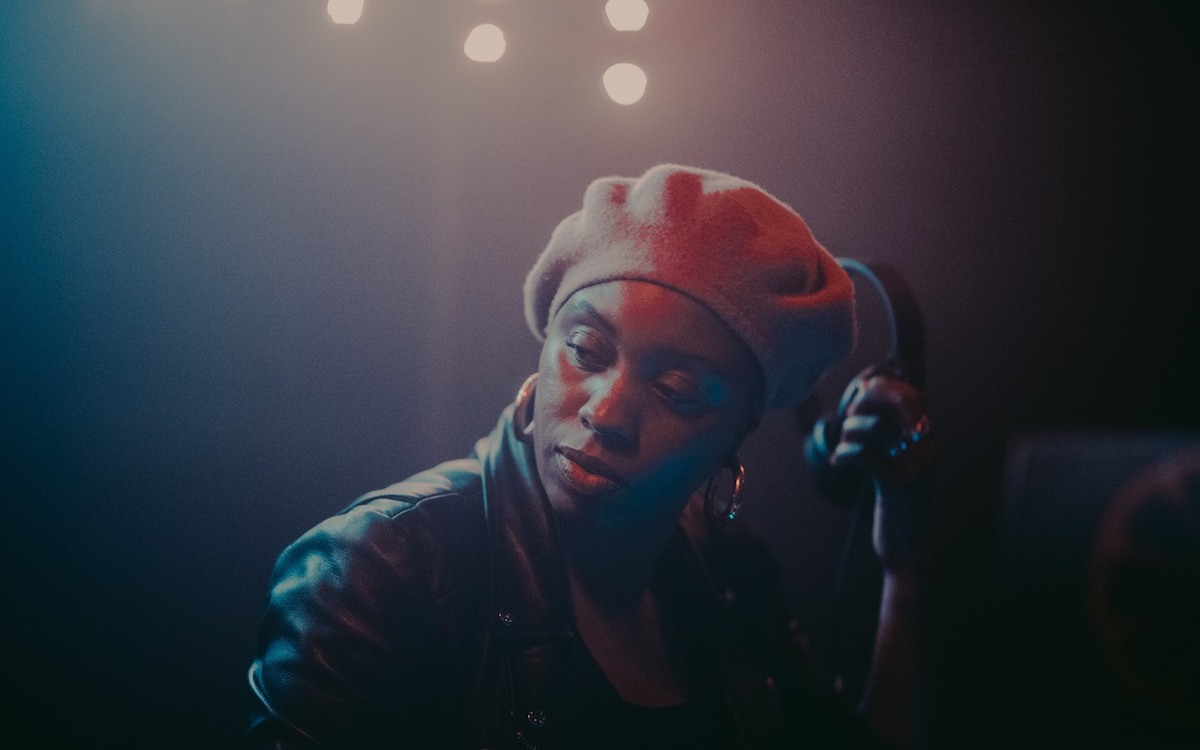 In another interview where you talk about about making mixtapes and how you often want them to be perfect. How do you approach making mixes, and do they come differently to say when you're doing radio shows on NTS or Red Light Radio? "Yea, I tried to make every single mix in a mixtape perfect – many retakes, very long nights, very early mornings and lots of frustrations for days haha. Now I've learned more and more that's its ok to make mistakes and leave 'em in sometimes – you're human you know. Not everything has to be perfect and it also has its charm every now and then. I'm really trying to let it more go. I don't have one specific approach of making my tapes. It's kinda like therapy for me and try to make a story out of it. I think when it comes to radio I want to make people really listen to the music I play in the show, create a vibe and share a bit of background about it in between or let them know what they're listening to, playing the full track out etcetera. If I'm on NTS or RLR I know I'm not standing in a club  and only playing straight up big room house music or whatever. Haha, I think that's so weird when radio hosts or guests are doing that? Going full on blast at 3pm. That's intense man. No, I want people to get acquainted with stuff I think they should know about and hear and make that as pleasant as possible to listen to and I think I'm getting the hang of it now after three years of making radio online, but still learning every time I'm standing there live in the studio."
Going back to one of your early shows from 2015 it seems you've been a long time advocator in championing local dutch talent be it people like D-Ribeiro, Jarreau Vandal, ET, Suzie, Saux, Dean High, Sykes, Tommie Hans and Chocolate Swirl –  a real bunch of people I might never have found out about. How do you go about digging out some of this talent and how important is it for you that that Dutch scene is represented? "Yea, and I think I will do that for as long as I can. All of the people you've mentioned are friends of mine who I respect a lot. You know, you can look outside of the border in places like Belgium or the UK or any where else but I believe there are so many cool people and really talented artists out here. Most of them are people who haven't played at RLR ever before and I would love them to take the stage and get this chance, as a lot of people have been giving it to me too. It's all about giving back in the most honest way, you know."
So you'll be playing the Boiler Room stage at this year's Dekmantel festival. What have you got in store for it? Two weeks prior, I feel like I'd probably have a single BR playlist of 200 tunes that would need cutting down massively by this point haha "Haha really I have no idea what I'm going to play and I haven't freaked out about it yet so that's a good thing, I guess. All I know for sure that I'm going to be there on my good behaviour trying to have as much of a good time. There will be lots of friends and family around the stage or in the crowd to show their support so that's perfect and I really can't ask for more than really do my best and not to forget to enjoy."
What have been some other gig highlights from the last year? Any particular party that surprised you over how good it was or how good you played even? "There's only one gig that directly comes in mind: January 1st 2018. 'De Nieuw' at De School. I was already hyped and pumped up by the adrenaline from another b2b gig with Titia I played prior that day for IsBurning in Amsterdam and really wanted to show people at De School what I was all about. There was this particular moment in my set where I thought I could do everything because I had a feeling I had everybody in my pocket. Then it happened, after the drop of Champion's Remix of Rihanna's "Bitch Better Have My Money" I did a backspin.. Wow, the immense loud noise the crowd made in Het Muzieklokaal was mad and I was really surprised and got goosebumps. Shout out to Luc and Shamiro! Hashtag never forget, man #neverforget."
So moving towards the end here what do you feel are your more immediate and long term plans in terms for Carista? "Staying true to myself. Every damn day."
Last usual question from us, when was the last time you danced and what was the last thing to put a big smile on your face? "I danced on the lastest tape of AliA she did on LeFtO's show on Studio Brussel the other day. She put it on her Soundcloud page. Yooo, this young woman! She brings such a big smile to my face because she reminds me a lot of myself when I was younger. The hunger and willingness to know about more music and playing it with such flair and focus is really a treat to hear and to see live too."
Carista: Facebook, Soundcloud, Twitter, Resident Advisor
You can catch Carista playing at this year's Dekmantel Festival which is on from the 1st – 5th August. Carista plays the Boileroom stage on the Saturday.