Continuing to push the envelope of what could be termed avant-garde music, lo-fi soul-psych enigma Yves Tumor dropped the album Safe in the Hands of Love earlier this year, following on from 2016's Serpent Music. While the record has been received with acclaim across the board, there has also been a deep attentiveness to Yves Tumor as a larger aesthetic project – in no small part due to the strong visual campaign for the album.
The music video "Licking An Orchard" (dir. Daniel Sannwald) encapsulates and expands upon many of the themes that Yves Tumor has been developing. We are confronted with a trajectory of bodily presence: the artist's figure becomes increasingly visible, yet there is a still a sense that the actual image is distorted and deferred for a later viewing. In the video, shadows and blurring bodies occur within a darkened space while red illuminates the constant body extensions and modifications. These play into a melancholic sound revolving around touch, intimacy and selfhood. The song climaxes with an outburst of static and noise as Tumor morphs into a white creature set against a black background. This stylisation of bodily presence that refuses full transparency holds onto an opaque self, one without an essential core. Musically, the song is also something of a departure with a more indie, post-punk vibe adding to the distorted picture.
This opaqueness of the has often been read as a conscious imposition of mystery in order to hype the brand of the musician, à la Dean Blunt. And while this has been somewhat the nature of Yves Tumor, with a number of monikers, an indeterminate location and a general aversion to the press, there is also something else going on as his opacity enables a level of aesthetic experimentation. Here, such aesthetics become a larger vision of texture and mood that manifests itself through forms of music, image and performance that lie somewhere between the melancholic, soulful and ecstatic.
The slippage of genre from the lo-fi When Man Fails You (2015) to the soulful Serpent Music (2016), and more recently to the indie/alternative strain of Safe in the Hands of Love (2018) can attribute its success to the retention of a central voice. Or put another way, the aesthetic placelessness of Yves Tumor has enabled a musicality which feels both confined and viscerally open. His trajectory, style and presentation tap into a popular feeling while also remaining hesitant about commodification and genre. From soul to psych-rock to ambient to indie, these stylistic transitions in favour of a prevailing mood hold testament to that hesitancy which works in conjunction with an experimental outlook.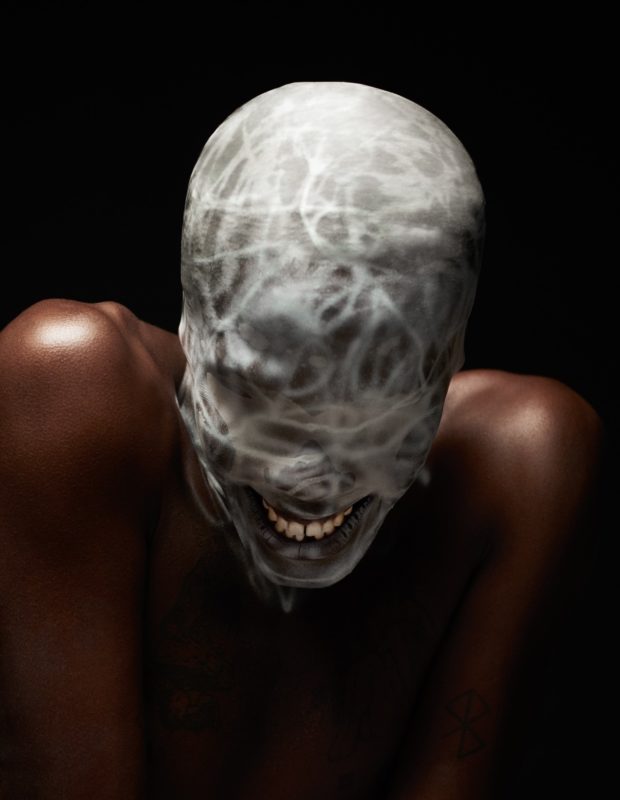 What we find with Safe in the Hands of Love and the "Licking An Orchard" video is an increasing materialisation of the Yves Tumor project. The series of short video clips termed "Hand in Hand", produced in collaboration with Isamaya Ffrench, features each snippet riffing off similar motifs of lo-fi abstraction and filmic composition. The clip for "Hope in Suffering" has Tumor posing in a semi-derelict hall with the grainy screen rotated 90 degrees, while a distorted rhythm with helicopter rotors overlaid drives the 20 seconds of music video. The ephemeral nature distributes fragments of the self in short bursts.
In a Dazed Beauty shoot, a collaboration with both Sannwald and Ffrench, the face is continually marked and distorted, evoking this conception of a confined composition always left open to the future. Termed "ritualistic", we see these viscerally beautiful markings on the face and body. Body modification is shifting the meaning of a singular body, playing with gender presentation as much as it plays with genre. There is a subversion of a linear or 'fully-formed' individual, much like Yves Tumor's musical output. The pervading melancholia in his music feels liberating, like the liberation of the self as an act of escaping labels – whether that label be musical, visual, identity-driven or location-based.
A live performance at London's Hoxton Hall last month saw Yves Tumor decked out in full biker leathers, courtesy of designer Mowalola, as Tumor took on the full rockstar attitude riffing off the likes of Bowie and Prince. It remains to be seen whether the unveiling of this persona will be just one iteration of the overarching project, or if it will evolve into the primary interface to a larger public. In any case, watch this space.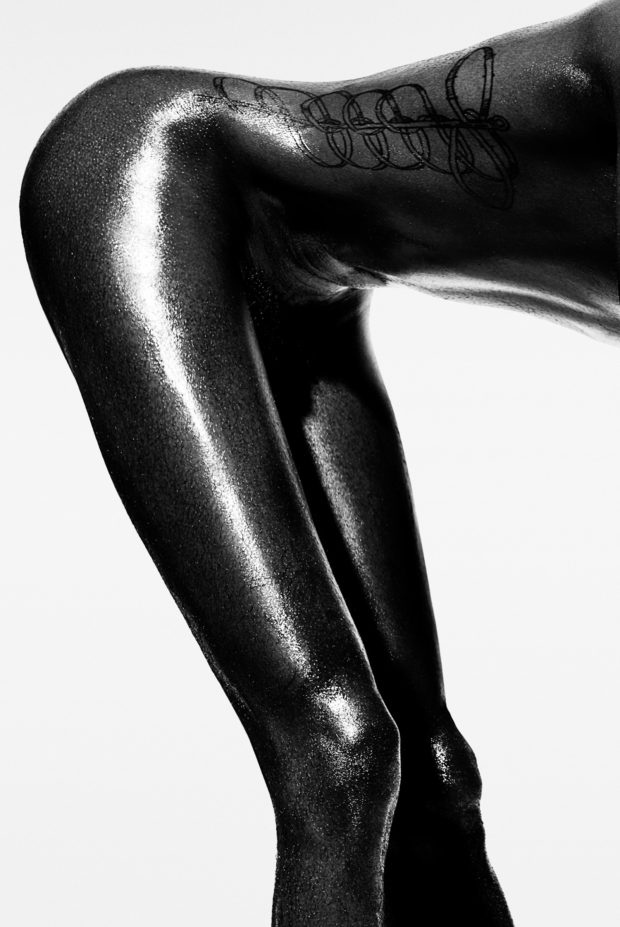 Words by Kashif Sharma-Patel.
Title image: Warp Records. Body photographs: Yves Tumor for Dazed Beauty (Daniel Sannwald & Isamaya Ffrench).