With a musical career spanning back as far as 1996, at a time where his influences ranged from Larry Heard, Robert Armani, Dance Mania, Relief, and Cajual records, Chicago native Hakim Murphy steps up to mix our 180th Truancy Volume. Inspired by the ethos of jazz and its principles, Hakim is a man of many collaborations, having gravitated towards many capable producers of the years. Records with DJ Spider, Chicago Highway, Specter, Ike Release, Vince Noog, S.A.M and more have culminated in a prolific output of music. As the label owner behind Machining Dreams and Synapsis (with Inbum Cho) he's also been responsible for putting out records from the likes of local talents Amir Alexander, Mauser, G. Marcell and Avondale Music Society. Calling Chicago his home since he was eleven years old and having witnessed several generations of clubbers in the Windy City, we caught up with Hakim to discuss his early history with Fast Eddie and Tyree Cooper, his hm505 alias, the musical divide in Chicago and his forthcoming Machining Dreams projects.
Hey, thanks for taking out time do this interview. I usually like starting way back with the first question and want to ask about Chicago Groove Distribution. Can you tell us a little bit about your time there, how you first started and where were you at musically at that point? "Hello, no problem always good to have some exposition about oneself from time to time. Periodically, Groove is always hiring because of various things, but I had a friend who worked there and he was leaving, so I asked him if he could get me an interview. I sent him my resume and I received an interview. I was a shipping and receiving person. I started there one hot day in July 2006. At that point I was just really getting into acid house and my productions were becoming better as I had released 1 or 2 projects at the time. So needless to say my musical taste radically expanded as I got to listen to new records on vinyl and cd every week. I became fans of so many people which is why my collection is so diverse today."
What sort of people were you meeting whilst working there too? "I met a plethora of people, of course all the employees there were music lovers and most were also DJs. I also met lots of people who produced records and I found out about other parties that were in the scene but outside of the vain I was entrenched in. I developed more relations with record stores like Gramophone Records and KStarke. I also met Jamal Moss there because he would pass by once in a while to drop off projects for Mathematics. I also obtained a steady DJing gig at Sushi Wabi which was a restaurant in the West Loop of Chicago. Groove then moved locations and Ike Release started working there. He left and moved to Berlin for a couple of years and then moved backed and we started Innerspace Halflife."
Speaking of Ike Release the amount of collaborations you've done throughout the years really rack up. Be it with Rob Hampton (DJ Spider) Sean Hernandez (Chicago Skyway), G Marcell Roberts, Vince Noog, Andres Ordonez (Specter), Samuel André Madsen (S.A.M), Sary Sehnaoui (Hear) and Inbum Cho these aren't always people from Chicago. Looking back where do you think this ease and love for collaboration stems from? How do these collaborations usually come about and finish for you too? "Usually I gravitate toward music lovers and capable producers, the collaborations are mutual as we like each others music. As I grew in my influence and range, traveling across the world and releasing records I started to meet more people who wanted and had the ability to work on music. Really it mostly begins with let's jam in the studio and if something good happens we continue with it. I am heavily influenced by jazz and collaborations have always been part of the ethos of that music. Besides when one collaborates it tends to bring out new sounds, one can learn new techniques which is healthy for everyone and especially the music. When a project is finally finished then like all my projects I find a sense of pride and joy."
Can you tell us a little bit about your history with Fast Eddie and Tyree Cooper too? From what I understand you guys go as far back as 1996, if not further? How did you guys first meet and do you l still keep in touch? "One day in 1996, I was at my friend Gerald's house and my other friend walked in with Fast Eddie. So that is how we met. One thing led to another and I was a dancer for Eddie for a couple of years. I even managed to learn a couple of production techniques from him, through Eddie I met many people from doing shows or being at Eddie's apartment. Tyree Cooper came to stay with Eddie for a weekend and that is how I met Tyree, who lived in the South Loop but I really did not get a chance to connect with Tyree on some music until I spent some time in Berlin. Although I am dancing in Tyree's – Turn Up the Bass Music Video. Unfortunately I do not speak with Eddie often but we still are connected through Facebook, on the other hand I speak with Tyree regularly."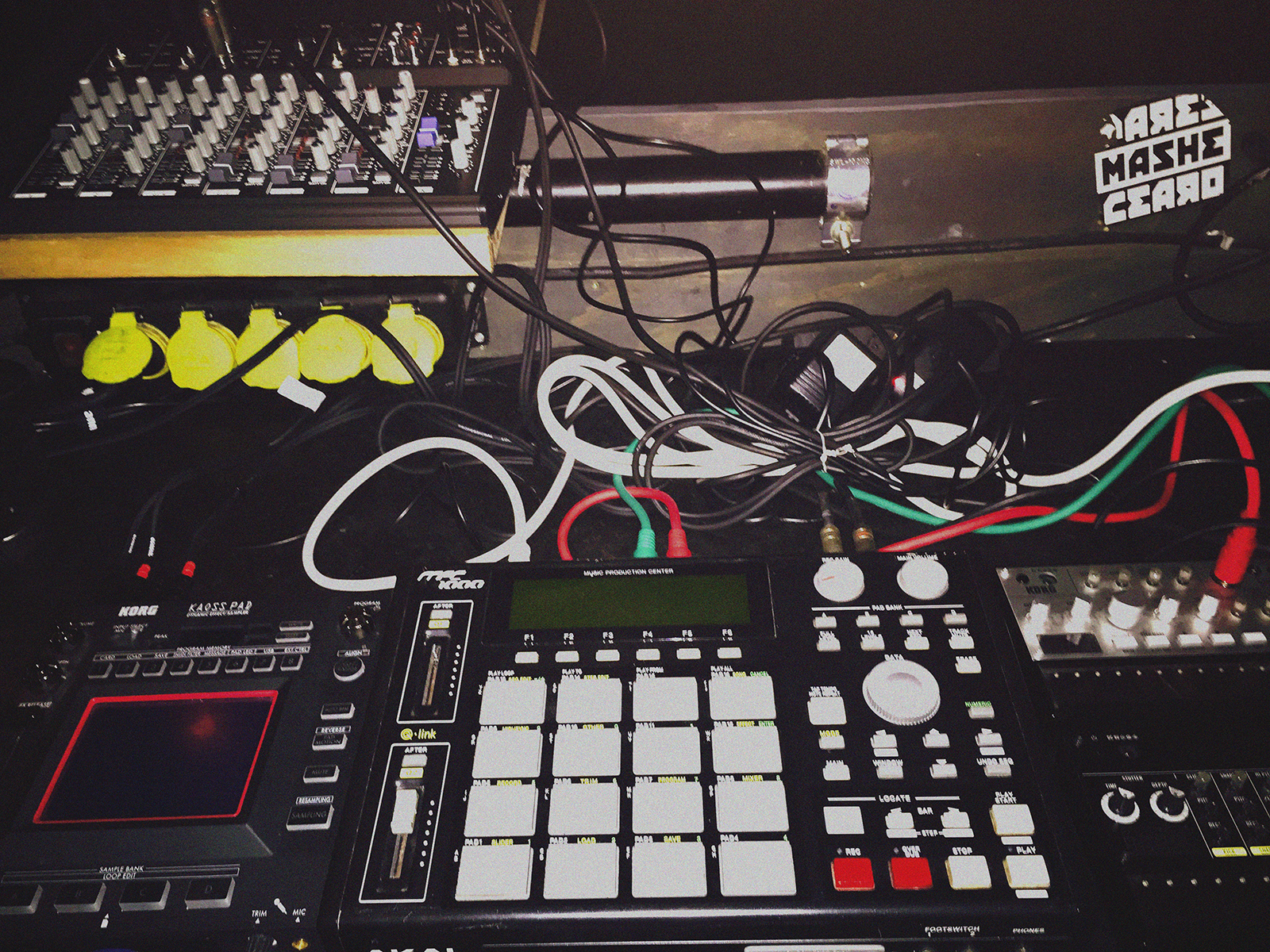 One thing I've found from reading interviews with Chicago DJs in the past is that despite several generation of clubbers and the odd slowdown here and there in selling records, the music scene in the city seems to have remained on a pretty consistent level in terms of healthy, regular parties. What is it about Chicago you find that keeps new generations wanting to keep on exploring electronic music? "Generally speaking Chicago has a healthy music scene, with all the draw backs of the police busting parties and the strict partying laws. People throughout the city tend to find ways to make parties. The city is big enough in which enough people have partied and now their children or nephews and nieces have the bug. Lots of Chicagoans do not party more but still have mixtapes and vinyls that their family hears or all the festivals with DJs also give people the bug. Other times transplants come to Chicago to make a name for themselves in the dj and or producing game. All in all I believe it is the culture of Chicago that keeps giving the world new electronic artists of every genre."
Is it still divided musically into north and south would you say? Having been in the city since you were 12 do you know the origins of how that divide happened? Were there just different clubs playing different music? "The divide is just the way Chicago is. It has been like that from the beginning from racial divides in neighborhoods. The fact of the matter is that a lot of the it was because the danger associated into going into some one else's neighborhood, especially in recently years like the 80's when the electronic music was beginning. So people going to a party in a new neighborhood ran the chance of getting jump over some rival hood things. Even though one was not affiliated with a gang people would check you and just assume because you are from another neighborhood. This is particularly true in the west and south sides, but people started having parties in the downtown areas or factory districts and it really blossomed.
Just over the years people thought that going all the way to the Northside was just to far to party and perhaps were not welcomed meanwhile the stereotype of the Southside was always dangerous. Typically the Southside was always mostly Black parties where the selectors played and the older heads congregated because of history and the Northside was where the new school heads made a name for themselves and perhaps were more expansive in the music they played as these people were connected to more cities. Many people who transplant themselves to Chicago tend to move to the Northside and this was reflected with the connections to the other cities as the Southside is on some underground shit."
An album you put out as hm505 on CD on your own label Machining Dreams in 2013 recently got re-released on vinyl on Third Ear Recordings? How did that come about and can you tell us a little bit about the hm505 alias? "I kept working on my live show and finally got some stuff together. It was a combination of hardware and software, basically a culmination of my production skills. I used a Kaosspad to tie it all together and I felt that I was at a mastery level with my arrangement and taste. hm stands from Hakim Murphy and 505 is a masters level course in the American university system. So I recorded this album in a week and decided to make a cd of it and give it away at the Freerotation Festival in Wales. One day Guy from Third Ear Recordings contacts me and says he is interested in releasing it so we worked out the details and it is born. I am very happy to see it on vinyl, it was a very expressive and artistic project form me. Now when I do my live show, I go by the name hm505."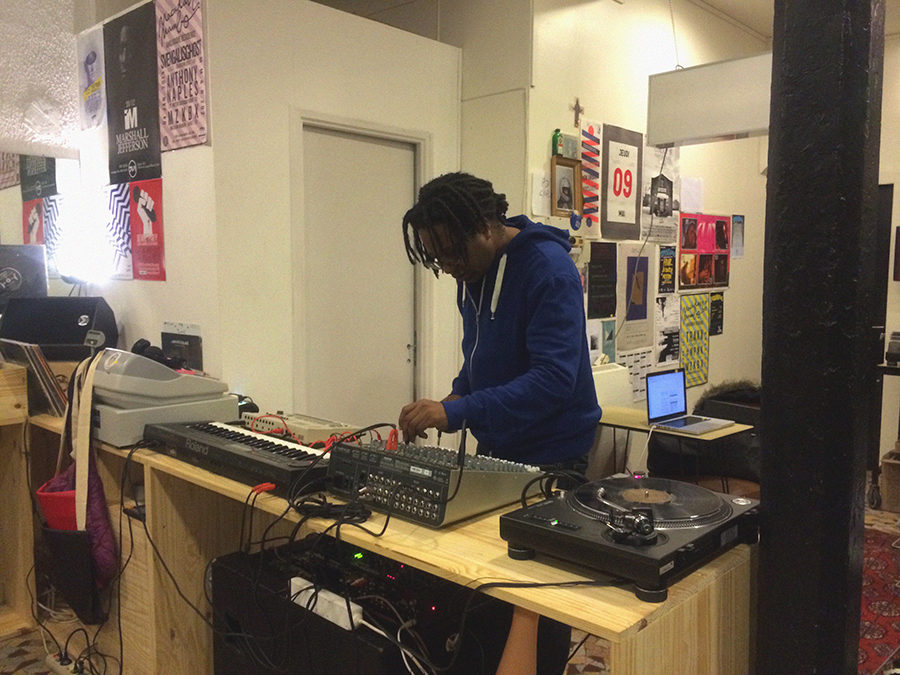 Although they've been a bit quiet recently can you tell us how Machining Dreams and Synapsis came about? 'Well I always wanted to start a record label, so one day Inbum Cho and I got together and created Synapsis Records for our first release. Then I took it over because Inbum had a lot of other responsibilities. Inbum continued to help with the art but slowly I became the sole A&R for the label. Machining Dreams was more of an art project at the time when I started it, I didn't think I would do a lot of releases, I mostly did it so I could play some tunes on vinyl. Then suddenly the vinyl resurgence happened and a few of the records were popular. They both still exist though Machining Dreams is on a hiatus at the moment, but soon enough I will do something else for it as it is an extension of me.
What can you tell us about the mix you've done for us? "This mix is full of unreleased tunes from the homies and I, sprinkled in are some released joints. In truth, just some tunes that I really wanted to play and hear when I am traveling or working out. I have all this music and it is much easier to enjoy in the form of a mixtape. So enjoy the exclusives and maybe one day some will come out on vinyl or digital."
What else can we expect from Hakim Murphy for the rest of year? " I have some Synapsis Records things upcoming between this year and next year: Dream Scoring, Christopher Rau and I, Tyree Cooper and I, and hm505 and Siamak Amidi. Then I will be on a various piece that is focused on Chicago with Ed Nine, G. Marcell, and Gene Hunt on Frole Records. Otherwise continue to make music and evolve my music to my satisfaction."

 Hakim Murphy: Soundcloud, Machining Dreaming