A record collector first and foremost, Dev/Null boasts one of the most comprehensive breakbeat/hardcore collections in the Eastern USA. As a DJ, producer and host of website/radio show Blog to the Oldskool, Pete Cassin's musical activities are by the dedicated, for the dedicated. Taking a backseat on the blog for the moment, part of his time is spent concentrating on his label 8205 Recordings (r33t spelling of B2OS), resurfacing old tracks from the likes of DJ Renegade, DJ Exodus, Headpressure and Mixrace, with legends like Beau Thomas (Intense) on mastering duties. We caught up with Pete to discuss his history with hardcore and jungle, his breakcore production era, 8205 plus his insatiable talent in digging out and discovering obscure, unreleased gems from the unlikeliest of harddrives. Taking a different direction from his predominantly jungle and hardcore-orientated radio shows on Jungletrain, Truancy Volume 171 includes fast-paced Detroit techno, Jersey, kuduro, soca, '93 techno as well as a bunch of exclusives from close friends. Ripping through 31 tracks in less than an hour, there's also plenty of jungle rarities to go round for those coming in expecting the genre. It's one of the most ambitious mixes we've had the pleasure of receiving, but Pete's fast yet perfectly executed method of DJing, coupled with tracks new and old, should keep this one interesting for plenty of repeats.
For those with an interest in hardcore and jungle, your alias Dev/Null and your site Blog To The Oldskool are well known. For those not as clued up do you mind doing a quick background on your history with the music? "Blog to the Oldskool was a site I created around 2008 after collecting jungle for 11 years or so. Blogs were all the rage at that time, and there seemed to be plenty of good ones about other styles, but I couldn't find any active ones about oldskool hardcore/jungle, so it seemed a good niche to fill. Plus I was buying a ton of records while not actively DJing or making mixes, so running the site gave me a place to express my opinions about favourite jams as well as try to provide what little context info I'd scrounged up.
"Nowadays the blog is dormant for a number of reasons; Mainly, Facebook groups with YouTube embeds have killed a lot of the interest in archival blogs. Doing regular DJ sets on Jungletrain means I get to put these same kinds of personal favourite tracks in mixes, even if less people want to check them in that manner. Also, since oldskool has blown up a lot in recent years, there's a number of newer site which have popped up filling some of the individual needs my sites used to fill: Strictly Nuskool for info about new releases, Gone To a Rave for in-depth oldskool artist interviews etc etc. I still keep the domain active mainly for the sake of the archive of tunes, posting new sets of mine and Tim's, plus the occasional post about a crucial friend's release or some other topic which I don't see covered elsewhere."
In a past interview you mentioned that you started buying vinyl in '92 but it wasn't till '97 till you started buying jungle and the interest in hardcore started to sip in after. It'd be interesting to know what you were listening to prior to 1997, and if it informed your major taking to jungle and hardcore in any way. "Around '92 it was mainly grindcore, hardcore/punk, death metal, noise etc. One of the first records I remember buying back then was a compilation called "Apocalyptic Convulsions". I was immediately hooked on the extreme side of stuff though I was also into less crazy tunes. I first found jungle/dnb through my buddy Chris/Sileni who I met at a Brutal Truth (or was it Napalm Death?) show in 1996. He had the same love for crazy music I did and gave me his first mixtape, let me start tagging along to a few crucial parties (DJ SS, Dom & Roland, etc). It was a good time for me to find out about that stuff since things were getting pretty gnarly sound-wise via No U-Turn etc."
At what point did your own productions come into this? "Bolt Thrower in a Chinese Restaurant" seems to be one of your earliest tracks on the web from back in 2003, then you've got stuff like this from around 2010. Where were you at this point musically? "Even before getting into jungle/dnb (probably somewhere around '94/'95), I was determined to find super busy, detailed electronic music that gave the same "information overload" feeling as grindcore. Unfortunately I didn't have much luck, as I mostly knew people from the more band side of things and the internet wasn't what it is today. The thing I ended up finding was the breakcore scene circa '97 or so: Ambush, Praxis, Newskin, etc. This had a lot of the sounds I liked from drum and bass but even MORE crazy, distorted, faster, etc. I still liked jungle and continued buying the records from that point on, but this breakcore stuff ended up being the focus of my electronic music making. If I started making tunes seriously again, they'd probably be somewhat in that same vein, but informed by all the other styles I've heard [in] the past 10 years.
"My primary focus on breakcore really solidified around 1998-2000 when Venetian Snares popped up online and started posting tons of tunes on vsnares.gabber.org. This stuff was exactly what I was looking for: super fast, but also frantic, intricate and non-repetitive. Total info overload! I got hooked and it definitely prompted me (or coincided with me) ratcheting my breakmaking up as best I could, but also combining it with various other nerdy music interests: Metal, oldskool jungle, rave, italo horror soundtracks, classic videogame music, grindcore, wanky jazz/fusion etc.
"Also around then, I was starting to find older jungle records – again, not so easy pre-everything on the internet and living in the US. I realised I had missed out big-time by finding jungle/dnb 3-5 years too late. Back in those early days ('93-'95), tunes would have multiple layers of breakbeats playing together, which made them sound way more busy and intricate. However, around 2002-2003, I didn't have a job, so I sort of focused more on making breakcore vs. buying oldskool jungle from overseas. The 2004 EP E-Boyz Revenge: 230 BPM Eternal was my attempt to bring together my two main music interests: crazy cutup breakcore beats and classic hardcore/jungle/rave. From that release on, things picked up for a few years: 2003-2010 I played in the NL, Belgium, UK, Ireland, Scotland, Paris, Spain, Germany, Austria, toured Japan, and even played Ars Electronica and CTM Festival in Berlin alongside Venetian Snares and Underground Resistance. Jason Forrest (AKA DJ Donna Summer) helped facilitate a lot of this, and put out an album of my stuff around then called Lazer Thrash, which is a collection of tunes written between 2002 until about 2005. Not sure I was ever appreciative enough, so let me say BIG thanks to him for that and putting up with my crazy bullshit back then. Even while I was doing this breakcore stuff though, basically every city I went to, my default was to try to find record stores where I could grab some oldskool or other good stuff.
"After that festival/album release, I did a web-only EP of probably my favourite stuff I've done, Necrobestial Sadobreaks. This was the closest I could get to synthesizing "super info overload" grindcore but in a computer context, without it just being a drum machine grind or metal with drum and bass beats on top or something. Dunno how well I succeeded but it still sounds crazy so it's probably the closest I've come to executing on a really specific, personally important music concept.
"Around the time of that "Conqueror Worm" track, it all went downhill for me: "Breakcore" had become a product of its own relative success, with big fun parties having the downside that it went through the same "dance music feedback loop" every other genre goes through, until it evolved from a somewhat diverse set of sounds to mainly just Amens and gabber kicks/dnb+++. Working full time doing computer stuff made me NOT want to sit in front of a computer for another dozen hours after work sequencing micro-edits on tracks, knowing the stuff I made wasn't really fit for release or playing live. Doing less tracks meant my abilities to do those tracks quickly dissipated, to the point now where I suck and am basically a novice at making tunes. At this point the gap between my ambitions and abilities is basically insurmountable, so I probably won't be jumping back full-force into tunes any time soon.
"One of these days I'm still planning on doing a Bandcamp dump of everything I ever did for free: 2 hrs+ of crazy stuff w/ varying degrees of listenability. Not that anyone cares at this point, but if I'm digging this stuff up for jungle, I might as well be consistent and let my own unreleased stuff out."
Can you tell us how you feel the online hardcore community has changed over the years, maybe from when you first started getting into this type of music to now?
"Early-to-mid-90s: Usenet groups (alt.rave), the rave list etc. primarily focused around IRL stuff. I wasn't digging for oldskool online then, but have heard about this from a lot of friends and it's how people like Dieselboy helped to get their start.
"Late 90s-early 2000s: Early on there were more makeshift sites on Angelfire and GeoCities, text-based discographies for labels, tune clips, offers to contact people for tune ID help, etc. Eventually some more full-fledged websites came out like hardcorewillneverdie.com (first massive archive of oldskool audio I remember finding, in glorious low-fi .rm format no less!), b2vs, plus more dnb-centric forums which also featured plenty of oldskool talk like DogsOnAcid, Drum and Bass Arena and (my old favorite) subvertcentral.
"2005-2010: YouTube, Discogs getting serious. Market stabilises for older tunes because people see how many copies of the big anthems there are. White labels start getting a bit more focus, reissues pick up the pace and get interesting. Still mostly based on the aforementioned forums, with YouTube really gaining momentum last couple of years of this.
"2012-current: Facebook groups with YouTube embeds take over (Beautifully Crafted, etc). A few of the top jungle DJs sell their collections off, where some eventually make it to eBay etc. This kind of increases knowledge of and interest in super rare EPs and unreleased tracks by even less die-hard fans. Nowadays most forums are dead, FB groups and Twitter and YouTube seem to be the places people check. Discogs rules everything online, both great and also the bane of the scene's existence because the mystery is gone, everything can be had for a price, internet-driven instant gratification rules, and there's no real limit to what someone is willing to pay because most newer or returning collectors can't imagine waiting 6 months or a year or 5 years for a tune – no doubt many will have given it up by then, so gotta grab it NOW."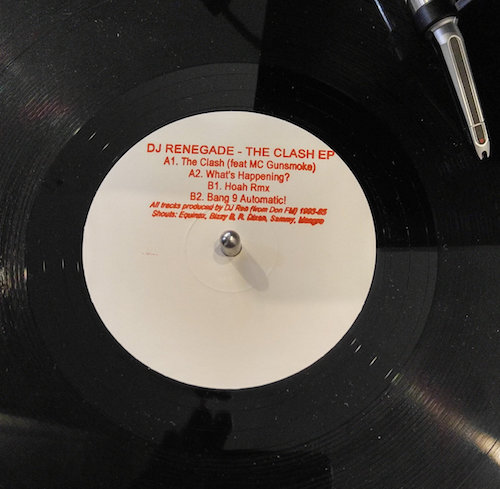 I need to ask you about the DJ Ren release that you recently put out on 8205. From what I understand, these are some 1993 Amiga-produced tracks you dug out from some floppy disks? Keen for you to go into detail on how the release all came together. "As part of doing the label I'm always looking around for unreleased tunes where the artist might still be around. There was one artist in particular I heard some stuff by, who I heard through the grapevine had a lot of other tunes that never came out back in the day – DJ Ren AKA Renegade (not to be confused with the Ray Keith alias used for "Terrorist"). I tracked Ren down online and mentioned my interest in releasing the tunes. As it turns out, he had been previously contacted by someone years ago online about putting some of these out, but that offer fell through, so to be honest I'm not sure how interested he was at first. However, it turned out we had a mutual acquaintance in Marlon/Equinox, and I had a trip to London coming up, so we all met in person. Up until this fourth release, all my dealings had been with people online, so it felt really good to meet and hash things out IRL. It also helped me realise why getting artists to commit to releases without doing this is such a chore, it's way better in person! Speaking of which, 200-copy repress of The Clash EP is coming in a few weeks, you can follow the Facebook page or 8205 Bandcamp for more info."
Is this the case with the previous records you've put on your label too? I'm super interested in the logistics of tracking down and getting in contact with old producers, the licensing and remastering, like it's sometimes hard enough finding an email/contact for some producers nowadays, let alone from people like Syuss, Reality, Headpressure I imagine? "It can sometimes be tricky to find contacts for artists I want to work with, really though the much bigger hassle is getting anyone to reply and follow through based on an off-the-cuff email. Even with a few releases out, at the end of the day I'm still some random person writing some other random person over the internet. For all that person knows, I could be a thief, a murderer, or three cats stacked on top of each other (bottom one works the keyboard I guess). Since I'm based out of Boston, I can't easily go meet people to work out the details IRL, and as I mentioned with the Renegade EP, that is very helpful. To that end though, I try to be super up-front about releases, the money involved, and the whole process. Still, a lot of people were burned by record labels back in the day and are dubious about someone contacting them after 22 years wanting to put out some random old tunes.
"Because of that, a lot of the releases so far have been through connects, or just nice chill people who took a chance. Big thanks to Dave DJ Trax and Dev Paradox who took a chance on me for my first release, as well as everyone who has helped in some way with the subsequent three (Exodus + Head Pressure themselves, Tony Justice, Beau/Ten Eight Seven Mastering, and Marlon/SciWax). There's also some absolutely amazing tunes where I've found the artist, gotten nearly to the point of an agreement, then they've just dropped contact. One in particular is killing me because it's SUCH a sick personal favourite (or 2 favourites), to the point I still send an email every 3-4 months to see if they'll respond even just to tell me, "No," or to leave them alone (hasn't happened yet). There's a couple others where I was all set but the DAT hasn't been found yet – still holding out hope!!"
With someone who goes to such lengths into researching and digging up music on a genre, we're keen to know how you sort your music digitally and physically and how that feeds into how you DJ as well? "My digital collection is a mess, poorly encoded, entire drives lost due to not backing up. Mostly at home I listen to records or streams trying to find new stuff. I don't even think I have iTunes installed anymore. For digital (which I used to use to DJ with a lot for non-jungle, e.g. the bulk of this mix): Foobar2000 for filtering new stuff and copying it over to laptop for Serato/Rekordbox.
"For vinyl (~9,000 records): Top level multi-crate sections of my collection are sorted by genres; Metal/punk/grind, oldskool hardcore/jungle '92-'95, oldskool '88-'91, house/techno/electro, jazz, post-'95 dnb, soundtracks, etc. The dance music styles get sorted by labels, other styles get sorted by artist.
"Honestly though, I'm a shitty example when it comes to sorting for effective DJing. I'm an EXTREMELY inefficient DJ. The downside of having like 5,000 '92-'95 oldskool records is that it's a massive chore to dig through and quickly find top favorites to play. Usually I have an "active" crate near my decks – if I'm lucky I'll have gone through that recently. Lately I've started trying to make Discogs lists cataloging my favorite tunes in various styles, hopefully that will help (as will finally culling some of the stuff I know I'll never play)."
Can you tell us how you met Tim Reaper and how he came about contributing to the Blog to the Oldskool radio? "Tim started hitting me up because he saw the blog and liked some of the stuff I was doing. He was already a familiar name, known around the web as a jungle wunderkind due to his encyclopedic knowledge of tracks, and also someone who actually got stuff done (be it writing tunes, writing for other sites, etc.) I think he was doing his own Tumblr with favourite YouTube videos for a while so it was a great fit. We ended up hitting it off really well and became good friends. Seeing how deep his selection went, and also seeing how it varied from mine a fair bit (focusing more on obscure selections from rare CD comps etc. as opposed to my vinyl-only whitelabels, also more '94-'95 Amen focus), he seemed a perfect person to co-host with me. Since then, he's gone on to become one of the absolute best and most prolific producers around when it comes to making legit "oldskool" sounding jungle stuff – him and Kid Lib are ruling things these days, no one can test! Be it atmospheric, tear out, jungle techno, whatever. It's also frightening to see how quickly he makes tunes – he's made so many jungle tracks the past 7 or 8 years, he can do it in his sleep with one arm tied behind his back, 60 minutes or less or your next Amen rinse-out is free. It's the exact opposite of me with breakcore now, a fact Tim is happy about since he absolutely hates that stuff."
We recently had Boston-based producer Isabella do a mix for us and she mentioned that the once thriving DIY/underground scene in the city had been in decline the last couple of years. Keen to hear your own take on the city? "Love Isabella! She's a friend (just DJ'd her surprise b-day party last Friday) and it was super cool to see that mix from her featured. Her take is pretty fair, Boston does have a lot of problems which make it hard for art to thrive here.
"On one hand, the rent is absolutely astronomical due to the relatively small size of the city, especially when you factor in the more modest level of culture and "stuff" there is to do versus a similarly priced city like NYC or LA, At its worst, I used to compare it to paying to live inside a super bougey stripmall. Since saying that, there's now a fancy shopping plaza right outside the city with chain stores and hyper-expensive condos built in – my analogy has come to life! The college population factors into the high prices a great deal – due to the huge number of kids coming into the city every year and small size, there's barely enough housing to go around, Harvard and MIT are swallowing up entire chunks of the city, etc. This high cost also really limits art opportunities, since you can't just go rent a warehouse for $500 a month to throw parties in, and as Isabella said, a lot of the so called "lofts" in the city are taken up by business types who would probably call the cops if their neighbours so much as turn the TV on loudly after 9pm.
"Despite this, it's not all bad, at least I'd like to think there's something other than sheer laziness keeping me here all these years. For one, there's a constant influx of new people every year, for school but also work, etc. While this was annoying at first and does lend itself to a certain Groundhog Day-esque weariness, it can be exciting to see what kind of new talent will pop up seemingly out of nowhere. Especially given the small city size, this means there's less room for completely separate party ecosystems – inevitably, like minded people will interact. Another benefit is that it's relatively small – if there's stuff going on, chances are it's either walking or biking distance. There's a decent amount of stuff going on, but not so much you get jaded and start to miss crucial parties because "there will be something this good next week, and the week after that". Finally, it's pretty scenic, clean and nice – I can walk 8 minutes and get to a few of the best clubs in the city or I can walk 8 mins the other way and be at a nice river/bike path that runs through the city. I can also jump in a Lyft and be at a hiking spot in like 15 minutes."
What can you tell us about the mix you've done for us? "I was going to do a jungle mix, but I do jungle mixes every other week on Jungletrain, and have a Soundcloud packed full of them. Still, there's no escaping jungle is the backbone of what I listen to and dig for now, so here's 9 jungle tracks plus 22 other style tunes. The other stuff is all similarly fast-paced and includes some Detroit techno, Jersey, bubblin, kuduro/batida, post-club, soca, algorithmic Haskell beats, previously unreleased '93 techno that just came out last week, and some German synth thing from 1984. There's also a bunch of exclusive tracks from friends, thanks for those!"
What can we expect from you for the rest of the year? "At least two or three more 8205 releases by end of year (more if artists get back to me!), and a dream show playing Rupture May 28th with Paradox, Double O, Tim Reaper and others. I'd love to step up the label a bit, so please get in touch if you know someone (or are someone) that did relevant tunes 22-25 years ago and would like to see it released on 8205! I'm continuing to [be a] resident at a Boston party called SHAKE! that features house, techno & club stuff. Also Tim and I will keep doing the radio show every other Sunday evening on Jungletrain, provided we don't run out of terrible puns & idiotic chatroom banter."
Tracklist: 
Differ-ent (DJ Bone) – A Calm Bliss
Shake – NSC Tracker
Sully – I Need U
Dubbel Dutch – Hyperslap Riddim
Not The Info Centre Dubplate
Playa Junior – This is a New Style
Unknown Dubplate (possibly 24K Recs related?)
DJ NJ Drone – Spectral Future Loop
Anonymous – Goblin
Kaotic Chemistry – Drum Trip (Tim Reaper remix)
Clementine – Syn-Son
False Witness x Shyboi – Lecktrik Bootleg
Renegade – Hoah! Rmx
Razor Heed – Data Ram
Stereo Murder – Don't Touch That Stereo (Rave Creator Remix)
Klute – Ram Raid
Rizzla – Chainsaw Soca
Punisher – MMMM A1
Strange Works – untitled track for a future 8205 sublabel
Sudanim – Knotweed
Drum Selection – B2
Ancestral Club DJs – Aggressivo Jungle Zouk
Unknown – Rahhh Solos
Peter Darker – The Medicine
Dev/Null – Critical Hit Bootleg
Soda Plains – Brisance
Maestro Anderson – Boneca
Unknown- Vengeance Riddim
Dark Shock – Battle Shocker
Renick Bell – Hybrid Beat at 160, 160924b
Pyrolator – Gespräch mit der Erde

Dev/Null: Soundcloud, Facebook, Twitter
8025 Recordings: Soundcloud, Bandcamp