Bristol-based label Black Acre enlist the production skills of Wallwork alongside Nico Lindsay's emceeing expertise for their latest release, "Facts"/"Fyah". The two-track single features Lindsay's explosive bars layered on top of heavy beat patterns and sharp percussive sounds. Wallwork and TSVI's strategically placed drum arrangements create a sense of preparatory anticipation for Nico's fiery entrance into "Facts". On the flip side we see a collaboration featuring Gqom Oh! label head Nan Kolè."Fyah" explores the undertones of UK funky with gentle sounds and passing breaks underneath Lindsay's sparse yet effective flow.
Co-running Nervous Horizon together, it's fitting that Wallwork and TSVI would collaborate on a tune for this project. Having first met one-another in a queue at Fabric, the pair bonded over their shared interest in music and Italian heritage (with the help of a mutual friend to encourage this alliance). We caught up with Wallwork and TSVI to learn more about the release and their work with Nervous Horizon.



Can you tell me how the project was formed?
Wallwork: "Firstly, Lorenzo BITW had an idea of putting Nico Lindsay on a track."
TSVI: "So we used Nico for "Storm", a previous single out on Nervous Horizon and then Wallwork was already working with Nico."
Wallwork: "I worked a lot with [Nico] on "Storm" with the vocals – we ended up becoming friends and he thought we should do something else together as well. He was also doing things with Nan Kolè who was already in our group of friends – so there was him and Lorenzo who are both Italians into UK funky. TSVI and I aren't necessarily just into UK funky, we vary a lot and we're quite broad in terms of our music taste. But Lorenzo and Nan Kolè were very much into that and afrobeats/African sounds. Kolè has his Gqom Oh! label but I discovered that he had another label based in Africa five years before. So they inspired us with their ideas and we went 'Nervous Horizon' on it, where we took the ideas and tried to make them even bigger. I sent them to Black Acre to see what they thought and they were like "This is crazy!""

Why did you decide to go for a bigger platform and Black Acre specifically?
Wallwork: "I bought my first Black Acre record when I first moved to England in 2008, so for me it was like I wanted to release on labels where I bought their records so in a sense it would come round full-circle. Also, Nervous Horizon can be cool in East London or Peckham for instance but to get gigs in other places, releasing on bigger labels will make that easie – especially in Italy as if they don't know the name of your label it is equivalent to not existing. TSVI had a remix on Hyperdub so with people knowing that we have releases with them and Black Acre it makes it easier to gain respect in Europe. Obviously in London it's all about up-and-coming artists and who is fresh. We have that and we're happy with how we are seen here but for other places it is different."
TSVI: "Releasing on Black Acre gives us an extra push that we might not necessarily have with Nervous Horizon."
Wallwork: "Also they have a cool vibe, they are similar to Ninja Tune in the sense that they are very broad and we like that."

Your decision to collaborate with a vocalist on this type of sound is interesting. Did you know you wanted to work with a vocalist before or was it due to the fact that Lorenzo helped pair you and Nico Lindsay together?
Wallwork: "It was mostly just the idea of doing something fresh."
TSVI: "Lorenzo really inspired us in regards to the UK funky sound which I had not really explored before, so he influenced me to try something a bit more tropical. My previous EP before "Storm" is very grimey and has bass undertones so I wanted to explore this new sound. We made the track but at first I did not think an emcee would fit on top. Then l was speaking to Nico Lindsay about us doing something together, we gave it a go and it worked. We liked working with him because he is very open minded, always up for working with different sounds, not just grime."

Would you say there is a difference between collaborating with producers compared to vocalists? Which do you prefer?
Wallwork: "With producers you can have a little jam together and find some cool ideas but the core of the track is always made in someone's personal time realistically, because you need a lot of concentration and there are some things which are so tedious that you have to do them by yourself. With singers and emcees it is easier and really fun. Well with singers it's kind of a longer process, it does not sound 'radio-friendly' from the first time you record it so it needs a little bit of work. For an emcee you can have just the vocals, and then the ad-libs, compress it, make it sound really fat and you've basically got the track there. If the emcee knows what they're doing and they've got the lyrics then it can be quick.
"Also with emcees it is fun. If they like the track then it's really hype the whole time. It's like boom, you do the take and then it's there. But with producing it involves hours and hours of messing around instead of just the one go. On our tracks we took Nico away from 140 bpm so he had to slow himself down. We did a few takes because it is not easy for anybody to be emceeing at a BPM that isn't natural to them. In the end he smashed it anyway. With "Facts" we used vocals from Nico's first take and never touched it again."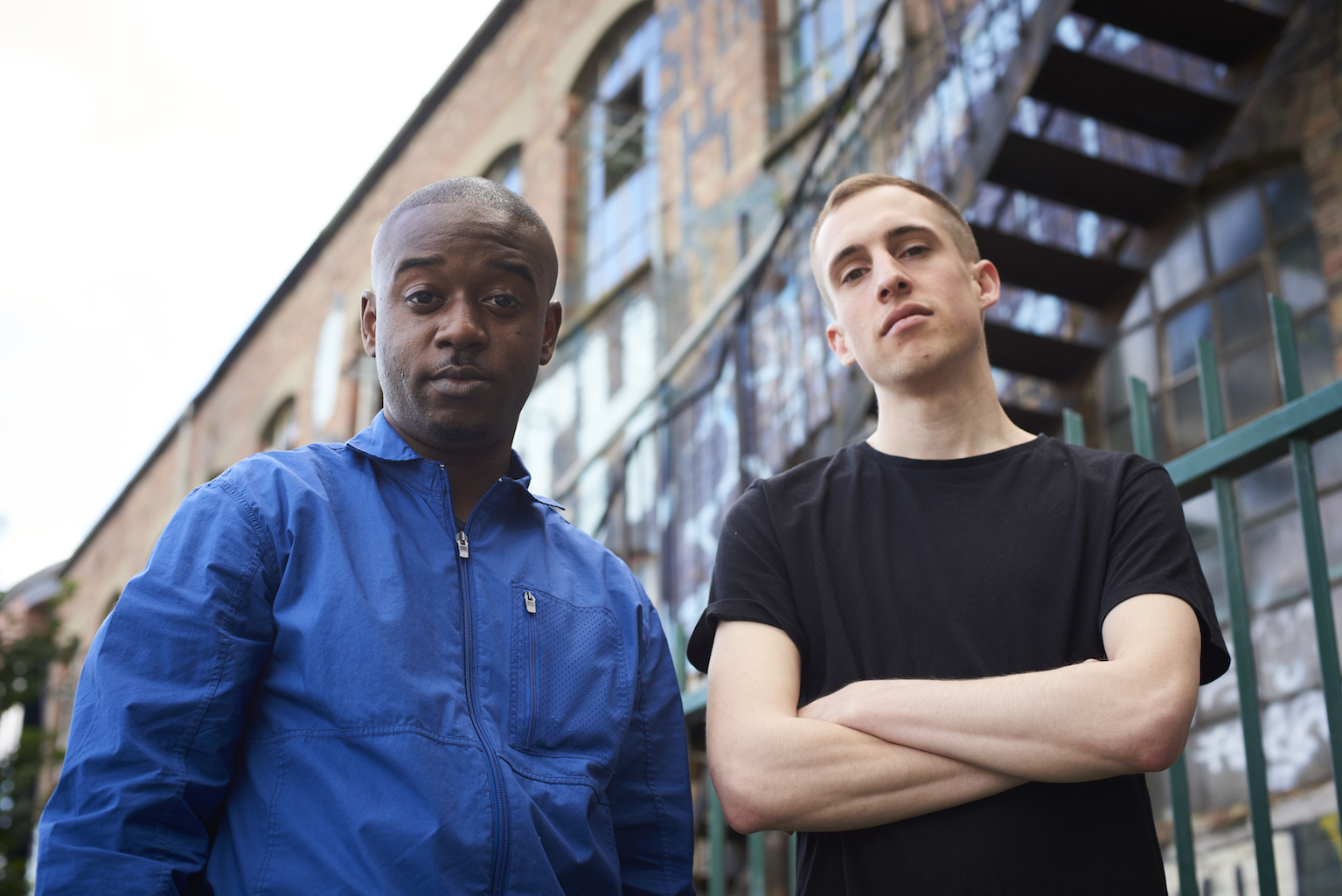 Did you have any specific influences for these tracks, musically or otherwise?
TSVI: "For "Facts", Wallwork originally made a garage-sounding track with Nico on top. I added the main bubbling percussion and one of my favourite samples. We were really inspired by bubbling, a genre from The Netherlands. It formed in '96, then it evolved and started coming up around 2004/2006. I guess it is the genre that came before Dutch house and it includes drums from the Caribbean; You can clearly tell by the drums in "Facts" that there are tropical feels to it."
Wallwork: "I was thinking a lot about how I've made some bass tracks that could possibly be dropped at Notting Hill but this has proper Notting Hill vibes. When making the tracks I was imagining the stage at the end of the carnival under that bridge, there has always been craziness happening there. So yeah I thought I would want to do something for the summer."

Let's discuss Nervous Horizon. When it was formed did you have a set vision for its direction, and whether it would be perceived as a collective or a label?
Wallwork: "During the first six months we were trying to figure out what we wanted to do in general. We were concentrating on the production – mainly we thought that if we don't manage to make a banger we're not going to go anywhere. So first we started making tracks and then we realised that we should open a label. Scratcha DVA told us that we need to put this stuff on vinyl. I would say that he kickstarted our label; before him we weren't as convinced."
TSVI: "He called us one day and asked if we wanted to do a guest mix on Rinse (myself, Wallwork and RZR at the time) and that was when we decided that we should say we are a label if he was to interview us on the show."
Wallwork: "[Scratcha DVA] has been the main reason why Nervous Horizon is alive. The fact that there was a respected producer saying our tracks are great, and him wanting to be involved in the early days meant a lot."
I caught onto Nervous Horizon early last year and it's clear that you lot have kept busy which is nice to see. You brought out your first compilation, had a couple of individual releases and you have been with Radar Radio from the early days. Now you're getting quite a bit of airtime on BBC Radio, Rinse FM and Beats 1. What would you say has been the most exciting or overwhelming moment for Nervous Horizon as a label since you began?
Wallwork: "Probably the first Boiler Room with Addison Groove & Scratcha [DVA]."
TSVI: "It was quite messy and fun, but I remember it being one of the most amazing days ever."
Wallwork: "Mainly because of Scratcha, Addison Groove and Mickey Pearce. There are these three artists from 50 Weapons, Hyperdub and Swamp81… We've gone from nobody, not even sending tracks to them to then being on a Boiler Room with them so it was a big moment for us. When I got the phone call about it I called everybody up screaming. After that happened we got an agent, we're now on Earth Agency."

What are your future plans individually as well as for Nervous Horizon?
TSVI: "I have an EP coming out on 7th October on Nervous Horizon. It will feature six tracks: four on vinyl plus two digital bonus tracks. Four are by me then two more collaborations, one with Luru and another with DJ JM from Lithuania. I like his style, he has definitely influenced me with his percussive tracks."
Wallwork: "I want to do an EP on Nervous Horizon as well because I haven't done one for ages."
TSVI: "We also have an EP coming from Second Storey, who has been releasing previously on Houndstooth and R&S Records."
Wallwork: "He is quite underground but he is a very well-respected techno producer. We also have some other releases lined up for Nervous Horizon and we're trying to broaden our views outside of London because it seems like people here are very predictable. We'll see a track and click on it but you already know what to expect, instead of other places like Holland or Portugal."



"Facts"/"Fyah" is out now and available to download via Black Acre.
Photograph of Nico Lindsay and Wallwork by Silvia Dee.