With more than two decades of releasing and producing music under his belt, Neil Landstrumm's long-term appeal has been a well documented one. Preferring to be an outsider and on the fringes of many scenes rather than directly in the centre of one, his unpredictability within techno and the broader fields of electronic music has meant a steady output on a wide variety of revered labels. In more recent times, Landstrumm had a string of releases on Rawax, Don't and UNDERtheGROUND whilst also collaborating with fellow Scottish producer Hostage under the alias Modini for two releases on Dixon Basement Avenue Jams. Ahead of his gig at Fabric next Saturday alongside Marcell Dettman and Craig Richards, we caught up with Landstrumm for an in-depth chat about his recent joint performance with Karenn, his history with motion graphics and having cheeseburgers with Joey Beltram in a tiny diner in New York. There's also a large section near the end where we discuss the legendary Edinburgh night Pure, and Landstrumm's own memories from that era. There's no tracklist with this week's Truancy Volume, but clocking in at just over an hour, Landstrumm himself describes it as mixture of new tracks and unreleased material, mixed in with some bits from his current live set-up.
Hey Neil, thanks again for doing this mix and interview, long time fan here! I wanted to start talking about your recent live-set with Pariah and Blawan and how that came about. Generally, how did you guys meet and were there many rehearsals before?
"It was a collaboration proposed by the Boiler Room people for their 'Stay True Scotland' event in June and an idea that all three of us were excited about making happen. We put some time and effort in to making it sound how we wanted to and I think the recording speaks for itself. Here's the link. I tend to live in a bit of an isolated bubble and don't take much notice of the 'scene' but I was very aware of both their work and how they were flying the flag for live hardware techno in 2015. Tony Surgeon is a mutual friend and always spoke warmly of their attitude to the music and passion for the hardware side of things which rings true with my background also. Obviously that is something I have built my reputation on throughout my career since the beginning in 1994. Both Jamie and Arthur are my kind of people, down to earth and love what they do which is obvious from their shows. We met for the first time in person at least, just the day before the recording but we did have a few phone calls and emails beforehand to work out how we were going to approach the project and to delegate different areas of sound, rhythm and structure. I was concerned that it may just end up being a clattering mess with all those machines and riffs but we managed to strip it down and keep it focused to a more minimal but chunky sound. Also I wasn't so keen in doing something with a really fast tempo either as there is just way more groove at a slower tempo and I think it will stand up better over time that way. It's meant to be dark, broody and with some funk rather than a peak hour techno sausage-off."
In terms of collaborating with other artist you've also been doing some productions with Hostage under the alias Modini, which recently came out on Dixon Basement Avenue Jams. Is this a similar story to the Karren one? 
"I've known Alan Hostage personally for a few years now and we just always got on together, had a laugh and didn't take the whole music thing too seriously. We decided to make a track which went well and then just kept it up, meeting every week over a couple of years and racking up the tracks and leaving them in the can until we felt we had some EPs there. It's a really refreshing working partnership actually that seems to produce the goods more than not. The first 12" was under the name GUTTS on Dave Shades small label called Horror Boogie, which was a more uncompromising and heavy affair but which lead on to the more polished sound that became Modini. We have two EPs released already on Glasgow's Dixon Avenue Basement Jams called Turk and Tart with a further track on an All Stars EP for DABJ due very soon. J D Twitch's Optimo label is also releasing a Modini track called "Ghost Seducer". We also have a real secret weapon 12″ due to be released on Hypercolour later this year called 'The Answer' which begs the questions – Get the answer right. How do you go to sleep at night? It's a weapon."
In an interview with Dummy from 2012 you mention that you actually aim to be an outsider; the underdog type on the fringes of many scenes rather than directly in the centre of one and you think you survive longer that way as an artist. Do you find that as relevant than ever now? 
"Yes, I think so. I haven't changed my outlook on scenes or my position within them since then. I suppose it goes against the grain of the current maximal social media promotion style where an online profile and 'likes' are more important than the actual music. It really doesn't have to be that way though. With the Modini project we have almost shied away from any publicity and kept it all as low-key as possible, deliberately to retain some mystique and intrigue in the project. Music and a band's image used to be all about the intrigue and the idea created in your mind of what it actually represented and was like. Everything is all too accessible and forgettable now. I have always believed in the relevance of outsider art and loving the underdog and the under appreciated, as often the best output comes from these non-hyped sources. Without question my long-term appeal has been by popping up all over the place within techno and the broader field of electronic music by being unpredictable. I get bored with sounds and styles quite quickly so once I've given it my own interpretation and twist I usually move on to discovering or reinventing the next. Although to be fair certain elements are a constant throughout my records if you listen hard enough."
Motion graphics work has has been a major part of your work over the years. There is always the cliche question asking how you first got into electronic music and your influences, but I do want to ask this question in relation to the motion graphics. What early programs or computers have you used over the years and what are their limitations? How did you get to work with certain high profile companies and possible designers that kicked off this interest? As a graphic design student, this fascinates me. 
"I am part of the generation that grew up with the 'home computer' so 8-bit blocky and vector type graphics always appealed to me. It's difficult to appreciate now but the amazement of seeing a photo being displayed on a home computer via a laser disk was quite something back then; the computer drawing it line by line on a colour screen over 5 minutes. Or the creative and high-res loading screens of video games always impressed me as you waited for a further 25 minutes for the game tape to load then fail, haha. My brother had a spectrum 48k and then a Commodore 64 which was really the daddy of the 1980's home computers with the SID chip and much better graphics. I didn't really get into doing the motion graphics till early releases of After Effects and Lightwave and basically taught myself how to produce quicktimes. I always had a keen interest in visual art and worked with Mat Consume on many of my early LP sleeves and middles, suggesting images and ideas. It was only really when he showed me how After Effects was Photoshop in motion that the possibilities clicked in my brain and I decided to pursue that direction. By that point I needed to take some time away from the music to regain my equilibrium with it and living in New York by this stage gave me the opportunity to meet some people in the industry and get on.
When I get into something I completely focus on it and immerse myself in the software and tools and just find my own path with it. By not learning software and techniques the 'right way' or in 'college' it sort of forces a more unique take on things by making mistakes and not falling into orthodox patterns of using them. I met an artist called Jeremy Blake in New York with whom I really clicked with and I learned a lot from him about colour, composition and style which still resonates with me today. I suppose I operate on a need to know basis and just run with what I have. You can only play the hand you are dealt. I also doggedly persevere with ideas and just set out on a mission to take my reel to the right people in New York like MTV and Rockstar and persuade them that what I had, they wanted. My history in electronic music did open doors though as some people knew my records so I used that and being Scottish, which in New York always opens doors."
One of my favourite tracks by you of recent times which is accompanied by a great video by Ruairi Dunne is "HL_LM". I was checking out his excellent photography (a lot of it is taken in Scotland) on his site, so I'm keen to hear about the connection between you two and how you got him on board for the video. 
"Yeah, I like that track too. It's got an ethereal and synthetic, glass-like quality which I still like and Ruairi's video really suits it. It was Jamie Russell from Hypercolour / Sneaker Social Club who hooked up Ruairi and I and suggested doing something to visually represent the track. He suggested making a video from this found footage which he had unearthed at the BBC archive if I seem to remember correctly. It sounded perfect, like an 1970's organic sci-fi that is all about the lives and emotions of plants. He spent an age editing the footage to make it work and just did an amazing job overall. Such a cool aesthetic and pretty unique. It's always better to have something of quality on Youtube representing your work rather than some badly recorded mp3 with a crap jpeg."
One of the most interesting things I've read recently (which I want to direct more people to) is the step-by-step breakdown of your studio in the 'Witness Room's' section of your Scandinavian Works website. I especially like the part where you mention your love/hate relationship with the 909 and how, sadly, it's really limited what's become 'acceptable' or the norm for drums. 
"Yeah, that was for a feature for FACT magazine originally. They had asked for a top ten records type thing so I twisted it into my top ten pieces of equipment. I'm just the worst person to ask for top ten current or past records. My brain just doesn't work that way and to be absolutely honest I really don't listen to much new techno stuff. I prefer to make my own in the lair. The TR-909, the backbeat of techno or much of it anyway. I always remember Aphex Twin remarking on the death of the 909 and how he wanted it to RIP. He certainly made lots of his own signature drum sounds. The feel of the 909 is what makes it so special and the kick, raw through a system is still pretty devastating but times have really moved on now. The 808 is the more usable of the two machines and I think aways will be. The 909 sounds very dated now and despite having its uses to draw from the classic palette of sounds, it really is limiting yourself to stick with it for everything. I love the battle-damaged look and history I have with mine but I rarely turn it on to be honest. It is frustrating that more different drum sounds aren't used more but I actually think that has changed over the last five years especially with the advent of all the amazing sound packs from Goldbaby and Native. These sound designers really do a much better job of getting the best out of all these old machines or create completely new percussion sounds."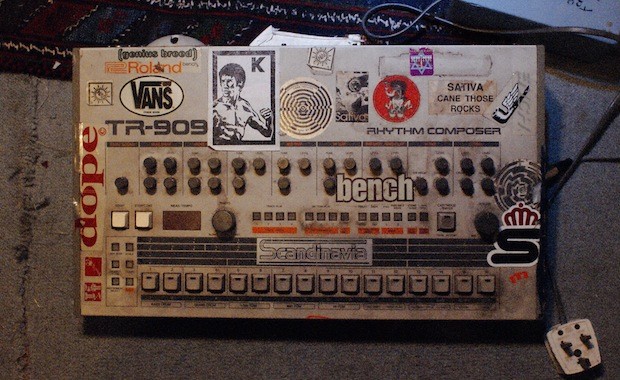 How far does the interest in building bikes stretch?
"Riding trials motorbikes is my absolute passion at the moment. I don't do competitions but prefer to ride with a friend wild over the hills and do long treks in the Scottish Borders or Highlands making our own sections as we go. It's all quite freestyle and wild but thats the way I like it. The studio has been known to double down as a bit of a garage also and I'm currently looking at two Montesa 315s that are in here for some work. I recently restored a mid 1980s Honda TLR200 which I sadly had to sell straight after to pay some bills. Easy come easy go."
In most of the past interviews I've been reading with you there always seem to be a story about a particular track name. Feel like we should continue this especially in light of tracks like "I Paid £5 To Come In And I Want To Hear Rihanna" and "Cheeseburgers With Beltram". 
"Haha, yes these all come from actual events. "I Paid £5 To Come In And I Want To Hear Rihanna" was taken from a gig in Edinburgh when a girl came up to me whilst playing and demanded to hear something she recognised so she could dance and would not take no for an answer (despite it being obvious this was a techno night). I think she had come into the club thinking it was more commercial music but would absolutely not take any answer I offered her and kept repeating the same thing over and over again culminating in "I Paid £5 To Come In And I Want To Hear Rihanna". A bouncer eventually moved her away as she wasn't giving up. I did actually eat "Cheeseburgers With Beltram" one time in Brooklyn not long after I moved over and set up the studio there in around 1997/98. Joey and I were on the same label at the time, the mighty Tresor from Berlin, and I had met him a few times before. Joey is a good laugh once you crack the moody shell, and he offered to drive me around Brooklyn for a look around. We ended up in some diner where I ate "Cheeseburgers With Beltram". If 16 year old me could have foreseen that moment as I brought Energy Flash and Mentasm back from HMV to check out for the first time I never would have believed it. The completion of a circle."
Speaking of the last five years, I've picked up that you're also very interested in history and I feel this comes across especially when you talk about the zeitgeist in music and how many producers just have similar ideas at the same time, rather than just be influenced by someone else. Seeing as your last solo interview was around 2009 I'm keen to ask what you think the zeitgeist from 2010-2015 has been and if people in the future were to magpie-pick from this era, what they would get from it? 
"Good question. I think it was still in a retro recycling phase during these years but you can hear the fusion of many older styles and sounds into some new(ish) feeling work. A lot of music now sounds so much better in its production and presentation but doesn't really have the vitality or freshness of the original that is being copied. I think a lot of the latest resurgence in house music shows that. It's not a bad thing to freshen up these old records but I just feel there isn't many new ideas being brought to the table which is a shame considering the amount of possibilities music technology offers now. Or maybe I'm just a bit too cynical. I'm still positive about music and the future though."
You've stressed in the past about having a 'been there, done that' mentality especially when questioned about albums such as Brown By August, but how much does that define your production process in the studio at the moment? Surely at times you must be bridging the gap, sometimes not on purpose, between then and now. 
"I do have a bit of a love/hate relationship with Brown By August. I am pleased it's touched so many people but at the same time it represents just such a small slice of all the records I have made and it's just not a style that I have much interest in any more. I'm glad I made it as it does remind me vividly of those crazy days but it's also been a bit of an annoyance as some fans have just never got over it and expect me to do the same record over and over again which frankly was never going to happen! It represents just a wild few months of my life and you can hear that in the rawness and energy of the record but when I listen back to it I just cringe at the quality of the production. It's sort of back in fashion again 1990s techno and the heavily swung UK_Chicago hybrid sound is unique to that period.
I have warmed back up to Brown By August in recent years but there was definitely a period in my Planet Mu era, 2006-09 that I was so over that sound and just didn't want to be associated or reminded of it again. Part of the problem is that [we] all lived that period of clubbing so hard and 24/7 that it's just burned out of my brain and I don't need to be reminded or relive it any more. I did it all in 1995 many times over, too death! It's 2015, 20 years later which is a decent stretch of time. I prefer the first Peacefrog Index Man EP to all the other records I did on the label. I think that EP best represents the purity of the ideas and has the best versions of what I was trying to say at that time. Brown by August is just so harsh, noisy and unremitting but then that just reflects what was happening in the Edinburgh clubs like Sativa at the time."
I wasn't going to ask too much about the nineties but I was reading the Red Bull article about Edinburgh's '90s night Pure, and with seeing you mention the Sativa I have to give in a little. I am generally interested to hear your own take of those early '90s parties and Edinburgh at the time, be it as brief or in depth as you'd like.
"I was a guest live act at Pure and got to know most of the crew pretty well. I had the privilege of playing at the venue in the main room once and twice at the big Barrowlands events with Plastikman and Green Velvet headlining each separate night. I think that this was during 1994 and early 1995, certainly no later.  I was a punter at Pure and Wave from just after it started and  was brought  through the music by Twitch, Brainstorm, Dribbler, The Bill and Carole. I look back on my times at the club as a hugely positive period in my life giving me the insight and confidence to go on and do my own thing. Pure and Wave weren't just clubs, they were Edinburgh institutions, transforming events  and a way of life for many. It felt like a new way of being, something very original and exciting which completed your week and forced the rest of your life to revolve around it, for a time at least. I think it's pretty hard to encapsulate the passion that people had for Pure and what happened there every Friday night.
You certainly aren't going to understand or 'get it' from the few photos that exist from the early years. The music transcended all the other shit that went on I think despite that being a part of it. What went on certainly helped break down social and perception barriers for sure. Personally I believe Pure should be let lie now and to allow the after-glow to live on in people's memories rather than some re-union. You cant turn back the clock on something like that and even if you wanted to you can't. Accept it. Plus, I find it strange that to some they are trapped in the past with Pure and the big records at the time. The music at Pure was all about the promise of the future, not the past, so in my opinion, and it is just MY opinion, people should always be pushing their musical boundaries forward, in the main at least. Many of the big records have a new life with a new generation which is cool as many are timeless records.  Personally being invited to play the Barrowlands live was a huge deal, especially with Plastikman on his original tour and Green Velvet. To play at Pure was all I really wanted at the time and after a couple of years of pumping demo tapes to Andy and finally getting a couple of records released it happened. For that chance I am eternally grateful and forever look to Andy and Keith with the utmost respect. I'm pretty experienced, hard nosed and cynical when it comes to clubs now but I will always have a special place in my dark heart for Pure and please don't forget Wave as it was as much part of the story."
Is it much different to other clubs?
"Of course. These nights were both the originators and innovators in Scotland at this time, Twitch & Brainstorm being the architects of the sound that followed on. One of my strongest memories is of the smoke pouring out of the cracks in the doors of the venue with the wood rattling and buzzing from the kick drum pounding inside just before it opened. As you waited in the queue or sat in your car the pre-Pure tension was a mix of excitement and nervousness if you were going to get in and the anticipation of where the music and atmosphere was going to go that night. It could be very different week on week which was very exciting. Not all nights were great but when it gelled  there was nowhere else in the world I'd rather have been."
I'd also like to know whether you had a particular way of playing at Pure that might've differed from playing elsewhere. 
"It educated me on how to pen the format and map the blueprint of performing Live sets I think from both the technical and emotional perspectives. Pure and Wave were all about a curve of intensity in music, from experimental to 'upfront and heavy techno', building and building to a peak. Pure invited many guests ahead of the game which provided a window into the techniques and methods of how other artists performed. Orbital, Aphex, Ege Bam Yasi, Thomas Heckmann, PSOG, Green Velvet, +8,  Hawtin, Hawkwind and so on  were all memorable live acts for me. I enjoyed many of the wild card nights like Jimi Tenor and so on also. It's part of the jigsaw and story. Pure was more than just banging tracks, it was a weighty, full fat deal."
Did the crowd also contribute to making what it was?
"The early Pure crowd was a mix, a proper mix of people and that was part of what made it. Ravers, acid teds, students, casuals, NEDs, bikers, punks, indie kids, hippies, Alex Higgins, the Ragga Twins, straights, everyone was welcome. I don't like compartmentalising people but it was a broad draw of people that went and from all over Scotland to a certain extent. It was edgy but people were welcome. I think this changed as it got later in its life but early on you just wouldn't get that mixture anywhere else. People were curious about acid house and rave and it drew them in. Plus it was beyond good and much of the Pure crowd was brought in on word-of-mouth rather than internet hype. That's really the seed of what you have to remember about Pure and Sativa. It was pre-internet. You couldn't google it or click a link to find out about it. You were given one of Rock's shitty fliers in the street. You had to go and know someone who went to get in. A seed that was allowed to develop and flourish, organically into a great event in Edinburgh musical history. Long live Pure, and all who sailed in her."
At this point in time I've not heard the mix you'll be doing for us yet, but what I've always loved about your mixes is you're not quite sure what you're going to get. Can you tell us a little bit about this mix you've been working on for us?
"This is more of an upfront mix of new tracks and unreleased material mixed with some bits from my current live set. Im trying out some new material in the mix and seeing how it flows. Its always a bit of trial and error but at least I'm honest."
Finally what else can we expect from Neil Landstrumm in the next year or so?
"Im just putting the finishing touches to another EP for Jerome Hill's Don't label which is a solo Landstrumm project. There is the third Modini EP coming out on Hypercolour but towards the end of the year. Thirdly, another solo Landstrumm 12″ on The Hacker's label called Zone in France."