One of the best things to come out of Miami since DJ Khaled is rising rapper Nell. Atlanta is awash with young rappers jostling for our attention, but just a stone's throw away, somewhere low-key in Florida (Zone 4 Carol City to be exact), you can find him steadily building a name for himself. Metro Zu and the Raider Klan (along with all affiliates and past members) are two young crews that have been putting their state on the map, so if you think that Pitbull and Flo-Rida are its only exports, think again. Granted – it is the home of heavyweights Ricky Rozay & (lightweight) Gunplay, but the Maybach Music Group has long since flown the nest. Automatic associations of Vice City will invoke images of white suits, pastel shirts & calfskin loafers but fear not, Nell has not traded in the lo fi, monochromatic aesthetic that we have become accustomed to for palm trees and a Ferrari Daytona just yet. That might be real life for the likes of William Leonard Roberts II & co but Purrp and his cabal – who have firmly established themselves as keepers of  the Memphis and Houston sound  – are yet to cash in unlike their $ worn enemies in NYC.
Stream: Nell – 94′ documentary PT.1
Releasing the impressive The Revolution '94 mixtape in August of last year, his latest offering, Vice City, serves as a testament of his work rate, consistency and hunger as a young MC. The combination of a distinctive flow and an ear for quality new age Phonk productions has set him out as one of the most promising members of the Klan. He has proved many times that he is just as capable of producing stoner anthems like the newly visualised "R.I.P Pimp C Freestyle"  or  "Hvzy Tripz"  from his #305-Grind as he is murky, thugged out junts that could both soundtrack and incite any number of illicit night-time activities  – the menacing "Who Want It" instantly comes to mind.
Stream: Nell – Who Want It
This tape, however, opens with the contemplative and melancholic "Everlasting Thought" where he questions the ills of modern day life, stating :  'Pharaoh economy / what about the minority? / common denominator the dominant target / why must we suffer 'cus some of my people starvin?' The track poignantly ends with his echoed voice repeating 'It's a youth world order, Black Power… the  new world's in the making.' A clear reiteration of views expressed on tracks like "Ridaz" for those who may doubted his commitment to the 'cause'. "The Block" and "Craps (Interlude)" pair him with eerie minimalist productions that sound like they were recorded directly from a secret chamber in the Vatican. He makes it clear that the Florida that he inhabits and the one that Mickey and Friends call home are worlds apart. At times you could be forgiven for thinking that the sun even shone there. On the patriotic "From The South" he raps, "dungeons raised us" alluding to both the influence of ATL's Dungeon Family and the Klan's aptly named Blackland; and if you didn't get the picture the ominous strikes of thunder and strung out bassline line should make it clear.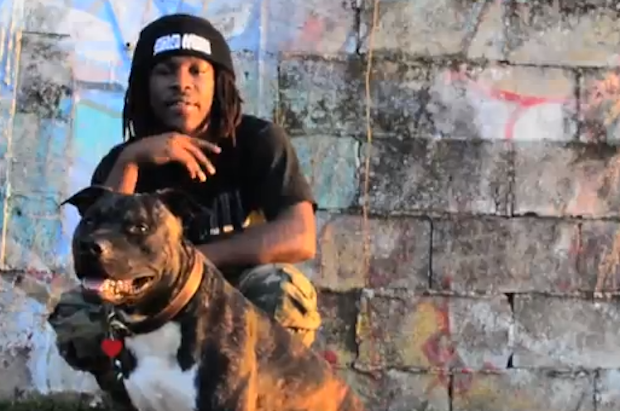 The darkness that overshadowed the first few tracks is dispelled by uplifting productions courtesy of  Showoffbeats on both  "Mackin and Hangin" featuring Spaceghostpurrp and the self explanatory "OG Ganja Smoke". Showoff has previously produced for Curren$y, who Nell cites as a "modern influence" and well, we all know how much Spitta loves weed, so it's no surprise how well the pair of songs play out. A verse from him wouldn't have hurt either.
Guest verses are kept strictly between Klan members (where was Simmie?) and family with the likes of  SGP,  Amber London, Rell Hoe, Carol City Marc, Cash Money signee T.Rone, ex Klan member Denzel Curry and a few other internet shy contributors. The production credits are shared Between Purrp, El Camino Black, Showoffbeats, the supposedly retired DJ Smokey and a few unknowns. Vrsy Jnes'  'Stick Em Up' gets pick of the bunch just  for sampling Sade's "Kiss of Life".
It's not quite up to par with The Revolution '94 so he must be saving the best for his debut album The Declaration of Independence. That said, it is another solid tape under his belt. Well-balanced between light and dark, pensive and aggressive, retro and current . Hopefully we'll get some visuals to keep the anticipation high.
Vice City was released 14th January 2014. Stream/Download via Livemixtapes.