'When I first started working with Madlib, I had heard how he and MF Doom had made such a classic album. And I was like, man, I think I'm way better, or at least as good, as MF Doom. I can do that too. It started off as a challenge—no disrespect to MF Doom, he set the bar. I wanted something that was gonna sit in rap history.' Conspiring together with the reclusive genius Madlib; the baby faced killa Freddie Gibbs is making extremely clear that there is a new villain in town. The stars also seemingly aligned to coincide with this momentous occasion as the project was released a few days short of the 10 year anniversary of the cult classic Madvillany. Our attention is firmly focused on MadGibbs right now though. Three years in the making, Piñata is just the type of raw and uncut product that you would expect from the coming together of two highly skilled purists. Two rare breeds who are single-handedly keeping their arts alive, crate digging and greezy gun talk respectively. A self-described, "gangster Blaxploitation film on wax" Gibbs' autobiographical raps are suited for the screen as proven by the video for the first single "Thuggin" which was released in 2011. And who better to score this film than Madlib? Whilst many rappers are still trying to convince you that they have the Medellin on speed dial (Jay-Z at least has a photo) or that they are in fact convicted drug trafficking kingpins – Gibbs honestly rapped "I've never been a drug kingpin" (Live from Gary Indiana) so the symbolism of  the opening scene in "Thuggin" that shows the robbery and murder of the wannabe Tony Montana in the two tone 'Scarface' leather jacket sends a clear message out to all.
"Scarface", the first track on the album, acts as an introduction to the start of his life as a dealer, one of his favourite rappers of the same name, as well as referencing the film. The film inspired a generation of hustlers turned rappers, turned designers, turned moguls (in some cases) and has simultaneous become The Complete Idiot's Guide To: Getting The World and Everything In It. Granted, Gibbs doesn't relay elaborate and grandiose Mafioso tales of multi-million dollar transactions or  the lifestyle that accompanied it like his 90's predecessors but he still acknowledges the inspirational and educational value of the story. The brevity of the song mirrors his stunted come up because no sooner than beginning his Montana-esque rise to power, 'Deeper', the subsequent track, already sees him in prison. Call it the sequel to 50 Cent's "21 Questions". Gibbs' early material shows that he has a penchant for jacking R&B beats, be it from the Isley Brothers or even Bow Wow & Omarion, and Madlib, doing what he does best, flips the perfect dusty soul sample to match the tone of the unrequited love song. Gibb's hasn't gone Drake on us but it is a clear moment of vulnerability that shows us, once again, what it's like when thugs cry. Not one to dwell on the past –  the painful memories of his unfaithful sweetheart are dissipated in a thick cloud of kush smoke. It's a real shame Mr Jackson Jr, Mr Gibbs and Mr Brown didn't get in the studio together to record this track. Can you imagine the studio session for "High"? If not, the lyrical trip to "Harolds", an ode to the Chicago chicken shack should say it all – "six wing mild sauce with all the fries you can give me." "High" is not the first time Danny Brown has laced a Madlib production – it's just that this time he's not playing the lead Cocaine Cowboy. Gibbs on the other hand, who was previously unaware of Madlib's craft, handles his unpredictable productions with great deftness showing his versatility as a rapper. Madlib, '[doesn't] have time to sit there and coach somebody… to sit there like a babysitter,' and the Baby Face Killa certainly doesn't need one. That said, it's not completely new territory for him and they are definitely no odd couple. In the past Gibbs has been paired with crate diggers like Statik Selektah and Alchemist. Also, it's not like we haven't heard raps about drugs, weed and women before. It just hasn't been executed this expertly, vividly and sincerely since Roc Marciano's Marcberg.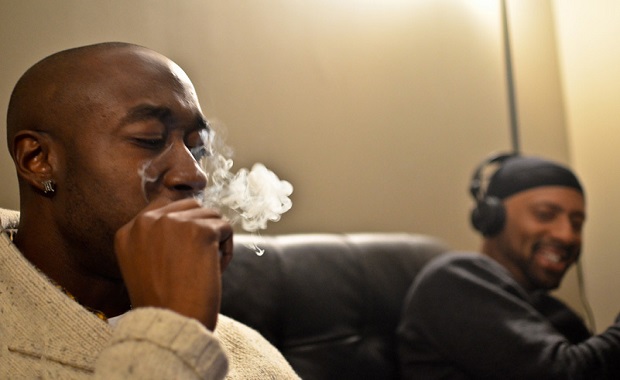 From Harold's, we go back to his own culinary establishment "Fast Freddie's" on the next track "Bomb". The strung out string sample evokes the paranoia of  the Geto Boys' classic "Mind Playing Tricks On Me" as Gibbs raps, "drugs got me wakin' up in cold sweats / sometimes I'm slightly off my rocker, but I'm on deck." Undoubtedly caused by all the 'a la carte' weed he's been smoking but he has no choice but to hold it down because he has the most Michellin starred chef on the planet, Raekwon, joining him in the kitchen. Like the true culinary wizard that he is  Raekwon the Chef serves up his signature dish of exotic non-sequitors with effortless calm. Gibbs "[does] not give a solitary fuck" on "Shittsville" and continues not to throughout the album. This sentiment or lack thereof will undoubtedly continue throughout his career – a trait that both he and Madlib share. 'Certain guys aren't gonna do the things that I do musically to set themselves apart. They just gonna be another motherfucker on Worldstar.' Gibbs has expressed ambitions to one day be like the next Master P but for now  is content with starting small, growing his fan base and perfecting his art and with 10 years under his belt he's finally starting to get the attention he deserves. Madlib existed in this slightly nerdy, slightly inaccessible, avant-garde 'art rap' (for want of a better word) Wes Anderson type world with Doom and Gibbs being more rugged Tarentino types. His remixes of Norega, Big Pun, M.O.P and the super grimy production for Ghostface Killah  have hinted at a more rugged side, it seems he just need Gibbs to coax it out of him so by teaming up with they have both diversified their audiences without having to switch lanes or water down their output.
Holding back or pulling punches is not something the ESGN honcho is capable of. The pleasure he takes in destroying his former boss Young Jeezy on "Real" (Remember Everybody Ain't Loyal) is terrifying. Madlib again provides the suitably rugged and varied terrain for Gibbs to navigate. A diss record is a rare thing these days unless you're Drake and Jay-Z.  It's unlikely that they'll come to blows over a Basquiat but it's surely only a matter of time before Jeezy satisfies the public's blood lust, right? Then again, no one really cares. Do they? The killing spree continues on the superbly gritty "Uno" which sees him lining up Lil Wayne. Unlike Tony Montana, who declares himself the bad guy in a druken stupor, Gibbs announces his arrival with a deadly cool. The rap game needs people like him, not because of his 'gangsta' image but because of his authenticity. Despite his fearless displays of cocaine fueled confidence he realises that he isn't bullet proof and that he may end up the victim of crime he committed in his past but as long as he goes down in a Lennox-like blaze of glory he doesn't care. He has repeatedly emphasized his 'realness' and until anyone proves otherwise; who are we to doubt his credentials? With a major in Robbing (with Honours) from the Drug Dealing College – Gangsta Gibbs is top of his class . For someone who robs both recreationally and as an occupation the fact that he's found time to work with one of the biggest record nerds around whilst mentoring young truants like Domo, Earl and Mac Miller is a feat any Blaxploitation hero should be proud of.  That said, Gibbs' final classroom scene, the title track "Pinata", could have done with a better cast. More importantly, how can you let an 'extra' have the last word? Naturally, one of the highlights of the album belongs to Scarface on "Broken". Once again Gibbs shows us what's behind his hardcore image as he raps about his humble beginnings, giving into peer pressure and his twisted relationship with his police officer father. Madlib's production here pulls hard on our heartstrings turning Isaac Hayes' "Wherever You Are"- which also touches on wrong decisions made in the past – into a melancholic masterpiece. Scarface, however, chooses not to "talk [his] old business" preferring to focus on the finer aspects of his life away from the streets that involve a beach, a buxom female and pint of Guinness. Both he and Raekwon, having survived a life in the streets,  play the role of those who have 'made it' and as such serve as mentors to Gibbs, offering jewels of wisdom and insight into the luxurious life that he can one day hope to enjoy. "Lakers" the uplifting and anthemic ode to his new home in Los Angeles suggest that he is starting to enjoy life more as the Gary Indiana native links up once again with Polyester the Saint as well as TDE's Ab Soul to re-pledge his allegiance to the yellow and purple. Gibbs has returned to the city of angels with the gems from Scarface in order to "prepare [his] broken dream" and like our favourite bad guy; we are rooting for him all the way.
The line between Freddie Gibbs the gangster and Freddie Gibbs the rapper may be blurred  but as much as he touts the Gangsta Gibbs image, how many 'killers' would you catch singing  "Me & U" ,"Waterfalls" and "Living For the Love of You"  a capella? We know he raps about selling drugs but he's given us a brief glimpses of his gentler nature and it's these introspective moments that we want to see more of. On this premise it should be safe to approach (with caution) and congratulate him for one of the best rap albums of the year. By releasing a string of EP's over the course of a few years they maintained a steady and healthy buzz of anticipation that meant there was not an unrealistic amount of hype to live up to. With a product this strong Lord knows what he's got in store for his next album Eastside Slim.  Slated for release this winter and we're already fiending. Do yourself a favour and crack open one of his piñatas. 'Straight street shit.'
Piñata was released on the 18th of March by Madlib Invazion.