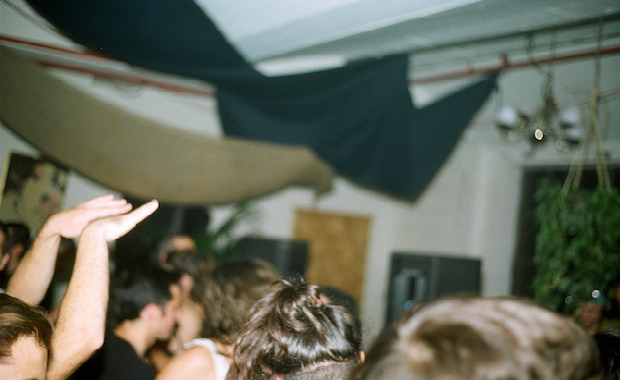 For our eightieth Truancy Volume we thought we'd get nosy about Canadian crew Forbidden Planet. They've caught our attention recently with a Montreal party series that's hosted a selection of interesting names Prosumer, Ron Morelli, Murat Tepeli, D'Marc Cantu, Terreke and Bill Kouglias have graced the Forbidden Planet decks since they started throwing parties two years ago. It's a roll call which reflects excellent taste, we're sure you'll agree. They also run a regular radio show which is home to some hot shit mixes, and in April they expanded the empire with a record label. We're already very taken with their releases – the first was a strong D'Marc Cantu EP featuring a tasty DVS1 remix, and the second features one of our favourite tracks of the year so far. The somnolent synths of "2", by the secretive 'Breaker 1 2', sleepwalk you straight down to the underground, to that dark but blissful space where your feet are shuffling on a sweaty basement floor and your heart is in the heavens. Forbidden Planet are already proving that the cosmic doesn't preclude the architectural: on both EPs you'll find tracks which are carefully built, with perfect lines and well-placed spaces. Not content with fiending for their next offering, we connected with founder Jurg Haller to try to satisfy our desire for full and complete Forbidden Planet knowledge, and he charmingly provided a mix too. Top stuff.
Stream: D'Marc Cantu – Shima Tetsuo [Forbidden Planet] 
Hey Jurg, how are you? "I'm good – really busy but good! We've got a lot of stuff coming up."
What are you up to apart from Forbidden Planet? "I'm a full-time student at McGill, majoring in Art History with a double minor in World Cinema and Economics. So I'm doing that in conjunction with all the Forbidden Planet related stuff." That sounds like a lot of work! "Yeah, it is! Particularly since there's so much running around to do with Forbidden Planet. I'm in a perpetual state of biking around, responding to emails and just generally putting stuff together. Luckily I've had the help of Paul and Bianca these past few months, without which a lot of the recent parties wouldn't have been possible."
I've heard some great things about the Forbidden Planet parties, can you tell us a bit more about them? "Both Forbidden Planet and Forbidden Fever take place in a loft space outside of the city, in a complex where there are a bunch of other industrial spaces, so we can be really loud without disturbing anyone."
We normally ask people about the last time they danced, I'm guessing the last time you danced was at at a Forbidden Planet party? "Yeah, that's the last time I went out. So there are two parties, Forbidden Planet which is more techno and experimental stuff and Forbidden Fever, which I do with my friend Patrick, and that's more disco and house with only a bit of techno. And each party usually runs once or twice a month. For the last Forbidden Planet party we had Ital live, and for Forbidden Fever we had Hunee."
Now that you're running two successful club nights, what do you think makes the perfect party? "Well, that's what you're perpetually aiming for! I think everyone says the same thing: every step of the process has to be given a lot of care. For the Forbidden Planet and Forbidden Fever events we make our own mate, it's called Prime Mate. Patrick, who I do Forbidden Fever with, brews it with his friend Zav, and we sell it at a little stand at our parties. Just little things like that – and a good sound system. Montreal has by far the worst sound systems you've ever heard. No one wants to spend money on a good system, so the sound usually sucks. So having good sound is really important to us. And having good door people – inspired by Robert Johnson, we only have female door people, and it definitely makes a difference. Everyone who works at the party has a good vibe and is respectful to the people that make the effort to come.
And then the space itself we put a lot of effort into. I have a friend who does lighting for film sets, and we have special lightbulbs set up in this weird way, we have drapes hanging from the ceiling, and huge plants all over the place. We have industrial sized fans, because there isn't any air conditioning. The loft is on the fourth floor, and it looks over this whole area of Montreal. At 6 o'clock when the sun comes up, the light fills the entire space…it's just the little things.
But at the same time you can't compare it to a proper professional club like Berghain or Fabric. It doesn't look like a club, nor does it have a lot of the associated conveniences. There's only one bathroom, little studios to hang out in and random stuff lying around. This goes the same for all the events we organize, everything is pretty DIY because we don't have the same means as a proper club. For example, we put carpets underneath the DJ booth so guests can dance easier without their legs getting sore. We use old film cutting boards as tables as they are really good for avoiding feedback issues. We've come up with some pretty inventive solutions over the years.
That's the general ethos of the events. I started doing them because I couldn't see the DJs I admired in a setting in which I felt comfortable. But I think this is true of a lot of parties."
So what's the ethos behind Forbidden Planet , are you doing it for you and your friends? "We're doing it for everyone who's interested, not just our friends. The party originally started was because I'd been buying as many D'Marc records as I could get my hands on, and I really wanted to see him play. And no one I knew was interested in booking him. So I asked Bowly at Atom Heart records – which is the only record store in Montreal where you can buy new techno and house – to help me out with booking, and that's really how it got started."
What prompted to you to set up the label alongside the party? "Same with the first party, it was D'Marc. He came and hung out for a few days, and I thought, if I were to start a label, I would want to release his music – to this day it's some of my favorite music. At the end of his stay I mentioned that I wanted to start a label, and asked if he'd be interested in putting out some stuff, and he said yes. What we're releasing is a reflection of what I like to play out, and hear played out. At the parties it's not just 4/4, it's disco, it's Marc Shreeve, it's Jah Wobble, experimental stuff, noise, whatever – it goes all over the place. I guess I just think, if you can make it a bit weird and strange, why not? But at the same time – this is something Slow To Speak really hit home for me – why not play some cheesy stuff too!"
The Breaker 1 2 record is really beautiful, can you give us any more information about the mysterious producer behind it? "Sadly not, I can't give you anything else, sorry! I asked Breaker 1 2 and he said no. There might be some remixes coming out – I have three records in the machine waiting for release, so we'll see."
How about you, what are some artists or labels that you love? "I 'd say Radioactive Lamb, a UK label from the 90s. There are a lot…ESP-Disk I like a lot, DUM, Cosmic Recordings, ZYX, Modal Analysis, BH…there are so many! And as for artists, I really like Roberto Auser, Powell, Vereker, etc… I would also say it's important to mention some DJs too. I've been listening to some amazing mixes by Mike Willis, Marsman and of course Slow to Speak."
Where do you see the label and party going in future? "I've been thinking about where I see the party going a lot recently. Because of the nature of it, it's difficult to go any bigger than we already have – it would attract the wrong kind of attention. We have Eric Cloutier, then D'Marc Cantu, Terekke, and Kassem Mosse, three of which are return guests – with the party I'm increasingly trying to focus on friends and emerging artists who I connect with on both a musical and personal level. George Slydex is coming in November, I'd also love to bring Traxx or DVS1, both of whom have had a big impact on me musically and on how I DJ.
It would be nice to maybe do something in New York too, but I really like Montreal. A good party in Montreal is really something unique. People have a special energy. They're relaxed, they're down to let go and get wild. I've never had a party were people were hanging around and chatting, only dancing, even when the spot was relatively dead. Which is something I don't see often outside of the city.
There are bigger scenes elsewhere, but it's just a different atmosphere here. There's no pretension about Montreal. A really communal vibe has developed around the Forbidden Planet party, there are people meeting through the events, more people are renting studio spaces in the same block – we're all just hanging out, and playing records."
The artwork for the label is beautiful, can you tell me a bit more about that? "The guy who does the artwork is a good friend of mine, an artist called Paul Gondry. My guilty pleasure is reading lots of fantasy books, so that influences the artwork and the overall aesthetic of the label. Lots of comic books – that's actually what D'Marc and I first connected over, we're both really into comics. I'm also trying to do some exhibitions here with friends, whose work I really connect with. So that's another project I'm working on in conjunction with Forbidden Planet and Forbidden Fever."
Finally, can you tell us a little bit about your Truancy Volume? "I recorded the mix on two 1200s and a Xone:92 at my friend Patrick's place. And much like the opening sets I do at Forbidden Planet, I tried to encapsulate the general aesthetic of Forbidden Planet while not focusing as much on the mix as I would later on in the night. Simply put, it's a collection of records I really enjoy – the kind I would play during the first 1.5 hours of a FP party."
Truancy Volume 80: Forbidden Planet by TRUANTS
Tracklisting
Trisomie 21 – La Fete Triste
Mark Stewart + Maffia – This Is Stranger Than Love
Love Apple – What Will Tomorrow Bring
De Fabriek – Barbara
Domingo Cura – Percusion
Ibliss – Margah
Jah Wobble – Nocturnal
L'estasi Dell'oro – Der Weg Nach Innen (Penalune Restrip)
Neon – Voices Remix
Kim Rapatti – Untitled
Booshank – Interstate
MM/KM – Birds Flying In The Sun Like U Know How
Interfront – Strange
Front 242 – Don't Crash
Teknokrat's – What Did She Say
Lenny Dee & Frankie Bones – Jerkin Acid
The Inquisition – Mother Earth