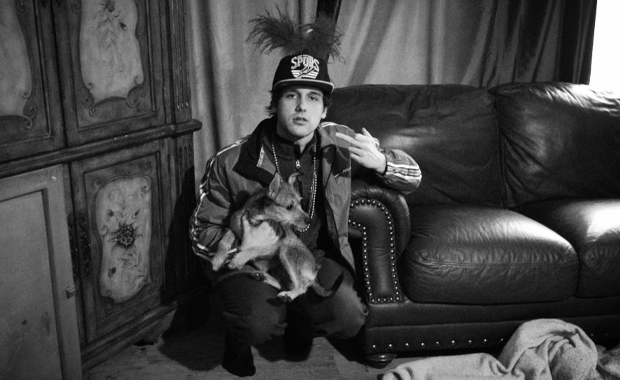 The enigmatic Aerobiz (previously L.W.H.) debuted back in 2011 on Main Attrakionz's "Chandelier" alongside Julian Wass. Filled with synths that would make an Albert Pyun film proud and mixed by current Canadian prince Ryan Hemsworth, the release was a bit of a departure from the typically lo-fi sound Main Attrakionz had been known for. The tape just scratched the surface of the largely dystopic and abrasive sound Aerobiz has been doing since. He would go on to release "The Tape Hiss Hooligan" the same year and his album the following year, "CIA TV." He's also produced tracks for Cities Aviv, specifically for last year's "Black Pleasure", and more recently created the visuals for Suicideyear's "Interest". We spoke to Aerobiz on his versatile background and endeavours yet to come and are thrilled to share with you this codeine-powered tape that he's crafted into our seventy-eighth Truancy Volume.
So start things off Aerobiz, how are you? "I'm great. Working on what feels like a million projects at once, but really they're only a few: "Aero-World", my third LP featuring all of Green Ova and many affiliates, me and Squadda's album together "Chapter 1 Party", and a couple of one-off singles."
You recently relocated to The Bay area, bringing yourself closer to Green Ova and other artists like FRIENDZONE. Would you say that has had a positive influence on your work and ethic, if there's any marked gain in influence at all? "Yes, certainly. I can't emphasize enough how much being around what I consider to be artistic geniuses all the time impacts my own creativity. FRIENDZONE, Main Attrakionz, Shady and all them are all great artists and musicians so it's an honor to work with all of them."
Where do you hail from originally? "East Texas. Next to Arkansas and Louisiana. Very critical, but it's very critical out here too. I only live in critical environments as it turns out [laughs]. I lived in Yonkers, in New York for a little while too. That's actually the most critical place I've ever lived. I was working on a shoot with my filmmaking partner Gunnar Stansson."
What about DJing aside to your production work? What's your live show like? "I just played one last week actually. I played five songs. I try to give all the songs I perform live the kind of emotional drive you need as a vocalist to do them well. All my songs, even though the vocals are mixed low, get an opportunity to come alive differently in a live setting. I guess by singing louder over them. [laughs]. But in general I like things to be a bit obscured on the records so you can go into another world when you listen to them. I don't like the vocals to be too clear. My live shows are rougher; CIA TV is glamorized. "Figurehead" is a little more screamy and I'm kicking shit [laughs]. A lot more emotion.
On another note, someone got shot right down the block from where I was gonna play a DJ set in downtown Oakland about 2 months back. It was horrible. Police trying to ask me questions and all that. Saw the dude who got shot lying on the ground and someone riding off on a bicycle. Like I said, critical environment. But it's only had a positive influence on my music, which is only getting tougher."

Stream: L.W.H. ft. Friendzone – MEDUS6SA
Jumping back for a bit, you've said before that you didn't listened to very little if at all rap during the making of CIA TV. There's definitely some industrial and hard rock/metal sounding influence in there. What colored the album a for you as far as influence goes? "More like power violence and depressive black metal is more the shit I listen to. Industrial though, I like Big Black a lot if that counts. Felt like the industrial influences were really glamorized and covered up on CIA TV."
Mentioned industrial because your music can feel a bit abrasive at times, how do you see yourself? "I think keeping some of the ugliness in it kinda helps to leave a lasting impression on people. Part of the creation is ugly. If it's any good there's definitely a lot of ugliness involved in making it. A lot of bad times go into anything that's good. Honestly, I made CIA TV during one of the lowest points of my life, and I can remember very little about it's creation other than the day it was finished and came out. Much respect to Dylan from FRIENDZONE for helping me so much in the final stages. Without them I'm not sure how it would've turned out."
How's "Chapter One Party" coming along? "Great so far. Right now it's looking like the whole thing will be produced by me and Squadda. It's been through a few iterations but that's where it's at now. We'll be knocking it out in a few short weeks once all the beats are together. Right now the focus from the Green Ova camp is on this BDE mixtape, 808s 3 and "Aero-World". "Chapter 1 Party" will follow all of that."
You do a lot of video work as well, any comments on that? "That comes naturally to me, man. It takes me about a day to make a video. I don't really put that much thought into it. She/Color did all my videos for CIA TV though. He's amazing. I've actually been directly inspired by him in my new videos. I learned a lot from him. Did a Keyboard Kid video and a FRIENDZONE video recently. Then one for Suicideyear's "Interest." Now I'm collaborating with She/Color for the next FRIENDZONE video for their album "DX". It's a 2-part epic, which I couldn't be more excited for."
How do you approach producing for other artists versus yourself? "It's pretty clear from the beginning. I usually know what I'm getting into. It's kind of the same thing like, I don't spend a lot of time on music. I usually collaborate with people and they help with mix and mastering. I used to do everything on my own but now I have people around me who are so gifted why should I do it? It just happens naturally, I've been doing it since I was fourteen."
Anything else we might have missed? "I've actually been working on a single on my phone, it's called "It Could Be Love." Meant to talk about it. Been messing around on my phone with this auto tune program called Improvox. I put it on the highest reverb. Been making this really quiet shit, walking around on the street. Shutting gates, tapping on trees [laughs]. I finally made a song though, after a week that I think is good enough to release on it's own."
Great talking to you! Any parting words for people? What's your favorite tv show? "I'm still trying to find the way myself. It's been a long journey and I'm still on it. And one more thing, don't be afraid to make mistakes and a lot of art and shit. Fuck around and make something good eventually. Shout to all of Green Ova, Julian Wass, Western Tink, and everybody else, fans and artists, who fuck with our music. The Wire, the original Office and The Larry Sanders Show. Shout to Truants blog for the love and I hope y'all enjoy Green Ova's 2013 as much as we will. Respect!"