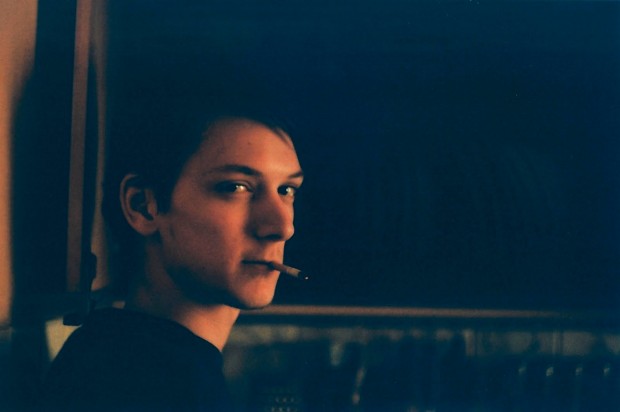 Phil Gerus first burst into our eardrums over half a year ago with such a sexy, dissipated sound, it was almost impossible not to take notice. Here we are, six months and one Yeezus album later, happily presenting to you our seventy-sixth Truancy Volume from a man responsible for bringing back those sensual 80's vibes with tunes that are absolutely brimming with rhythm and funk. Phil has had what seems to be a rather impressive year; after self-published tunes like 'Milk and Honey' on Fused Lab and 'Ordinary Things' on Rhymast achieved high levels of love, the release of a six track EP was literally music to our ears. His 'Based On Misunderstandings' EP on Sonar Kollektiv showed such smooth production and oozed with such sex appeal, it was commendable to see his follow up EP, 'Rainy On The Brightside', live up to the previous one. Gerus tells us of how he spends days in search of "sexy harmonies", as he calls them, and of his Truancy Volume, that captures the "crazy nights and lazy days" mood. Presenting to us a mix that draws from his deep-running musical background influenced by all the Jazz greats, Phil Gerus has created a Volume so nostalgic and easy to listen to, we challenge you not to become as enamored with him as we are.
Stream: Phil Gerus – Bring Me There (Symbols Recordings)
Hey Phil! Let's start with your background, you grew up in Moscow, what was that like? What is your earliest memory of a musical experience? "My parents say that I grew up riding my tricycle around the room in circles while listening to Phil Collins and Michael Jackson so I guess there were always quite nourishing vibes going on since I turned one. Either it was my dad playing drums or it was the home collection of jazz funk tapes. We still have dad's drum set that fills the better part of the room. I remember playing together with Ad Bourke at Solyanka club here in Moscow earlier this year, and he said that he's jealous of me having my dad's drums always close at hand."
You actually studied classical piano; has music always been an inherent part of your life style? "Yes, I still think that music is the sexiest art form in the world. You can neither touch nor see it – just feel it. My first try on electronics was when I entered the Conservatory and then got a laptop as a present from my parents. I started using Cubase as my first sequencer and Roland A-33 MIDI keyboard, I actually still have it." You mentioned Jazz and Funk as main part of your upbringing, when did you begin to experiment in electronic music, do you keep your classical compositions and more electronic production separate or do you find they inspire each other? "It's hard to say what exactly inspires me more between classical music or electronics. Now, when I come to rehearse a jazz standard or a classical piece, I don't even think of them in terms of producing a track or any kind of produce. What I need is total concentration on one thing only. The same goes about my own tunes… These days I even see jazz musicians copying the drum and bass approach in their improvisations. It seems like electronic music turns into a self-contained genre, and becomes an influence on other musical styles the way it was previously influenced by academic, funk, jazz, rock, etc."
The sound you create is so effortless and easy to listen to, and as we wrote in our post about your Based On Misunderstadings EP, you make it sound so easy! Can you tell us a bit about your production process and the set-up you have at the moment? "I usually start working on a tune from harmony structure, like rhythm and chords, it has to be something that I will be listening to on repeat for hours. I've always been into complicated altered chords like 7" 9" 13" (major/minor). That's why I love Scriabin and Rachmaninov, tons of "sexy harmonies", that's how I call 'em. Sometimes I spend days in search for these vibes. I use my small size Casio synthesizer from time to time, I love that "tape-ish" sound. I also record drums a lot, especially the hi-hat, but mostly I use my homemade Max/Msp patches combined with Logic."
Touching on your Based On Misunderstandings EP on Sonar Kollektiv there, how have you found the response to it and your Rainy On The Brightside EP? "This Based On Misunderstandings EP was recorded during a few months. There was no stopping me, I did one track a week! I was really inspired! I'm happy about the tracklist; thanks to Sonar Kollektiv, I hadn't fully known the importance of one before I heard the tracks lined up the way Sonar did. As for Rainy On The Bright Side EP, it was really hard to find a home for it. I spent almost two or three months just sending demos, and then finally Kastle loved it, so I just couldn't say no!"
Stream: Phil Gerus – Don't Kiss Me While I'm Swimming (Sonar Kollektiv)
You recently played DubRaw festival, how were the vibes? Can we expect to see you at any more festivals this summer? "DubRaw festival was great, it's located in Krasnodar (not far from Sochi, the official 2014 Olympics host city) and the camp is based on the seaside. The day I played everyone enjoyed themselves swimming, surfing and wakeboarding, so my music was quite a perfect fit. I'm going to play at this place called 'Vinzavod' here in Moscow later this summer. The place used to produce alcoholic beverages a long time ago – now it's a venue for contemporary art mostly."
In an interview with Roc Bottom you said you'd like to improve on your communication skills; is this career related? "When I studied piano I had to practice for five or six hours a day and that might probably be one of the reasons for my self-consciousness in a way. I ended up losing contact with friends. Can't say that I regret so much, what happened was just what one might consider part of the profession, I suppose. Now things have changed and I'm really happy about it!" Five/six hours a day, wow, that's intense! What about your communication with fans, do you consider social media to be an important connection to them? Or do you think it's, as you said, considered part of the profession? "I do agree with both here. It's very important to stay in touch with your listeners and social media helps a lot to link you together to peeps around the world, that's what makes everyone happy! On the other hand, I'd say that things are a bit different now, nowadays electronic musicians are typically referred to as producers so to speak, that combines not only creating a song or whatever, but also promotion, publishing, booking and what not. Though it's quite a common thing to say but it means a lot."
Your Truancy Volume touches on some classics, and vaguely reminds us of those Greg Wilson Early Floorfillers mixtapes! What was the process behind it? Was there any particular inspiration for this one? "The initial idea was to forge something that would possess that "crazy nights and lazy days" kind of mood. I love some raw tracks from the Truancy mixtape. You could  easily plug it and play 24/7 on repeat." You definitely pulled it off, It's a mix you could stick on pre or post party; I get a summer road trip type vibe too. Tahiti Love, your most recent release for DhARMA, is a project that seems less jazz-infused than your earlier EPs and we noticed some great recent mixtapes for VICE and Djmag Italia that are less jazz-focused; who do you currently really rate in the electronic music scene and is there anyone you think we should check out? "Tahiti Love was made more than a year ago – so that's the reason why the genres differ. The EP was just pending for the year and finally actually released in February. I can't really say that I'm into someone special right now. Usually I listen to rare tracks from the 80s, jazz, and that's more or less about it. An artist that pops up in my mind right now though is Nite Jewel, I've always loved what she does. Plus there are lots of house tracks in the biz now that are really good." Yeah, I really like that track by her called 'Am I Real', is it? It's got such a great funk rhythm. "That's exactly what I was talking about!"
Has there been a live set of yours that particularly stands out in your memory for either good or bad reasons? "I still remember one my first gigs probably because it's kind of personal. I was the headliner and people really came just to listen to what I was doing. So the atmosphere was perfect."
Apart from music, do you have any other passions? "I like biking a lot but can't say it's a hobbie really, it probably is more like a passion."
And finally, the standard Truants roundup questions, what is your drink of choice and when was the last time you danced? "When I see a cocktail menu I get totally confused, I don't know a thing about them and I'm simply unable to order a drink, so I will usually ask friends to give me a hand with that. The last drink I had was a Pina Colada during my gig in St-Petersburg, the guys were laughing at me because it's a kinda girly cocktail rather than a brutal one! I didn't care though, just enjoyed it. The last time I danced was actually on New Year's Eve, and that was a momentous moment, way too intimate."
Truancy Volume 76: Phil Gerus

Phil Gerus' 'Based On Misunderstandings' and 'Rainy On The Brightside' EPs are out now here, and here. 
Tracklisting:
Comin' Up
Share The Night – World Premiere
Take Me Through The Night – Howard Johnson
Band I Found Lovin' – The Fatback
Discover – David Joseph Feat. Kerine
Back-Together – Paradise
Night To Remember – Keith Patrick
Love Come Down – Evelyn Champagne King
Prime Suspect – FLICKK
Handle with care – BOOKER NEWBERRY III
Squeeze Play – The Malemen
Mr_Business – Tom Browne