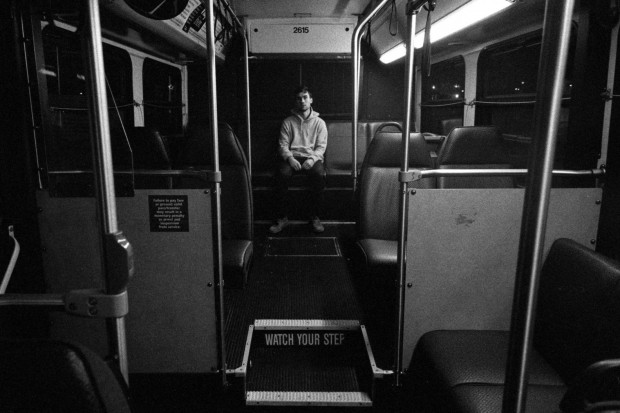 If you ask 22 year-old Joey Butler, also known as Kid Smpl, what to call his music, don't expect a straight answer. "Super introspective, isolated and wondering, but there are a lot of other people that could probably explain it better than I could", he says. Like many other producers in the post-Burial soundscape, Kid Smpl's unique blend of ethereal beats, hushed vocals and slowed tempo has been lumped in with the night bus sound. But what separates Kid Smpl from the others is the craft and subtlety he places into his compositions. The Seattle native was accepted into Red Bull Music Academy's 2013 class in July and released his debut album, "Skylight", on Hush Hush Records after that in November. For our 61st Truancy Volume, we've got Kid Smpl on the buttons. In order to get a better picture of the man behind the mix, we hopped on the night bus home with Kid Smpl to glide through the streets of Seattle.
How have you been? What have you been up to since releasing your album? "Making new tracks, making remixes, the beginning phases of planning a tour and lots of emailing."
What's the scene in Seattle like? "I think this year might have been the best year as far as my experience with the scene, I think it's grown immensely and it's going through a lot of changes that are really positive and what I really like is that there aren't a ton of producers getting a ton of attention, but the people that are getting attention show how diverse the scene really is. You have people like Cedaa and Astronomar making club-oriented stuff and you have me, DJAO and Demokos making more introspective headphone music. The fact that all that's still kind of connected in Seattle is really cool and healthy. The scene still feels kind of small but it's growing. I have a lot of faith in it right now."
Can you talk a little bit about how things came about with Hush Hush? How did your album end up getting released? "That started when I put out an EP on a label that used to be based in Seattle but is now in Washington DC called Car Crash Set. Alex Ruder, who runs Hush Hush, also DJs on a local Seattle station called KEXP."
NEXT STOP: University St
"He was getting car crash set promos, got my EP, really liked it and was playing it out a bunch on his show. Eventually I met him through Ill Cosby (who runs Car Crash set). Then I started sending him tracks that he was playing on his show and he would always ask me about release info. Alex tried to get me in contact with other labels but no one was interested because I wanted to do a full length. Finally he said "I want to start a label to put out your music" and we just sat down and talked about it. The first idea was to put out the album. We thought that the EP would be a good warm up to the album. That's really how it all happened; it's been really cool and a learning experience."
Car Crash Set is named after an old punk song and you used to make punk music. What were some of your earliest experiences with music? "In middle school and high school I would make a lot more hardcore leaning stuff. I guess you could classify it "post-hardcore." The Redmond Firehouse really started all that for me. I was growing up during that time when there were a lot of interesting hardcore bands on the eastside of the city like the Blood Brothers and Pretty Girls Make Graves."
You've also spoken about Dilla and Burial being early influences, what caused the transition from hardcore to more beat driven stuff? "I got interested in hip hop production mostly because of the scene around here that was really starting to flourish with artists like Common Market and Blue Scholars. I was also starting to get really sick of being in bands, it was really easy to butt heads and lose artistic direction. Things can start to become really unfulfilling if you don't do it right and I think I just started to get really frustrated. I wanted to make music by myself and that was a way to do it. Interestingly enough, when I was doing hip hop I would do it with some friends who would MC so there was collaboration but it was different and refreshing. Burial was a little after that, maybe a bit after Untrue came out. I was little late to the whole scene. I probably discovered dubstep about 4 years ago but didn't investigate until my friend mentioned it to me. I started to listen to all the essential artists like Skream and Mala and then I checked out Burial."
NEXT STOP: E Pine St and Summit Ave
Do you think you were drawn to his music because you are into anime and video games? His music has a ton of Metal Gear Solid samples… "He samples a lot of video games and I think it also because it's not necessarily totally polished but it's really honest. It's down to the bare basics which is kind of punk in a way. His latest release is probably the most challenging stuff he's done, almost like a beat tape. Rough Sleeper is so good."
We're big fans of "Truant." (laughs) Can you talk a little bit about some of the bootleg remixes you did? Is there any criteria you have for remixing a track? "Honestly it's mostly stuff that I like and I want to put in the context of my own sound.  A lot of times with the pop remixes, I just dig that vocal a lot and I just want to loop it and make my own track. That's all it is. I released those Lianne La Havas and AlunaGeorge ones before the album came out but made them after the album. Recently I did some official remixes for The Soft and for a local producer called Fjord Morrison . He's going to have an EP come out on Hush Hush and I did a remix for that. There are going to be a few other remixes, I think that's going to be a great release."
Night bus as a genre seems to be this inexplicable thing — it's a feeling, a vibe, an aesthetic. Can you talk about it a bit more? "I hadn't heard the term until someone told me I made music that was like it. When I was first posting tracks on soundcloud I didn't know what to call them and I didn't want to call them post dubstep because they weren't dubstep."
NEXT STOP: Broadway, Seattle Central Community College
"I didn't know what to call my music. It's just kind of a night vibe, I make my music at night, so I started labeling my music with the genre 'night.' It was weird because it was exclusive of the whole night bus thing, but also one in the same. People started calling my stuff night bus and I was cool with it because it's pretty accurate."
At some of your shows you've been playing live. What sorts of equipment are you using for your live set? "It's really basic, I'm not a big gear head so I try and keep it pretty minimal, it's basically my laptop running ableton live and a controller, an APC-40. I break down all my original tracks into individual parts with different stems. I'll have two different drum tracks, a kick and snare, a higher percussion track, a bass track, vocals and then atmosphere sounds. Then I'll break it down into segments so I'll have a beginning, middle and end. For some tracks I have to do it a little different because of structure. It's almost like mixing with those parts. I try and stay pretty true to original compositions and not get too mash-upy."
NEXT STOP: 23rd Ave E
What's the inspiration behind your videos? "Just two college friends actually do them. When they started their company they wanted to do a music video for me. It's cool because they're friends and they know me personally but they also know my music well enough that I can really trust them to do whatever interpretation they get from my music. There's a series, "Keep it Close", "Pulse" and the newest one "But I Don't."  The idea was to take a shot or a few shots really and manipulate them in an interesting way. It's an organic way but not. That's kind of their interpretation of my music which I'm totally cool with."
Stream: Kid Smpl – But I Don't (Hush Hush Records)
NEXT STOP: Martin Luther King Way & E John st.
What about your album art and EPs, is that a different person or same two guys? "That was something that was important to me. For the artwork leading up to the album to have a continued aesthetic have a theme to it. In order to do that we had the same artist do the Escape Pod EP, Dope Pac SE and he did the Skylight album artwork. This artist Matt Heinzler from LA does the mix artwork for this blog called "The Soul Electronic." I really liked the artwork he did for my mix for them so I asked him "Can I use what you did for other stuff and would you want to do more?" I felt like his art really fit my vibe and his interpretation was really accurate to me. He likes the music too so that's always a good thing."
Looking back at this year, what are a few of your personal highlights? "Releasing the album, every release on Hush Hush and getting that going was really cool."
NEXT STOP: 32nd Ave, Madrona
"Just to see how that all happens and to also have it all be received in a positive way kind of blows me away. Also getting accepted to RBMA back in July. That was the most shocking things that has ever happened to me." Didn't you graduate from college? "Yeah I was thinking about music stuff but I guess that's a big deal. I got the notice from RBMA a few weeks before I graduated so I was kind of on a high still from that."
NEXT STOP: E Cherry and MLK
What are some things you're looking forward to in 2013? "I'm really looking forward to touring and RBMA. I also have one track coming out on a FoF compilation called "Show Me the Future" and that's coming out in January. There's a ton of dope producers on it and another seattle producer DJAO is going to be on it. Hopefully putting out a new EP but I'm still thinking about what I want to do with that." Anyone that you're hoping to work with in the future? "I'd really like to work with vocalists and do some production for singers and rappers. I think that has to do with my interest in dark R&B. Probably some collaborations with other producers but nothing set in stone yet. I'd love to work with Jhene Aiko or Drake."
How would you describe the mix you've made for us? "This mix is basically a collection of tracks (mostly slowed edits) that I've been feelin' lately as well as some of my own production. I also snuck in a Nicki Minaj a capella for good measure."
When was the last time you danced? "I danced tonight at Bondax, when I was playing."
Truancy Volume 61: Kid Smpl by TRUANTS
Tracklisting:
Kid Smpl – Distanced
Infinite – Alone In This World (Slowed) -> Nicki a capella
Kid Smpl – Snowscape (Slowed)
Destiny's Child – Say My Name (Cyril Hahn Remix) (Slowed)
Burial – Near Dark (Slowed)
Javier Escareno – Gone
Jhene Aiko – Mirrors (Slowed)
Fjord Morrison – Late After Dark (Kid Smpl Remix)
Placeholder – Feel Better
Ango – True Blue (Slowed)
Fjord Morrison – So Mad
Tritonal feat. Cristina Soto – Invisible Sun (Slowed)
Different Sleep – Infinite (Slowed)