Three-Peat is our feature spanning genres and labels to bring you three select releases from the past – whether the past month or the past year – that still deserve your attention.
Dave Jones has been a mainstay figure in UK electronic music since his first release on Public Demand in 1999. Whether his music has been distributed under his Zed Bias, Maddslinky or Quest pseudonyms, Jones' influence on some of the current crop of UK producers is difficult to understate. This Three-Peat spans Jones career to date to highlight three choice records which underline just why he is such a revered figure.
1. Zed Bias – Been Here Before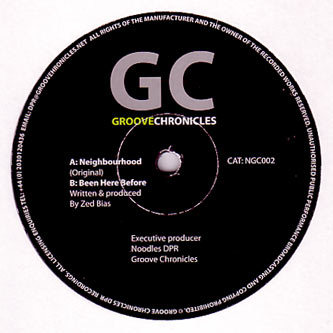 Zed Bias first rose to prominence through his UK Garage productions. While his early days are most often associated with the Top 40 hit and quintessential garage anthem "Neighbourhood", many of Zed's finest productions from this era have been criminally overlooked. "Been Here Before", released in 1999 on DJ's For Life (also home to many other preeminent garage producers including the Artful Dodger and Steve Gurley), is among them. Several of the UK's most respected artists – among them Skream and Benga – have cited Zed Bias as a key influence on their sound. This influence becomes evident when listening to "Been Here Before". It's dark, atmospheric and brooding right from the brass sample's outset. The haunting chopped vocal, powered along by driving percussion, is the real standout here however – it'll stay in your head for days.
Stream: Zed Bias – Been Here Before (DFL)
2. Zed Bias – Seeds
In addition to his production duties, Jones established his own imprint – Sidestepper Recordings – back in 1998. Sidestepper has housed talents including fellow Mancunian Chimpo but arguably the best releases have come from Zed himself. One such example is "Seeds", released in 2009 alongside "Dubspot Riddim". In spite of the significant influence he had on the genre's pioneers, Zed has freely admitted in the past that it took him a while to understand dubstep, with the sound consequently evidencing itself in his productions a little later than in those of his peers. "Seeds" adopts a 4/4 rhythm which is balanced with fracturing snares and weighty bass. It's a very rootsy affair; reggae vocals provided by MC Fox are layered over the top of this. It's also somewhat short, with less than three minutes worth of listening. But very worthy listening it is.
Stream: Zed Bias – Seeds (Sidestepper Recordings)
3. Zed Bias – Stubborn Phase
A 2011 release on Loefah's Swamp 81 label, "Stubborn Phase" is further proof of Jones' ability to produce records that completely encapsulate their time.  While many of garage's most celebrated producers have resigned themselves to serving up pale imitations of the tunes that first sent dancefloors wild, Zed has persistently shown himself to be a producer capable of evolving with the times. That "Stubborn Phase" remains one of the finest releases to date from the Swamp 81 camp – a crew brimming with some of the UK's finest producers – is merely testament to this.
While the other tracks are excellent in their own right, it's "Music Deep Inside" that is the star of the show. The track's influences are palpable and a notable highlight of Jackmaster's Resident Advisor podcast and Oneman's LuckyMe mixtape. The intro is pure jazz while the piano synths which follow possess a soulful, almost disco-like feel. Yet despite these clear nods to the lineage of dance music, "Music Deep Inside" is a tune which retains its own distinct sound. These seemingly disparate influences are flawlessly fused with 4×4 beats and a particularly memorable drum loop to form a glorious modern house anthem that's bound to be on repeat for weeks.
Stream: Zed Bias – Stubborn Phase (Swamp 81)
Written by: Matt Gibney