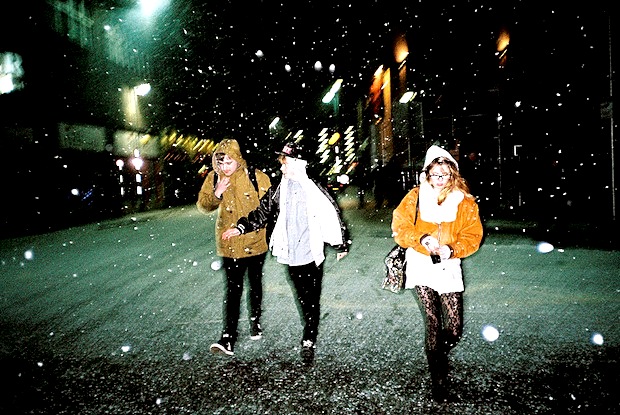 For our 55th Truancy Volume we take a little trip to Scotland's third most populous city Aberdeen. Also wildly known as The Granite City, it is home to the busiest heliport in the world (little fact for you) and is also the birth place of Tuff Wax Records. Founded in 2009, the label originally stated its aim as a means of reviving interest in high quality vinyl, whilst cataloguing emerging scenes in the UK and releasing niche, collectable low run pressings. A bold statement but three years later the label has put out a selection of wonderful releases from the likes of many local talents in and around Scotland such as Yoin, Grobbie, Zubuntu and Lockah. Taking the Tuff Wax sound even further, the label has gone on to host regular parties and label takeovers with the likes of Donkey Pitch, Codeine Drums and The Big Beach Ball. In terms of releases, one of the many highlights of the label includes the Aberdeen Truth Volume series which are all beautifully pressed on limited coloured 7″ records. Bones & Money, who make up the brains behind the label along with Lockah, provided the fourth and latest instalment in the series with the addition of tracks "Black Diamond" and "Footage 4 Days". We highly recommend sourcing out the marbled white & green 7″ vinyl if possible.
Stream: Bones & Money – Aberdeen Truth Volume 4 (Tuff Wax Records) 
Made up of two producers who go by the names DM Bones and O.T.O.H whilst producing on their ones, Bones & Money started their production career with a free digi-single at the beginning of the year. Catching the ears of people like Boiler Room, their stripped down and spacious sound has slowly matured since early January. Clocking in at just under fourty-eight minutes, their Truancy Volume consists of eighteen tracks spanning an array of music. Grime cuts from Samename and Dot Rotten appear alongside the syncopated sounds of DJ Funeral and the ridiculously hot "B R Right" by baddest bitch Trina. Also in the mix, and arguably a highlight, is the DM Bones remix of "These Girls" by Rich Flyer, which he recently offered up as a free download over on his Soundcloud. Keeping most of the original vocals intact and sprucing it up for a sonically mesmerising experience.
Download – Rich Flyer – These Girls (DM Bones Remix) 

Truancy Volume 55: Bones & Money by TRUANTS
Tracklisting:
Samename – Nightfall
Dot Rotten – Without You
Asia Cruise – Boyfriend
Bones & Money – Close
Grobbie – Far From Home
Airsports – Don't Need U
DJ Funeral – Last Breath
Trina – B R Right
Mr Snowman – Be All Right
Zutzut – World To You
Rich Flyer – These Girls (DM Bones remix)
DJ Eskilate – Ice
Freddy Fudpukker – Keep The Love Alive (Baby Bonny mix)
Dr.Luke & Cirkut – Strange Clouds (Dubble Dutch grime-repair mix)
Jaw Jam – Untitled (Obey City remix)
Bones & Money – Black Diamond
The Range – Over You
Phil Gerus – Lust Escort