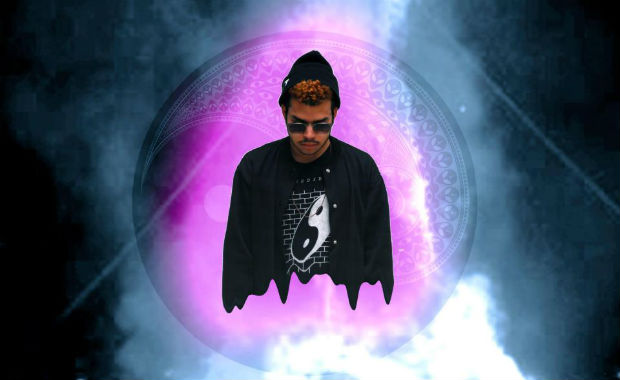 Our fifty-fourth Truancy Volume comes from Los Angeles beatmaker D33J. We first met him back at SXSW when we learned of his involvement with the WeDidIt Collective, and shortly thereafter realized that not only was he super likeable, but his music is as well, so naturally we're very excited to finally share this mix with you. He released his "Tide Songs" EP (for free!) over a year ago, and 2012 has so far been a year full of big moves. He graduated school, moved to LA, released a string of seriously good remixes (plus today's latest), played one of the first LA Boiler Rooms, and very recently signed to Anticon – an occasion that was celebrated by giving away even more free remixes. We took this opportunity to ask D33J a few questions to get us up to speed with what he's been up to, check it out below along with his very vibesy Truancy Volume (tracklisting after the cut).
How are you doing & what have you been up to lately? How is life in Los Angeles treating you?
Heeeeey,
Doing well, Just moved 2 LA from SF about a week ago. Feels good 2 B back, although missing SFa bit. It's super warm here, still re-adjusting to the heat. Mostly been walking around my parents house in my underwear, co-cooking meals with them, and recording when i can.
Not mad at this.
Can you tell us a bit about the mix that you made for us?
This ones kinda ADD, put allot of things i've been feeling recently in with some classics 4 me. my external crashed which had 95% of my music on it, so i've been kinda reviving my music collection as of late. kinda unintentionally gave it a bit of a crawl/screwed mid section, sorta just came 2gether that way.
What's your role in the WeDidIt collective? How did you get involved? 
Got involved with the Gang back when i lived w/ Shlohmo a few years ago in SF. Initiation kinda came naturally, Shlohmo & the others were receptive of me posting my music through them and now we are here, together as one. We are all over the place so i help manage posting to the blog & updating ppl on what we're up 2. Roles are slowly starting to fill out as we are all back together in LA, feels nice 2 be back with the team.
So you recently graduated from school and your focus was in design. WeDidIt obviously has a strong aesthetic that goes along with it which has been super influential among your followers, can you tell us a bit about the vibe you guys have going on?
☯
7ͬ̌ͧͬ̋̽̊͌ͧ̑̌͐͗͊̌̚7ͬ̌ͧͬ̋̽̊͌ͧ̑̌͐͗͊̌̚7ͬ̌ͧͬ̋̽̊͌ͧ̑̌͐͗͊̌̚7ͬ̌ͧͬ̋̽̊͌ͧ̑̌͐͗͊̌̚7ͬ̌ͧͬ̋̽̊͌ͧ̑̌͐͗͊̌̚7ͬ̌ͧͬ̋̽̊͌ͧ̑̌͐͗͊̌̚7ͬ̌ͧͬ̋̽̊͌ͧ̑̌͐͗͊̌̚7ͬ̌ͧͬ̋̽̊͌ͧ̑̌͐͗͊̌̚7ͬ̌ͧͬ̋̽̊͌ͧ̑̌͐͗͊̌̚7ͬ̌ͧͬ̋̽̊͌ͧ̑̌͐͗͊̌̎ͫ̂̎ͭͧ̈́̀̽̌̚7ͬ̌ͧͬ̋̽̊͌ͧ̑̌͐͗͊̌̚7ͬ̌ͧͬ̋̽̊͌ͧ̑̌͐͗͊̌̚7ͬ̌ͧͬ̋̽̊͌ͧ̑̌͐͗͊̌̚7ͬ̌ͧͬ̋̽̊͌ͧ̑̌͐͗͊̌̚7ͬ̌ͧͬ̋̽̊͌ͧ̑̌͐͗͊̌̚7ͬ̌ͧͬ̋̽̊͌ͧ̑̌͐͗͊̌̚
http://juggalosonokcupid.tumblr.com/
☯
  |\˜¨¯¨˜\'                  '|\˜¨¯¨˜'\'         |\˜¨¯¨˜'\    |˜¨¯¨˜'|''       |\˜¨¯¨˜'\    |˜¨¯¨˜'|'' /˜¨¯¨˜˜¨\
| |      |'/˜¨¯¨˜/|'   |˜¨¯¨˜'|\      \'  |˜¨¯¨˜'|\      '\'  |      '|  |˜¨¯¨˜'|\      '\'  |      '|  \¸_¸_¸_      _¸_¸_¸/'
\/     '/'|      | |'   |      |/¸_¸_¸/|' |      | |       |  |      '|  |      | |       |  |      '|    '¯\(¯/     '/ ¯)/¯
'/     '/  '\     '\/    |      |\˜¨¯\_|/' |      | |       |  |      '|  |      | |       |  |      '|         |     '|
| ☯   '|/¯\ \     '\'   |      |/¸_¸/|°   |      | |       |  |      '|  |      | |       |  |      '|       '/     '/|''
|\¸_¸_'/\  \'|     '|'  |      |\˜¨¯¨˜'\'  |      | |       |  |¸_¸_¸|  |      | |       |  |¸_¸_¸|      /¸_¸_/ '|''
| |˜¨¯¨|  '\¸_¸_¸¸/|° |¸_¸_'|/      /|  |'¸_¸_|'/¸_¸_¸/|' |˜¨¯¨˜'|° |'¸_¸_|'/¸_¸_¸/|' |˜¨¯¨˜'|°    |˜¨¯¨˜'| /        °
'\|¸_¸¸'|/\ |˜¨¯¨˜| '|'' |˜¨¯¨/¸_¸_¸/ '|  |˜¨¯¨˜'||˜¨¯¨˜'| |' |¸_¸_¸|  |˜¨¯¨˜'||˜¨¯¨˜'| |' |¸_¸_¸|     '|¸_¸_'|/
¯\(¯  '\|¸_¸_'|/'   |¸_¸¸|˜¨¯¨˜'| '/'  |¸_¸_'||¸_¸_¸|'/   ¯\(¯'   |¸_¸_'||¸_¸_¸|'/   ¯\(¯'       '¯\(¯
'¯)/¯     '¯\(¯|¸_¸_'|/'    '¯\(¯  ¯)/¯'               '¯\(¯  ¯)/¯'
☯
☯
7ͬ̌ͧͬ̋̽̊͌ͧ̑̌͐͗͊̌̚7ͬ̌ͧͬ̋̽̊͌ͧ̑̌͐͗͊̌̚7ͬ̌ͧͬ̋̽̊͌ͧ̑̌͐͗͊̌̚7ͬ̌ͧͬ̋̽̊͌ͧ̑̌͐͗͊̌̚7ͬ̌ͧͬ̋̽̊͌ͧ̑̌͐͗͊̌̚7ͬ̌ͧͬ̋̽̊͌ͧ̑̌͐͗͊̌̚7ͬ̌ͧͬ̋̽̊͌ͧ̑̌͐͗͊̌̚7ͬ̌ͧͬ̋̽̊͌ͧ̑̌͐͗͊̌̚7ͬ̌ͧͬ̋̽̊͌ͧ̑̌͐͗͊̌̚7ͬ̌ͧͬ̋̽̊͌ͧ̑̌͐͗͊̌̎ͫ̂̎ͭͧ̈́̀̽̌̚7ͬ̌ͧͬ̋̽̊͌ͧ̑̌͐͗͊̌̚7ͬ̌ͧͬ̋̽̊͌ͧ̑̌͐͗͊̌̚7ͬ̌ͧͬ̋̽̊͌ͧ̑̌͐͗͊̌̚7ͬ̌ͧͬ̋̽̊͌ͧ̑̌͐͗͊̌̚7ͬ̌ͧͬ̋̽̊͌ͧ̑̌͐͗͊̌̚7ͬ̌ͧͬ̋̽̊͌ͧ̑̌͐͗͊̌̚
̪̹̬̪̩̩̙́̌͐ͅt̵͙̭̹̩̩͙͌̂̊ͩ̀
☯☯☯☯☯
Hope That Helps.
We noticed that you also have done visuals in the past, is that something you still do? Some artists place a huge emphasis on their visual accompaniment while others go entirely without, how do you feel about the importance of the relationship between the music and visuals? What's your approach/outlook when you're doing visuals for someone else?
Glad u Asked :) haven't done visuals in the last month or so, but was doing it pretty often while living in the Bay. Personally i like it when the visualist and musician have their own distinct aesthetics, but when there's enough of a relationship to keep it very ☯. One pair that does it really well is Oneotrix Point Never + Nate Boyce. Each artist is highly stylized in their own aesthetics but when you're watching it you're like 'oh duh'. I just saw Monolake perform w/ Tarik Barri up at decibel festival in seattle and those visuals were amazing! usually not a fan when things are cued 2 the music, but there was so much free flow in the visuals it was some beautiful stuff 2 look @ :)
 For a long time i kept music making & visuals separated, but now i'm starting to see more of a relationship between the two. My ideal performance setup would consist of using hardware for the audio based portion, and running some custom interactive software for the visuals (like with max/msp). I like the idea of providing an a/v experience when people come to my shows, were both aspects are susceptible to improvisation and 'liveness'. im trying to move away from the rigidity of using ableton for performance, while still exploiting its potential to be the 'brain' behind a more interactive performance if that makes any sense.
Your taste in music is really widespread, and you mentioned in a past interview that you try to find a balance in your own stuff between the soft 'indie' melodies you like to write and lo-fi 4×4 house/hip-hop-esque production. Do you think this affects the way you approach songwriting too? i.e. in contrast to someone who just sits down with the intention of making a 4×4 beat? How do you manage the balance between the two when it comes to performing live? 
I do. there are many times within the same day were i will write a few sketches for songs out, each one sounding completely different. Depending on which tool i start off sometimes helps determine the vibe, i.e starting on a drum machine vs. guitar, but other times it doesn't really matter. its hard 2 say. Sometimes there's a week or two period where all the songs i make fit with each other, and some tracks pair best with things written years ago. its all over the place, ;p
Last show i played was at Boiler Room LA, and for that set i used my 202 drum machine, guitar & vox all running through ableton. Leaving gaps for improvisation helps translate whatever vibes im directly feeling at the time to the audience. i.e i could build a more dandy thing or making some shoegazey drony or some whinny emo shit depending on how i feel during that particular moment.
 What are a few artists/records/songs you've been coming back to lately? Any artists you think we should look out for?
Jerome LOL
Kid Simpl
Purple
#GinkoGang
Delroy Edwards
O/V
What's something on your ipod that we might not expect?
Byork?
Drexciya?
Oval?
The Dream?
Now that you've signed with Anticon (congratulations, by the way!) what are some of your hopes/dreams/plans for the future?
(-: !ThankYou! :-)
first order of business is obviously 2 purchase many fine gold watches, find some roosters for my rarri & tint the windows in my sun room. also might look for a studio in los angeles 2 beat the tiny desk situation i've got going right now, start collaboration 100x more and make some remixes 4 uuuuuuuu
When was the last time you danced?
um probably this passed saturday?sunday at some night called Rhonda in LA. Bicep was playing but we ended up going 2 some random house party that DJ rashad was spinning at b4 bicep's set. I was fortunate enough to get a split drunken DJ set on rashads computer w Sodapop b4 getting kicked off by the chick who's house it was at. Its probably because i was trainwrecking unnamed juke tracks at 5am but its hard 2 be sure.

Truancy Volume 54: D33J by TRUANTS
Tracklisting:
Ryan Hemsworth – Color and Movement
Bobby Valentino – Slow Down (D33J Remix)
The Dream – Fancy (Sinjin Hawke Remix)
D33J – Drowning Pools (Dragged)
Dntel – Still ft. Baths (D33J Crawl Edit)
LOL Boys – Don't Want you ft. Angelina Lucero (Dragged)
Sigur Ros – Ekki Mukk (D33J Remix) (Dragged)
D33J – Interlude
Groundislava – Love Ribbon ft. Jake Weary
Slum Village – Fall N Love
Lapti – Leaving Home
Claro Intelecto – Second Home
Airto Moreira – The Tunnel