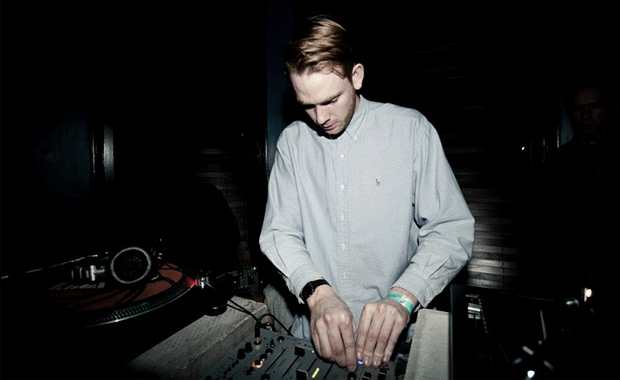 Before the London native Rob Glassett slowly started showcasing his solo efforts by means of his Fold moniker, we first came to know of him through his deep house output together with Sam Fussell under the guise of Homepark. A quick glance at the duo's discography and the labels they've associated themselves with, such as Bliq, Ornate and Enterbt, should tell you something about their sharply warm sound which draws from a variety of deep-house territories and manages to resonate global yet perspicuous all the same. More recently, Glassett has started to exhibit more and more of his solo output as Fold and has subsequently been marked as the most recent addition to George Fitzgerald's ManMakeMusic crew with a release imminent on the label soon. For those eager to catch a glimpse of what to expect from Glassett's individual work, his SoundCloud offers a substancial gander what his decadent deep house sounds like, not to mention that his "Melt" track had a special spot in our very own second Truancy Compilation. Consequently you'll understand why we're so excited to present you with our latest Truancy Volume today, amounting to two hours (!!) of smooth sounds selected by Fold especially for the occasion. We had a chance to catch up with Fold , so read on to learn about his musical roots, DJing duties and what to expect from him in the future while you do some essential summer listening!
Truancy Volume 49: Fold by TRUANTS
Hi Rob! How have you been? Could you introduce yourself for the uninitiated? "Hello, I'm all good thanks! My name is Robert Glassett and I am a music enthusiast, DJ and producer hailing from the South side London." Can you tell us a little bit about yourself and how would you describe your musical background? "I think my family started me off in the right direction. My parents have a large collection of Soul, Reggae and Ska on vinyl and my older brother eventually introduced me to electronic music. Music has always been important to me, but I'd say only in the last ten years have I become completely obsessed and dependent on it. Something that started out as a hobby has become absolutely everything to me."
You currently live in London, have you always lived there? Have your surroundings been an influence on your musical output? "I grew up in the outskirts of London, in Surrey. My entire extended family originated in London, because of which I spent a lot of time in and around the capital as a youngster. My parents hail from Battersea, so anything from London was interesting to me. I spent a lot of time with like minded musical friends, immersed in Djing culture, record collecting, pirate radio and skating. I would say that it has had a lasting effect on me. Growing up, I was introduced to all angles of new and underground music. It's definitely had a large impact in what I look for in music now and ultimately what I produce."
Aside from your work as Fold, you're also one half of Homepark. Can you tell us a little bit how you came to work together with Sam? "Sam and I have known each other for ten years now. I met Sam at college around age sixteen when someone took me to his house for a mix. I hadn't realised there was someone else in my smallish town into Djing and collecting records. Looking back, he's had a massive influence on my mixing ability as he's slightly older and almost bullied me into beat matching properly, haha!" You've mentioned before that you guys hail from rather different musical backgrounds. Has this ever caused any clashes during your joint creative process or did it come about quite naturally? "Yes and no. I think our creative process is evolving constantly, so it's hard to pick out exact moments in general. I think we've reached a level of trust in each others opinions now which is very important. Sam was massively into house and I was into drum & bass when we met, so we shared our respective musical backgrounds amongst ourselves and ended up learning a lot from one another. Of course we had different ideas on the way some things should be, but I never saw that as detrimental to our production because it was always small in comparison to the amount of things we do agree on!"
What are the dynamics of your creative process like when working together, do you have clear-cut tasks each one of you keeps to or is it different every time? "In the beginning we spent a lot of time together writing tracks and this seemed to work quite well. As we've become more experienced in working together, we realised that this isn't always the best creative environment. Sometimes we start tracks individually, then bring them together and decide which ideas we should finish and advise each other on what we do and don't like in a track, constructively. Other times Sam might just send me a loop on a whim and I'll say "That's a banger. Let's use it, finish it ASAP." We put less constriction on the creative aspect these days because we live too far apart to be able to produce together exclusively, plus it seems to be working quite well."How did you guys get to be a part of the Bliq and Ornate labels? "Bliq is a great underground House label run by two friends of ours. They put on a party back in 2006  in Stoke Newington featuring one of our favourite producers at the time, a guy called Baaz from Germany. We went down to support, got on really well and are still great friends to this day! The Ornate guys contacted us after our release on the Swiss label Enterbt, entitled "___". Seeing as we had bought a few of their last releases, we thought it was great that they considered us for an EP!"

Stream: Homepark – Fill Emptiness (Ornate Music)
You've described Homepark as your main priority compared to Fold. What inspired you to start producing music solo as Fold as opposed to via Homepark? Is there a different mindset you make your solo music with? "I think with my Fold output, there's less boundaries really. Me and Sam have got a 'sound' locked down and I guess I wanted to experiment with genres and tempos a little bit more. The Homepark stuff is a platform to make music I believe in and share the experience with a good friend, whereas my Fold stuff is more spontaneous. It might be driven by an epiphany on the night bus or maybe an experience on a dance floor."
How do most of your DJ sets come about, do you have a clear-cut way of selecting your tracks or is it different each time? "I'll normally take a selection of records that I know will work on any dance floor, some records that I've recently purchased because I'm excited to hear them and also some new productions to test them out on a larger system and to see how people react to them." How would you define a good DJ set? "A good DJ set for me would be when someone captures the right vibe. It's not as easy as just playing records. There is intuition involved. I love it when someone plays music that is very familiar sounding but ultimately I haven't heard any of the records before. Of course it's always nice to be introduced to new music! I still remember some of the best nights that I've been to. There's way too many to mention, but I vividly remember seeing Shed & Dettman play at Bloc weekend in 2009, that shit blew my mind. Also a drum & bass night called Technicality at the club Herbal circa 2005 – 2008 always played amazing forward thinking music.
Tell us a little bit about this mixtape you did for us! How did it take shape and what was the inspiration behind your track selection? "Very simply some new vinyl I was excited to play mixed with some favourite new and old records. I also wanted to span some different angles of house music, slower, faster, deeper, harder, UK, US; it's all in there. One thing I tried to incorporate was a sense of progression through the mix by slowly, carefully building up to something, whatever that may be." What's the perfect setting to blast this mixtape to? "I hope it could work in different situations, depending on the listener and their mindset at the time. It works well as something to play just before going out to get you in the mood, or something to drive a long journey or travel to. Maybe even in the background as you fall asleep at night."
What are your plans for the near future and what can we expect to hear from Fold? "I have a new EP coming out on George Fitzgerald and crew's label Manmakemusic, which I'm really excited about. There's three tracks by myself and a remix by Ethyl and there might be a remix of Trikks track 'Jointly' on the same label too. I'll also hopefully be playing out a lot more. I've been covering a lot of NTS shows recently (me.andyou & one-off with Roost) so maybe some kind of platform like that to play out on more regularly would be cool. I've just always enjoyed playing the records that I've bought over the years to other people!"