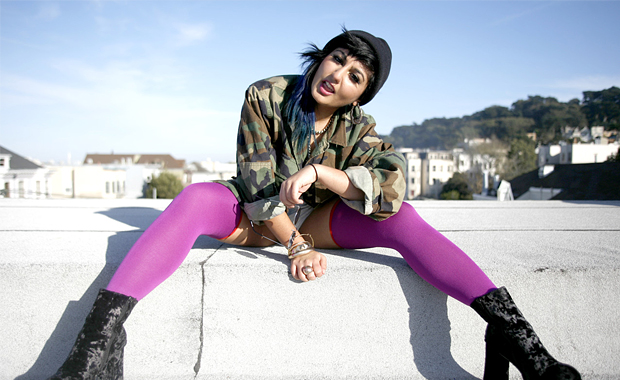 Chhavi Nanda alias Chippy Nonstop is the Queen of the Internet. We first got to know of her a few years ago when she was making moves with the Trap House collective, mainly as a designer and writer. A little bit over a year ago Chippy stepped up as a vocalist with her first single being "Yous A Chote" with The Pack's Stunnaman, after which she started collaborating with the likes of G-Eazy ("Outta Pocket"), MTV-star-turned-rapper Andy Milonakis, released a couple of singles in collaboration with Grizz Lee and more recently worked together with Friendzone and Metro Zu. Although the maneuver to music wasn't a conscious nor weighty decision, Chippy is making big moves nowadays. She dropped her #GLOBALSCHOOLOFTWERK mixtape (stream below) last month, with all beats on it exclusively provided by Brentwood producer Nanosaur (who has produced for the likes of the Based God in the past, see "I Got Bitches XXX"). A video for the mixtape's "Bitch, I Bought It Out" dropped last week and next week will bring us a video for "Kicked Out Da Club", directed by sidekick internet authority Kreayshawn. Any information about any other projects in the near future are under wraps, but she has revealed that she will be featuring on the new Major Lazor full-length so there is no denying the fact that Chippy will stay grindin'.
As we were really feeling #GLOBALSCHOOLOFTWERK we hit Chippy up for a feature. By based chance she was very happy to oblige, so what we've got for you here is a little tête-à-tête with the lovely Chippy about her new mixtape, her favourite records, some of her forthcoming projects and of course a little information about her Mad Decent endeavors. The interview comes with a little mix, showcasing some of the club tracks she's feeling and one thing is certain: Chippy is bout dat life.
Hey Chippy!  What's good? "HI BB~ I'm GOOD ! VERY BUSY! BUT LIFE IS AMAZING ! I'VE BEEN JUST MAKING ART, MUSIC, GOING TO SCHOOL, LIVING THE LIFESTYLE. YOU KNOW."
When we got to know about you back in the days we mainly knew you as a designer and music journalist. Can you tell a little bit about how you ended up getting in music? "Well…PAUL DEVRO WAS THE FIRST ONE WHO ASKED ME TO GO TO THE STUDIO. I DON'T KNOW IF HE WANTS TO TAKE THE CREDIT OF BIRTHING A MONSTER INTO THE RAP REALM, LIKE MYSELF THOUGH. LOL. THE FIRST SONG I EVER PUT OUT WAS YOUS A CHOTE, STUNNAMAN FROM THE PACK HAD HIT ME UP AND ASK ME TO DO A HOOK FOR HIM ON A SONG, SO I DID. PEOPLE SHOWED AN INTEREST IN ME RIGHT AWAY. I'VE ALWAYS BEEN INTO MUSIC AND RAPPING TOO, BUT NEVER REALLY THOUGHT OF TAKING IT SERIOUSLY OR FOR IT TO BECOME A CAREER. BUT LIFE SEEMED TO PAN OUT THAT WAY. I'M NOT GOING TO DENY FATE. LOL."
You've been living all over the place, and within the States you've moved between L.A. and the Bay Area. What's the difference between these two places to you personally? Which place is more inspiring to you? "I LOVE THE BAY AREA. I FEEL WAY MORE CREATIVE AND PERSONALLY CONNECTED TO THE BAY. IN OAKLAND, EVERYONE HAS BEEN REALLY SUPPORTIVE AND LOVING. IN L.A. I NEVER LEFT LIKE I WAS A PART OF A COMMUNITY. HERE PEOPLE ARE A TEAM AND LOVE TO WORK TOGETHER AND BE CREATIVE TOGETHER. I LOVE THAT. L.A. IS DOPE BECAUSE YOU CAN GET WORK DONE REALLY FAST AND EVERYONE IN A RUSH TO TEACH THIS "GOAL" , BUT I LOVE THE BAY OVER L.A. ANY DAY."
Could you tell us a little bit about Nanosaur who produced #GLOBALSKOOLOFTWERK, how did you guys meet how do you work together dynamically? "WELL, SO NANOSAUR IS FROM THE BAY AREA. HE SENT ME BEATS MONTHS BEFORE WE WORKED ON THE E.P. I REALLY LIKED THE BEATS, BUT DIDN'T REALLY END UP DOING ANYTHING WITH THEM, BECAUSE I WAS IN AUSTIN AND MIAMI TRAVELLING FOR SXSW AND ULTRA. WHEN I GOT BACK, I JUST TWEETED AT NANOSAUR TO MEET UP, WE WERE PLANNING ON JUST MAKING ONE SONG TOGETHER, BUT THEN ARE MUSIC MAKING CHEMISTRY WAS SO ON POINT, WE LITERALLY JUST BUMPED OUT THIS WHOLE E.P. IN 2 FULL DAYS OF RECORDING. IT WAS REALLY FUN, ONE OF THE MOST FUN TIMES I'VE EVER HAD RECORDING FOR SURE. LOL, WELL IT WAS CRAZY CUZ THE FIRST NIGHT I WENT OVER TO THEIR STUDIO, IT'S LIKE KIND OF FAR FROM MY HOUSE, WE JUST GOT FUCKED UP, DIDN'T SLEEP AT ALL AND JUST RECORDED ALL NIGHT. AND MORNING. I LITERALLY SMELLED LIKE SHIT, BUT I DIDN'T WANT TO STOP RECORDING."
We heard you'll be featuring on the new Major Lazer album, which is ridiculously exciting news. Can you talk a little bit more about all of this, and the whole  what kind of track you'll be featuring on, and just the whole process of being in the studio with Major Lazer? "I LITERALLY HAVE NO IDEA WHAT THE SONG SOUNDS LIKE, I DON'T EVEN KNOW IF I'M SUPPOSED TO TALK ABOUT IT. WHAT HAPPENED WAS, PAUL DEVRO CALLED ME AND WAS LIKE ; DO YOU WANT TO COME INTO THE STUDIO RIGHT NOW? AND I'M LIKE FUCK YEAH. AND HE'S LIKE DO YOU WANT TO GO INTO THE STUDIO AND RECORD A SONG FOR THE MAJOR LAZER ALBUM WITH DIPLO? AND I'M LIKE OMG. YES. YES. YES. AND HE'S LIKE, YEAH THE SONG'S PROBABLY GOING TO BE WITH SEAN PAUL.. AND I'M LIKE OH….RANDOM, BUT I'M DOWN. THEN I WENT INTO THE STUDIO AND DIPLO AND THIS OTHER GUY WHO IS A PRODUCER FOR ROBYN. WE JUST RECORDING A VERSE, AND RECENTLY DIPLO TOLD ME MY VOICE IS ON THE MAJOR LAZER ALBUM, BUT I HAVE NO IDEA WHAT SONG AND HOW THEY USED MY VOICE ON THE TRACK. BUT THE TRACK TO WHAT I RECORDED TO WAS A HYPE CLUB TRACK." Really lovely news.. Are there any more Mad Decent-related projects in the works? "YEAH, I PLAN ON WORKING WITH THEM. LOL ;-)"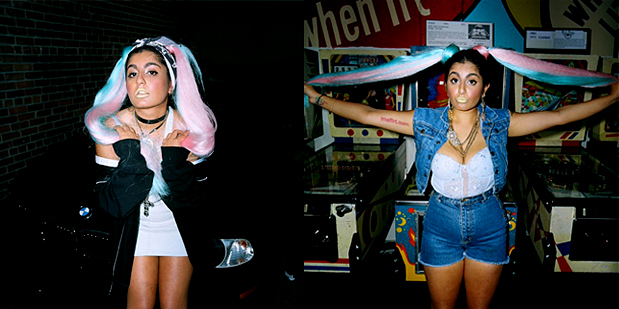 What's next for you as a rapper? Have you been thinking about an album at all or what else do you have in the works? What defines the direction you're trying to take your sound to genre-wise if there is any at all? "WELL, AS YOU GUYS KNOW I JUST LOVE CULTURAL DANCE MUSIC. RIGHT NOW LIVING IN THE BAY MY MUSIC HAS FOR SURE BEEN IMPACTED BY THAT. I DON'T REALLY WANT TO PUT A DEFINITION ON MY MUSIC. I JUST WANT TO CREATE HOW I FEEL AND SEE WHERE IS DIRECTS ME. I DON'T HAVE ANY SPECIFIC PLANS, BUT TO KEEP DOING WHATEVER I WANT AND MAKE AS MUCH AS I WANT. I HOPE TO DO THIS TILL I STILL LOVE IT."
What are some producers you rate, within hip-hop but also outside? Are there any producers who run in the smaller electronic circles you'd like to work with? "WELL PRODUCERS WITHIN HIP HOP THAT ARE AMAZING ARE; LEX LUGER, DJ TWOSTACKS, DJ MUSTARD, AND BANGLADESH. I REALLY LIKE A LOT OF NEW DANCE PRODUCERS RIGHT NOW TOO; ASTRONOMAR, LOL BOYS, R.L GRIMES, FLOSSTRADAMUS, BRENMAR, ∑NRON HUBB∆RD, MORRI$, JAY FAY, RA CAILUM AND SO MANY MORE." Who are some vocalists/DJs in particular that you've enjoyed seeing play recently and why? "ZEBRA KATZ ARE AMAZING. THEIR ENERY LIVE IS FUCKING AMAZING. I REALLY WANT TO SEE MAAL A GOOMBA LIVE, I FEEL LIKE IT WOULD BE REALLY FUCKING GOOD. I WANNA SEE NICKY D B LIVE TOO. FLOSSTRADAMUS LIVE IS MY FAVORITE. THEY ARE BOTH REALLY FUCKING HOT AND GOOD. MAJOR LAZER OBVIOUSLY LIVE IS HOT AND DIPLO TURNS ME ON SO MUCH."
Could you name three records that you've been listening to on a regular basis for as long as you can remember? "I HAVE MUSIC A.D.D. I LISTEN TO THE MOST RANDOM SHIT ALL DAY. BUT PROBABLY, ACTUALLY THE FIRST MAJOR LAZER RECORD, I STILL LISTEN TO. I STILL LISTEN TO GUCCI MANE, THE 3D MOVIE, IT WAS THE FIRST GUCCI MANE RECORD THAT I FEEL IN LOVE WITH. OBSESSED WITH ANYTHING RIHANNA REALLY. I LOVE RIHANNA. KINDA TURNED ME INTO A LESBIAN. ARULAR AND KALA, M.I.A. AND PIRACY FUNDS TERRORISM." There are so many new artists breaking through on a steady basis, Thank You Internet. Who from this new wave of musicians are you enjoying and who would you like to work with? "WELL, KITTY PRYDE JUST BLEW UP ON THE INTERNET, WE'VE BEEN IN TOUCH FOR A MINUTE. I WANT TO WORK WITH GIRLS MOSTLY. GITA, MYKKI BLANCO AMBER LONDON, DARK SISTER,SPACE GHOST PURRP, MAAL A GOOMBAH, NICKY DA B, MAN THERE'S SO MANY GOOD ARTISTS OUT HERE IN THE INTERWEBS ! THANK YOU INTERGOD!"
Earlier, undeniably in reply to some of the beef surrounding some new female rap artists, you tweeted this. Could you elaborate on this? "WELL THAT WAS MOSTLY A COMMENT ON HOW I FEEL LIKE PEOPLE TALK A LOT OF SHIT ABOUT ARTIST, CRITISIZING THEM ON EVERY POINT, THEIR LOOK, THEIR SONGS, THEIR PERSONALITY. MOST ARTIST GO INTO THIS LIFESTYLE IN ORDER TO NOT BE LIKE EVERYONE ELSE IN THE WORLD, BECAUSE THEY DON'T FIT IN, BUT TO JUDGE SOMEONE ON ART IS DEFEATING THE PURPOSE OF CREATING ART. IT'S NOT A MATH PROBLEM THAT HAS A DEFINITE ANSWER, THAT YOU CAN SAY, YES THIS IS WRONG. THIS IS NOT THE ANSWER. TO JUDGE SOMEONE ON HOW THEY WANT TO PORTRAY FEELINGS THROUGH ART, WHETHER IS BE IGNORANT OR NOT, PEOPLE SHOULD JUST BE ABLE TO CREATE WHAT THEY WANT WITHOUT THIS FEAR OF PEOPLE SAYING ALL KINDS OF MEAN THINGS ABOUT THEM."
What's the inspiration behind the Truancy Volume, is this an one-off or can we expect more Chippy DJing projects? "LOL, THE INSPIRATION OF IT WAS JUST DANCING. I DON'T KNOW IT'S A LOW KEY CHEESY, CLUB MIX. THE INSPIRATION OF THE MIX WAS REALLY CHEESY CLUB DJ'S HAHA. I FEEL LIKE I'M THE NEXT AVICCI. WATCH OUT WORLD. I'M LITERALLY THE NEXT CALVIN HARRIS. LOL!!!" This only seems to be an appropriate last question; can you share your wildest anecdote of when you got kicked out of the club? "I'VE LITERALLY GOTTEN KICKED OUT OF THE CLUB SO MANY TIMES, I CAN'T EVEN THINK OF THE MOST EXTREME ONE. FEW WEEKS AGO I GOT CARRIED OUT OF THE FLOSSTRADAMUS SHOW FOR TWERKING ON STAGE, THEY WERE ESCORTING ME OUT, BUT THEN I ASKED THEM TO PICK ME UP AND CARRY ME OUT AS A PUBLICITY STUNT. THEN I WENT OUTSIDE AND THE ASAP MOB WAS THERE AND THEY GOT KICKED OUT AT THE SAME TIME…SO I JUST WENT TO PARTY WITH THEM INSTEAD. YOLO."

Truancy Volume 44: Chippy Nonstop by TRUANTS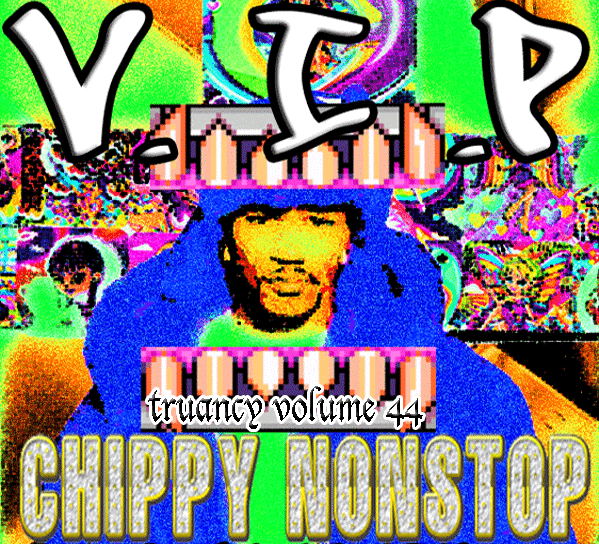 1. GESAFFELSTEIN – ATMOSPHERE
2. WAKA VS. AVICII – LEVELS
3. ASTRONOMAR RMX OF RA CAILUM CHIMBUS
4. DOUSTER – BOOM SHAKA LAKA
5. DJ SLIINK – VIBRATE
6. NICKY DA B X DIPLO – EXPRESS YOURSELF
7. MAJOR LAZER- MS THING – WHEN YOU HEAR THE BASSLINE
8. MAAL A GOOMBA-GYMNA$TICS
9. CHIPPY NONSTOP- KICKED OUT DA CLUB
10. TWINZ BEATZ – FADED MOOBAHCORE RMX
11. MUNCHI – LA BRASILENA TA MONTAO FT. ANGEL DOZE
***DISCLAIMER**** I'M NOT A DJ. I'M STILL LEARNING TO MIX. DON'T JUDGE ME. LOL !! BUT I PUT SOME OF MY FAV DANCE/CLUB SONGS ON HERE! ENJOY! =) TWERK OR DIE. 
(Pictures by Grady Brannan and Arturo Torres)