Three-Peat is our feature spanning genres and labels to bring you three select releases from the past – whether the past month or the past year – that still deserve your attention.
1. Makam – What Ya Doin'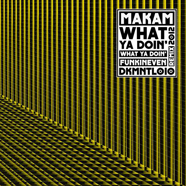 In May, Amsterdam-based record label Dekmantel – which recently commemorated its five year anniversary with a stellar five-installment series – released this massive 12″ from fellow Dutchman Guy Blanken aka Makam. Blanken has been delivering deep, churning house tunes for a few years now, most notably on respected Berlin imprint Sushitech, but "What Ya Doin'" is without a doubt one of his most kinetic productions to date. The track's intro features frenetic percussion patterns and neatly diced vocal samples that give off an urgent feel that belies the true nature of the production: a tight and potent tech house number primed for peak time, big room action. But it also rolls along smoothly thanks to the interplay between the moody bass line and the meaty sample from Ciara's "Promise," which has been processed with a light enough touch to keep the track from sounding like a victim of the pitched-R&B-sample trend. On the flip side, top-of-his-class technician and 909 enthusiast Funkineven throws acid, electro, and hardcore influences into the mix, giving the track an underground rave vibe that's perfect for those looking to lose their mind on the floor.
Stream: Makam – What Ya Doin' (Preview) (Dekmantel)
2. Xosar – Tropical Cruize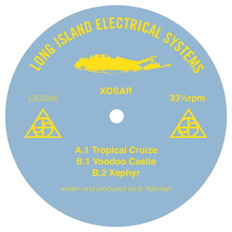 If you're been on board the L.I.E.S. train (as you damn well should be by now), you've no doubt already heard the brilliant "Tropical Cruize EP" from Xosar, a previously unknown producer that the prolific Ron Morelli took under his wing. Until last month this one was strictly white-label only, so most of us couldn't even listen to the full release, let alone get our hands on a copy. But thankfully Morelli and company decided to repackage this one digitally, because it's destined to become a classic. The title track couldn't be more aptly named; the breezy, freewheeling production conjures images of lounging poolside on deck, downing daiquiris and slathering on tanning oil while the ship skips between islands in the West Indies. "Voodoo Castle" is another strongly evocative and accurate title, as the track sounds like the theme from Bowser's castle re-scored for an occult summer solstice rave in the Haunted Mansion (the Vincent Price-narrated one at Disney World, not the shitty movie version with Eddie Murphy). Rounding out the EP is "Xephyr," a shadowy, narcotic-ridden house track sustained by a chugging bass line.
Stream: Xosar – Tropical Cruize (L.I.E.S.)
3. Saint Petersburg Disco Spin Club & Lipelis – I Need It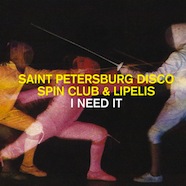 Long time players Lovebirds and Vincenzo have been producing and playing a mixture of house and disco records since the 90's and in 2008 they decided to form their own label titled Teardrop. Having mainly used it as an outlet to release their own music, the sixth release however, comes in the form of a collaboration between two new producers to the label family. Hailing from Russia, St Petersburg Disco Spin Club and Lipelis are the guys in question here. Whereas this is Lipelis' first excursion on a record, SPDSC has already had steady appearances on labels such as Tusk Wax, What's in the Box and Shanti Records, making him the more familiar figure in this setting. Past releases aside, both have come together to make a splendid single titled "I Need It" backed with remixes from head honcho Lovebirds and Iron Curtis under his Leaves alias. The original manages to blend catchy vocal hooks with a piano led groove that progresses into a treat of an acid analogue breakdown. A real house anthem that perfectly encapsulates the feeling of summer. Lovebirds and Leaves don't drastically change on the original but bring enough to warrant that you return to this release for a long time.
Stream: Saint Petersburg Disco Spin Club & Lipelis — I Need It (Teardrop)