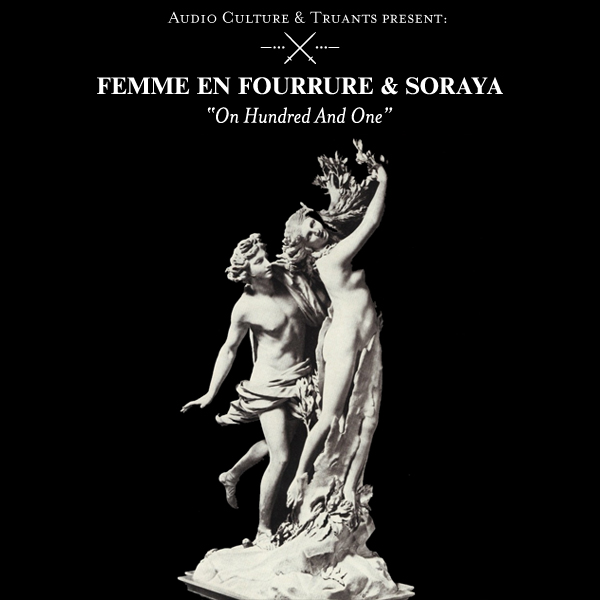 We here at Truants have an exciting weekend ahead of us, as we're looking forward to co-hosting the upcoming mid-summer edition of the incredible Amsterdam-based clubnight Audio Culture this Friday in the Club Up! For the line-up, we've invited over two artists whose output we've continuously loved to extremes over time and that have contributed serious weight to our Truants compilation. Performing for the first time in Amsterdam and hailing from Helsinki, Finland, Femme en Fourrure take influences from the minimalism of Detroit techno and the dancefloor grooves of early house music and disco and make music that is explicitly uncompromising. Femme will be joined by Montreal based Grown Folk, whose combined production and DJ skills have got everyone from Teki Latex to Jacques Greene excited and on the lookout. As a preparation for the night yet to come, Soraya and Femme en Fourrure have collaborated to cook up a terrific exclusive promotional mix for you to pump up and get into the right mood with as you get going to the club. The mix is full of tunes that set the tone for this Friday: energetic, wholesome, zoning and sure to get you moving one way or another.
Femme En Fourrure & Soraya – "On Hundred And One" Mix
The first half an hour of this mix are the sounds of Soraya taking you through her sonic adventure, starting off lustrously warm with Seven Wonders' absolute classic "Crazy", that still has the capacity to get any mood lifted into the perfect kind of positivity and tranquility you need before entering a club. The atmosphere swiftly shifts its gear to something a lot more vigorous and gets into some real bad things with Addison Groove, prepping us for the ridiculous energy that's bottled up into the succeeding Surgeon remix that still physically pulls you into movement time and time again. Continuing on in a Hotflush state of mind, the anaesthetic sounds of George Fitzgerald's "Let Down" sit tight in another dimension that's joined by Wax's "30003B", a propelling endeavour brought forth by one of the many aliases of Rene Pawlowitz. Soon enough we're taken on a whole other level with one of our favourite remixes of the year done by London's own #purpleswag Brey for Javeon McCarthy's "Love Without A Heart". Darling Farah always knows how to grip your deepest sense of consciousness, and this unreleased gem "Excuse Girl" that's been included is no exception to this rule, so don't miss out. Soraya then ends her segment by progressing into Ramapearson Donovan's charming "Babeh", whereafter we're taken to the lovely mixing of Femme En Fourrure.
Starting off with the fresh sounds of Fresh and insane patterns by James Braun, this part of the mix is where the hypnotic beats that channel non-stop motion come into the picture. Bok Bok takes things up a notch with his acid house take on Don Morris' "In Da Groove", after which The Phantom's take on Viadrina's "Back To City", that's due for a release later this week on Top Billin, brings a melodious flavour to the table. Femme En Fourrure's own revamp of Sir Nenis' "Freaks" then kicks in, whose hard-hitting bass and daunting vocals are sure to clench on to your every regard. For the last few moments of this mixtape, we're taken to the everlasting vibes of Instra:mental's "Pyramid" which are always bound to give you the feeling of a longing victory in sight. Femme closes the mix off with a bang as we hear Jam City's glacial and piercing "Waterfalls" off of the much-anticipated superb new Waterworx EP.
Check out the full tracklisting for the mixtape below and see you this Friday!
1. Seven Wonders – Crazy [DJ's For Life]
2. Addison Groove – Bad Things [Unreleased]
3. Scuba – Ruptured (Surgeon Remix) [Hotflush Recordings]
4.George Fitzgerald – The Let Down [Hotflush Recordings]
5. Wax – 30003B [White]
6. Javeon McCarthy – Love Without A Heart (Brey's Oh's & Trix) [PMR Records]
7. Darling Farah – Excuse Girl [Unreleased]
8. Pearson Sound – Babeh [SSSSS]
9. Fresh – Dum Dum pt.2 [Trax Records]
10. Addison Groove – Footcrab (James Braun Edit) [White]
11. Don Morris – In Da Groove (Bok Bok Remix) [Deep Teknologi]
12. Viadrina – Back To City (The Phantom remix) [Top Billin]
13. Sir Nenis – Freaks (Femme En Fourrure Remix) [Trax Records]
14. Instra:mental – Pyramid [3024]
15. Jam City – Waterfalls [Night Slugs]