A quietly prodigious producer, and a self-proclaimed hobbyist at heart, we welcome John Heckle for our 209th Truancy Volume. Growing up in Merseyside, his formative years were spent on a mixture of classic industrial and house records, informed even further by early club experiences seeing Jeff Mills and British Murder Boys that his older brother took him to. His breakout EP 'Life On Titan' landed in 2010 on Mathematics following a visit to Belgium and a set of Myspace exchanges with Jamal Moss. His charming brand of jacking, live-take techno combined with 80s Chi-town influences soon found itself on other labels with Andrew Ingram and Joel Shaw from Tabernacle providing what John describes as one of the most comfortable label relationships to release on, and one that continues to this day. We caught up with John to talk about a number of topics – going halves with his brother on initial studio gear, his Head Front Panel alias, recorded CCTV parties from thirteen years ago, his third album Tone To Voice and how he cites Bob Dylan as one of his biggest influences. His Truancy Volume, coming in at just under an hour is a frantic blend of classics mixed alongside some comparatively newer stuff. Music from Pierre, Dan Curtin, and Joey Beltram mixed effortlessly with newer and sought after cuts from Dan Ball and Mark Anthony Clair make this a surefire listen.
Hey John, thanks for taking out time to answer some questions and do this mix for us! Not a proper first question exactly but just want to mention that when I do get the chance to DJ now and then there's one record that hasn't left my bag since its release in 2012. The Trackmasta Lou – Today Is A Good Day single on Tabernacle with separate remixes from you and the Analogue Cops. I actually even wrote about it in 2015 for an old Truants feature as I had rinsed your track so much. Do you remember making that one? "Thanks for having me. Yes I do remember making that, and being quite relieved with it. I was nervous about remixing it; Scan 7 being a big deal for me in terms of techno heritage and being an element of what shaped my own music. Things like 'Black Moon Rising' will always be timeless. So yeah, I was happy to get it right with this remix, which doesn't always happen admittedly."
Was that one made on the Juno-G Workstation keyboard as well, also do you still have it? One thing I've enjoyed from reading through past interviews is how many times this piece of equipment got brought up. Can you tell us a little bit about the time when you first bought it and what were you trying to make at that particular time? How has the studio expanded since then too? "Yeah it was made with the Juno G and the 707, maybe the Juno 106 as well. Funnily enough I pulled my Juno G out for the first time in a while last week and didn't realise how much I missed it. There's a certain sound I can get out of that synth which I can't seem to get out of anything else, despite it being just a digital workstation. I'll probably start using that more again, seeing that I know it like the back of my hand – definitely more than anything else. About when I first got it: I went halves with my brother so we could try and make techno affordably, solely using an all-in-one box. He moved away down south and I commandeered it. The studio has expanded since then yeah, probably surplus to requirements. I'm a hobbyist at heart so like to get my hands on new equipment when I'm able to after a gig or something, always like to try new things out.
Going a bit back in time with the talk of the Juno-G, what can you tell us about the Alcatraz parties from Liverpool? "That was ran by my brother Bill and a few friends and Merseyside DJs at different points, people like Binny and Mike Holmes. I played as a resident a few times. It was ran out of the Cavern Club, which my dad ran then and still does. He gave my brother the back room to put nights on as a sort of budding business venture I guess. My dad came to a couple of them, didn't understand the music at all but gave it the benefit of the doubt. Seem to remember him getting on very well with Regis (I think there's still Regis' brick on the Cavern wall of fame)! I was always a bit too star struck in those days to keep my head, all a bit surreal being a teenager and your brother booking all your favourite DJs at the time; Oliver Ho, Steve Rachmad, Surgeon, Christian Wunsch, Deetron, Neil Landstrumm, Ruskin, Ben Sims, the Murder Boys, Female, Kirk Degiorgio and more I must be forgetting.
We actually have VHS recordings of all the nights, recorded through the CCTV with audio. The camera is facing the stage from the ceiling, so you can see the first few rows of the crowd as well, which makes for some hilarious viewing on the more rowdy nights; one lad jumping off the stage and banging his head off the piping on the ceiling before falling out of shot onto the floor, only to jump back up seconds later and bust some over the top moves. One of those things I'm so glad we had the foresight to record. This was all pre-Boiler Room as well as has been joked about in the past. It'd be nice to digitise them at some point if nobody saw issue with it, been sitting on the VHS tapes for 13 years now."
Speaking of Binny, in more recent times you've launched Boss Tracks with him and Mark Forshaw. Can you tell us a bit about your working relationship between you three. How did you meet, when did the studio sessions begin and the choice of artwork for the releases? Anything new on the horizon too? "I first met Binny when he was being used as a footstool at Alcatraz. I think he was KO'd and a girl took the opportunity to rest her feet on him. We ended up going back to the same party and were good mates after that (and he got involved with running Alcatraz). I met Mark at Alcatraz also, he used to live in a legendary three-story party house in Liverpool at that time (I ended up moving into Mark's bedroom after he moved out). Looking back the house was basically a glorified squat if you want to picture that, parties four days a week and nobody particularly taking any regard for the house, so it was a bit of a shit-hole when I was there. When I eventually moved out there was an orange which had melted and fused to the floor through dirt and mould, so much that I couldn't prise it up with hammer and chisel.
I remember a tourist hearing about our house at a rave and knocking around at 5am on a Sunday morning on one of the rare occasions we were all in bed. We let her in and she threw her stiletto through the screen of our tele, complaining it was a squat. We were continuously left without power or heating by the landlord who thought we were 'avant garde' (his words). He also didn't fix the toilet when shit ran down one of the walls. That sort of gives you a gist of the place, you could write a book about it (which I think Mark suggested). So yeah we all lived at that house at various points and that's how we all met properly. I think the place has been torn out and turned into student accommodation now. Label-wise, that's something that I hope we'll do again yeah. I was living in Ireland for two and a half years so that stopped us all getting together to make music. Fun making up back-stories for the piss-take superheroes also as a diversion from music. Think I've written two stories about the characters so far. The art is great as well, thanks to artist Alan Kerr for drawing the characters based on hair-brained descriptions."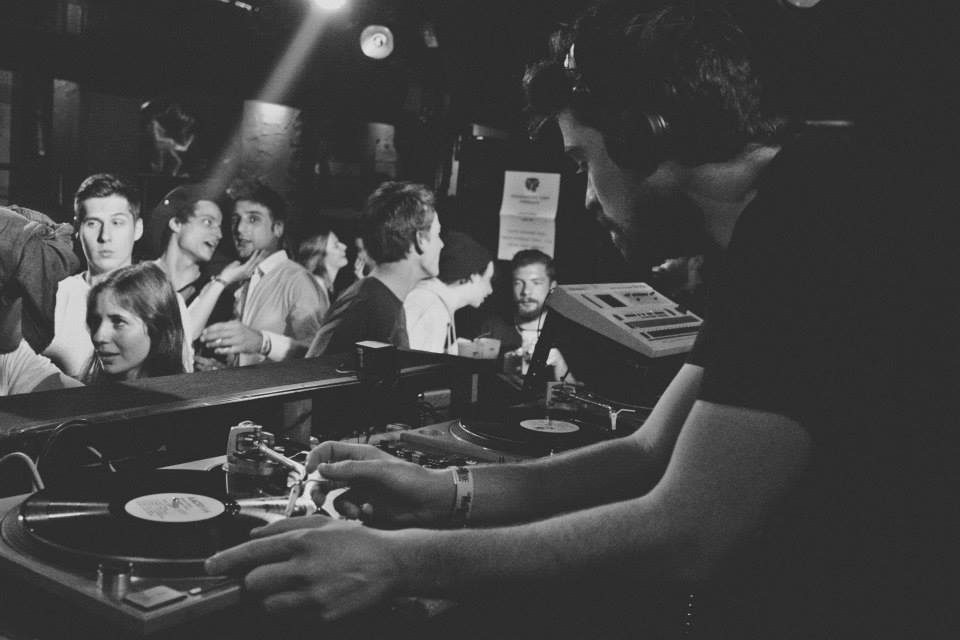 One thing I enjoyed reading about in an old interview was you talking about Bob Dylan. Despite being poles apart, you cite the man as being a big influence. What is it about his productions? "I think you can draw parallels between some early Bob Dylan stuff and some early techno and house. There's a definite song structure to Dylan but he plays it fast and loose, an extra half a bar here or there or a strange syncopation which will dip in and out when he gets carried away, like he's catching up with himself. It's very human music, and transcends a lot of other folk music because of that looseness. His first few albums may as well be live albums, they have an air of improvisation despite the obvious underlying structure, and he's not afraid to hit a bum note or leave in something that's imperfect. If you listen to some early techno or house music, Derrick May/Juan Atkins/Lil' Louis for instance, there's that same feeling I get of it being human music, despite the use of machines to get there. It can be sci-fi and far sighted but still be loose and human in its execution; it's in the moment, it's live and it gives the music a hell of a lot of character that you can latch onto. It's a personality and energy that comes through and is locked into that recording and eternalised. 
With Bob Dylan of course a lot of his music has a folk music structure (especially in the early years) but he does it with a unique kind of flare of imperfection that sounds as if he could be making it all up on the spot; ad-libbing and improvising. And in essence that's what I like about a lot of the best electronic music, it's almost DIY in how it feels, like they're laying all these ideas down for the first time live, whether or not that's actually true. Basically you can almost hear the faders on the desk moving, the mute buttons being hit when the percussion drops out, slightly out of time with the start of the bar; all this is human.
I'm also a fan of music for music's sake without production values being a key factor in it. Some of my favorite Bob Dylan recordings are pretty lo-fi and stripped down for want of better terms. Versions of 'No More Auction Block', 'Moonshiner' or 'He Was A Friend Of Mine' for instance (all older traditional folk songs, but adopted and interpreted by Dylan). It's music that has no frills and is better without them; gritty but musical, rough and raw, just like some of the best electronic music (Jamal Moss, Jeff Mills or UR for instance). It hits you straight in the gut, where all good music should. It's the difference between say John Lennon's acoustic demo of 'Watching the Wheels', and the polished version which was eventually released. The former is head and shoulders more gutturally effective than the latter.
What Dylan does with his music live in concert is also interesting. He'll play his music in a completely different way or feel than what was originally recorded on the album, which makes it hard to recognise at first (especially difficult nowadays now his voice is going). Look at something from his first album, 'Baby Let Me Follow You Down' (which too is a traditional folk song which Dylan adopted, and was actually recorded in one take, going back to that idea of music being almost a snapshot in time). On the album it is played in a folk tradition, kind of relaxed and muted in parts. Fast forward four years to his infamous Manchester show ('JUDAS!') and he completely flips it into modern rock and roll; wailing vocals and electric guitars throughout, shouting the audience down, confrontational.
And he plays a mean harmonica; as screeching as his voice (or 'voices' would be more accurate, as his voice has changed dozens of times throughout his career, most recently because of it's deterioration). The harmonica solos in 'When The Ship Comes In' and 'Bob Dylan's Dream' are particularly good. All in all, at its best it's timeless, fearless and very human music – all qualities that I would attribute to the best electronic music."
Let's talk about one of your last releases from last year as it was such a stunner (waiting for the opportunity to finish at set with the title track). What went into the making of 4am Chord and releasing on Super Rhythm Trax, were you and Jerome Hill already acquaintances? "Yeah I met Jerome at a gig in Belfast the year before, really nice bloke and one of the flag bearers for that old style of mixing techno almost like hip hop; plenty of tricks and scratching, bringing tracks in an out and in again at a quick pace. Not enough of that nowadays. I was happy with that EP yeah, I actually recorded it in about 3 hours (there was also a fourth track in the same manner but I decided to leave that out). In-and-out sort of thing, best way to work for me."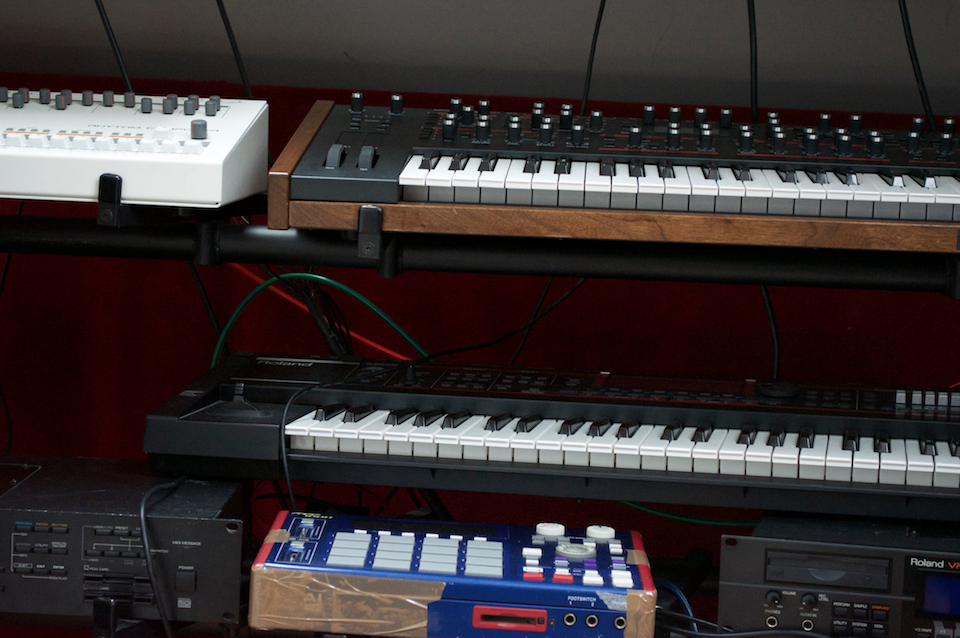 It seemed like in terms of releases 2017 was one of your busiest in terms of output as John Heckle. Four EPs as well as your third full length album. Do you find your making more music than ever? "I think I've always kept it pretty steady. 2014 was probably the busiest doing ten records just for the Head Front Panel series alone (and that was only half of the tracks I recorded for it). I was pretty wiped after that. Same sort of manner though, get an idea and record it quickly while it's still sparking / before it goes stale. Worry about the sound quality later (or don't)."
The ambient and more atmospheric approaches on Tone Of Voice were some of my favourite things by you recently as well, having just watched Annihilation I feel some of these wouldn't be out of place at all in a film score. (Actually spent last 15 minutes dubbing 'Darkly Down The Cellar Steps Again" and 'Intro' with that final scene haha) You've made tracks in this vein before but there seem to be more of an album theme here. What got you to a place that you wanted to make more music like this for this album? "Ah brilliant, hopefully it sounded/looked well! I watched that too recently, brilliant film, would be amazing to be able to do something like that in the future (scoring). There's a guy called Steven Legget who is making amazing ambient music at the moment, I always picture a film or an image when I hear it. I think he would be great at that. Yeah I think that album was something a bit more considered then I have tried before, especially the ambient stuff. A bit more contemplative. The album is dedicated the my mum who died before I started making it, so the intention was always to make something with her in mind. I like the idea that a person's energy passes on forever through the universe, so I suppose the music on there is a bit more far sighted in that respect to reflect that, as well as being introspective (if that paradox is possible). I think of her when I play it, which is the main thing."
I was wondering where your Head Front Panel project might be at but it seems you're still quietly pushing out releases and doing live shows as you played under the alias with Ben Sims towards the end of last year and it looks like you're playing live at a festival in the Netherlands over summer. Is it still very much an ongoing project would you say? 'Yeah still plugging away with that. To be honest I've probably toured HFP more than anything since the back end of 2014. Still enjoying doing the live sets, really giving it a welly."
What can you tell us about the mix you've done for us today? Any particular tracks you want to shout out? "It's an hour recorded at home, some classic stuff in there but none too obvious I would hope. Some Carl Craig, Dan Curtin, UR, Joey Beltram, Derrick May, Pierre, Orlando Voorn and a couple of things from the Austrian Central/Grow crew under a couple of their aliases. Some comparatively newer stuff then from Neil Landstrumm, Nu Era and D Ball on Ourtime etc. Music I like in other words, hopefully it strikes a chord with some people."
What else can we expect from you in the future if it hasn't been mentioned already? "Working on another album for Andrew and Joel at Tabernacle, which is the label I'm always most comfortable releasing on. So look out for that. I have about fifty tunes for Head Front Panel which I have been playing in the live sets the last few years on and off, but which I'm yet to record properly. Difficult to get in that mindset sometimes without the energy of the room. But yeah I'll do that at some point. Also the first original Panel track not to be released on the label itself will be on an EP for Perc Trax soon. And I'll be doing more on a couple of other aliases I've been doing in secret if you like, no face attached to them etc, which I enjoy doing more nowadays I think."

John Heckle: Soundcloud, Facebook, Resident Advisor, Discogs