Earlier this year Skylax Records released a double compilation entitled Skylax House Explosion. Mixed by label boss Hardrock Striker and long-time friend and Skylax flagship artist DJ Sprinkles, aka Terre Thaemlitz, it featured music from throughout the label's history, spanning almost two decades, with music from the likes of Chez Damier, Lady Blacktronika, Octo Octa. The very pinnacle of deep house, it moved seamlessly from emotive, political music to carefree party sounds. The compilation was accompanied by three 12" releases, each paying tribute to a particular moment in the history of house music: Under The Garage, Under The Loft, Under The Ballroom. These records featured unmixed tracks from the compilation alongside new music from artists such as Move D and Lauer. We caught up with Hardrock Striker to discuss the compilation, working with DJ Sprinkles, the current state of the industry and why it pays to stay underground.
Thanks for taking the time to talk to us. How are you? "Good thx guys. It's been a hell of a year, I am always very busy but this year has been even more crazy! In addition to the usual releases we are putting out (around 15 / year), we also have our 20 year birthday compilation Skylax House Explosion coming out, which will be mixed by Terre (DJ Sprinkles) and myself (Hardrock Striker). It's a reference to the project Kami-Sakunobe House Explosion (three coloured vinyl House Explosion I, II, and III) that we released eight years ago.
Alongside this super particular project, we are also releasing three exclusive 12 inches to go with it, curated or let's say chosen by us and featuring some friends and people I've created a personal relationship through the years – people such as Move D, Lauer, Octo Octa, Flabaire, Jason Grove, Merwyn Sanders (Virgo Four), An Expresso and Signal ST. You have to know that some of the tracks have been signed for five years or so (when I am choosing the tracks I am going to release, I always listen to them very regularly so that I know if those will stand the years or not) and this project should have been out way earlier but as I am always doing 1 million things at the same time we had to postpone the project, and this is where we at now."
First off, the mix CDs and the three records are great. Are you happy with how they turned out? "First thank you guys for the compliment. Honestly when I did it, it was something like 15 months ago or maybe two years. Every time I am working on projects (eps, albums etc), I am always thinking a lot about it and there's also always some kind of procrastination because it's always in my head all the time. I am living literally with it day and night, sometimes I can't even sleep until it's all done."
Why now? "What a question, and why not!? Hahahaha. No sincerely, I am always working on many things at the same time, be it the research, signing of new artists, getting the contracts right on time, putting out records, factory delays, throwing parties, choosing the right DJs, taking care (a lil bit) of the design and social media (because I realised it's now unfortunately for us a job in itself). The job of a DJ today is not the same as it was 20 years ago when some people were just DJing or producers were just producing (remember or maybe you don't but at the beginning of 2000s we were still be able to sell thousands of copies for one record, this is why many producers were still behind their computer at home until 2010s then they started being on tour regularly as they needed cash), the market has changed because of this internet thing, both good and bad –  good because there's billions of music to listen too and there has been a democratisation of this "artist" thing.
I mean everybody today is a DJ and even more so as a producer with Ableton; however I am looking at this with a very friendly eye because I originally come from a punk, post-punk background. I love and will always give praise to DIY ethics and amateurism (this is the blood of house music to me); however, bad because quantity does not always mean quality especially nowadays. The income generated by music in itself has dramatically reached a bottom for several years, so the equation is very simple: less money for producers means less money involved in the production process. Buying new gears, getting a better sound, all of that is dead, so the quality of the production dived. You can hear it everywhere even in the biggest mainstream project, there's still some very few exceptions. So why now? Because I think it was the right time and also, I had no choice.  Imagine the project was ready for several months but I had no time then all of a sudden, I had a small window to release it so I did, and it's also my 20 years in this so called "music industry"."
How did you go about selecting tracks for the mix? "It was a long road because you need to collect everything from beginning to end. Then you need to listen to all of them and build up a story. And this story had to be mine completely, as it's my story. You need to also remember that you cannot put a four-hour mix on a CD, which is something I would have loved to do as summing up everything in one hour and going over more than 700 tracks is kind of "complicated", especially when your job is to DJ. So I did it in two takes, the first one goes over three hours or something and from there I narrowed my selection to one hour and 18 minutes; for me it's a miracle, my mixes are like I am talking to you right now, I love to embrace all kinds of music (especially when it's something I've been involved 100%), there's no limit for me. The good thing with our catalogue is that it's so vast that I could have done something completely different but it would have still been my story."
Was there any discussion over who would get to play what? And any scuffles or disagreements, like "I want this track, you can't play it" etc? "Not at all, I did it in two takes as DJ Sprinkles did. My priority was to see and hear how it would sound like in Terre's hand because I had so much in mind, the Deeperama mixes he did way way back for the Module party are a good example and I wanted to get the same feeling, when it was done, I did mine. Of course, I could have done something close to his way of mixing but I've got my own, which is really different I think and this is what makes this double CD compilation so recognisable and explain maybe why you guys appreciated it."
Did you mix the two entirely separately or was there any collaboration, be it back and forth over mails, different takes, or just bam it's done? "No collaboration at all, we mixed the project alone and then we got back to each other and that happened only once. I mean for sure there was some talking and communication but it was all very precise, concise and fast. On the first mix Terre did there was sometimes the same artist two or three times, there was also two of my tracks. I told him please let's do like this: one track; one artist – it was way harder but so much better in my opinion. Also, I guess by reading about me now you know the answer, of course bam it's done, DIY punk style."
Kind of going backwards here but how did you two first connect? Your working relationship goes back a long time. "Oh god you guys are killing me, it's a very long story :-) Thanks to the internet magic. This was a time when things were quite different I guess, speaking about 2007/2008 which is quite close but so far away at the same time in terms of technology. Freedom was still ruling all around the net, there was no deontology rules, no Facebook promotion, event sponsoring, buying likes and/or fans or whatsoever. Many guys were doing some blogs, some of them were very arrogant, we were at the beginning of Facebook, myspace as a savage planet was completely inherited from its citizens (but I still had met some great people such as Marcel Dettmann, whose doing today some very good production as he's mixing techno but more with an industrial / new wave feeling, I think he's just killing it now, he's the best techno producer; or Nina Kraviz who was already organising some parties in Moscow with the right people like the great Jus-Ed and Radio Slave). So, some of those blogs were quite good such as mnml ssgs and another one if I remember was Little White Earbuds.
"In brief, I was surfing on the net and I suddenly discovered his site, I heard few snippets and sent him an email straight away. He replied to me very fast; The more I was digging into his discography, the more I realised how unique he was, to me it looks like I was finding some unheard lost tapes from the Velvet Underground or Suicide. Then I proposed to him over putting out a first 12 inch, the first one in a long story and the beginning of our collaboration, "Hush Now" packed up with "B2B" (A few weeks ago I saw one of the best boiler room ever, Peach was killing it on the decks with a great selection, the atmosphere was extraordinary I congratulated her through a small message on FB, at the same time, one of the most famous house group in France called La Chinerie posted some track ID stuff about this Boiler Room in particular and I realised that she was honoured because she thought that I congratulated her because she played our track "B2B" but in fact no, it was for her set. So sweetly, she told me that it was one of her favourite record ever in her collection); DJ Sprinkles vs K- SHE – A Short Introduction To The House Sounds Of Terre Thaemlitz and the answer was instantaneous, we were sold out in few weeks.
Moreover, to be more precise, Terre was not sure about putting "Hush Now" in the beginning and asked me "Are you sure you wanna start the EP with this track?" I told him "Yes, I love it". So, maybe this made him realise that he found a valuable and real partner ready to take some risks on some underground and not necessarily easy to sell projects, which is in fact what defines me the most I guess. Then we followed with the Kami-Sakunobe House Explosion LP, with this incredible cover, a trans woman from the 1920s. What was just a pic in the booklet became our cover, the ones that you see upfront in the shops. I think I really wanted to capture the magic there was in this album and the best thing was to make people understand that if there's something close to Bowie, Iggy or Lou Reed today, it's those tracks. I mean I wanted to re-capture the magic of the 70s when there was all those great and marvellous androgynous covers and pictures like Raw Power or Aladdin Sane but make it more modern at the same time and give a tribute to the LGBT scene which is the heart of our music. I mean, no gays like Levan or Knuckles or night clubs like Le Bain or The Standard = NO HOUSE MUSIC at all. PERIOD.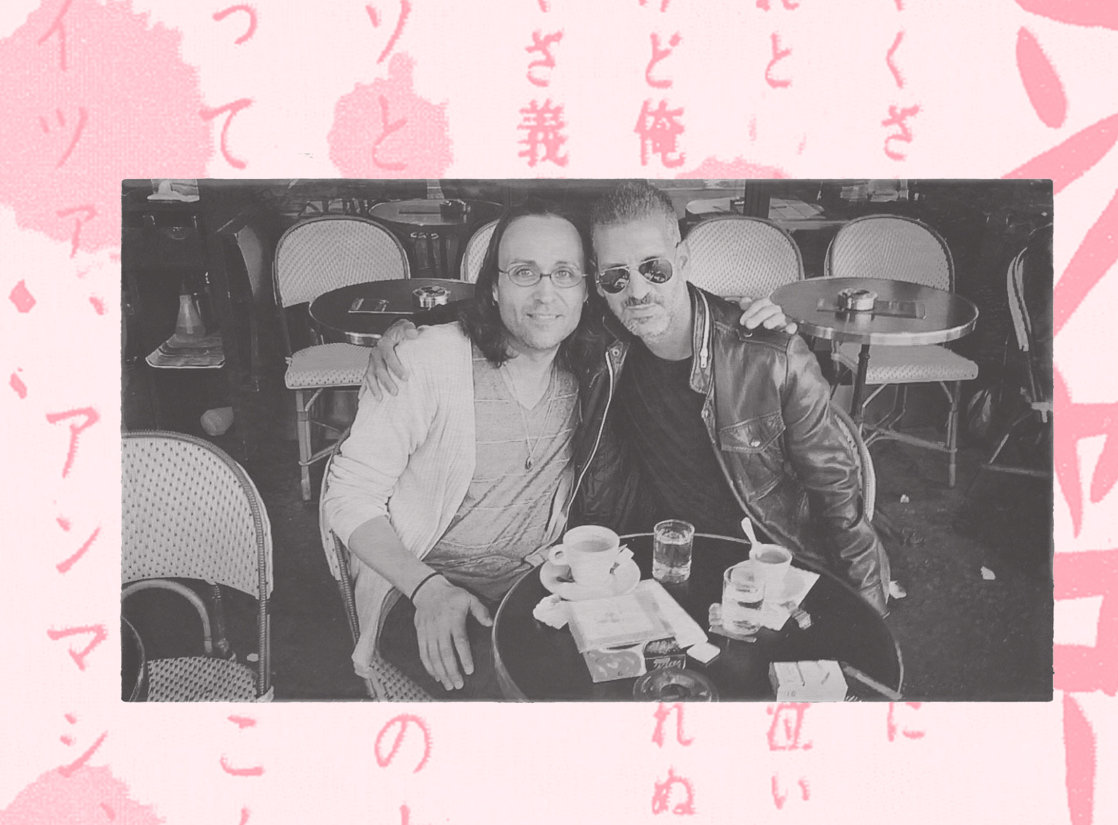 "So Routes Not Roots was (with a great surprised I must admit), a major success for both the label and Terre. Resident Advisor gave us the incredible 5/5 rating. I organised a party in Berlin at Cookies for our release (of course this could not have been possible in Paris in 2010. I realised then that whatever great project I will put out, if you're not friends with the right people, you're not going anywhere (to get parties, deals); so, it's way more important to socialise than to do art, this is the way it works unfortunately in this business today and it has to be said. At Cookies in Berlin, I remember one major thing, Terre played some ambient in the middle of his set and I was running around very anxious with people's reaction because I know that the majority has a very bad taste but I was wrong completely (we were in Berlin, thx god!), I saw the club literally exploded, people got it perfectly, I felt in peace. So, the same time we've been releasing Routes Not Roots, we put out three House Explosion coloured vinyls, H.E I, II and III. And eight years later again, for the Skylax 20 years, we are releasing SKYLAX HOUSE EXPLOSION mixed CD compilation by Terre and myself with three EPs S.H.E I, II and III, another way maybe for us to close the circle and to open another chapter."
How do you stay hungry searching for new music? Do you spend much time scouring SoundCloud etc for new talent or do you spend it in the clubs? "As you can see I just love doing it, to be really honest though I don't do that much research on SoundCloud as many artists around the world have known the label for years and are fans so they usually send me their music directly (in any case contact@skylaxrecords.com haha). Then I'll ask them usually to send me the wav files (I don't like listening on SoundCloud as if I think one track is good, it takes me 10 seconds to know if it's gonna fit or not) and it has to be in big numbers guys! Don't ever contact me for one or two tracks, I need some room and a huge amount of it to understand the artist will and vision. Then I'll reshape them completely, I did this for so many artists, then I envision the cover and the story we could tell. I don't go regularly to the club, only to meet some of my artists or when I have to "work"."
There's a variety of styles but at the same time the music is incredibly cohesive – music as old as Joey Kay's alongside that of An Expresso and Octo Octa. Is that a constant search for you, for that timeless sound? "It's totally true! I think by reading all of this you understand that I put all my blood into it so if I am signing something that means I know for a fact this record will fit perfectly in our catalogue and sometimes I even know that some of those tracks sent will be great to be mixed with some others I already signed, this is why I think that SKYLAX is so unique has this "timeless" sound. When I am mixing today I only spin some of our records because our catalogue is very vast and I think who better than me to promote our sound and aesthetic?"
The mix is incredibly joyful, with tinges of politics, be they personal or more societal – how do you express your politics through music? "Yes, my mix is very joyful and Terre's one is more downbeat, this is why this compilation is so interesting to me, that means you have one side to chill and another more pumpy one, it expresses both mine and Terre's feelings well I guess. To be honest, I never had any will to bring politics on the table but I've loved Terre's work so much for the past 10 years that by putting out his records, obviously I went through it. I love concepts, fantasies, the difference that's  in each person, I literally hate "conservative" ideas. In one review, a journalist just said "it's striking how similar their ideas about house are, as though they were born to work together". What I am saying is that even if on the surface, I don't do politics, in fact I am doing it. One example, the Jason Grove 313.4.Ever album was a tribute to Detroit and the black panther cult figures, in the other SKYLAX LP I even put the Black Panther 70s program because I still think very sadly that it was still relevant today. And I could go on and on and on. So, music first but if there's a message behind it, it's the cherry on the cake."
With the vinyl releases, were you always sure what would and wouldn't feature in the mix or are you just blessed with a wealth of great music at your disposal? "Sure, 1 million percent. But as I am telling you, I could have done it another way, it would have still been me, the now famous SKYLAX SOUND."
Can you tell me anything about the meaning behind the Japanese iconography in the CD booklet? "Glad you're asking. Today many guys are using the Japanese iconography to give a sharper and mysterious look on their projects and me NOT. Terre lives in Japan so it was obvious to do it that way. Also, we've done this Routes Not Roots album in 2010 and it was like a wink to this project too. All of them have a meaning and have been translated very precisely by one of my Japanese artist MOTOMITSU and yes, he was a great help!"
Where do you see Skylax in the current musical landscape, versus where it was when you kicked off the label? "The world has changed in 20 years! I mean back then when I had my first label Parisonic Records in 2000 I was selling records on the phone to distributors and they were picking up some big quantities, I was able to do some big scores. Then I kicked off the Skylax imprint in 2004 and the first releases were doing very well (comparing with today's numbers). I was doing everything from pressing, labels, sleeves and of course selling my own records. Then around 2006 we started to see the effect of this internet thing and suddenly it crashes really. I mean mid-2000s nobody was paying attention to our kind of "underground" music and scene; then it started to come back around 2011 with this "vinyl resurgence" though I still think there's a big hype around it and to sum up the ones who get benefits from it are more major labels who repressed massively their old catalogue. I feel very grateful to life and destiny to be still in the game. I've been building a very coherent, homogenous set of releases and catalogue. Few people from back then are still around. This is why I can say "stay underground, it pays", SKYLAX 4 EVER."