The last year was a good one for us: a lovely crew, two compilations (feel free to spend your Christmas money on a little donation to Save Darfur to download our last one here), the opportunity to do features on the artists we love, six events in five different cities and although some wiseacres beg to differ: a lot of good new music. Now we could drown you in lists of our favourite records of the year but there is a great deal of those out there already, and as we choose to only cover music on TRUANTS that we truly love scrolling through our articles from over the past fifty-two weeks will give you an idea of what we've been enjoying. Find an overview of some Truants enumerations below however, because a yearly overview won't hurt. A big thank you to our current and past contributors and everyone involved with the magazine somehow! A happy new year, big up your status and [insert slightly inappropriate song here].
Twelve Based God Mixtapes That Were Released Last Year:
Angels Exodus, BasedGod Velli (Standard Edition), BasedGod Velli (Collector's Edition), Bitch Mob, Black Flame, Blue Eyes (Rare Collectible Mixtape), Gold House, I Forgive You, Im Gay, Illusions Of Grandeur, Red Flame: Devil Music Edition, Silent President.
Eleven Of Our Favourite Truants Interviews Of 2011:
Interview with Martyn: "The people I have collaborated with are all people I've known for a long time so it makes it easier if you know people on a personal level. I think the most intense collab was with dBridge, since we both worked hard on the lyrics, the arrangements, some of the production and such. Marcus one as well. It was a lot of fun, though. I may go in the studio with some people in the next few months but its better not to jinx it and say whats upcoming!"
Interview with Youngsta: "Some people create a painting or a piece of music to prove a point or to express themselves and how they're feeling. I'm trying to express me: this is what I like, this is what makes me smile and this is my sound. Producing music makes me happy and I just love doing it, that's the main reason why I do it. But it's strange as it's all subjective, everyone interprets music in different ways and feels sounds and frequencies in other manners and I'm just doing what feels right."
Interview with West Norwood Cassette Library: "10" vinyl, one track per side, cut at 45rpm for maximum volume, it's deliberate. But the pedant in me wants to point out that these are singles not EP's. When I buy an EP, I expect 3, ideally 4 trax. Sorry – this is the sort of rubbish that keeps me awake at night. Don't get me started on one sided vinyl or we'll be here all day."
Interview with Babe Rainbow: "I still think despite the fact that our prime minister was voted in with a majority it was a success as far as engaging the community of new voters that may not have otherwise cared. And using comedy as an entry point, we work on creative campaigns for social change, so anything from more left-leaning political work to working for groups like Greenpeace and Canadian Union of Public Employees so we've been doing similar stuff to Shit Harper Did since. It was a collective of people that worked on it, but three of us  we really corralled/project managed the whole thing, and we've then gone out and have been given more work because of that."
Interview with Dan Foat: "I'm not authorized to talk about Space Dimension Controller until October 2012."
Interview with Braiden: "On radio I started playing these different genres of music but still working them in to my existing sound. This kept developing until I was really playing across the board. However, even in my more eclectic sets I would always attempt to keep a solid structure and flow throughout. There's a fine line in the eclectic approach between keeping things varied and interesting, to just sounding like a random jukebox without building any atmosphere or flow. Recently I've enjoyed playing and listening to sets which are once again more focused."
Interview with Objekt: "I tend to visualise signals and processes – effects and EQ etc – a lot, because I make audio algorithms for a living. To me, that's really helpful and enlightening; to some people that might be of no benefit at all. It just depends how you like to approach things. The technical knowledge also gives you a head start in knowing what definitely won't work, without having to spend as much time trying things out."
Interview with Clams Casino: "I'm used to working alone. It's what I've always done, and I guess being alone with the music for so long and focusing on only that, instead of another artist, contributes to the sound as well. I'm quite happy with what I make so it's probably the best way for me to work, but I would love to try to get in the studio with artists eventually to see what would happen. Cam'ron was always my favourite, or one of my top favorite rappers growing up, and I feel like he would just go so hard on some of my beats. "
Interview with Bok Bok:  "When I was still studying I was always a big fan of Julian House who does Ghost Box. They draw on a lot of classical references like Penguin Classics, so stylish. It really illustrates the music well too, and there's a real continuity to it. You could say he's an influence. I thought Institubes always looked fly, as well. There's probably tons of others but I don't know, to be honest all my favourite music always looks bad or has kind of a naive and basic functional visual aesthetic."
Interview with Optimum: "Initially it was like the underground stuff, especially stuff on Stones Throw: Madlib, Slum Village, stuff like that. Then I got into more mainstream hip-hop, maybe Jay Z's The Blueprint album really got me into that. Dipset, all the New York stuff, Just Blaze, Kanye West, The Neptunes and Timbaland beats were all popular at that time. Heatmakerz were great too, that whole era was great. They were all massively influential. Those beats were always so creative and the best ones would give you an instant physical reaction so you would have to get up and dance."
Interview with Sinjin Hawke:  "We started Boomclap because there were a lack of places in Montreal to truly enjoy the music we loved. We had an extremely talented group of friends, each with their unique abilities that were well rounded into creating something special. So we put our heads together and came up with Boomclap, an unpretentious party at a small dive bar with a welcoming atmosphere, interesting music/visuals, and where people could come every week for cheap and enjoy themselves."
Ten Latest Truancy Volumes:
37: Babe Rainbow
36: Darling Farah
35: Tessela
34: Riffs
33: Helix
32: Total
31: Pictureplane
30: Grown Folk
29: Panteros666
28: Guy Andrews
Nine Articles From Our Chronicles Series:
Chronicles: Rich Boy – Bigger Than The Major
Review: Juicy J – Blue Dream And Lean
Chronicles: Young Jeezy – The Real Is Back 2
Mixtape: Waka Flocka Flame – Benjamin Flocka
Mixtape: Fashawn – Higher Learning Two
Review: Shabazz Palaces – Black Up
Mixtape: Big K.R.I.T. – ReturnOf4Eva
Review: Drake – Take Care
Introducing: Main Attrakionz
Eight Favourite Christmas Giveaways:
Skream – Freeizm History
The Weeknd – Echoes Of Silence
Clams Casino Instrumental Mixtape Re-Mastered
South London Ordnance – Top Boy
Machinedrum – ALARMAAAAA
Chestplate EP
Helix – Traversing The Hypersphere
Space Dimension Controller – Chinflup (Plaster Edit)
Seven Favourite People On Twitter 2011:
Ben UFO, Soulja Boy, Noz, Skream, Lukid, Walkmaster Flex & Zomby.
Six Truants Events: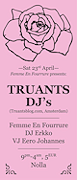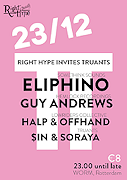 April 23th, Nolla, Helsinki – Femme En Fourrure invites Truants DJ's [Sin & Soraya].
July 2th, Le Carmen, Paris – Square Mode invites Femme En Fourrure, Truants DJ's [Soraya] and A Space Triangle.
July 15th, Club Up, Amsterdam – Audio Culture and Truants invite Grown Folk, Femme En Fourrure, supported by Truants DJ's [Soraya] and Mike & Styx.
October 22th, Club Up, Amsterdam – Amsterdam Dance Event: Boycott and Truants invite Mumdance and Brey, supported by Truants DJ's [Sin & Soraya] and Guerilla Speakerz.
November 24th, Corsica Studios, London – Church invites Truants, with James Fox, DjRUM, West Norwood Cassette Library, Optimum and Guy Andrews.
December 23th, WORM, Rotterdam – Right Hype invites Truants: Eliphino and Guy Andrews, supported by Lowriders, Sin & Soraya.
Five Outstanding YMCMB Fashions:
Drake's VMA sweater
Lil Wayne's "Are They Really Jeggings Though?"-jeans/jeggings
Drake's FaderTV headscarf
Lil Wayne's poisonous green ski boots in The Motto
Drake's "Ofcourse That's Not Creepy Bro" Rihanna t-shirt
Four Favourite A$AP Rocky Interviews:
Profile by Dee Vazquez
"Clears beef with Odd Future"
With Angie Martinez on the rules of A$AP
Backstage at the Club Paradise Tour w/ Drake
Three Memorable Truancy Post Headers:
James Blake deals with it
Merry Christmas from three Santa Clauses
Based Truants Contributors Search
Two Truants Compilations:
Compilation One featuring Brey, NGUZUNGUZU, Brenmar, Femme En Fourrure, Grown Folk, Teeth, Darling Farah, Glass Actor, Brenmar, LOL Boys, Teki Latex, Melé, Tanka & IFTW.
Compilation Two featuring Cromie, Citizen, JTRP, Fold, My Panda Shall Fly & Vimana Aircraft, Medla, Ada Ming, Semtek, Voltron, MODE, Timnah Sommerfeldt & A E.
Top One Heartbreaker: