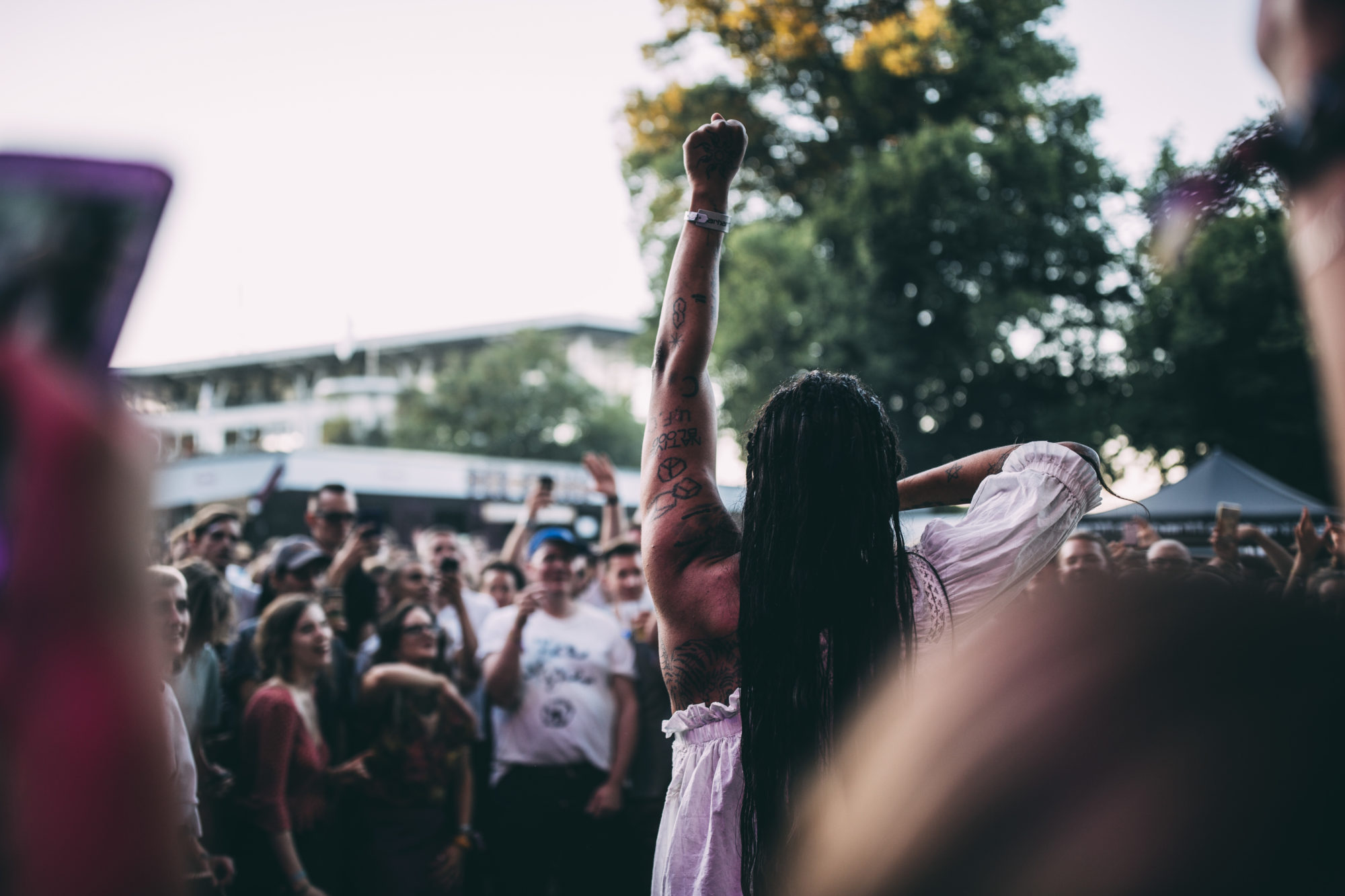 "A day full of newness," Philipp Maiburg declared, summarising Open Source Festival where he serves as artistic director. The twelfth iteration of the annual festival took place in Düsseldorf last month, uniting all sorts of audiences and creative disciplines in the capital of North Rhine-Westphalia, Germany once more. Music has always been the priority, as is natural for a city with such a rich, relevant history; Düsseldorf is of course the home of Kraftwerk, and their presence and legacy continues to be tangible in both the city and in electronic/pop music. As their sound would go on to inspire the techno of Detroit which would then be reinterpreted by Berlin, Düsseldorf spawned its own new wave of electronic artists and platforms. There's Salon des Amateurs, renowned for its ambitious, oddball musical policy (and where the likes of Lena Willikens and Vladimir Ivkovic have played resident). There's Tolouse Low Trax plus Jan Schulte (who appeared at the festival as Bufiman alongside Normal 4). And there's Callshop Radio, the internet radio station that has been broadcasting from the city for over a year now. Through Open Source, these characters stand on stage alongside national treasures and international breakthrough artists for a one-day festival of music and more.
Open Source has transformed in various ways over the years: There was a time when incessant rainfall rendered it impossible to erect a main stage in the forest just days before the festival, though the team's show-must-go-on attitude, the city's strong community spirit and some last minute luck with the weather allowed them to persevere. This year, Open Source Festival took place at a horse racecourse just a short tram and shuttle bus ride outside of Düsseldorf. The layout allowed for around four stages of music, all on hard ground but for the main stage which was positioned opposite the racecourse stands with a stretch of grass in between. With plenty of seating and a fair few bars and catering trucks scattered around along with additional festival offerings – art, craft, fashion, technology and business pop-ups – the site cultivated an atmosphere both intimate and vibrant. It was populated by an audience of relatively well-off partygoers, underground music lovers, families on days out, teens on dates, and many little ones abound. Philipp Maiburg conceded that they hadn't expected families with kids to attend the very first festival, though it's something Open Source have taken into their stride. Most attendees hail from the North Rhine-Westphalia region, and indeed many who work in Düsseldorf commute from their homes in Köln. Regardless, the festival has very much extended its invitation to all in the country and beyond, particularly through the notably affordable ticket price. "The price of the headliner should be the price of the festival," Maiburg insisted.
Some aspects have become tradition – namely the music policy. Billed as an electronic festival in its inaugural year, the festival has carefully traced its line between dance music, poppier acts and band showmanship. Previous guests range from German favourites Tocotronic (who headlined this year too), Hauschka, Metronomy, The Streets, Beirut and Death Cab for Cutie to acts bubbling up like Gaika and Future Brown. In the same year that German chart-topper Max Herre headlined, Dean Blunt played a show in a typically oblique fashion, opening with minutes and minutes of crashing rain sounds. Maiburg positions the lineups in the middle of that dynamic: "A super niche programme would be the easiest thing. It's a challenge to work with a diversity and create different moods in one day." In 2018, this outlook manifested with Cigarettes After Sex and Joan As Police Woman sounding out from a sun-struck main stage, Normal 4 & Bufiman and Arp Frique & Family fleshing out that festival feeling from the second stage, a young talent stage with newcomer bands from emo to electro-pop plus a DJ stage to juggle functional dancefloor music with beats for all the oddballs out there.
Known for his productions as Henry Wu as well as being one half of the now-dissolved Yussef Kamaal duo, Kamaal Williams appeared on the second stage to tour his latest album of funk-infused jazz, The Return. He had his hands full between his electric keyboard, synth and microphone, bringing along bassist Pete Martin and drummer Dexter Hercules to round out the trio. Much like Williams himself, the music never sat still. Martin anchored the crew one slick and sanguine groove at a time, with a tight professionalism that allowed the drummer and keyboardist to roam free. Williams was at the whim of his own fingers, dancing on and off his stool to weave noodling melodies or punch out propulsive chords. He brandished the sort of wild, teeth-bearing grin that declared each stab of the keyboard the greatest note he'd ever played in his life. It was an enthusiasm that brought him over to his microphone to spur the crowd and share cheeky quips that no doubt lived up to a global impression of London cadence. Dexter Hercules, meanwhile, matched that presence through the keenness of his drumming, which was a joy to watch. The contagious feel of the group's music was intensely amplified by Hercules' glowing, physical and pure connection to each track. Things like technical issues with the synths could hardly matter, what with the driving fills and shouts of the drummer and the bassist's gnarly, grizzled snarl – the spectacle as a whole demanded full attention. One memorable moment saw Kamaal Williams stood behind the microphone, eyes down, foot tapping and shoulders shuffling. "Really and truly," he began to rhyme, sharing a knowing glance with the rest of his trio: "We're making a movie."
It wasn't the only set on that stage to get people moving. Earlier, Die Wilde Jagd charmed and enthralled with their sprawling, stripped back kosmische, and Laurel Halo would later ensnare everyone in her misty future-folk electronica. (Dust is still the album on everyone's lips, with its deep-end dub and jazzier moments sitting alongside avant-pop fan favourites.) Through her live set, the more wondrous elements of her music were brought to the foreground; the psychedelic vocal harmonies, the rustic, traditional nature of her chosen percussion and the sheer amount of space that swells and opens up inside of her compositions continued to establish Laurel Halo's work as some of the most thrilling and fulfilling music accessible right now. It was also a welcome window into the exciting fringe sounds at Open Source, where the DJ stage featured Zozo and Swan Meat playing records and broadcasting on NTS Radio. The former introduced us to psychedelia, disco and dub from her native Turkey, while the latter ran distorted dancehall riddims into gabber, hardcore and an earth-shattering blend of Linkin Park's "One Step Closer".
Mykki Blanco was also here for the freaks. His stage-headlining performance was preceded by a baptism by fire courtesy Bambii, his tour DJ. She delivered a supercut of surefire festival anthems, from dancehall to Missy Elliot. It was also the only real smattering of grime at the festival, drawing big reactions and heating the crowd up well beyond warm. Mykki burst out and made the most of the space, darting across the stage, dancing on the DJ desk, scaling side structures, wrestling with the mic stand and performing songs from the middle of the crowd. The culmination of his physical activism, him impassioned growl-raps and his devastating beats demanded attention far beyond his given domain.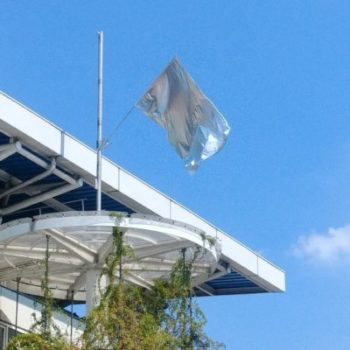 The art on show across the festival site was a welcome touch that has instilled a lasting impression. Open Source collaborated with the Kunsthochschule für Medien Köln (KHM – Academy of Media Arts Cologne), a center of audiovisual media, and the artist Mischa Kuball, who is a professor at KHM, to have students install their artwork at the festival. Titled I Pretend I Belong, the show featured the creations of eight students ranging from photography and naturalistic sculpture to interactive sound installations. One highlight was Yvonne Klasen's "hier" – a set of flags adorning the monolithic horseracing stand. The flags bore no crest or symbol, aiming for something both neutral and universal: the reflective, glistening mirror-like qualities of silver sheets, billowing beneath the bluest of skies.
Another impressive piece was Camilo Sandoval's "Latet Anguis In Herba". This featured a shoddy stack of old TVs, each screening primitive electronic images but for one blank screen with a sad face taped over it. The set was flanked by a pair of speakers, sputtering out bleeps and bloops. A network of microcomputers were continuously interacting, and these interactions were represented by the moving images on the screens and were generating the electronic sounds. The artist explained that machines are often not considered to be alive as they can't create art, and his goal was to establish a living machine. Some of the TVs were broken but could still be a part of this living thing, with its own idiosyncratic functions and limitations. He also revealed that the sad face was there for us; humans are preconditioned to feel empathy for something with a face, and he felt the need to trigger that empathy in us in order to bring the machine to life. As a work on show at the festival, it struck a wonderful balance between simplicity and nuance as well as approachability and intrigue, asking questions of both machine and human conditions.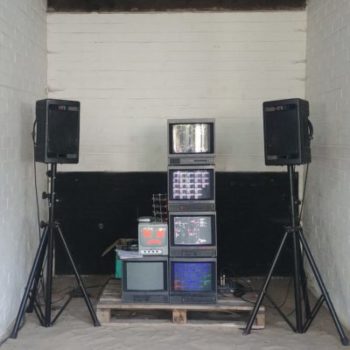 While it was the twelfth year of the festival, 2018 was also the year of the inaugural Open Source Congress. Taking place at the same site one day prior to the main festival, the Congress brought together speakers from all over to deliver keynotes, presentations and panels in the summery outdoors. Priced differently to the festival and much more akin to a conference, it served as an outlet for Open Source to further explore themes of new ideas and creativity outside of the music format. Events took place across four stages, some in German and some in English, beginning with bestselling philosopher-author Dr. Richard David Precht who opened to an attentive and well-populated 10am audience. Peter Verstrate introduced his company's tissue engineered meat food products and Dr. Michal Kosinski explored big tech and digital footprints while Dr. Anna Abraham delved into the psychology of creativity. The senior editor of TASCHEN books, Julius Wiedemann, divulged his core tenets for good design and there was a link to the following day's festival in the appearance of Mykki Blanco. The hour-long interview with him provided a good opportunity to get to know the artist and his work, and he was able to talk through his journey through gender identity and break down the video for "High School Never Ends". The scale of the day matched its thematic expansiveness with measured scheduling, pushing attendees to open themselves up to experiences they might otherwise miss. This of course is the crux of what Open Source is all about, so the pilot Congress should certainly be considered a success in that regard. As an aside, feeling invited to drop in and out of events and sit in on talks backed by beautiful vistas was incredibly refreshing.
In computing, 'open source' describes a coding ideology that grants the rights to dissect, analyse, modify and disseminate software to all; this approach arguably propels advancements and paradigm shifts in technology and culture. If Open Source's name is to be taken somewhat literally, the festival should be concerned with access to ideas just as much as it engages with the ideas themselves. And the 2018 edition can count many occasions where it succeeded in this, from the range of ages and abilities of its attendees to the physical, cultural and intellectual content of what was on offer. Across the music, audiovisual art installations, talks and stalls programmed over the two days, a clear and much welcomed parity was struck between well-refined existing ideas and more innovative experimentations in thought. In her talk, Dr. Abraham defined creativity as "that sweet spot where original ideas have value." Open Source's balance between the two poles emulates this, keeping a sure foot either side of the line with space for people and ideas to very casually mingle and marinate in between. If you're looking for a breath of fresh air not too far off the beaten track, Open Source Festival provides a wonderful vantage point to see which patches of grass seem greener.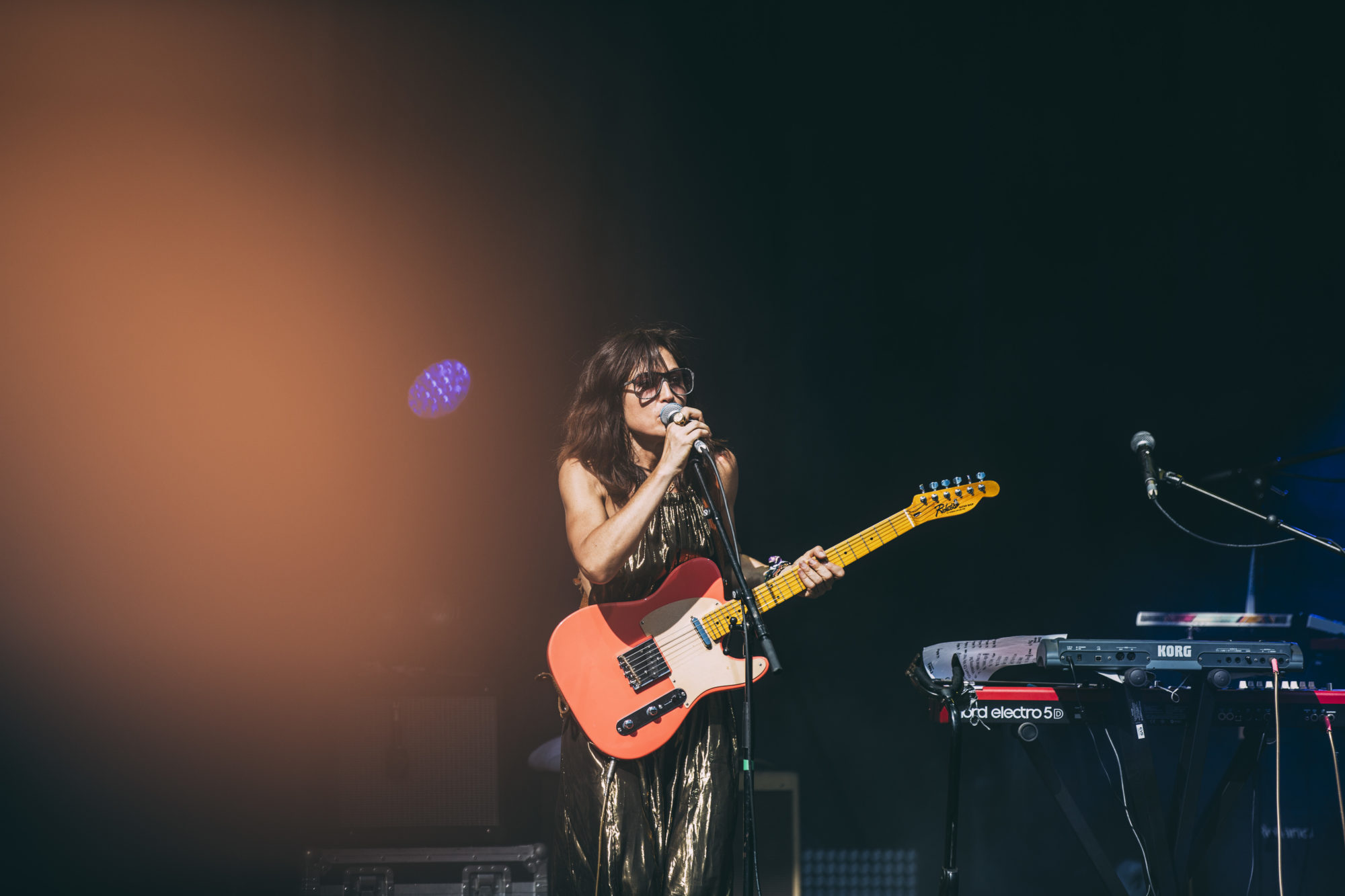 Words by Tayyab Amin.
Photography of Mykki Blanco and Joan As Police Woman by 7daysisaweek / courtesy of Open Source Festival.
Photography of Yvonne Klasen – "hier" and Camilo Sandoval – "Latet Anguis In Herba" by Tayyab Amin.