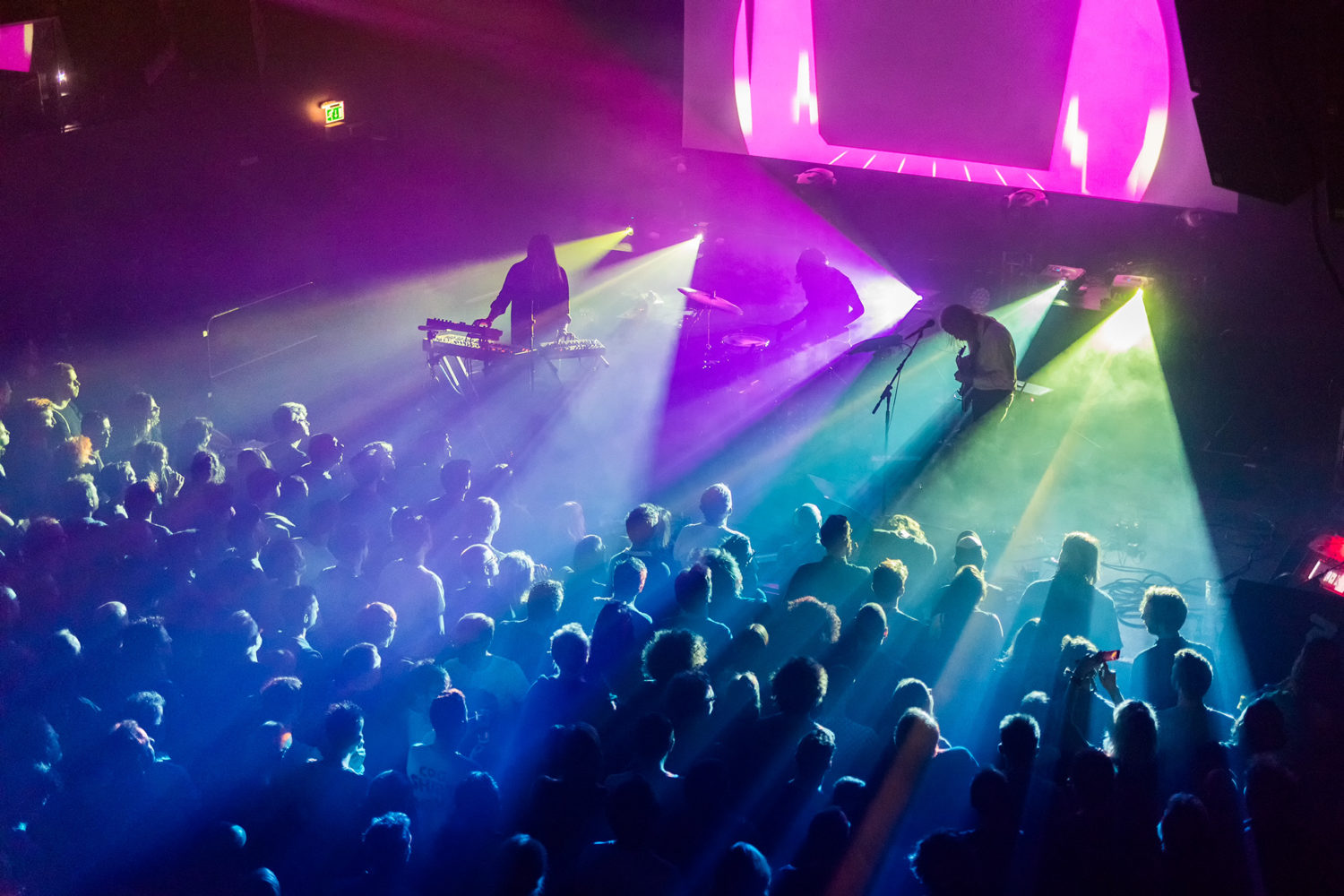 Le Guess Who? returns to Utrecht for its 13th edition this November, aiming to further cross boundaries in music and culture with a new cohort of guest curators in tow. The Dutch festival ignites the city around this time each year, ever a beacon in the calendar to look forward to. As is now tradition, it takes over the super-venue TivoliVredenburg, from its opulent concert halls and swanky mezzanine bars to its gargantuan gig spaces and small-stage settings; music, food, merch, records and installations – there's fun to be found in every corner of the events hub. The festival ripples out through the rest of the city too, from clubs like EKKO and BASIS to churches Janskerk and Jacobikerk, exhibition spaces BAK and Centraal Museum and beyond. While its satellite events Lombok Festival and Le Mini Who? champion local talent, the main draw continues to be Le Guess Who?'s astounding programme of international artists.
Music at Le Guess Who? draws together psych, alt-rock and folk acts from the global circuit, contemporary composers, electronic experimentalists, club DJs and singer-songwriters all trading places and stages over the four days. It's here the guest curators come in, handpicked each year to cultivate and shape the sounds on offer, bringing depth and direction to match the festival's ambition. The Bug, Moon Duo, Jenny Hval and Patrick Higgins are just some of the guiding voices for the programme this year. They're part of a line-up that packs in a Spazio Disponibile showcase alongside a Principe Discos one, and includes the qawwali of Ustad Saami immediately after Makaya McCraven's explosive jazz. Given the sheer immensity of what's on offer, we've picked out five key performances below:
HOLLY HERNDON: PROTO
Bringing together elements of technology, pop, electronica, sound art and the avant-garde, composer Holly Herndon's work has resulted in staggering developments for vocal, choral and electronic artforms. Her latest album PROTO introduces AI contributor "Spawn", who is continuously learning how to sing and adds their own voice into the fray. The live show for PROTO features a Sacred Harp-inspired choir singing alongside Herndon, whose own vocal processing stretches the spectrum between intimacy and discomfort that music can access so deeply. Themes of family, camaraderie and humanity manifest on stage over devastating beats and anthropocenic visuals. It's a very affecting show and not one to miss.
Website | Instagram | Twitter | Bandcamp
SARAH DAVACHI
Combining analogue synths with acoustic instruments, drone specialist Sarah Davachi has a knack for drawing meditative atmospheres, soft-spoken ambience and curious melodic nods from pure nothingness with a subtlety nigh on imperceivable. Even through her NTS Radio show, Le Jardin, she manages to conjure surreal, dreamlike spaces that effortlessly captivate and daze. The Canadian returns to piano on her most recent album, ruminating and Romanticist on one side, minimal avant-garde on the other. Expect harmonies both delicate and overwhelming when she performs with electronics and the church organ at Janskerk.
Website | Instagram | Twitter | Bandcamp
SUDAN ARCHIVES
Self-taught violinist and and singer Sudan Archives finds a way to do it all. The irresistible mix of R&B, pop and electronic alongside jazz and the playing style of Sudanese fiddlers, written, produced and played by the artist alone, is a spectacular testament to her vision. Self-titled debut EP highlight "Come Meh Way" exemplified this with its lilting violin motif, jaunting rhythm and deliriously charming hook back in 2017. Since then, she's had a second EP and a debut album out via Stones Throw Records. As her songwriting prowess develops, and as she further revolutionises the relationship between folk and pop, there's little doubt she's one of the most exciting acts of the moment.
Website | Instagram | Twitter | Bandcamp
MAKAYA McCRAVEN
Mid-West drummer Makaya McCraven first caught our attention with 2017's Highly Rare – a four-track cassette-captured recording of a local, Chi-town DIY show. In its rough, lo-fi state, it turned heads as one of the fiercest, fieriest jazz records that year. McCraven plays with an ability to switch lanes and transition between free jazz, hip-hop and pumping 4/4 at the drop of a hat, or with the slow crawl of dusk. His 2018 opus Universal Beings splices together both live and studio sessions with an international array of guests including the likes of Shabaka Hutchings and Nubya Garcia. Le Guess Who? has a knack for delivering in the jazz department, and this year McCraven's appearance looks set to be the tip of the spear.
SPAZIO DISPONIBILE presents: DONATO DOZZY, NEEL, GRAND RIVER (live), CROSSING AVENUE (live)
This is sure to be special. Pop-up warehouse club WAS hosts a showcase from Spazio Disponibile, the label co-ran by messrs Donato Dozzy and Neel. The pair are best known for their collaborations as Voices From The Lake, going on to further develop a distinct strain of minimal techno that embodies the luscious textures of natural greenery and the fluidity of water. Their marathon B2B takes place after a set from Crossing Avenue, a duo whose hypnotic, propulsive productions have brought them to label mainstay status and are sure to dazzle. Opening the evening is labelmate Grand River, a composer that rewards close and disciplined listens with gorgeously detailed ambience and tantalising, slowly unfurling soundscapes.
Donato Dozzy | Neel | Grand River | Crossing Avenue
Le Guess Who? takes places in Utrecht, Netherlands from 7-10 November 2019. Weekend passes and day tickets are available here. See the full line-up below.
Feature image: Moon Duo live at Le Guess Who? 2017 – credit Juri Hiensch.