Truancy Volume 77: Asusu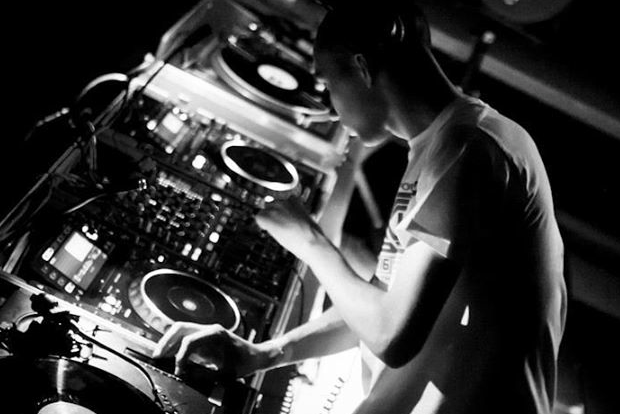 Even though Craig Stennett wishes he spent a little more time picking his artist name, the background of his alias Asusu tells us an interesting story about his bygone days. Asusu is a verb as used in the endangered Bodo language (spoken in the the north east of India among other places) and it translates to feeling unknown and uneasy in a new place, which reflects the mindset Stennett was in after moving around in the United Kingdom for his studies. Today, Stennett seems comfortable and at home in the city of Bristol where he now lives, going back and forth between the studio to produce music and university to finish his master's degree.
Releasing his records in an unhurried pace, Stennett released five 12″'s over the last three years. His first two, "Small Hours / Taurean" and "No Kya" (including an F remix), were given a home at Project Squared, and he later collaborated with the the Berlin based techno producer Furesshu on a record that came out on Immense Records. His last two releases ("Sister" and "Velez/Rendering") came out on the principled Livity Sound label, which Stennett co-runs with  Kowton and Peverelist. Other than running the label, Asusu, Kowton and Peverelist frequently collaborate on music and started playing live shows together more recently. As a little taster of what to expect from his sets, Stennett jumped in the mix for our seventy-seventh Truancy Volume and dispatched about an hour of garage, jungle and other styles of music mixed together. Find out yourself and hit the play button while reading our interview with Asusu, where he touches upon topics like his love for sounds, Livity Sound's forthcoming projects, their live show and of course of the newest instalment of our Truancy Volume series itself.
Stream: Asusu – Velez (Livity Sound)
How are you doing, and what have you been up to lately? Craig Stennett: "I'm very good, thanks, I hope all is well in Amsterdam. The main thing I've been up to recently is wrapping up stuff for my next record, which is a collaboration with Peverelist. We're just trying to sort out the B-side at the moment. Then there's the Livity Sound CD, which will include that 12″. I'm trying to tie up a few old tracks as well that are nearly done, and I'm working towards the end of a degree." And of course, thank you for the Truancy Volume. We've all been rinsing it! We're excited to finally share it. "No worries, thanks for hosting it! It's a bit of a mix up different influences. I buy lots of old records, it's nice to kind of escape what's 'hot' at the moment. You can  make your own judgements about whether a track is good or not, I think other people's judgements can sway your perception sometimes…"
You used to live in Cheltenham, didn't you? When did you move to Bristol, and is the degree you're doing related to music? "Yes, I grew up in Cheltenham then moved to Gloucester a bit later. I studied in Bath and spent a lot of time in Bristol at nights when I first got into dubstep, and started to play my first gigs there. Once I finished university I decided to move to Bristol. It was the logical choice considering what was happening there, and it was a more exciting prospect than going back home. Although I live in Bristol now I went back to do an MA in music technology, mainly related to sound design and processing related stuff." Does your degree have any impact on the work you do as Asusu at all, and how do you balance the two? "Definitely. I guess I study something I'm passionate about. I can hand in some of my work as Asusu as part of my degree, and quite often the material I've generated for university has ended up in tracks that I release. It's kind of a symbiotic thing, they both feed into one another."
Do you come from a musical background? What were your formative years in music like before you were old enough to start discovering music yourself? "No, not at all. I'm not really sure what got me interested in music, to be honest. I didn't learn to play an instrument or read music, which I think is why my focus is on sound design now. I guess it started with hip-hop, though. I saved for turntables and started buying records. I think being new to a form of music is when you're at your most inquisitive, so it's the most exciting time because you're constantly coming across new things." Do you remember any particular records that inspired you to start producing – maybe by DJ Premier – or was it something that gradually happened? "Premier was definitely someone I spent a lot of time listening to. I think Aim was probably an early influence. I was making beats before that, but they were just kind of loops. This sort of stuff was what I aspired to initially. I loved Braintax and Jehst too, Biro Funk & Premonitions are still some of my favourite records. As far as dubstep went it was the garage and techno stuff that got me. I remember buying "Magnetic City" by Kode9 and the first release on Hessle Audio by TRG, that sort of stuff was where I found my niche early on and I think it was at a time when I was starting to gain a bit of confidence in my own tracks."
Stream: Asusu – Rendering (Livity Sound)

Can you tell us a little bit more about the upcoming Livity Sound CD? "It's essentially a compilation of all of the labels output up to now. It is mainly solo stuff, but there are some collaborative tracks on it like Pev & Kowton's "Beneath Radar" from Livity001 as well as the latest two releases which are collaborations between Pev & Kowton, and Pev & myself. Maybe in the future we'll look into something that is collaborative in a similar sense as the live show. For now we've just kind of reached the point where we felt could tie all this stuff together."
For the people that haven't been able to see you live yet, can you tell us a little bit about the process behind the live show? What's the setup like, and is there a lot of improvisation involved? "I guess improvisation was what drew us to the idea in the first place. If you're just one person with a laptop though, there's only so much you can do. With the three of us we are able to gain greater control over the sounds in real-time. I think that's something that keeps it interesting for us, and hopefully the listener. We each have a role – Tom controls the drum machine, Joe is at the laptop controlling the general direction of the set and I use effects to dub stuff out. All three of us try to keep an eye on the levels, which can be a bit of a challenge sometimes."
How did the three of you meet and when did you decide to team up as Livity Sound? "Tom and Joe had both known each other for a while before I moved to Bristol because they worked together at Rooted Records. I think I had met Tom once or twice and spoken briefly via email before I moved to Bristol. We got talking on AIM and met up a little while after. It was just chance really – I was working on some stuff that Tom liked at the time, so he asked if I'd be interested in releasing it through his new label. I'm not sure that Tom really envisaged Livity as being just the three of us originally. Having run Punch Drunk for a few years, I think he just wanted a different outlet for music that didn't have to be a reflection of what's happening in Bristol. After the second 12″ he proposed the idea of bringing a live show together and I think working on that, just the three of us, was what really brought Livity Sound together as a trio."
You mentioned it usually takes you a fairly long time to finish tracks. Do you actually work on tracks for a really long period of time, or do you sporadically finish a lot in little periods of time, or is it something else? "That's an understatement, ha. Both I guess, sometimes I just luck out. The two tracks on Livity002 were polar opposites – "Sister" was over a year in the making, whereas the B-side took about two weeks from start to finish. Sometimes I have to work really hard to make things work and other times things just slot into place and you barely have to even touch the mixdown." What kind of mind state is best for you to make music in? "I like to get stuff done early when I'm clear headed, so I prefer to get up and work on stuff in the morning. As soon as I start to doubt what I'm doing it's time to do something else or get some food. I try to work quickly now – working with Tom and Joe has taught me the value of laying stuff down and committing to it. I try to combine my usual methods with this and meet halfway so that I actually have something to show for all the time spent in front of the computer."
Stream: Asusu – No Kya (Project Squared)
Is there any particular pattern as to how you make music, or is it mostly a process of trial and error and finding "the right sound"? "I spend a lot of time just making sounds. Some of them will never see the light of day, but creating sounds is what I gain the most from. Arrangement is almost like a necessary evil. Sometimes I'll try to make a specific sound or style of music but it inevitably comes out sounding completely different. You have to be inspired, but I think the moments of freedom when you're working outside of the limitations and conventions of your usual style are when you make your best stuff. As a general rule of thumb the more out of my comfort zone I am the better the results. I don't really pay much heed to people who say you need to limit your palette, that's just personal preference." What would you say your comfort zone is? "My comfort zone is very generally the sum of everything I've done up to this point, so to get out of it I need to try something new – a new process or plug-in, a bit of hardware or a different style of music. Anything that helps me look at what I'm doing in a fresh light. Quite often I'll do something that sounds okay, but unless it's new to me it's not really interesting."
On the topic of making "sounds" – over the last few years of making music, you must have put together a considerable sound library. When producing, do you use sounds that you have perviously created, or do you make new ones with a certain current project in mind? "I still have most of the sounds I started off using. There are some things from years ago that I still use, but I'll process them differently. I used to just sample stuff but now a sample is just the beginning for a more complex process or chain of processes." What are some of your favourite sounds you've created and why? "I like taking sounds that have some sort of meaning to me. Maybe a sample from a film I like or a bit of speech. If I can twist it into something completely different that sounds good I'm happy with it. It's quite nice having these hidden meanings in your tracks. A lot of "Velez" and "Rendering" was made in this way, the last Livity Sound thing too. "Sister" is one of my proudest achievements because I think it's the closest I'll get to capturing that euphoric feeling you get in old jungle and hardcore. I don't know if I have a single favourite sound, but there's a track I made awhile back from timpani and bell sounds that bears little resemblance to either. It was more an exercise in process but it still generates some sort of emotional response at the same time as keeping it's sources hidden."
Is there anything you'd like to add to your studio or a skill you'd like to learn? "There's always something. I'm looking for a sampling drum machine at the moment, something that has the ease of use of current digital models but with the  character and rawness of older samplers. A nice valve channel strip or compressor and a really wild analogue filter wouldn't go amiss either. I'm alway trying out new bits of software anyway. As far as skills go my current thing is microsound. I've been working with granular synthesis recently and I'm really interested in modulating sounds to make them sound natural but it's difficult. I feel guilty if I talk too much about this kind of stuff, but it's the reason I make music!"
Stream: Asusu – Togetherness (Immerse Records)
Would you say the music you listen to influence the music you make or do you get your inspiration from elsewhere – musically or otherwise, something more abstract maybe? "Both. I listen to lots of diverse stuff – drone, classical, folk, pop  as well as the stuff you'd expect. Quite often it's the ideas I get listening to this stuff that inspire me, but similarly I get ideas or images spring to mind when I'm reading or talking to a mate at the pub. Abstract ideas will often lead to something, in the same way that I take samples from films I like. I make lots of notes on my phone and in Word. Anything can act as inspiration really, it just depends on how you interpret it."
Do you actively seek out new music next to drawing back to older stuff at all? "That's tricky. I hear bits and pieces that I like but so much of what influences me is not really contemporary – you can probably see that from the mix. I feel like dubstep and it's offshoots have passed the stage of being full of excitement. I'm too keenly aware of the parameters, and the same is true of house, techno, drum & bass.. I still hear stuff I like and buy a few records, but I prefer to go back and discover all the music that makes me feel that way. There's so many forgotten tunes. Being so close to new electronic music kind of desensitizes you to it. I'm aware that this is subjective though, I'm not trying to devalue any of this stuff, I just don't feel the same way about it that I used to." Is there a big difference between the music you play out and what you would listen to in your down time, or do the two overlap a lot? "Well, there's plenty of music I listen to that just wouldn't work in a club, and some that I'm not brave enough to play out. I really like the Something In The Sky series that Jeff Mills does but I'm not sure how a crowd would receive it. I listen to most of the stuff I play out at home, but there's loads of stuff that I'm not even sure I'd want to put in a mix – some drone stuff, electroacoustic music etc. I think it would just be too eclectic a selection to put in one place."
Where and how was the mix recorded? "At home, two turntables and a mixer. I'm not particularly bothered about the whole digital/analogue debate because both have their advantages, but a lot of music I like was only ever released on vinyl. It's also just what I started out with." Was there any particular vibe you tried to convey with this mix? "There's a common thread, but I'm not sure what it is; I think the tunes are all rollers in some sense and they have that rough round the edges feel to them. I'd say listen to it anywhere you like, as long as you enjoy it!"
And as our final question, when was the last time you danced? "I mainly sway until I've had a few drinks. I can't really remember the last brilliant night I went to… The Hotline party a few months ago was excellent, I definitely had a few drinks and danced there."

Truancy Volume 77: Asusu by TRUANTS
Tracklisting:
Dreamer G – I Got That Feelin' (Original Dub) (Madhouse Records, Inc.)
Slowhouse 003 – A2 (Slowhouse Recordings)
DJ Dozia – Pop Culture #1 (Ovum Recordings)
95 North – Let Yourself Go (Capitol Mix) (Kult Records)
Ordinary People – Keep Your Love (Def Club Mix) (Social Circles)
Groove Chronicles – X Wants You Back (Groove Chronicles)
Underground Solution – Get Happy (Sound Of Underground London Records)
Ordinary People – I'm Missing (Vocal Dubz For Clubz) (Social Circles)
Zed Bias & Principal – All Night Jam (Steve Gurley Remix) (Public Information)
Groove Chronicles – No Body (No Body Beats) (Groove Chronicles)
Dj Bigga G – Mind Body And Soul (Ruff N Ready Records)
R.I.P  – The Chant W.E.R. (Ice Cream Records)
Wildcat – Burnin' Up (Special Request Dub) (Wildcat)
Bluetrain – Untitled (Bluetrain)
Tom & Jerry – Till The Morning feat. Little Red Riding Hood (Tom & Jerry)
Foul Play – The Stepper (Moving Shadow)
Underground Software – The Crickets feat. The Singing Rats (Reinforced Records)
Tom & Jerry – Maxi(Mum) Booty Style – Part III (Tom & Jerry)
Bluetrain – Untitled (Bluetrain)