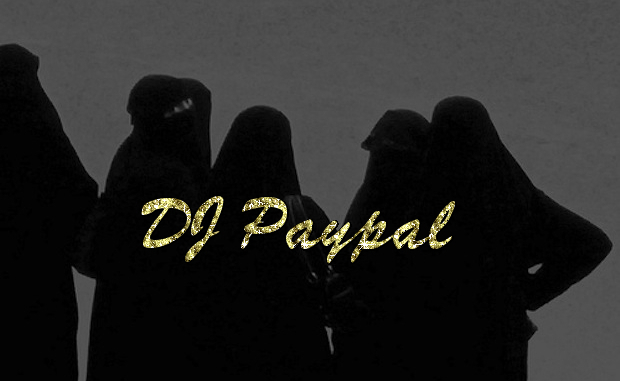 DJ Paypal is one of those internet gems that seems hell bent on nothing more than unleashing his rapturous brand of good times unto the world. Stylistically, the largely anonymous producer is smooth and glossy, yet supercharged with hyperactive footwork percussion and a kitschified energy that radiates from each of his tracks. This is real, lightning speed, party music, designed for the giddiest cases of Saturday night fever. And hopefully all this will become apparent when you press play on the excellent, hour-long mix he has put together for us, jam-packed full of exclusives from Clicks & Whistles, Daedelus, satanicpornocultshop and, of course, DJ Paypal himself.
Truancy Volume 66: DJ Paypal by TRUANTS
DJ Paypal's 'Why' EP, recently released on Sewage Tapes, with its pitched up vocals and soaring chord riffs is a perfect articulation of his hard hitting jungle juke styling. With a backbone of intricate breaks, a slew of exuberant disco stabs and a unique ear for chipmunk pop catchiness, Paypal crafted a set of tracks primed for peak-time fun.
Stream: DJ Paypal – Why (Sewage Tapes)
On remix duty he's equally rewarding, his rework of TCF is a personal favourite, imbued with star-gazing melancholia and signed with trademark eye for detail, its melting orchestra hits and lulling chimes balanced perfectly with thick bangs. Conversely, his 'Under The City Lights' remix is both a work of kitsch-overdrive tuned to perfection and probably the best thing that features on the debut #Tomcrew compilation 'End Times'. His newest offering, 'IRL' on Interscape Recordings, provides yet more disco-inflected, ear worming bangers with Paypal this time pumping up the funk appeal. Opening track 'Go Off!' provides the weight of the EP – it's raw and percussive, incorporating the kind of relentless sub that feels familiar to any Ghettotek enthusiast. The other three ('IRL', 'Whisper Zone' and 'Super High') serve as therapeutic fixes of Paypal's intoxicating, helium-driven fun. This is music about pure, uninhibited emotional release and as such resembles the unpretentious, MDMA fuelled spirit of 90s hardcore. Similarly, it is not music that demands 'deep immersive listening' but that's not to say that it's trivial, nor is it technically conservative. More importantly though, Paypal's music reflects a world that is in hyperdrive – the internet age in which sounds come at us from multiple platforms, each competing for attention and each dislocated from their geographical, cultural and chronological origin. In the face of those deriding the internet for its supposed detriment to music, Paypal celebrates its unifying and liberating qualities. On a technical level his tracks are also highly contemporary, fitting nicely into a trend of jungle juke edits for which Machinedrum and Om Unit first laid out a template. Likewise, elements of Patrice and Friends can be heard in Paypal's sped up funk samples. But out of all the permutations of juke that having been developing exponentially in the last couple of years, few are quite as unambiguously ecstatic as Paypal's. If you've ever found juke's minimal brutality a little hard to swallow then this is the man for you.
Stream: TCF – 0759C576BAB5DE79719BB6C332364DBF92C189DE (DJ Paypal Remix)
We hit him up to tell us a little more about his mysterious #mallmusic gang, as well as his thoughts on the internet and the truth behind his wonderful name.
How's it going, Mr. Paypal? "Oh man, not good. Lil B just got removed from the grammy's competition to play the grammy's. A terrible day for basedworld. How are you?" Well a little sad after that news but generally pretty hot (it's about 45 degrees in Sydney today).  "It's cold here! (I can't say where)."
Well, there goes our first question! You're anonymous as well? "I guess so! I like to keep my name out of things…it's just a habit, I guess."
Could you tell us a bit about #mallmusic? Who are DJ Mastercard and DJ Orange Julius? "Ah yes, mall music inc. is a crew of 4 DJs currently: DJ Paypal, DJ Orange Julius, DJ Mastercard and our newest member, DJ Boy Drama. We're all US producers."
What's the philosophy behind mall music and what's the obsession with online payment (and malls)? "We're concerned about America. How the USA globalizes commercial thought. It's gone pretty far. All people think about is 'buy buy buy … sell sell sell'. We want to show how ironic it is. It's also just our way of life… mall music."
So is the music a reaction against that culture or part of it? Or both? "Mall music is our way of saying "do you realize what's happening around you?" There's a positive way to take the commercial parts of life and flip them, so to speak. Most of my samples and music come from records I own, so when I make tunes, I go through all my vinyl and find the stuff that gets me going. Ironically, I BOUGHT all the vinyl, I played the game of capitalism, so I'm using what I've bought to give back to the people out there who want to hear me." I see, so like blowing it apart from the inside? "Exactly!"
Back to the idea of a 'commercialised global thought' – you function almost exclusively on the internet. Is the internet democratising for you or part of the problem? How do you think the internet influences your music? "Without the internet I would not have known about juke in the first place! I would not have a DAW on my laptop. I might not even have a laptop! At the end of the day, if it weren't for the internet, most of the producers you hear today would not have been making music. Or at least not making the music they make today. So I give thanks and praise to it."
We also get a lot of Japanese vibes in your music, have you been listening to any of the Japanese juke scene at the moment? "Yes of course! (Paypal proceeds to list about every good Japanese juke producer in existence). But really I don't take too much influence from the Japanese sound – they're very technical. The Japanese influence in my music would probably have to be j-pop and j-core! I love almost every song I've heard from each."
Can you tell us a little more about your influences generally? "I love the feel of video game music, of that "kawaii" sound, and that kawaii feel is something I try to bring out in a lot of my tunes: high pitch vocals, fast melodies etc. If I could sum up my influences it'd be the 90s to 00s of disco house plus mid 90 to 2010 juke and footwork from the Chi plus j-core and j-pop of post-2005." Sounds about right! Your new EP for Interscape, IRL, really works that disco sound. Is that a new direction you're going for? "I've always loved disco, and I feel like that's something I just feel very comfortable with… "discojuke."
We wanted to ask how it feels to be producing alongside Traxman on Sewage Tapes? "Amazing, the dude is one of my idols. An original chi cat."
Does it feel at all like you and Traxman are in some way pursuing the same thing? "Not at all! Traxman is trying to bring the sound of Chicago to the world. I don't know if I have a goal with my music yet, other than to make good tunes and have fun." And of course to channel that globalized commercial thought, right? "Yessir, that too. But that is mostly a part of our names; the music is really just positivity, love, and soul… trying to change the negative hearts out there." Haha, beautiful man :').
What was it that originally took you about the footwork sound? "Oh man, it was so fast! I was just grooving to everything I heard. Some things are too slow, I get bored very easily especially with 140 tunes dominating the last 5 years, and 130 of course. But 160… it just has this feel! I feel my heart beat to it. The percussion, the bass, the rawness, it just all comes out when you go fast."
So what's next for Paypal? "I've got a remix out on LOLGurlz's new EP, which is a free release on Bastard Brigade. And I'm working on some tunes for a label that I'm gonna keep a secret for now. But just know… 2013 is going to be a very big year." Yeah boi, we hope so too!
And where would you say are you headed musically? "I'd say I'm headed in a good direction. A very positive, based direction. I'm doing what I want, and loving life."
And finally, got any shout outs? "LIL B "THE BASEDGOD," PETEY & JORGE OF CLICKS & WHISTLES, MACHINEDRUM, DAEDALUS, DJ CLAP, IKONIKA, DREAMS WEST, LESS WESTERN, DJ UNIIQUE, LOLGURLZ, M|O|D MUSIC, ALL THE JAPAN FOOTWORKERS, ALL THE CHI CATS, TEKLIFE, FLIGHT MUZIQ ETC., LUCKYME FAMILY, SEWAGE TAPES / INTERSCAPE RECORDS LTD, DONKY PITCH, #TOMCREW, LOCUS RECORDINGS."
Words by Tobias Shine & Oscar Thompson