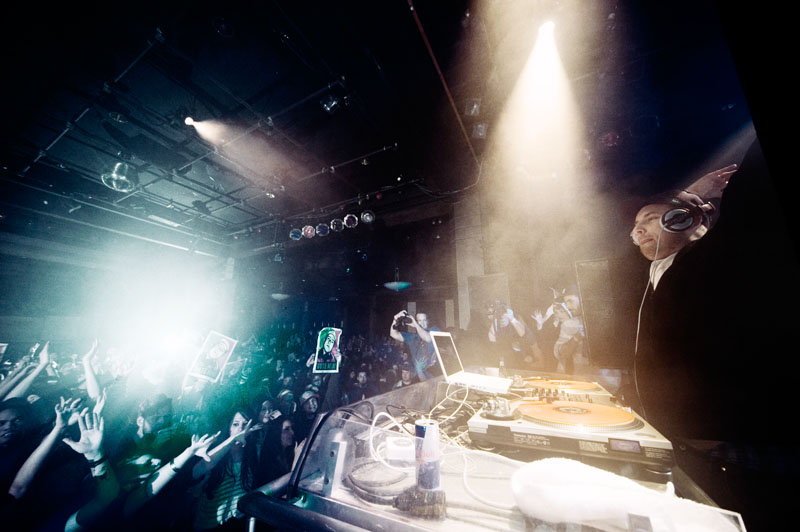 Different continents, different timezones, a parallel universe, nothing can even get close standing in the way of DJ Neoteric's dedication. The Vancouver-based music junkie paused his sleep and crawled out of bed at five in the morning to talk to us about Truancy 14, a record-breaking 80 minutes blend up of almost 40 tracks. There's no way you haven't met and encountered Neoteric during internet travels yet: He's done a Mystery Mix and has just made a compilation called Turned On: Volume 1 for our brothers over at Discobelle, he is involved with vinyl project dubsided, runs the White Light Mix Series (of which he did one himself last January), and on top of that you can stream his own creations from his MySpace. That's one hell of a Curriculum Vitae! Being the music addict that he is, he finds it very important to turn people on to good music. In his eyes mystery mixes are ideal, as they really force you to get into the music, the labels, being on top of tracks and where they come from. Although the track list is no mystery in this case, it will definitely have you participating in many ways – it bounces from new to old through different genres with a constant summery feeling, and definitely brings something new to the table for everyone. Craving for more? As a bonus, here's last month's Deadfish podcast he did, and a little talk on mixing and his future plans.
How are you? Can you tell us something about your plans for the near future? I'm doing great! The near future is the big unknown actually. I'm actually gearing up to move over to Europe for a bit. It's still unsure what exactly I'll be doing, or where I'll end up, but I look forward to a good 4 or 5 months of traveling, playing, and meeting people. It's a bit scary to sell everything you own and take a big chance, but it's time for a new challenge, a new city, a new continent! Before that I'll be doing some dates across Canada and the US, plus returning to Australia and New Zealand for another tour mid to late August. I'm really looking forward to the clubs and nightlife Europe has to offer, and the lineups I've seen there are amazing!
What has been your favourite spot to play? My favorite spot to play thus far has been Australia, as the crowds are really up on things, they know how to party, and they don't need to hear the latest radio hit to dance. That said I'm always looking for a new favorite spot, so bring me to your city!
You've just mixed Truancy Mixtape 14. Was there any special inspiration to this mix? Yeah, I've wanted to make a mix like this for some time now. I'm truly obsessed with music, and pretty much like everything, and I love making mixes to bring it all together. When I make them I like to switch styles up to reflect my diverse tastes. Sometimes if people hear your mixes, or see you play only one style, they may try to pigeonhole you. I like to have different mixes for different moods, different tastes, different crowds. Sometimes with mixes, my goal is to expose new artists and break records. Many times in the club, I'll play somewhat heavy, but when possible I like to play more housey. For home listening, I prefer to listen to some moody, deep, non club tracks. I guess I make the mixes for myself, and if others happen to like them, then great! I play quite a few disco sets, as many people know me for the White Light mixes series I curate, but those mixes are intended for introspection, driving at night etcetera, whereas this mix shows the party side of my disco and house sets. I wanted this mix to be full of amazing songs, so I picked out 40 of my favorites, and was determined to use them all. The perfect time to listen to this mix is in the sunshine! Driving to the beach, at a BBQ, on the way to the club, or even at the gym for an extra push. I wanted the energy and positive vibes to be high on this mix as we get ready for summer. Also if you listen closely you can hear 4 or 5 instances of tracks coming together that share something in common. For example, the Jess and Crabbe 'Freakin You Bitches like Jodeci' that leads into MK's Remix of 'Freak N You'. You know? Try to find the others!
Do you have any pieces of advice to share with us? I'ma tell you what Banks told me: "Cuz go ahead, switch the style up, and if they hate then let them hate, just watch the money pile up". But really, just do what you love, and the rest will follow. And what message would you put in a fortune cookie? "Today, you will break a cookie," something like that. Apart from that? A shout out to all the hard working, dedicated music lovers out there. You inspire me! ?