Festival Guide: Dimensions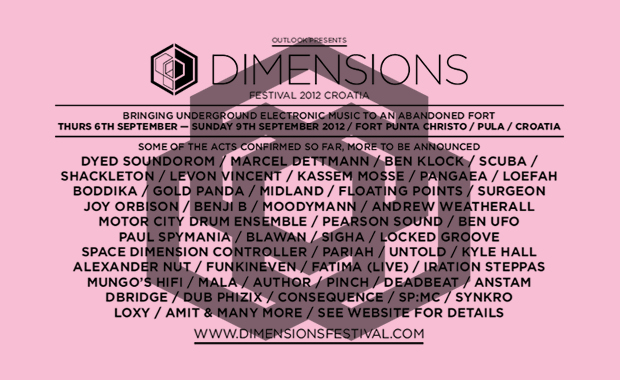 The beginning of September sees one of the most exciting festivals on the calendar, following on from the spectacular Outlook Festival comes Dimensions which showcases one the best line-ups of the year. The chance to see the likes of Nicolas Jaar, Carl Craig, Little Dragon and Moodymann headlining in the one of the most incredible landscapes Croatia has to offer is irresistible. We've endeavoured to outline some of the events that should peak your interest and give you somewhat snapshot of what to expect.
THURSDAY: Past Truant's collaborators CHURCH have gone from strength to strength as the months have rolled by in 2012 (with names such as Objekt, Dark Sky, Boddika playing in the now infamous Corsica Studios of late), excursions out of London with Synkro & Fantastic Mr Fox most recently in Brighton have been a feature but surely this will be one of the finest highlights of their year. With a line-up headed by Dusky and Seiji the Thursday at Noah's Ballroom venue looks tied up. London based Dusky have only gone from strength to strength with a string of releases on Anjunadeep, Simple and Dogmatik continuing on from their highly regarded debut album released in 2011 has helped establish them as some of the most eminent talents to emerge from the capital city. Another highlight of the CHURCH night is none other than Moxie, the NTS Radio DJ has carved herself a real path in the overcrowded London scene harnessed by her wide appreciation of music displayed within her mixing, her set will be a real delight.
Stream: Seji - Face Up (Clip) (SEIJI5)
FRIDAY: On the Friday we will see our era's incarnation of the R & S stable take control of the Moat venue. There has seemingly been no limit to the boundaries pushed by the likes of Pariah, Space Dimension Controller and Airhead, all of which play a part in Friday's festivities. One of the main draws will be Pariah who often takes the dark edge behind the decks will no doubt provide one of the great highlights of the festival, his mixes have become some of the most treasured and collected as his appearances on Boiler Room are the choice of many. Our tip of the night is the indefinable Space Dimension Controller who produced one of our all time favourite records last year with his LP "Pathway To Tiraquon6" and one of the finest pieces of music in Clone's "Journey To The Core Of The Unknown Sphere". His character is just as alluring, always bringing a sense of humour and mischief with him, as well as that infamous VOX.
Stream: Airhead – Pyramid Lake (R & S Records)
SATURDAY: The Saturday brings about a Scandinavian invasion of sorts with Todd Terje and Axel Boman heading the night over at the Moat. If you're in these sunnier climbs this September we don't think there is anyone else who can soundtrack your Saturday night as well as Todd Terje can. The Norwegian has developed somewhat of a legendary status in the past few years, his edits and original productions are loved in equal measure. The Studio Barnhus label boss Axel Boman has forged himself out a path towards becoming one of the premier producer/DJ's around which started with his Holy Love release out on Pampa in 2010 and a continuous string always immaculately curated sets.
Stream: Axel Boman – Purple Drank (Pampa Records)
LEVON VINCENT, FATIMA & ZED BIAS
There are particular acts and DJs we think you should make the individual effort to catch. First of all, there's no excuse to miss Levon Vincent, if he's on any lineup, 5 acts deep or 150, you go see him. The man behind the imperious Novel Sound imprint has yet to put a foot wrong, his intensive warehouse sounds provide a timeless window to all things we love about house/techno music in its past, present and future. Secondly we shine the spotlight on Fatima who hits the festival with her live setup, the Eglo starlet has taken her craft to levels only few artists can dream of, carefully collated works which make the mind melt. Her "Follow You" EP from 2011 produced by the wondrous Floating Points, created one of last years most memorable moments. Most recently, her collaborative effort with Funkineven on "Phoneline" has already become one of the singles of the year. She is simply put, unmissable. Third of our picks is the already legendary Zed Bias, whose work throughout the years has helped lay the foundations for the artists considered pioneers of today, without him most would probably not exist in their current guises especially those emerging from the London undergound scenes. Mostly known for his 2000 hit and UKG classic "Neighbourhood" the man has cut out so many classics including that rather incredible Swamp 81 12" that sit within the record collections of the great of the good from Skream to Martyn, and most of ours at TRUANTS.
BOAT PARTIES:
Also the boat parties which haven't sold out yet and catch the eye are Friday's Deviation Party W/ Benji B, Joy Orbison, Ossie, Moxie and Josey Rebelle (13.45 – 17.45) and Saturday's Hypercolour Party w/ Huxley, Axel Boman, Homeboy, Ste Roberts, Cedric Maison (13.00 – 17.00) and the Zleep Party w/ Objekt, Locked Groove, Chamboche, Micawber, Nick Cobby (18.00 – 22.00)
Written by: Ross J. Platt.