For our 175th Truancy Volume we welcome Tom Scholefield, an animator, director and audio-visual artist more commonly known by the moniker Konx-om-Pax. Hailing from Glasgow, Tom counts people like Hudson Mohawke and Rustie as some of his earliest childhood friends, an acquaintanceship which has led to his striking artwork gracing the cover of many releases from fellow Glaswegians. He also, more notably did the artwork for Oneohtrix Point Never's touchstone LP Rifts. More recently he's been the guy behind many of Lone's cover releases, as well as providing live audio-visuals whilst on tour together. His own music, which he's described in the past as "an homage and idealization of an era that ended well before he could experience it", is gridded with rave nostalgia and hardcore influences, a sound that's progressed from the more ambient productions of his earlier work. We caught up with Tom to discuss the early Global Underground CDs, his early Art School party Eskrima, the Apple Mac Perfoma and the news of another release on Planet Mu later this year. His Truancy Volume, which ranges from dubby techno, rave and old school electro sees music from Luke Vibert, Lone, Photonz, Aphex Twin and a slammer from John Rocca all make an appearance. There's also a new one from himself that opens proceedings that should see a release later this year. As well as providing more than an hour and twenty minutes of music, Tom has also supplied an A2 poster made exclusively for this mix, which you can see and download in full, high resolution mid-way through the interview below.
Hey Tom, thanks again for doing this mix and interview – long time fan here both in terms of your visual and sound work so it's great to have you on for this. There were plenty of interviews over the years to sift through in terms of research so I just want to start off with asking about the Global Underground CDs and what they mean to you. "Thanks for having me! I discovered your site a few years back via the Kuedo Mix, Jamie is a labelmate and helped out a lot with my last album. "Put more reverb on things" was his biggest tip and it worked haha. Those Global Underground CDs soundtracked my teenage years. Sasha – San Francisco was probably my favourite. I didn't really know how decks or mixing worked back then and hearing all the tracks mixed in key was a big inspiration. I used to hang about a record shop when I was 15 called 23rd Precinct in Glasgow. They ran a label and licensed a few tracks to Dave Seaman's mix CD. They where the first guys I designed sleeves and posters for. I remember designing posters for Mallorca from Ultra Sonic (happy hardcore group) and not being old enough to go to events. I loved hanging about that shop at the weekend. All my pocket money went on progressive house and hard techno records. I learned quickly I could earn cash designing posters for the older guys that ran nights in the area. Pretty much been designing stuff for music for over half my life come to think of it!"
How did DJing fit into this? Was it a natural progression from these CDs or were there other influences involved around that time? "Yes, my dad's best friend used to DJ down the local cricket club and got me into it. I remember my first gig for a friend's 30th birthday party there. People seemed to have a good time and I was hooked. I acquired a pair of belt drive decks and learned how to play on them. I was always listening to John Peel's show and I first heard about Jeff Mills and Boards of Canada in that way. Thought it was really cool the Boards came from the same part of the world as me. I can hear it in their music, especially in the Scottish countryside on the journey up north to see family."
What does a Tuesday night quiz at the Vic Bar mean to you and where does Eskrima fit on the timeline? "It was first year of Art School and they had an open decks night after the pub quiz. I went along every week and played music. After a while, Rachel the events convener asked if I'd like to run the Saturday night upstairs in the Vic. It was a bit of a step up to say the least. We had Jonnie and Keith from Optimo and some others as residents rotating each week. Jonnie introduced me to Basic Channel. I remember him turning up with a brown bag full of Burial Mix 10"s and playing them. They sounded so amazing on the PA, there was hardly anything going on in the tracks, lots of booming sub and dub stabs. I'm a 10 min walk from Hardwax these days, must have had an effect on me. I got to organise some really big shows with Richard from Numbers at the Art School. We put on Autechre, Squarepusher and one of Modeselektor's early big shows. I got to know people from Warp Records that way and ended up doing a music video for them when I was in 4th year."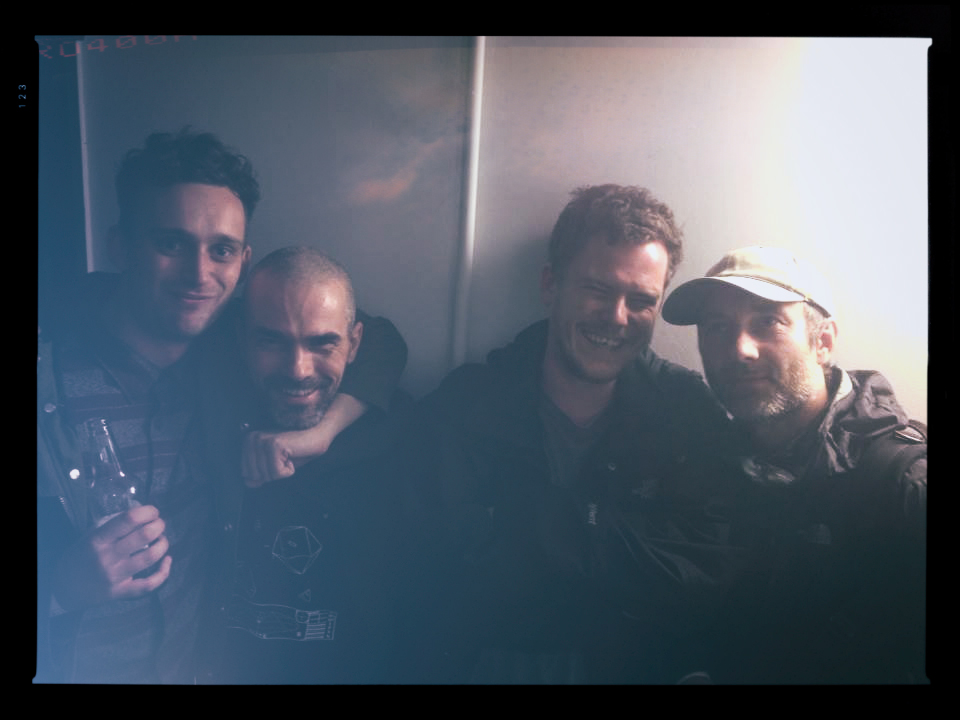 Konx-om-Pax, Lone & Autechre
Moving onto your visual work I thought it would be good to start way back and talk about the Classic II and the Apple Mac Performa as I understand the latter's colour palette had a strong influence on you from a very young age? "We were very lucky growing up in a house with a computer. Sounds silly nowadays but this was late '80s / early '90s. My dad is a landscape architect so had one of the early Macs at home for work. I spent most of my time in Mac Paint drawing pictures. He had an office in the attic and it was full of technical drawings and books about plants. If I was well behaved, I got to use his fancy pens and water colour pencils. Most of his work back then was still drawn by hand. I loved drawing things like the Terminator logo, Nike Air Max trainers, dinosaurs and Ducati motorbikes. I remember seeing a colour computer for the first time like it was yesterday, such a rush of endorphins seeing those bright colours. Not changed my palette much since then."
You eventually went on to study graphics at university but stated in past interviews that a lot of it was just spent doing audio-visual noise projects. Can you tell us a bit about that? Were your tutors open to the idea? "I had just left hight school and applied to art school straight away. I didn't get accepted first time and was put on a waiting list so ended up phoning the department everyday to see why I didn't get in. After a while a place popped up and I got in after harassing them. I wasn't too keen on becoming a graphic designer back then actually, so my tutor encouraged me to look at the avant-garde movement Fluxus. People like John Cage that made visual music projects. As long as there was a visual aspect to my work it was fine. I discovered the work of Yasunao Tone where he would scratch the surfaces of CDs and record the output. This led on to me doing a cool interactive flash project where I drew onto CDs and had classical music being corrupted on playback."
Are you still into the degradation of music quality as an aesthetic? "Not so much, I mean I put everything through a certain level of subtle distortion. If you overdrive everything by a couple of DB it adds warmth and space to the sound. Especially to software synths that sound a bit flat otherwise. Textures are still really important – that comes from listening to Basic Channel, adding subtle field recordings into mixes, helps to create an extra layer of interest."
When and how did more animation-based visuals come into play? I feel like many graphic designers want to explore that avenue but aren't really sure where to start. "I got into 3D after being involved in a project with Universal Everything called Advanced Beauty back in 2008. I hand-drew a piece with music from Freeform. It took forever to make and seeing the other collaborators using Cinema 4D inspired me to learn the software. The best way to learn software is to set yourself a live brief. Something that has a deadline and a client waiting for you to finish it. My mate Jonny had just released a 12" for DFA so I got in touch with them asking if i could make a video for the track for free. They agreed and I spent the next month locked in my bedroom learning how to do it while making the video."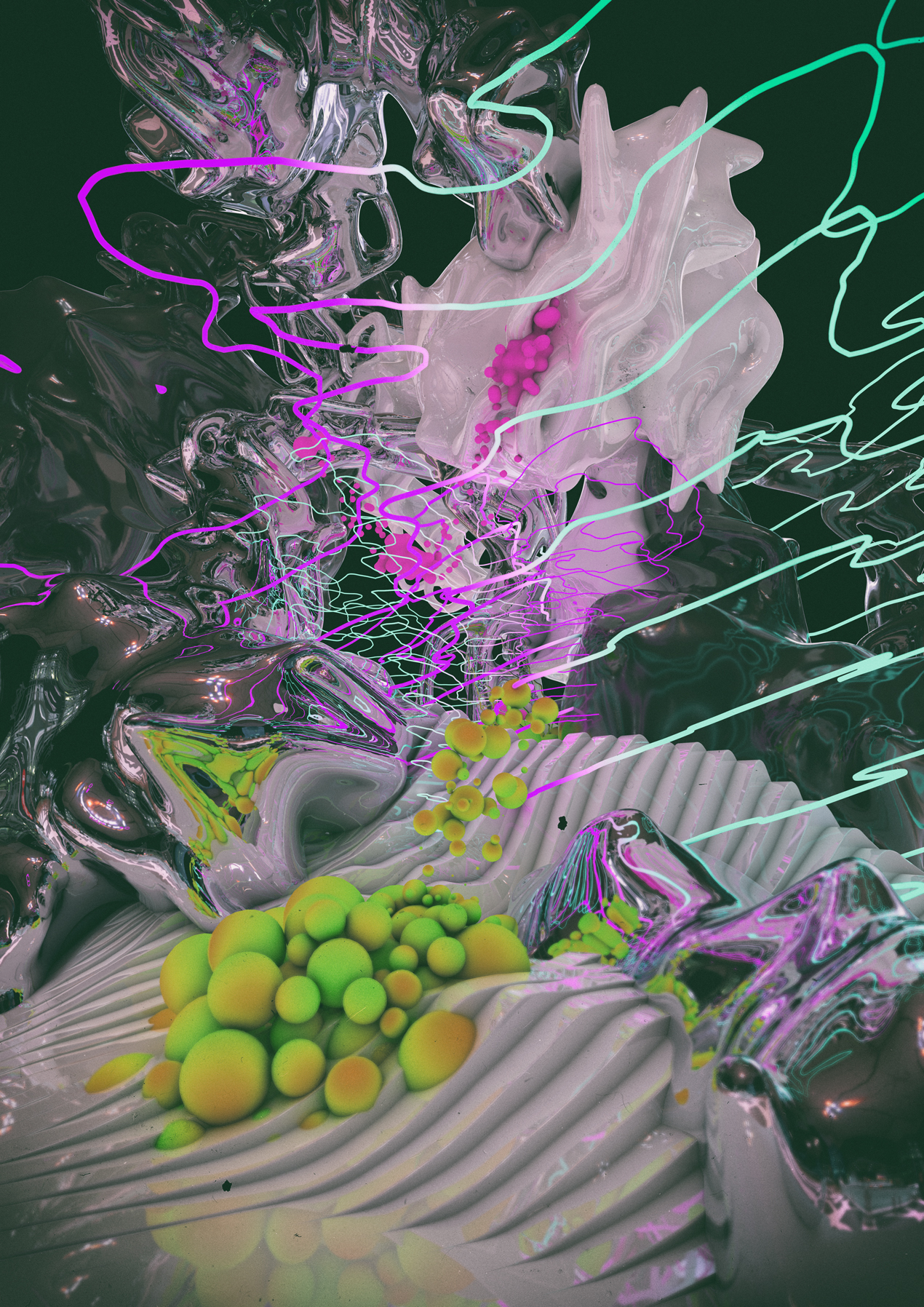 Exclusive A2 poster designed by Konx-om-Pax exclusively for this mix. For high-resolution version click here.
As someone who also studied graphics at university and is currently trying to balance music, Truants and the idea of a career in design all at once, I've found myself struggling an awful lot lately. How have you managed to balance these competing priorities over the years? "It's hard sometimes. You basically just have to put in the hours and graft. I pay the rent mainly through design work but gigs are starting to play more of a part. I try my best to take on big commercial jobs that afford me the time to spend a week or so afterwards just working on music and other personal projects. Normally the commercial jobs are quite stressful and complicated so I'm looking forward to relaxing afterwards and making funny noises for a full day. However I've found that having too much time can be counter-productive sometimes. My best tracks have happened when I've been waiting on a render to happen with another job, I'll pop open Ableton and write a simple track to keep myself entertained. It's never easy making a living from creative stuff, especially if you get stuck on an idea, but I can't imagine ever wanting to go have to sit in an office all day making money for someone else. Life is too short for that. A big change came when I stopped worrying about financial stuff as much, the time you spend worrying about money is time you could be making things to solve the problem. I mean it's fucking stressful at times but you have to compartmentalise the stress and focus on making, and it works out eventually."
How has moving to Berlin opened you up to collaborations? "It's made everything a lot more fun and my work has improved a load. My friend Mike Tan lives across the street and he's one of the leading 3D artists around. We worked together for a 50 Weapons promo the month I moved here. I learn a lot of high-end knowledge from him. Another reason for moving here was to be around friends that do similar music stuff, we'd only really get to hang out on tour before. I'm really lucky to have a bunch of friends that are also my musical influences and we all live close to each other. It's great for hanging out and getting feedback about tunes."
When looking up some of your old interviews I came across this production technique where you mentioned you would sometimes go round to friends' houses and just leave a mic on and record the night sessions and then take all the bits you like, cutting then sequencing them to your liking. Do you still adopt this method four years on, or has that type of sampling diminished over the years? "I use my phone a lot to record stuff when I'm traveling. The door at OHM next to Tresor makes a really mental screeching sound which I got recently. I generally try and mix up clean and dirty sounds for contrast. I treat making music with similar terminology to visual work. The two practices are very interchangeable."
You've got some music lined up for a summer release from what I hear? How would you describe this music in relation to say, Caramel, or even Regional Surrealism? Also, there always seems to be many underlying themes when a Konx-om-Pax release drops. What themes can you hint at for us? "Yup, I have a new EP for Planet Mu coming out in August. A couple of more dancefloor tracks alongside some remixes from Caramel. Mike Paradinas has done a lovely cover version of "Caramel" and Huerco S made an epic 12 mins long blissed-out remix of "Beatrices Visit". Not quite sure about themes, the EP seems like a logical progression from Caramel. The lead track sounds like a rave version of "Caramel", it's really bright and uplifting. I've only just started to make dance music I like, been trying for years and finally cracked the basic rules (I think). Looking forward to making more EPs this year and playing out more."
What can you tell us about the mix you've done for us? "It's mainly new stuff that friends are making which makes up the backbone of the mix. Vibert and Lone are on form releasing really fun dance music so there's stuff from them in there. There's a new thing from me at the start that should come out later this year, hopefully. I tried to blend lots of styles that I'm into. From dubby techno, rave and old school electro stuff. I'm really chuffed with the mix. It's one of the better ones I've recorded so far."
What else have you got planned for the rest of the year? "Finishing more EPs and working on my AV show. Planning some B2B sets with Lone for later on in the year, it's really fun djing with Matt as we have such a similar taste and rarely discuss what we're doing. We just get on with it."
What are you thoughts on Alien: Covenant and Blade Runner 2 from what we've seen so far? "I honestly don't know what to expect, I'd like to see a crossover one of these days as I just learned that Dallas from Alien used to work for Tyrell Corporation. That would be an interesting development of the franchise. At least Covenant will be better than Alien vs. Predator 2, that has to be the worse film ever – it was like watching an episode of Hollyoaks with Aliens."
Tracklist:
Konx-om-Pax – Paris 5am
Barker & Baumecker – Cipher
Yaleesa Hall x Malin – Second Carol (Asusu Remix)
Aphex Twin – Analogue Bubblebath 1
Tzusing – Torque Pulsations
Artefakt – Somatic Dreams
Ryan James Ford – Fatih Servet
Legowelt – Institute of the Overmind (Photonz Remix)
Aksak Maboul – Saure Gurke (Krikor Remix)
Pendle Watkins – Yah Boobay
John Rocca – I Want To Be Real
The Good Men – Elektika
Basic Channel – Phylyps Trak II/II
Seelow – Wav#16
Nebula II – Seance (Remix)
Lone – Crush Mood
Luke Vibert – Pump
Dem & Deapmash – Stop
Anne Clark – Our Darkness

Konx-om-Pax: Facebook, Soundcloud, Twitter
Cover photo credit: Ramiro Valdez