Recommended: Eli Escobar – Album Sampler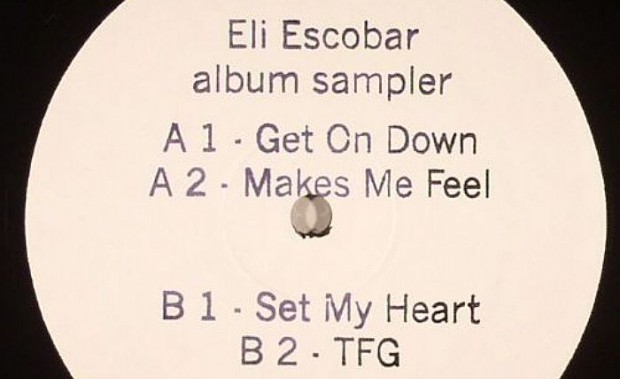 Eli Escobar is a staple in the New York house scene and over the last few years he's quietly released records on Wurst, Plant Music, Money Studies Records, and Dither Down. His tracks always check the three boxes of creativity, being dancefloor orientated and being approachable; anyone who works within dance music knows checking two of those is relatively standard, but the having all three is rare. Earlier this year he recaptured our attention with his "Work It" 12" and this month he's really got our bodies moving with his vinyl only album sampler on Plant Music.

Stream: Eli Escobar – Get On Down (Plant Music)
If you've listened to a few tracks from Eli you know he has a signature palette of sounds – thin kicks, polyrhythms paired with similar lower more bass driven tones, unusually simple and classy vocal samples that are instantaneously burned in your brain, and all wrapped in just the right amount of delay. Here is more proof that you don't need thirty-two channels to make some of the best records in the shops, just a drum machine, sampler and fresh ideas. The first track of the A-side, "Get On Down", is a fast paced filter house cut, which is appropriately named not just because a woman constantly repeats, "Get on down", but because the speedy bassline warms the entire track while the kick gives it the rhythmic backing that allows you to get down. Not much else happens in the way of song structure; this is clearly meant to serve as a DJ tool. "Makes Me Feel" is on a similar tip in that at the center of the track is what sounds like an old funk sample. He doesn't use more than a bar of the sample most of the time, and alone it could easily be mistaken for elevator music, but used with the rest of the track and it becomes a quality floor filler. After hearing this the influence that disco and hip hop have had on Eli becomes extremely apparent.
The first cut on the B-side, "Set My Heart On Fire" is one of the strongest of the record, but it's also the one begging for a proper edit. For the majority of the track an arpeggiating bassline and classic pad act as the bridge to the real meat of the track. About halfway through the track cuts to an unbelievably catchy piano solo, which without question will be the catalyst for the reaction every DJ wants on his dancefloor. Not only that the vocal finally opens up and instead of just cuts of "set my heart on fire" it begins to sound like a complete phrase. Then as all the elements pop in and you're just getting into a groove the track begins to come to close; it's a work of art and a shame at the same time. "Set My Heart On Fire" is definitely a hard act to follow, thankfully "TFG" is a tracky track and nothing more making it the perfect DJ tool to end the record with. A simple arpeggiating rhythm is at the heart of the track with a voice saying "too far gone" over the top (take a guess at what TFG means). This one's definitely a bit aggressive, but totally fitting after the smooth styles of the previous three.

Stream: Eli Escobar – Set My Heart On Fire (Plant Music)
This record gets a big, big Truants tip and has us excited for what his debut album will bring! As we said earlier this record checks three boxes; Eli's creativity and love for house music shines through, they are all aimed squarely at the dancefloor, and I could play this for my mother as well as friends who are deep down the electronic rabbit hole and expect both to vibe to it. The unusual thing is that even though two completely different types of people could and will enjoy this, he sacrifices none of his integrity. Do yourself a favor and run down to your local record shop and drop the tenner on it.
Eli Escobar's "Album Sampler" is available now on Plant Music.