Interview: My Panda Shall Fly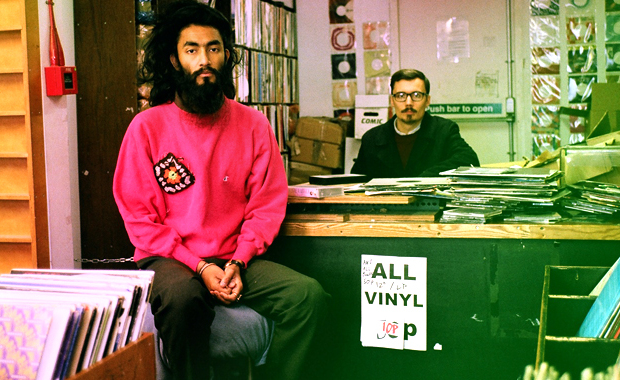 "Let's Vibrate Together" is a collaborative effort from producers My Panda Shall Fly and Benjamin Jackson, and it's an EP that can only be described a gloriously wacky. The tracks are fascinatingly diverse, travelling across genres with intergalactic breadth. Closing track "JS8″ is propulsive yet mesmerising, with a kick that keeps your feet twitching while your mind is wandering through a sparkling field of brilliant synth work. The funk drive of "Data Module" is undeniably groovy, whilst the single 'Mantra' is as trippy its brilliant video. We caught up with Camberwell guru Suren Seneviratne, aka Mr. My Panda Shall Fly himself.
My Panda Shall Fly & Vimana Aircraft – Ventures from Truants Compilation Two.
So I thought we'd do start with some quick-fire questions. What's going to be the first song played at your wedding? "What, at the party? I don't even know. I might have to dig out some Lionel Richie! Just go old school for a bit." If you could take over any clothing label, which one would it be? "It's kind of funny, I've actually got a t-shirt that I've made. I've been looking into making some of my own t-shirts and I guess you'll be the first to see it because I've just done a test print. I did the art thing [at university] and I've never really mixed the art and music together. I just did this with my friends, they run a website called T-Shirt Party. So hopefully I won't be wanting to take over anyone's label because I'll be doing my own!" Have you ever seen Come Grime With Me? When you're in the kitchen what's your speciality dish? "I'm the worst cook! I can make you an egg.. I'm really good at hot chocolates. You'll be loving my hot chocolates! I need to learn to cook, man." Maybe you can find some grime DJs to help you out. "They can teach me how to cook and I can teach them how to DJ."
Can you tell us a bit more about the collaboration with Benjamin Jackson and the unconventional video for "Mantra"? "Yeah, it was made by these two guys in South London, the main director's called Andrew Corrigan and the other guy's called Chris King. It's just crazy, it took months of work. It's got choreographed dancing and 3D stuff going on. It's weird because I love the collaboration thing but it's so much harder than it seems to collaborate. Before the end of last year I was reaching out to lots of people I liked to do collaborations, and I obviously I did do some stuff but everyone's got different schedules and it's difficult to keep at it. But me and Benjamin Jackson just hit it off really well. The songs on the EP don't really sound like anything I'd do myself, but obviously it's a collaboration, there are two people involved. Two of the other songs I actually play in my live set. It gets such a good reaction on the dance floor, it's good to have that side of things I guess."
Mantra – My Panda Shall Fly + Benjamin Jackson from Andrew Corrigan.
We were talking about garage a bit before. How much does it play a part in what you write? There are strong garage inflections in sme of your earlier work, like in "Sydney" for example. "I grew up with garage, without a doubt it influences what I make because I spent so long as a teenager listening to it. So it subconsciously comes in whenever I'm writing anyway, not necessarily in an explicit way but it's always going to be there. It's always nice to reference that because all of bass music and dubstep kind of stemmed from that."
What's the writing process for tracks like "Yoyo" that jump around from genre to genre? "I did that one with this engineer that I've been working with for the past few years, we did that together. We used a lot of hardware for that track, so that was kind of cool – using loads of different equipment to get the various effects. I actually wrote "Sydney" in Sydney! I just remember a sunny day, and being really bored there, with only kangaroos walking around. So I just took my laptop out and started messing around. And it's nice because obviously something about the song must have come from the inspiration around me – maybe something about the climate, people having fun in the sun, that kind of thing."
What else really inspires you, musically or otherwise? "When it comes to music I don't like listening to new music. It's hard to describe but I want to be inspired but things that are a bit older, further away from contemporary music. Because otherwise it just seems a bit incestuous, it's too much of a closed circle. I'd rather listen to different, older music, and get inspired to make electronic from that. And obviously non-musical things too – there's so much out there, I don't have time for everything!"
You're based in Camberwell now, and both Camberwell and Peckham have been really coming up as a scene in the past couple of years – the events happening at the Bussey building, Lucky PDF, Hannah Barry. I guess it's a good scene for making connections. "Yeah, it's wicked. I want to stay in Camberwell because it's so fun in the way that it's really creative. It has everything that East London has in a different setting. I love East London but there is such a weird scene there. I think Camberwell is much more down to earth, and so cheap, plus there are so many random people walking around! It's kind of cool that there isn't a tube here as well."
My Panda Shall Fly – Sydney [Free Download via MTV] by My Panda Shall Fly ♥
You talked about trying to move away from the 'scene' and being a bit more independent. Where do you see yourself in the spectrum of music production? A lot of your tracks aren't necessarily club-ready. "I guess I started out being a DJ and playing a lot of dubstep, and then obviously it got massive. I don't know, it's weird being associated with the kind of people who make produce bass or dubstep, because that's not what I make! It's a weird one when people are trying to categorize it or even just write about it, because I would prefer for what I make to just stand on it own as electronic music. It's a weird kind of sound. With the Benjamin Jackson collaboration, we didn't really know what we were going for, it was just really organic. I always just want to see what happens. I think it's fun to make stuff that doesn't have a particular genre in mind. It's a bit weird that a lot of the club music produces seem to make music that has to keep to a certain tempo or whatever. They seem to be really restricted."
And there are always trends that people are following. I feel like recently it's been house but at the moment it seems to be techno that every other producer wants to get involved in. "I know what you mean. But what is interesting is that people are having their tastes expanded because so many people are releasing this genre-crossing material. I think it's really exciting because so much is accepted now, obviously there's a lot of underproduced stuff, but listeners have changed, people are willing to listen to so much more. For example, there's a lot of witch-house at the moment, the dark weird stuff with lots of reverb – it's not that heavily produced but it still sounds really good. It's the sound that counts."
You play live quite a lot – how large is the gap between what you do as a DJ in comparison to the kind of music you produce? "When it comes to DJing, I never play any of my own stuff. I went to Oslo recently, and it was just amazing. I had no idea about what the scene there would be like, but it was really fun. There I just played an hour and a half of eighties disco. Just classic proper disco and boogie stuff – I obviously love it and I think everyone just really enjoyed themselves. It's just great to be able to move away from the usual bass music. It's great, but there's no shortage of it really."
So what's next for you as a producer? Have you been thinking abut an album at all? "I haven't really thought about an album at this stage. I did my first release last year, and it was a bit annoying because there was some other material that I wanted to release last year that I didn't end up doing for a few reasons. There's another EP coming out with a guy called Adventure Elephant. That's gonna be a two track 7″ single coming out in early Summer. I'm going to be giving out lots of free stuff in the near future as well."
My Panda Shall Fly x Adventure Elephant will be released early summer on Tape Club Singles. "Let's Vibrate Together" is out now on Five Easy Pieces.