Interview: Man Like Me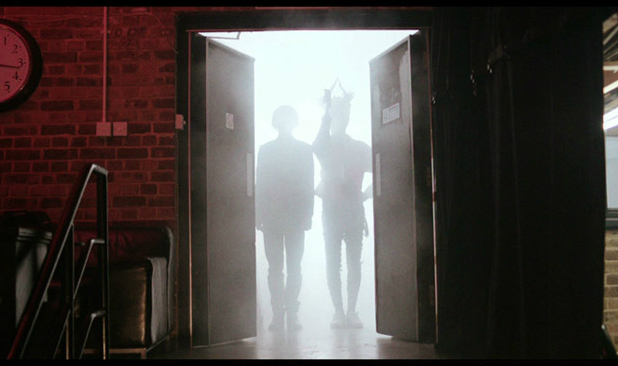 Alright Truants readers, it's time to release your grip on that super rare techno LP you got at Record Store Day, relax that bassface grimace into a happy little grin, and prepare for some outraegous poptastic fun. Yes, we just used the word poptastic, because North Londer anti-geezers Man Like Me are the kind of musicians that make you want to throw all seriousness straight out of the window. With Man Like Me it's all about garage-inflected tunes, vintage Moschino, ska horn sections that somehow don't sound tacky, and observational lyricism that will have you singing along like you were born and bred in Camden. We blitzed through some questions with the boys ahead of the release of their totally excellent new single "Squeeze".
Some of our readers might not be familiar with you. In order that they might be able to better judge your personal and musical integrity, please list your three favourite cheeses in order of preference. Pete: "No matter how much I fancy myself a cheese connoisseur, I'd be lying to myself if I didn't put cheddar at number one. Closely followed by Mont d'Or and a quality mozzarella. " Johnny: "1. Mont d'Or 2. Chevre 3. Stilton."
Your live show is famously high octane and the new single "Squeeze" is similarly vibrant. What's the secret to Man Like Me's outrageous energy? Steroids in your morning juice? Pete: "It's a potent mix of nervous energy, underlying frustrations and a lot of drink." Johnny: "It's the fear of being found out."
Let's talk a little bit more about the new single. The verses feature a really fun sound effect, presumably replacing the word 'squeeze'. Be honest, were you inspired by Pussycat Doll's seminal work of rhythm and blues, "Beep"? Pete: "Not heard that one. There is a J.Lo lyric hidden in "Squeeze" which I unwittingly wrote and thought I'd made up." Johnny: "I was just being lazy as I couldnt find anything to say."
So what was the main inspiration behind "Squeeze"? Pete: "Johnny?" Johnny: "Ramping down."
How did you get involved with Mike Skinner? Pete: "Our manager somehow managed to get "Squeeze" on his desk, he asked to hear more and next thing we knew we were sat in a studio with him.  I didn't realise that he had such a passion for engineering and that he'd mixed all of his own stuff.  He's been helping on the production side of things too, can't tell you how cool it is to receive a mix back with some added drum programming from the man Skinner himself."
With the exception of your cover of "You'll Always Find Me In The Kitchen At Parties", you guys have been a little quiet since the brilliant Lovestruck EP. Has the forthcoming album been a full two years in the making, or were you working on other projects? Pete: "We haven't spent 2 years solidly making the album but because we are unsigned it has taken us that long to make an album possible financially.  We did release "Peculiar" late last year to very little fanfare! Johnny: "Yeah, we've been busy working looking after children and experienced prolonged relationship meltdowns."
Stream: Man Like Me – Lovestruck
If the new album was a colour, what would it be and why? Pete: "It would be rainbow Tabitha, a rainbow."
The last time we spoke you said you were listening to a lot of grime and a bit of Paul Simon. What were the last tracks that really thrilled you? Think everyone's clocked the Joni Mitchell reference on "Squeeze"… Pete: "I've been really enjoying "She's Always In My Hair" by Prince recently.  I also think that M.I.A's "Bad Girls" was overshadowed by such a cool video. I think the song is pretty amazing in it's own right." Johnny: "I wanted to change the Joni Mitchell lyric but it was always what came to mind. It was meant to be, even though most people wouldn't slap on Joni when they want to do it. Or not me, anyway."
It seems like you've been a bit of a "cult" band so far, building a solid (and fairly obsessive) fanbase without breaking into the mainstream scene, but it seems like this year it's all kicking off. What's changed, if anything? Or do you think people are just more open to your sound at the moment? Pete: "Well, we've actually got some tunes done this time.  As we said earlier, we had to go quiet in order to get the writing done and put everything in place to be able to put the album out.  But having Mike Skinner involved and getting such a great response from Annie Mac has been a huge help.  But then again, that would all mean nothing if the music was shit, and I think "Squeeze" isn't shit.  Actually scrap everything I said and just put "because Squeeze isn't shit" as the answer." Johnny: "Has it really kicked off?"
It will! Lastly, can we expect some new Man Like Me dance moves? Pete:" We've got a bit of a dance going on for "Squeeze" but we haven't quite honed it yet.  As you can imagine, routines such as our take some time to master." Johnny: "Dance routines are so 2007."
"Squeeze" is out May 28th. Get down to the single launch on May 24th if you're in London, the Man Like Me live show is not to be missed.