Truancy Volume 11: Nguzunguzu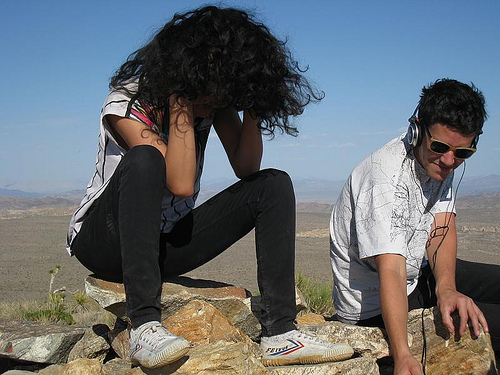 If there's one act that everyone needs to desperately keep an eye on, it's NGUZUNGUZU. This LA duo is made up of Asma & Daniel and together they make the most infectious and luscious beats you've heard in quite some time. Their sound is as easy to describe as pronouncing their name is, but their self-proclaimed description of global club or visual house seems to do the trick quite well. In case that doesn't work out, one can always proceed to just listen to their strong body of work – with a free five-track EP and remixes for the likes of Buraka Som Sistema, Maluca and Pit Er Pat, NGUZU have their listeners transported into a completely different dimension and somehow always have them dancing in one way or another. Their tracks Got U and El Bebe Ambiente have been featured on mixes by Girl Unit and Sinden respectively and they've spinned parties we wish we could teleport ourselves to at SXSW, Wildness and Freak City last Friday (where Blaqstarr also made an appearance with a live PA!). Earlier this year, they also had us hooked on to that timeless Art Noise track again with their own mixtape Moments of Love, which is a smooth blend of everything you'll ever need from drum & bass to cumbia.
It's a safe assumption to make that NGUZUNGUZU have a huge future ahead of them with all their upcoming releases, productions and remixes. So it's with a lot of pleasure and excitement that we'd like to introduce you to our eleventh mixtape: TRUANCY volume 11 by NGUZUNGUZU! The mix is filled with all kinds of tracks that the two of them are excited about now. Asma & Daniel tried to keep a laid-back vibe with a lower BPM to try something different and give tracks that they don't usually play a chance to shine. The ideal setting that one should blast this mixtape to? "Right when you wake up, when you're walking to the train or when you're riding in your car to the beach. We also had the pleasure to catch up with the lovely Asma & Daniel on their plans, their background and their exciting upcoming work with M.I.A., Rye Rye, Maluca and more.
How have you guys been? All good, taking it all in! We are working on a bunch of new tracks and we're getting ready to tour Europe and playing HARDfest out here in July. We're also working on M.I.A.'s new mixtape for her upcoming album. The mixtape is due in June. We are really excited!
That's definitely exciting! Is that why you were working with Rye Rye as well? Rye Rye is amazing to work with. We actually worked with her on another new track too, for a strange reason– the track is for the new A-team movie! We got contacted by NEET when we were in Monterrey Mexico DJing, to do a collaboration with Rye Rye the night we got back to LA. So we basically made the beat on the plane, and went straight to the studio at like midnight to meet Rye from there.  We were supposed to remix the A-Team theme song, but we mostly sampled the drums and made a REALLY loud heavy club tune. Then Rye Rye wrote all the lyrics on the spot and killed it. The music really happened beautifully. Aside from that track, we're doing some more work with her for the M.I.A. mixtape. Rye Rye taught us a lot about bustin' some shit OUT! She handles her business, ain't no fucking around.
What other collaborations are you guys working on? We got to working with Maluca when Mad Decent asked us to remix El Tigeraso and she liked it a lot. We ended up knowing a lot of the same people and continued collaborating and recently recorded a remake of a Gloria Trevi song with her. Also, we always collabo with our good friend TOTAL FREEDOM, who we throw parties with out here. He'll also coming with us to Europe! As for more collaborations – not as of now, but we want to! We've been talking to POPO and LOL boys. Aside from all that we are also working towards our own release getting out. Our TRUANTS mixtape includes a track called Strut which we're working on for our own release. We want to get our work out there,  we want to be able to hold it!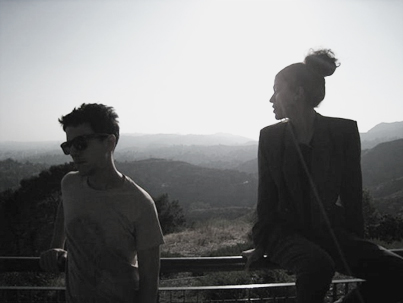 What places are you most excited to visit in Europe? Oh my god, everywhere! It's our first time in Europe. I've heard there are AMAZING kuduro parties in Paris and we'll be in Berlin for the biennial. We're also really excited to be part of this festival in Sweden.
Can you tell us a little bit about how you guys work together dynamically? It's really different each time, we try to switch up the roles. Most of our tracks come out of playing things live together, either with MPC, analog synths, CDJs or DJing, and taking from the 'live' session we make a complete track out of it. That part is more spontaneous, but when we edit it, the idea becomes more formulated and built up.

How do you approach a NGUZUNGUZU set? We love hybrid club music, blending many types of genres and areas. Right now we're also working out a visual aspect to our sets. We're always trying new things with our sets, but ALWAYS expect to dance your ass off!
How did you both grow up with music? Both of us grew up playing violin. [Asma] sang a lot and grew up listening to a LOT of hip-hop and r&b and got into trip-hop and tech house in middle school. [Daniel] played the congas and bass guitar and grew up listening to hip-hop and punk. So when we're talking about artists specifically, it's everything from Michael Jackson and Mariah Carey to Bad Brains.
How about DJs? DJs didn't come until later, but Kingdom definitely played a key role in many ways, as we linked up to many through him and we're just on the same page, you know? In fact, all the people from Night Slugs. Not to sound geeky, but they stepped up the game and are taking club music to higher levels! Other DJs to keep your eye on are Total Freedom (he is MAJOR!), Butchy Fuego, Jam City, Bok Bok, Manara, Girl Unit, L-vis1990, DJ SLOW, Brenmar, Dubbel Dutch, LOL Boys, Ghosts on Tape, Oro 11, Disco Shawn, Uproot Andy, Mathias Aguayo… haha we could go on for a while!
Do you have any dream collaborations, living or dead? Hmm, that's huge. I'd have to say Aaliyah. She was always absolutely amazing and was getting super dark and gothic when she was shooting for The Matrix and starting an album with Trent Reznor. Also, DJ Vielo or DJ Pesado. They just blow our minds all the time. Any of those amazing kids making insane kuduro at home on FruityLoops!
If you had the choice to work with either Nicki Minaj or Ciara, who would you choose and why? Whoa, we have to pick one? Hmm, Ciara singing opera on a dark, deep hybrid club track. The video would be LOTS of hair, and dancing in the hair.
Would you like to enlighten our readers with any parting knowledge? BE HACKERS. If you get caught, hack your way out. If there's a will, there's a way.